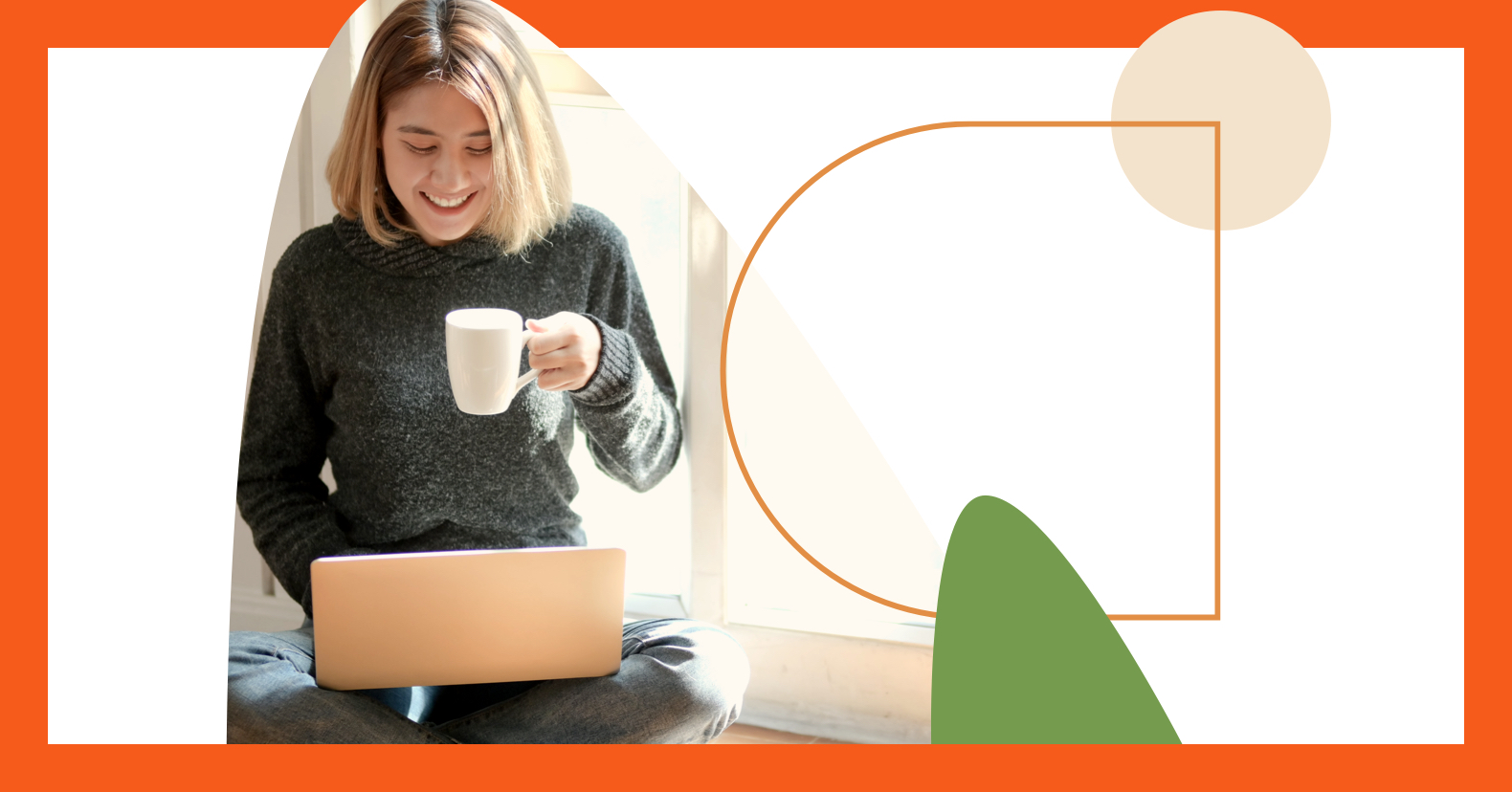 Editor's note: This post was originally published in September 2018 and was updated in September 2020 with fresh ideas and recent examples.
How should small businesses do holiday marketing on special occasions like Black Friday, Cyber Monday, and Christmas?
What are the best holiday marketing strategies for them to encourage the locals to shop at their stores and grow revenues?
If you're looking for answers to these questions right now, congrats! You'll probably get a higher chance to succeed in the holiday season 2020 than others who wait for the last minute to plan their marketing campaigns.
To help you save time browsing tons of (both related and unrelated) posts on the Internet, we collected 17 proven holiday marketing tips for small businesses in this detailed guide. Keep reading to find out what you need to prepare for success in the upcoming festive season.
Let's get started!
1. Partner with bloggers/influencers for holiday gift guides
Example 1: Blogger Erika Danielle introduced three holiday gift guides (A cozy gift guide, Gifts for her, and Top beauty gifts) to her readers. Each gift guide includes a lot of relevant product recommendations with a short description and price information. Just click the links, and readers can access external product pages for further details and making a purchase.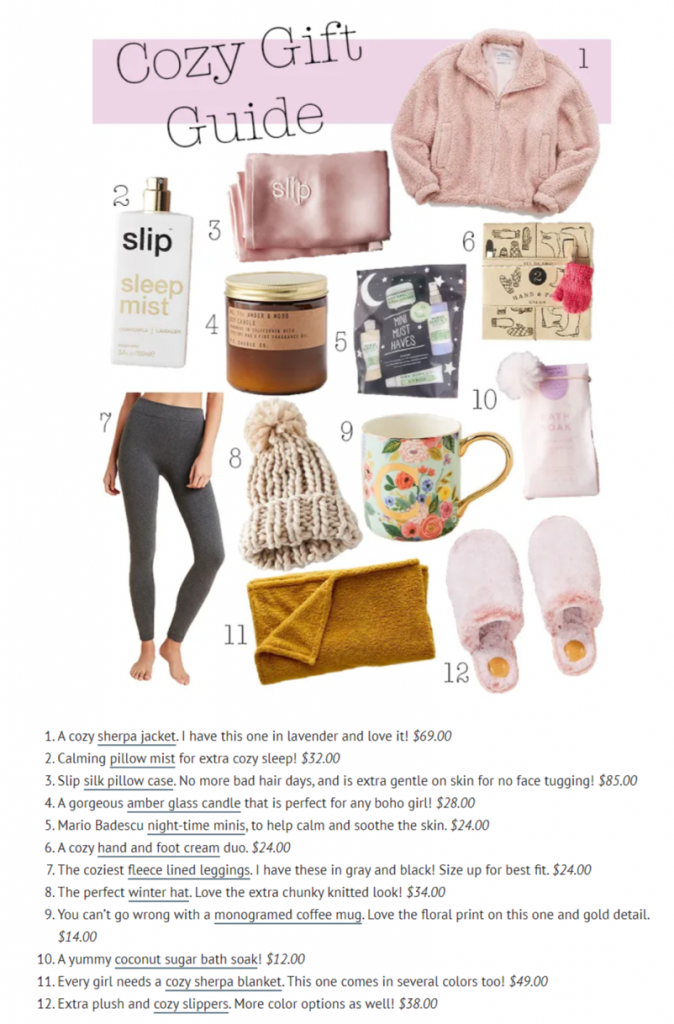 Example 2: YouTuber Fleur DeForce created a gift guide video to help her fans make the best Christmas gifts to their women. In the video, she mentioned many products and explained why she liked them.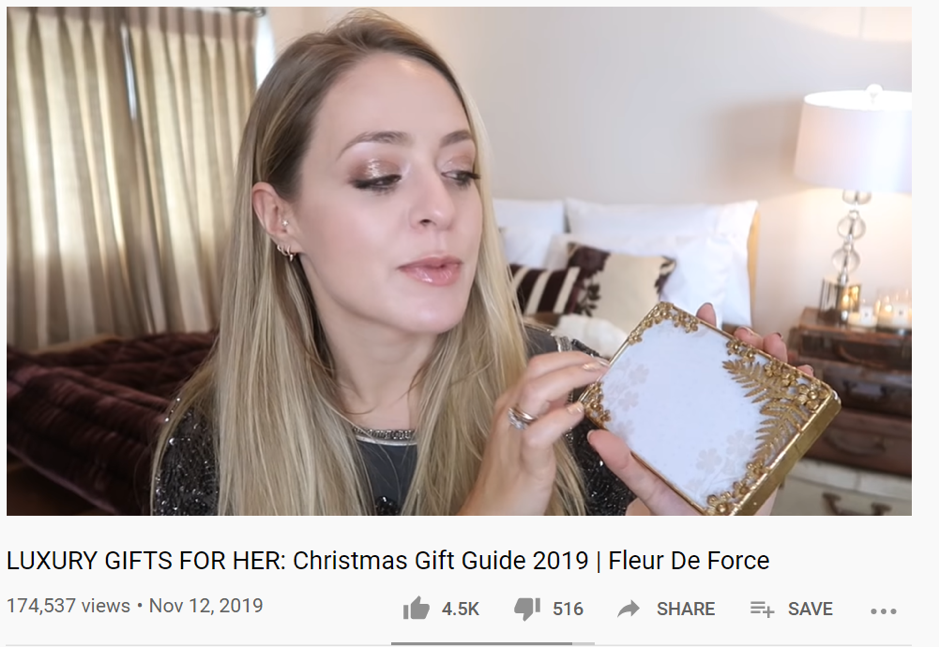 Check out the video description, and you'll see something like this: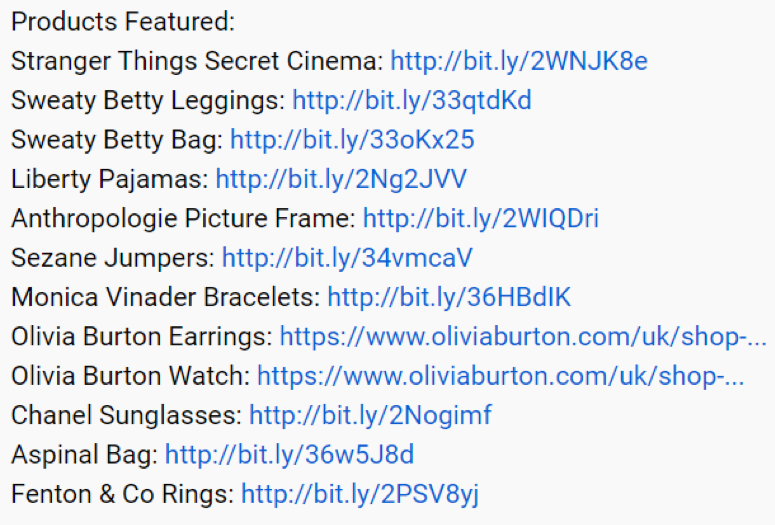 Fleur DeForce's followers can click on these links to visit product pages and purchase the items they want.
Why this tactic is effective:
The market size for influencer marketing is predicted to exceed $8 billion in 2020. Do you know why it becomes so huge?
The answer is simple: As humans, we tend to trust our peers, friends, and people we admire/know rather than salespersons. We constantly seek out Internet recommendations as a way to feel confident in our choices. Influencer marketing takes advantage of these psychological effects by applying tactics like word-of-mouth marketing and social proof, which involves soft sales strategies, not a hard-sell approach.
Ask yourself: What do you do when you don't know what to give to your mom on Christmas? You google it, say, "Christmas gifts for mom," right? That's why working with influencers to create holiday gift guides works.
In a 2019 survey of nearly 60,000 influencers, more than 60% of them planned to produce at least one holiday gift guide. You can partner with them to promote your products to potential customers.
How to apply to your business:
As a small business, you may have a shoestring budget. But that doesn't mean you can't work with influencers.
The strategy is to look for micro-influencers who have under 10,000 followers. They can be bloggers, YouTubers, or any other social media influencers whose profiles fit your business. Also, think about local influencers because they can impact the community to support small businesses like you.
Typically an influencer will create a gift guide that includes your products and then promote the guide to their fans. But you can create a gift guide, and the influencer just takes charge of doing promotion.
Some other ways to make use of your gift guide:
Send the gift guide to a local press. Ask them to publish your guide, and they'll earn commissions from any purchase through the links. Or, you can pay a fixed price to get your guide published as a sponsored post.

Organize your gift guide into different categories (for example, gifts for her, gifts for him, gifts for mom, gifts under $30, etc.) that resonate with your prospects. Then, use Leadpages website builder to design a dedicated landing page for the guide to impress them. Highlight the features that make your products the best gifts. Check A Mighty Girl's holiday gift guide 2019 for inspiration.

Create an opt-in form announcing early access to your Black Friday/Cyber Monday sales and use your gift guide as a lead magnet. Then, send the guide along with an exclusive discount code just to people that subscribe to your email list. The goal is to encourage them to shop in your store and build excitement around your holiday sales.

Make your gift guide stand out on your website. You can display it at the top of your site using an alert bar, so whenever a visitor goes to your site, they can see the gift guide. The goal is to make it as easy as possible for customers to find what they want.
2. Implement charitable marketing
Example 1: In the holiday season 2019, KITX designed a special product called activism T-shirts. They then donated a percentage of each tee sold to the Climate Council, Carbon Neutral, and Save the Bees Australia—non-profit organizations with the mission of protecting Australian nature and environment.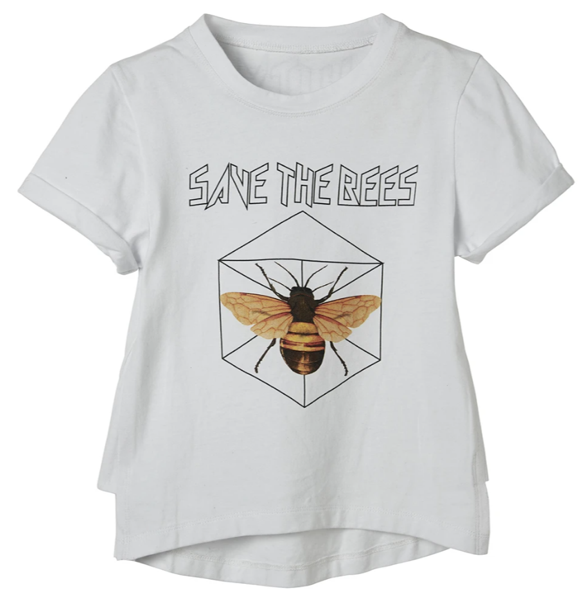 Example 2: Australian fragrance brand Lumira partnered with the Royal Botanic Garden Sydney to create a limited-edition scented candle called Florescence. It was introduced as a perfect Christmas gift for people who love natural scents. A part of the sale was used to support the Royal Botanic Garden Sydney's ground-breaking science and conservation work.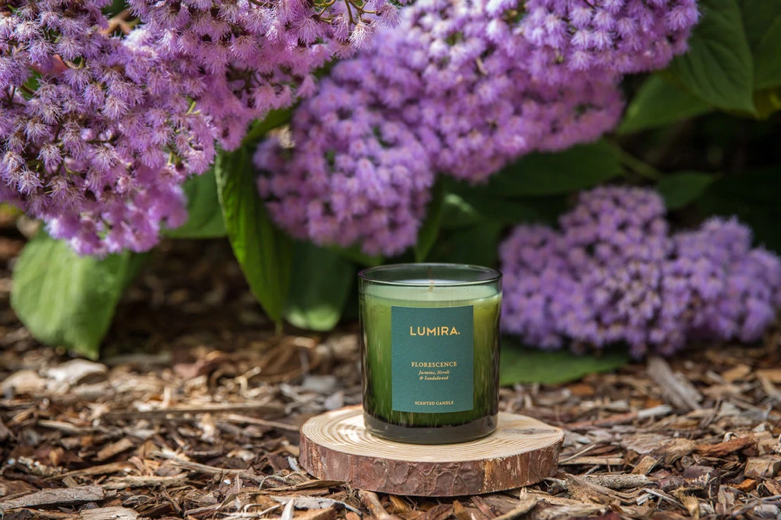 Why this tactic is effective:
Research shows that donations increase sales. According to a study in the Journal of Consumer Research, corporate social responsibility leads customers to believe products have better quality. It helps establish a positive belief about products in customers.
Charitable giving is more important when it comes to small businesses that depend on the local community to keep them survive and thrive. By supporting a cause, a small business demonstrates that they care about the community and want to make it a better place. Because of that, people will want to shop more at local stores, which shows loyalty.
And, in case you miss: people are more motivated to give and more willing to open up their wallets in the holiday season. Keep that in mind when creating your 2020 holiday marketing plan.
How to apply for your business:
Here are some ways for you to implement charitable marketing in the holiday season 2020. The key to success is to be creative in the way you can get involved:
Donate a part of your holiday sale to a charity. Tell it on social media, so people know you're not just promoting sales but also doing something good for their community. Check this great example from @thenaturewitchshop.

Sponsor or co-sponsor a charitable event. Look for charitable organizations in your community and ask them to add your business to the sponsor list.

Find a non-profit organization in your community that you could make a product for. Then, create a unique limited edition product for that cause. For example, if you're a personal care shop, you can make a special edition pink soaps to support a breast cancer charity.

Join a charity auction and donate your product or service to it. Your products will be called by the auctioneer, and hearing people bidding on these items will make those attendees unfamiliar with your business think you must be pretty great.

Partner with a local charity and ask in-store shoppers if they want to donate an additional dollar for a cause when they check out. You can use leaflets and chalkboards to announce your donation program, so passersby can know about it. Tell them they can donate anything, from money to any (still good) physical item they no longer use. This tactic is beneficial to your business because, after the holiday, you may be mentioned in the charity's press release: "ZYZ business raised $30,000 for our cause!"

Add a donation button on the checkout page so your shoppers can donate when purchasing on your website. You can do this by using plugins like Easy Donation (Shopify) or POWr (BigCommerce).
3. Run a giveaway/contest on social media
Example 1: The Gourmet Greek asked people to like, share, and tag friends in their post to join their giveaway. The brand showed a picture of the reward (a Christmas Deluxe Cheese pack), which attracted a lot of attention.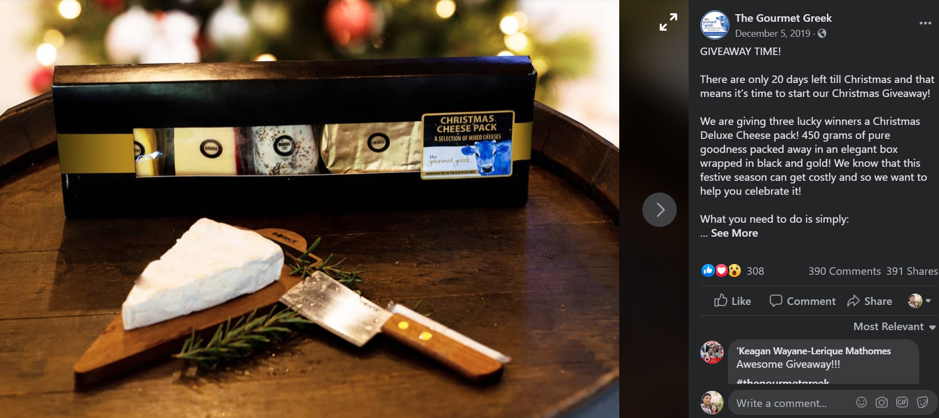 Example 2: Well Polished UK's 2019 Christmas contest had a simple rule. People just needed to like and share their posts with friends, and they would have a chance to win a £100 voucher. The brand did a great job of using hashtags to make their post searchable.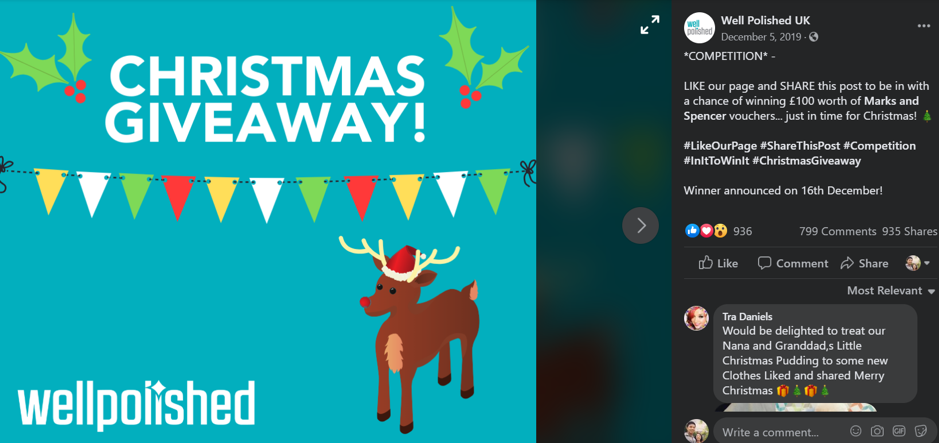 Why this tactic is effective:
"Free" isn't just an indicator of price. It also acts as an emotional trigger that makes us more willing to pay additional dollars for two shirts to get an extra one at no cost.
Free giveaways and contests share two key traits: urgency and scarcity. Urgency can be a powerful motivator because it fulfills our desire for instant gratification. That's why most contests typically run for a limited period (often less than a month).
Meanwhile, scarcity creates a limited supply. If there is only one reward, it instantly becomes more valuable in the mind of customers.
How to apply for your business:
For the 2020 holiday marketing plan, you can run a holiday-themed contest/giveaway. Try these ideas:
Like and/or comment to win
Photo caption contest
Tag a friend to win
Share a story to win
Video contest
Scavenger hunt contest
The incentives can be anything, as long as they are valuable to your followers and within your budget. You can even partner with other small businesses and use their products as rewards for your giveaway.
4. Crowdsource content from your community
Example 1: Instagrammer Rohina Anand Khira parted with Archetype Studio and The Face Shop India to hold a Christmas contest in 2019. The contest required followers to like the post, follow Instagram accounts of these two brands, tag friends, and, more importantly, share their skincare tips.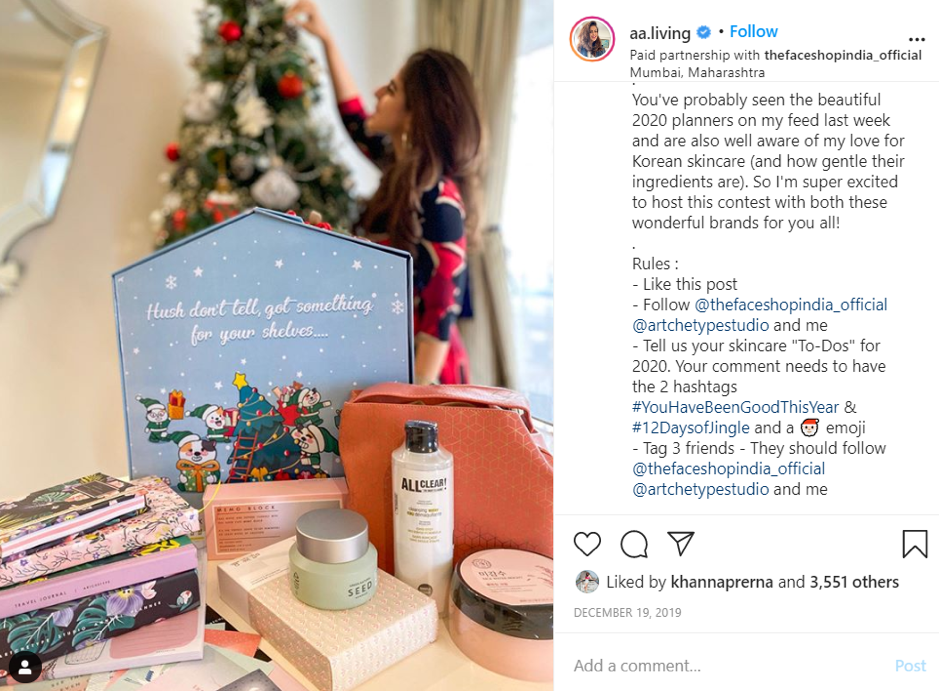 Example 2: In 2013 Halloween, Pinky Paradise ran a photo contest that drew a lot of engagement. They asked followers to post a photo on their Facebook wall, create a title, and write a short caption describing how they dressed up for Halloween.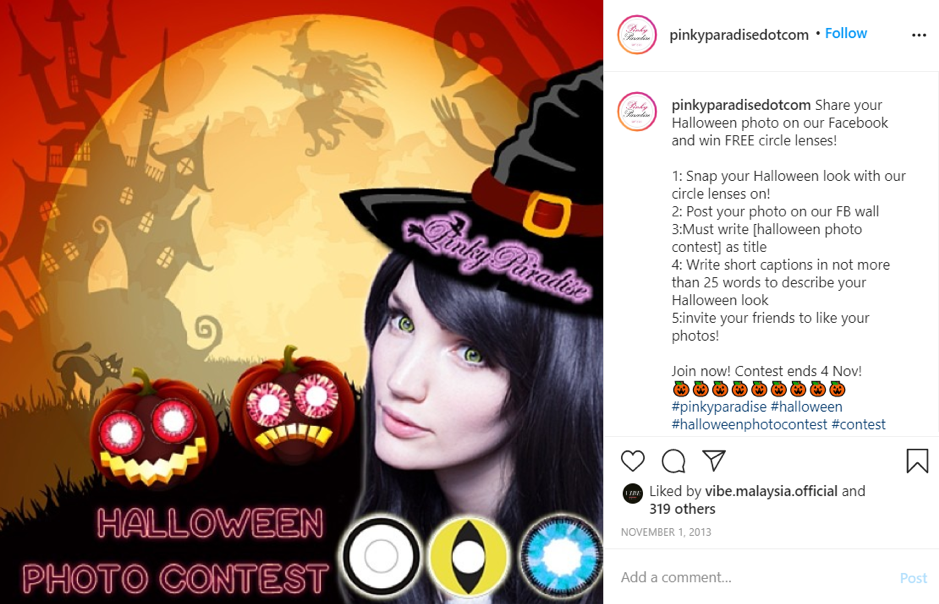 Both of these examples take advantage of content from followers (called user-generated content) and the power of hashtags.
How to apply for your business:
You can have user-generated content by applying any of the following tips:
Create seasonal hashtags that people can use on posts featuring your store or products. It's a great way to get them engaged.

If you have a physical location, set up a holiday photo booth where customers can take pictures to upload to their own accounts. Ask them to tag your brand in their post or share those photos on your official page to generate excitement about your business.

Collect images of your products uploaded by your customers and then create a gallery on your website or social media feeds.
5. Dress up your website and social media channels
Example 1: Cookie Good created a seasonal logo, which added a little fun in their website. Also, the homepage showed a holiday-themed banner and a clear promotion of gift cards, which helps those who are unsure of what their gift receivers wish for.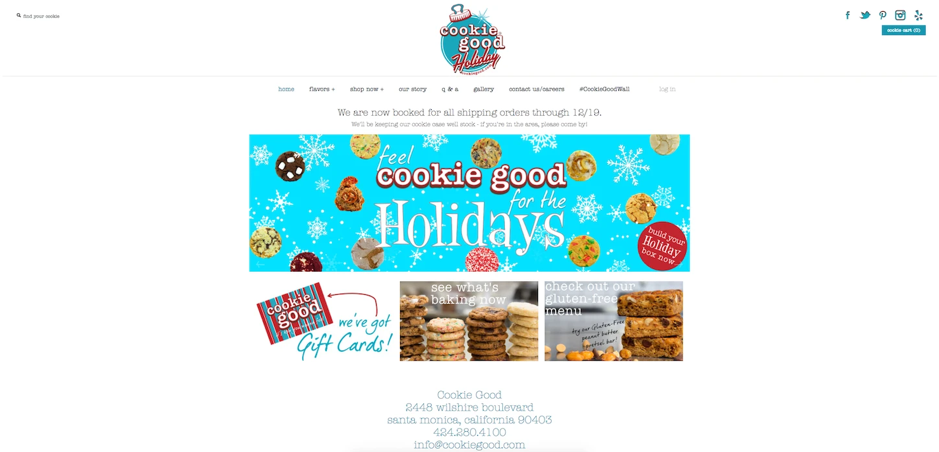 Example 2: A holiday-themed Facebook photo cover designed by Designveloper. They found a great way to make brand colors work together with the overall design and the holiday elements they chose.

How to apply for your business:
A holiday flair on your online website can get you into the spirit of the festive season quickly. If you want to do that, try these ways:
Hire someone on Fiverr or Upwork to recreate your logo with holiday elements like a snowman, a Christmas hat, etc.

Use Canva to create a holiday banner featuring special holiday sales, a gift guide, or special products.

Get creative with animation like snowball effects to make visitors feel the season.

Do not limit yourself just to green and red for your web design's holiday colors. You can try other colors as long as they harmonize with your brand colors.

Update social assets like Facebook covers, Instagram stories, hero images, landing pages, email pop-ups, alert bars, etc.
6. Don't forget holiday email marketing
Example 1: Farewill sent a "straight-to-the-point" email to their subscribers—big, bold lettering to show their Cyber Monday discount. Notice the coupon code name "CYBERMONDAY30". It drew the eye and enticed recipients to click Claim Discount.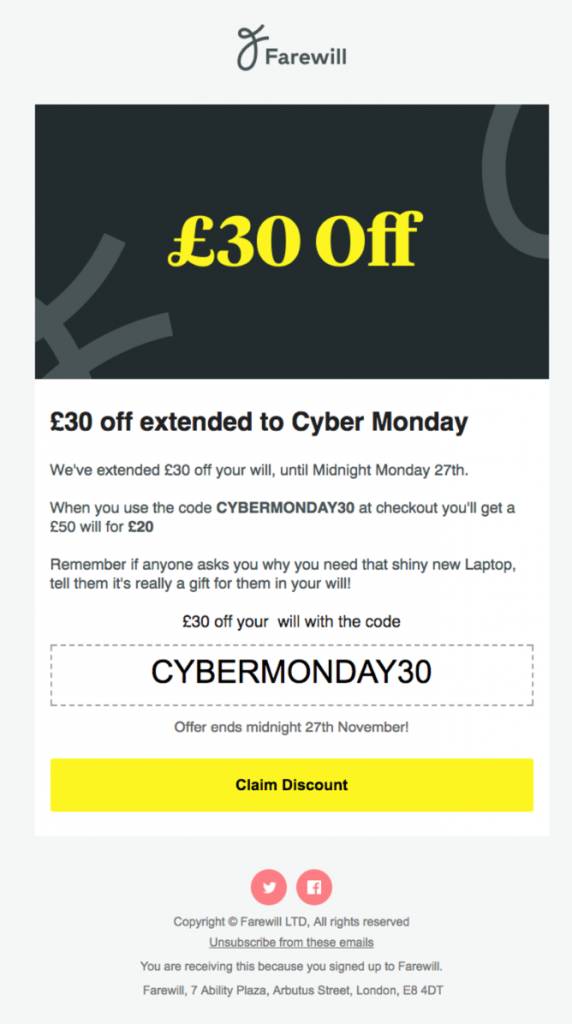 Example 2: Overstock surprised their subscribers by extending their Christmas deal. This email told recipients who had to work or got distracted or didn't have the time to shop on Overstock on Christmas that they still had a chance to get the deals. The email subtitle was eye-catching with power words "Year-End Clearance," "HOTTEST Sales."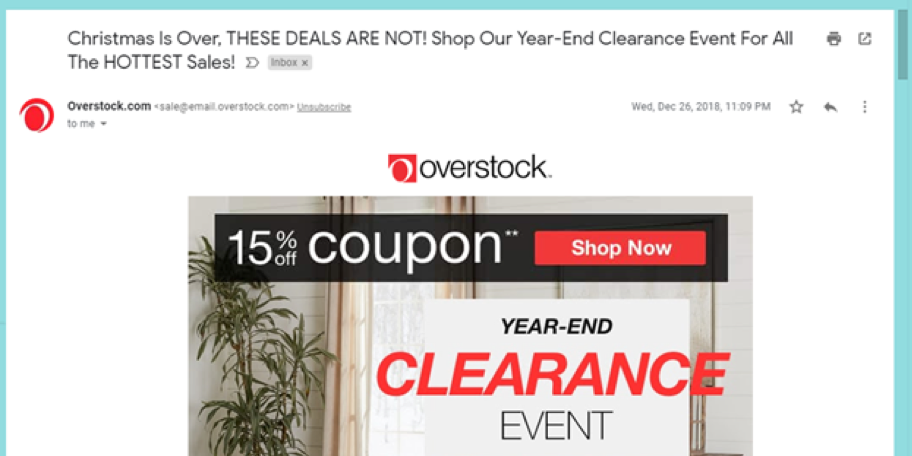 How to apply for your business:
If you want to skyrocket your sales in the 2020 holiday season, don't forget to use email marketing. Follow these techniques:
Include power words like Sale, Free, % Off, BOGO, Exciting, Exclusive, Secret in email subjects.

Personalize emails like adding recipients' names in email subjects to increase the chance of your emails being opened. This can be done with tools like Drift.

If you have many offers, show them in the email. But highlight the biggest deal to entice recipients.

Create a sense of urgency to push recipients to take action quickly. You can do this by using Countdown Mail to add a countdown timer to emails. Alternatively, you can use wording like Limited Time Only, Today Only, While Supplies Last, Only X Left, Sale Ends At Midnight, or Last Chance to create the same effect.
7. Offer incentives to buy
Example 1: @thisorganicgirl offered a $200-valued Christmas gift to the first 50 customers who spent at least $300 in their store.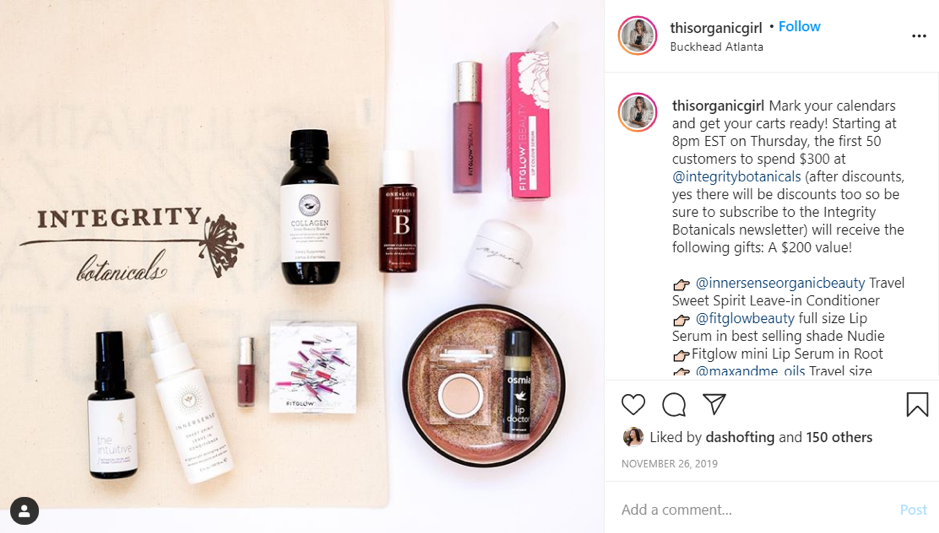 Example 2: Beginnings Salon and Day Spa reduced their spa services' prices in New Year to attract more customers.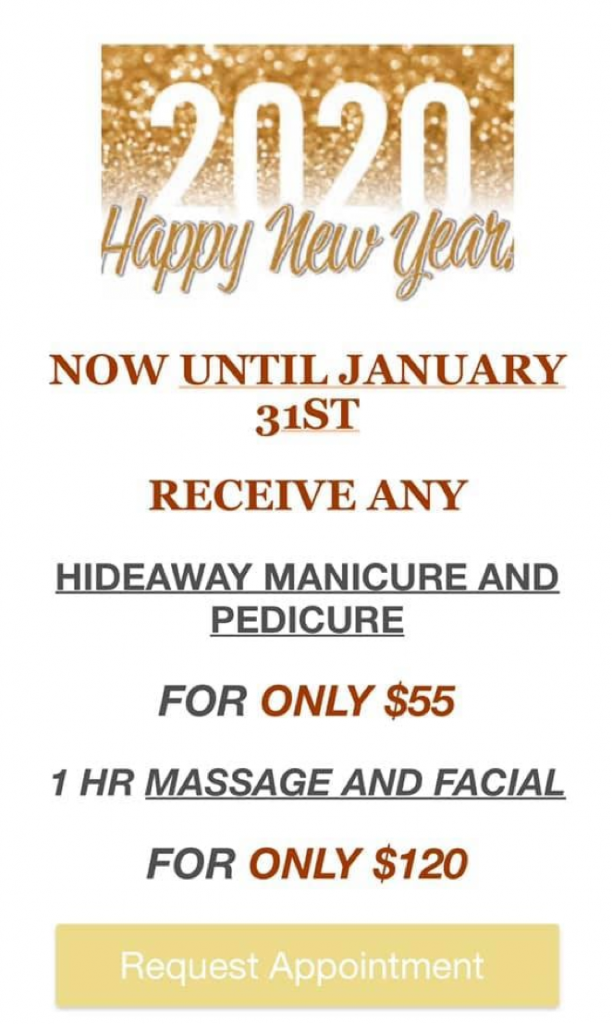 How to apply for your business:
There are several ways to use incentives to encourage customers to buy. You can offer a coupon code, a discount, a gift, free shipping, free gift wrapping, free consultant, or anything that you know your prospects will be happy to receive.
8. Make use of countdown timer
Example 1: National Sports showed a countdown timer in the center of the homepage, counting the seconds until their offer is over. A very compelling offer in a limited time—who wants to miss out?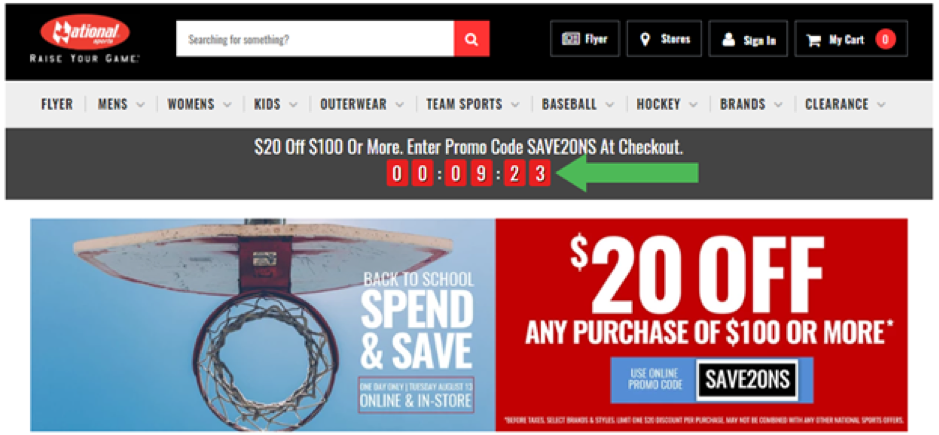 Example 2: Your shoppers add something to their cart. That's good, but it doesn't mean they'll always click the Checkout button. Hygo understands this, so they displayed a countdown timer to tell shoppers their cart will expire soon.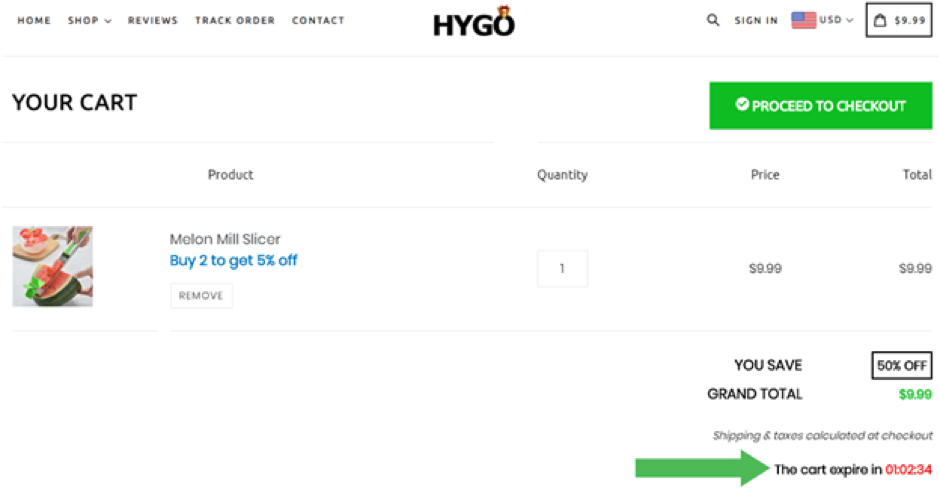 How to apply for your business:
Besides emails, you can show countdown timers in other positions on your store: Homepage, alert bars, email popups, collection page, product page, cart page, checkout page.
A storewide sale refers to when you offer discounts for all products in your store. In other words, shoppers will get a certain percentage off when they buy anything from you. To get the most profitable storewide sale, you should set a time limit for your sale. That can be done by showing a countdown timer on the homepage.

You can create a sticky alert bar to your page and add a countdown timer below. Visitors always see the bar even when they scroll to the bottom of your site. You can create this bar by using Leadpage Alert Bars.

You should continue to show a countdown timer on the product page to let shoppers know that time is running out quickly. Hence, they may have a stronger motivation to proceed with their purchase.
9. Host a Facebook Live
Example 1: Last year, clothing boutique Four Little Miracles Monogramming hosted a Black Friday Facebook live. The video attracted 1,700 views and 458 comments—which is a huge success for a small business.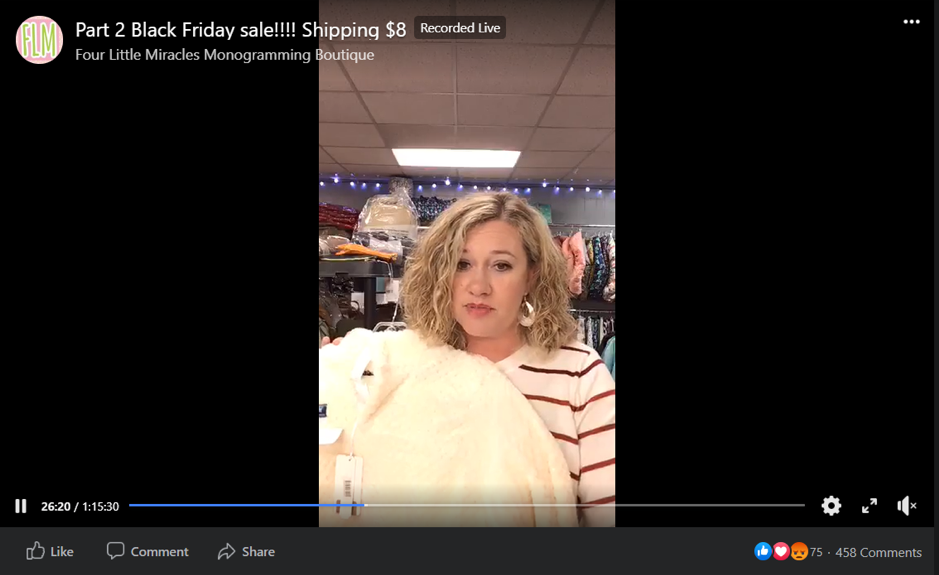 Example 2: Ellie's Boutique gained a lot of traction with her Facebook Live on Black Friday 2018. The video got only 888 views but more than 600 comments.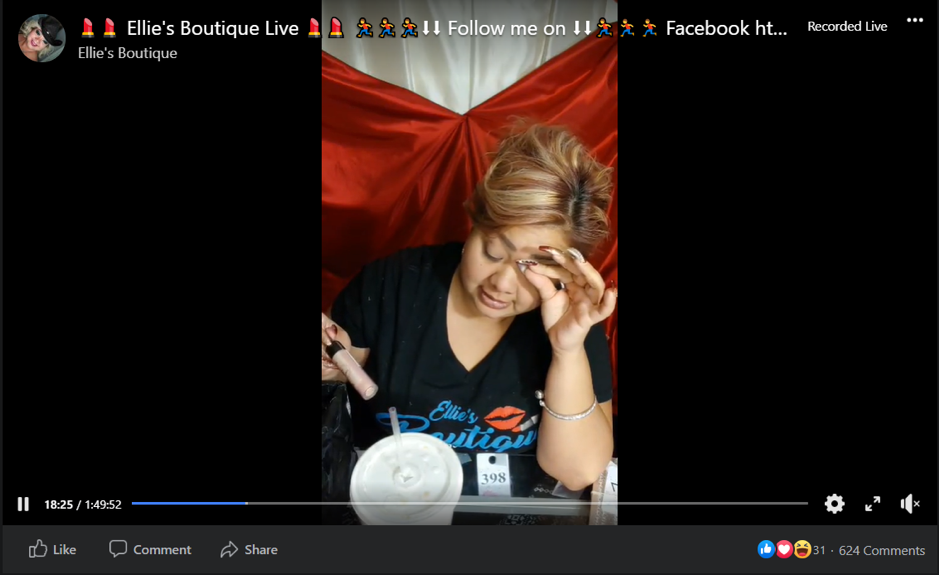 How to apply for your business:
With Facebook Live, small businesses can build brand awareness while driving sales in the holiday season. Keep in mind the following tips:
Before you actually go live, create a Facebook post or a Facebook event at least a day in advance to let followers know when you'll be going live. Then, create other posts, say, 3 hours/1 hours/30 minutes/5 minutes before the event, to remind followers. Also, you can use Canva to create a Facebook live event cover to draw attention. Check out how Ellie's Boutique did that.

During the live stream, you can hold giveaways, offer prizes, or incorporate a Q&A section.

At the end of the event, you can offer a discount/gift to reward viewers for watching and encourage them to buy (more).
10. Create exclusive holiday gifting bundles
Example 1: Faux'ever Roses' Christmas bundle came with free shipping for UK customers.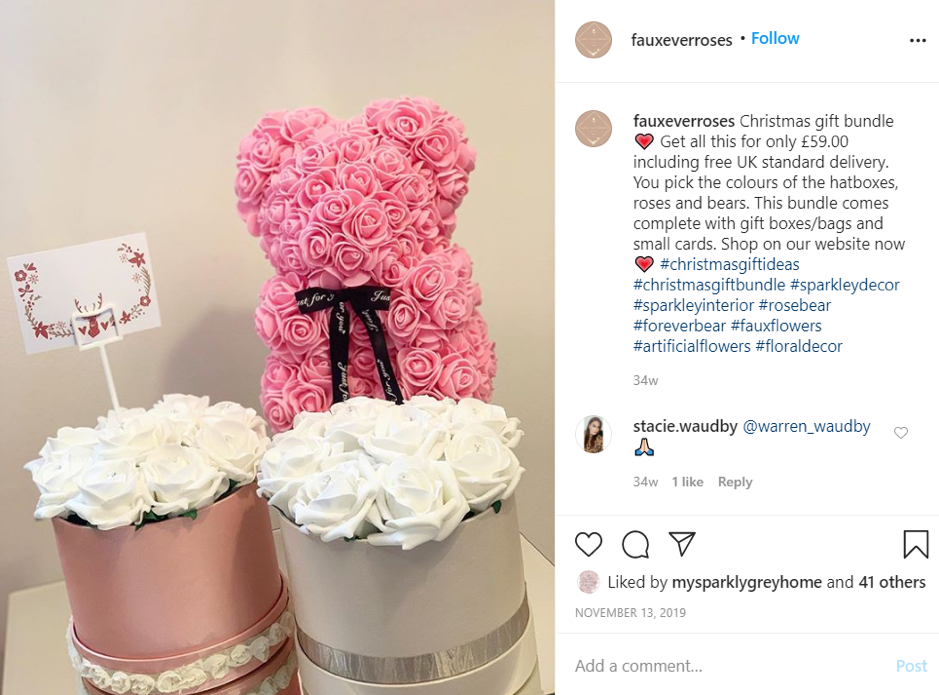 Example 2: The headband store Authentic Batik Headbands created an exclusive Christmas bundle, including their product (headband), 2 gelatos, and a surprise gift.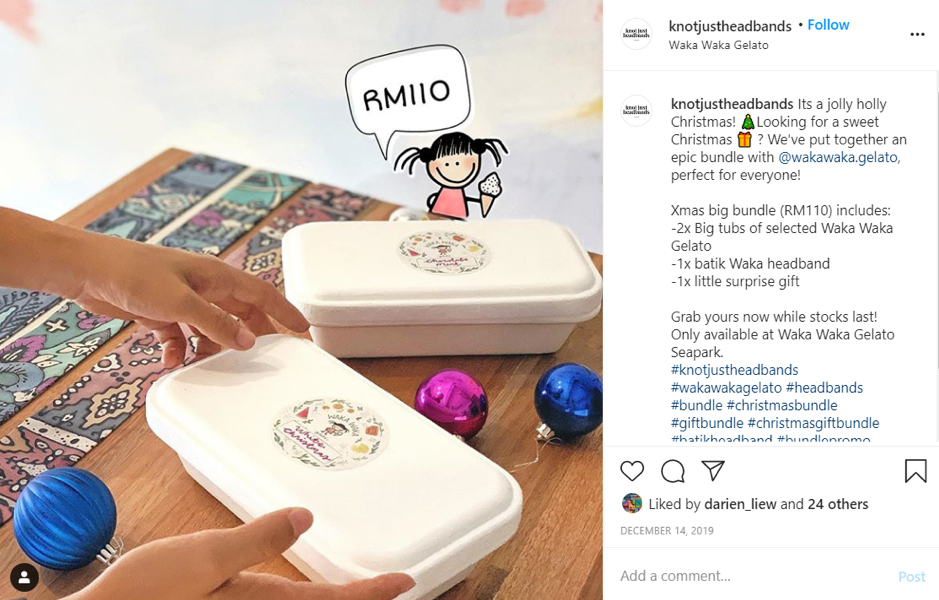 How to apply for your business:
Everyone likes good deals. But as a small business, it's hard for you to give out huge discounts like big brands. In this case, try creating product gift bundles instead.
Bundles help reduce the pain of paying in price-sensitive customers and give them what they want—getting more items at a discounted price. They are also an opportunity for you to increase your average order value.
If you're not sure what products to bundle, try these:
Create a (unique) valuable bundle. For example, a 90-minute massage and a mani/pedi combo for just the cost of the massage.

Include a small secret gift in the bundle to create curiosity.

Identify your 2-3 best-selling products and put them all in one package.

Ensure your customers know these bundles are available only for a limited time.
To offer bundles on your store, you can install plugins/apps like Product Bundles by Bold (Shopify), WooCommerce Product Bundles, Magento Product Bundled Discount Extension.
11. Run holiday ad campaigns
Example 1: A Cyber Monday Facebook ad from American Weedster.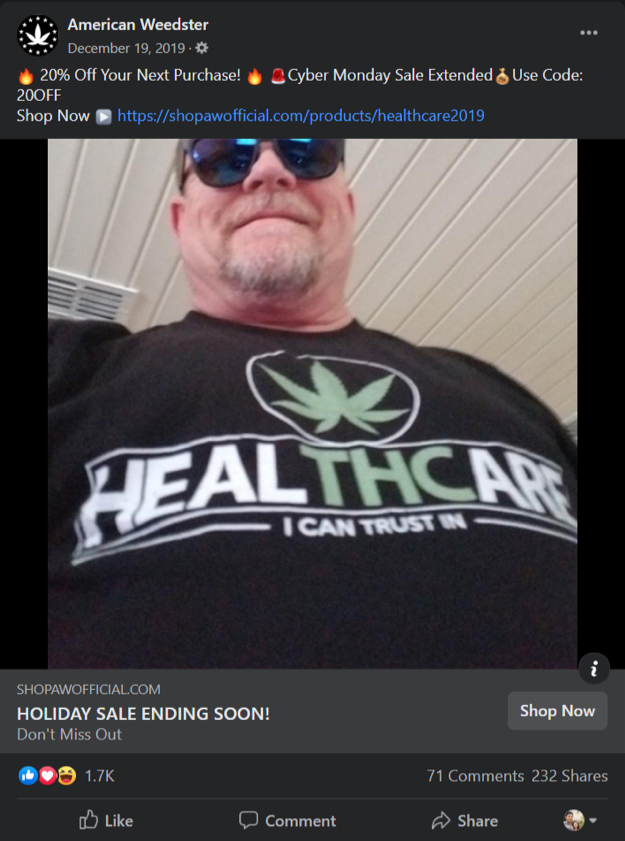 Example 2: FiviShop's Black Friday Facebook ad. A short but compelling ad copy with words "Sale OFF," "Only 199 Product Left" (creating a sense of scarcity and urgency), and "Free Shipping Worldwide."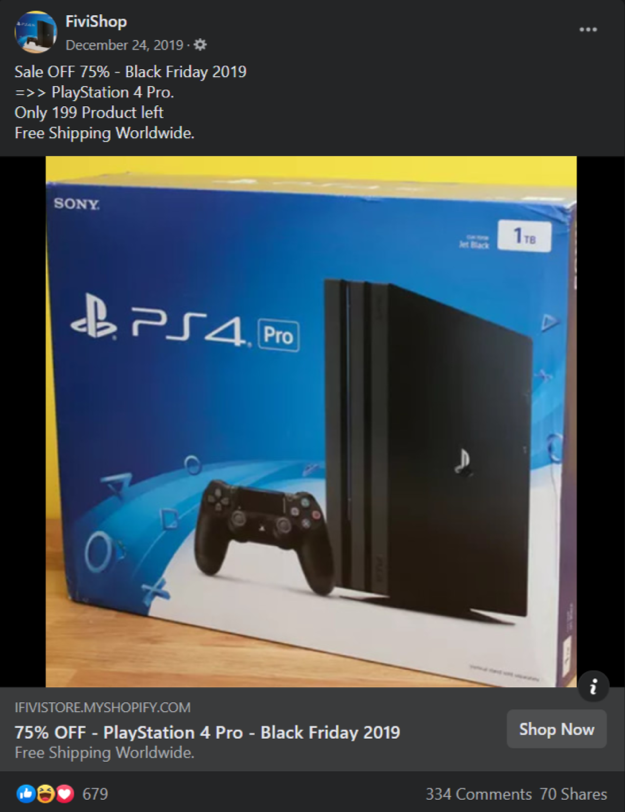 How to apply for your business:
You can run a holiday marketing ad campaign on Facebook, Instagram, and/or Google AdWords. The key to success is understanding what you want to achieve, who you want to reach, which products you will feature, and how you will promote them.
Besides, it's highly recommended that you create a dedicated landing page for your ad campaign. This helps increase ad campaigns' effectiveness, and you can easily track and measure each ad's performance.
12. Offer time-sensitive holiday deals
Example 1: Vaptio offered a time-limited flash sale in Christmas 2018. Not only the time but quantity was also limited.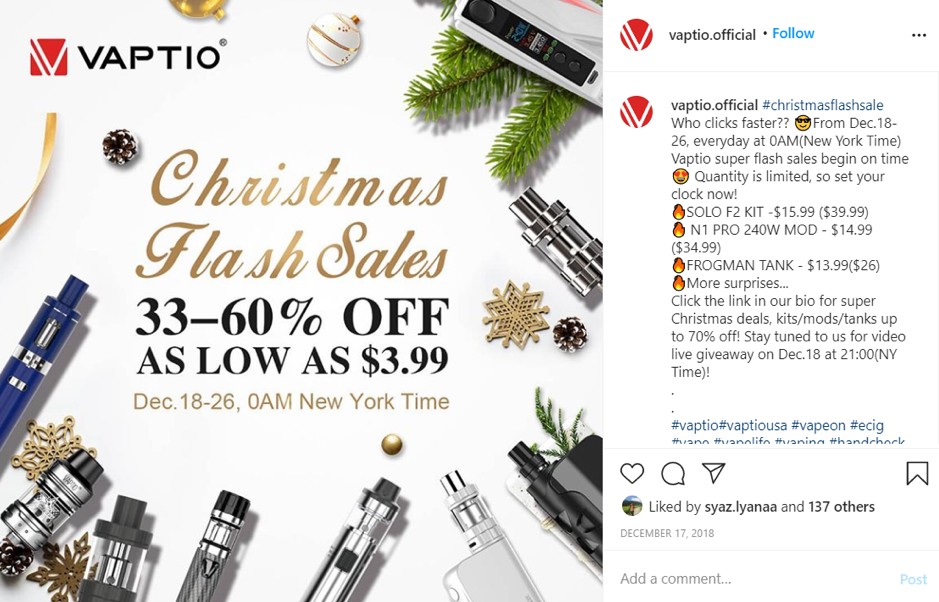 Example 2: Exercise trainer Robin Andersen created a Cyber Monday flash sale lasting only 3 hours.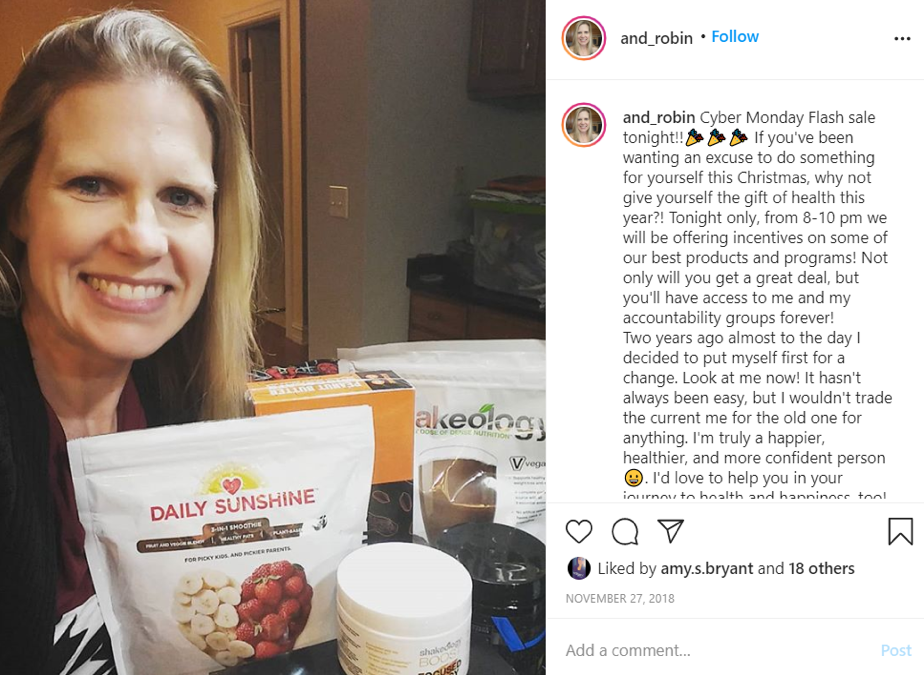 How to apply for your business:
Black Friday and Cyber Monday are the perfect holiday events to offer time-sensitive deals. Your flash sale can take place just some hours or throughout a weekend. The more limited the deal's time, the more pressure your customers feel, which urges them to purchase; otherwise, they'll miss out.
For those who are chronic procrastinators, you can increase the sense of urgency by featuring limited stocks or offering them fast delivery or a surprise gift. Holidays are perfect for targeting late gift shoppers without hurting your profits.
13. Run gift card promotions
Example 1: AmyKaeAtelier ran a gift card promotion offering "buy one get one."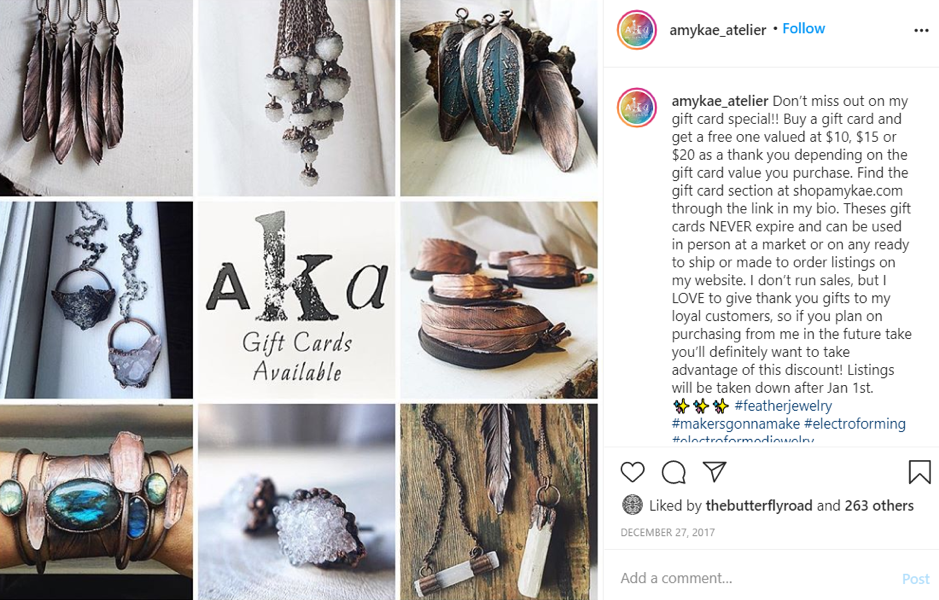 Example 2: Sarah Drai's gift card promotion in Christmas 2019.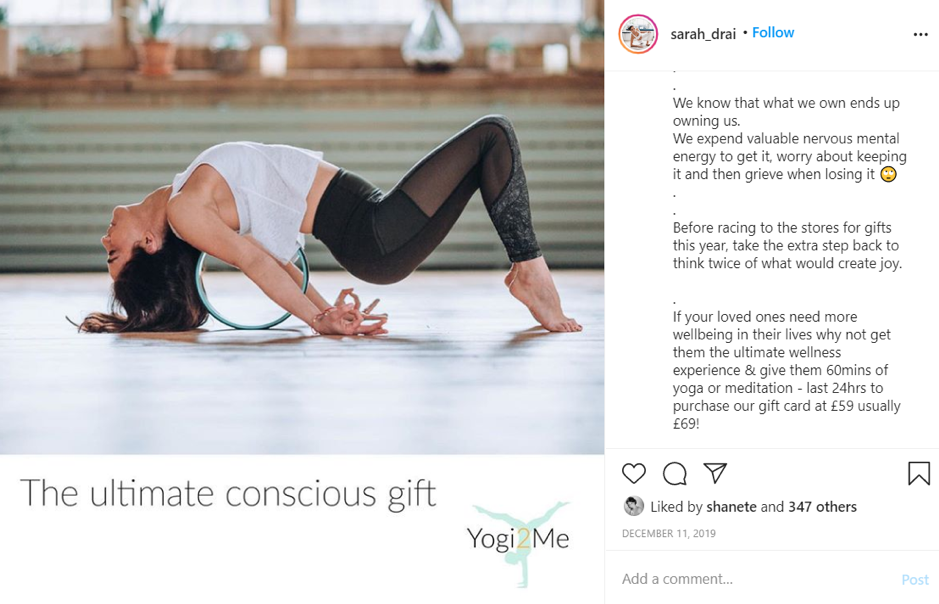 How to apply for your business:
Gift cards are the best presents for almost everyone. We love them because they are small enough to put into a greeting card, easy to share, and diverse in denominations. The gift card market value is expected to reach nearly 379 billion US dollars by 2020.
To run a gift card promotion, you can:
Offer a free gift card with the purchase of another gift card. We often buy several gift cards for family and friends, right?

Make the buying process as convenient and flexible as possible. For example, allow customers to order gift cards online or over the phone.

Promote gift cards across your website, social media platforms, and at your physical location.
14. Create a personalized unboxing experience
Example 1: A Black Friday package purchased from Småfolk, unboxed, and shared by Instagrammer Line Hojlund. The brand name and their products were mentioned in the caption, which gives the brand a boost.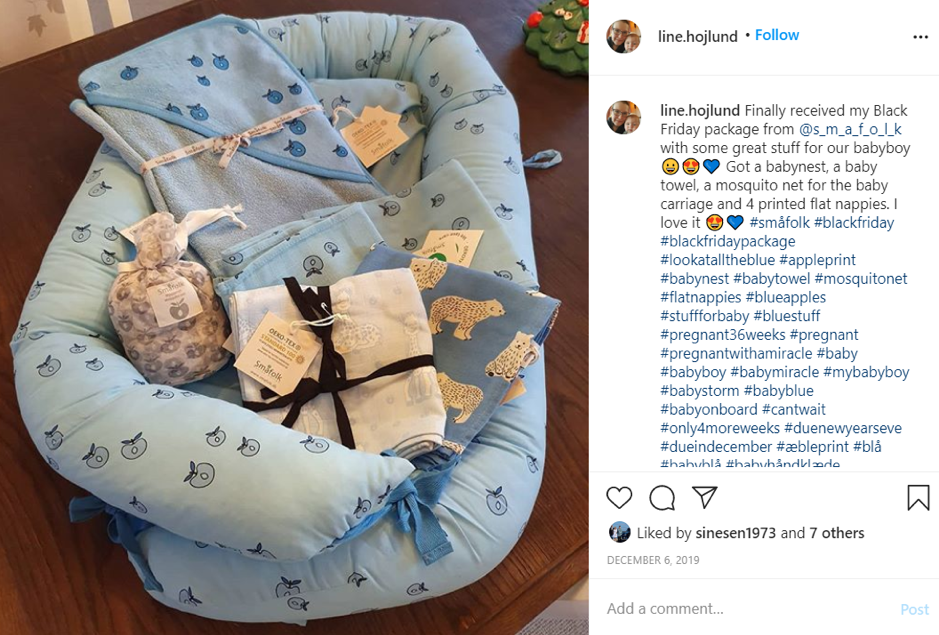 Example 2: John Masters Organics packed their Christmas product sets in dedicated Christmas boxes with designs inspired by cities where they were sold. Each box included a cut-out window as well, which lets each customer peek into the box and cosmetics inside.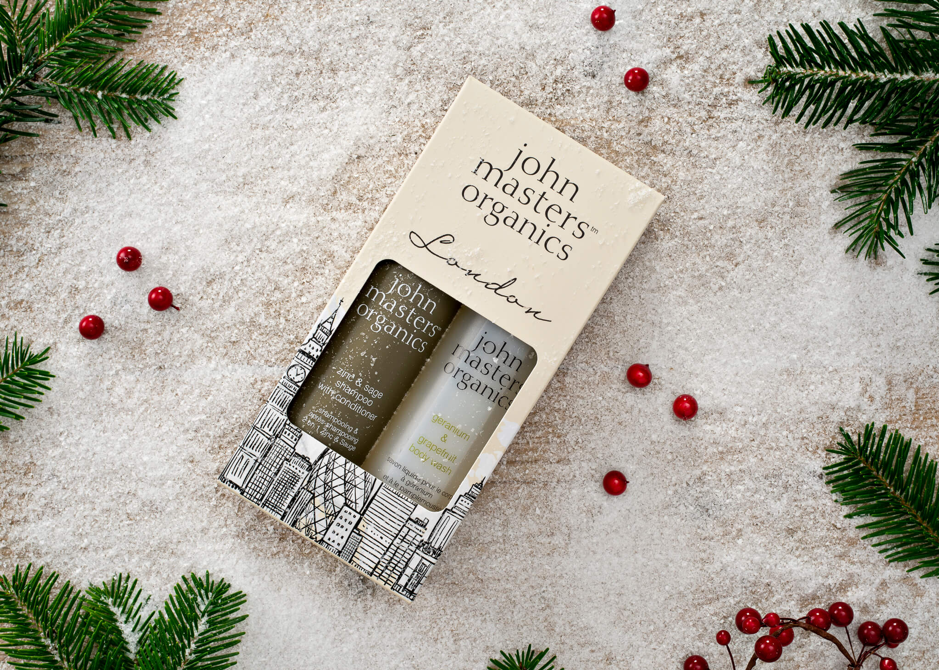 Why this tactic is effective:
Anything that stands out to your customers where they can see, touch, and smell increases the chance of a purchase. That's why an unboxing experience can have positive effects on your brand in the long run, not just in the holiday season.
Your shoppers look for special packaging for the following reasons:
They want to make a good impression on someone they care about.
Beautiful packaging will not require them to buy additional wrapping paper.
When you create a cool unboxing experience, you surprise two kinds of people: the person who is going to buy it (your customers) and the person who will receive it (possibly, your customers in the future).
With a memorable unboxing experience, they will be more likely to remember you next time's shopping.
How to apply for your business:
When it comes to unboxing experience, being creative is what helps you win over customers. You can choose to use boxes or bags, and add unique elements to surprise customers.
In doing that, keep in mind the following:
Your packaging will represent your brand and communicate why they should choose you.

Research your target audience and think about the message you want to tell. Communicate this in your packaging design, and the unboxing experience will speak for itself.

Make the package as personal as you want.

Send the package to an influencer, let them unbox, and share the experience with their fans. This strategy will help increase your brand awareness.
15. Think beyond the holidays
Example 1: 33 Butterflies ran an after-new-year sale to take advantage of the holiday flare.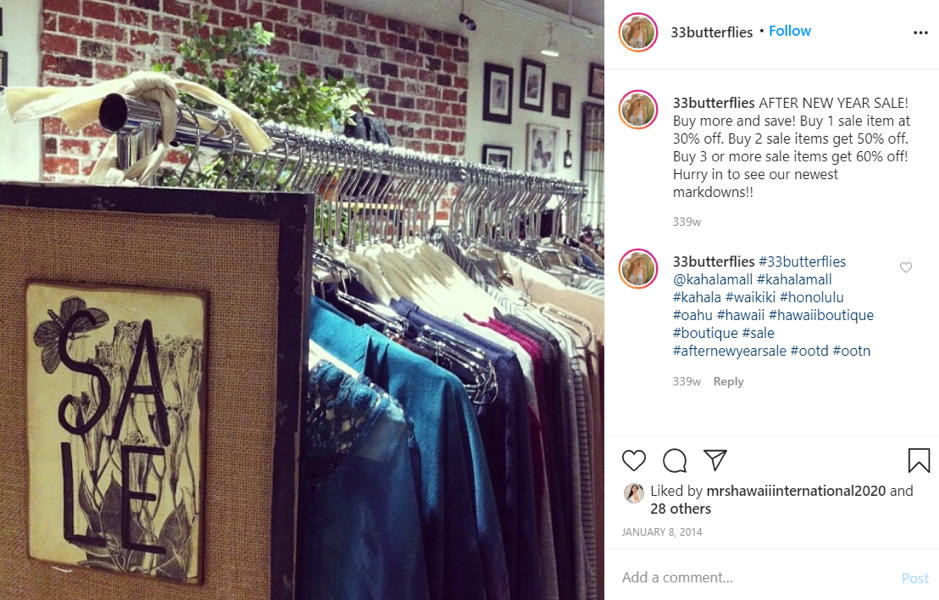 Example 2: Era style loft's after-new-year sales with a 25% discount, new styles, and a free giveaway.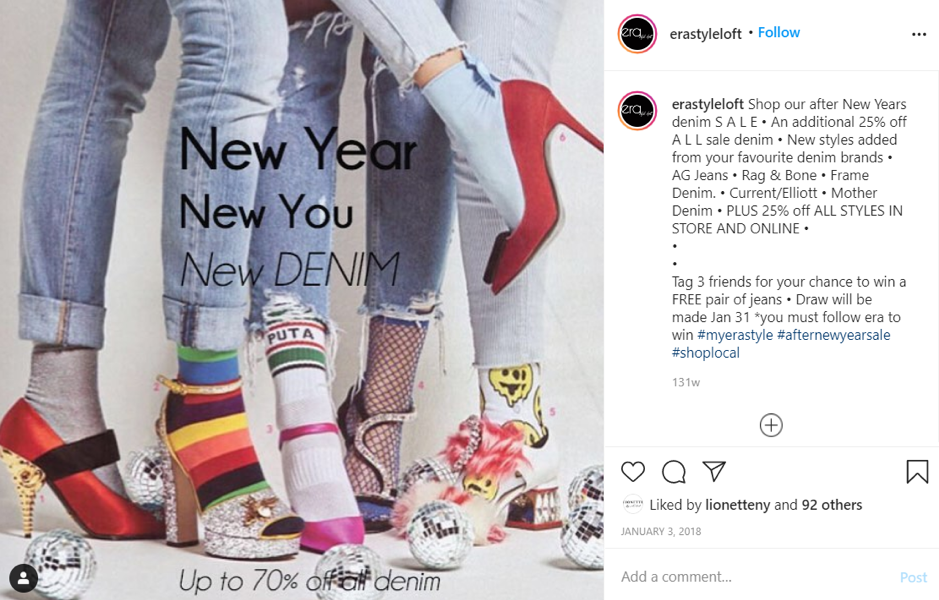 How to apply for your business:
After the holiday sales (right around January), you may think of taking a break. But the hard truth is that it's also when people start returning things or stop buying, and you may experience a slump. But you can avoid that by starting a new sale.
Fact: Shoppers buy from you not only because it's the holiday season but also because of your discounts and free gifts. So, if you continue to give discounts, you'll likely win them back again and again.
Here are some ideas:
Winter clearance.
Throw in a free gift.
Offer discounts (Big discount for buy-bulk).
Launch new products, new styles, new tastes, new dishes, etc.
Say thank you to customers who buy from you in holiday sales and give them a discount code as an appreciation. This helps encourage customers to come back to your store after the holiday season.
Are you ready for 2020 holiday marketing?
It's not too tough for small businesses to develop a successful holiday marketing plan. There are many ways for you to do that, even when you have a tight budget.
Read carefully about 15 holiday marketing strategies above and find out what works best for you. Doing this early will give you a head start in the competition.
Good luck!