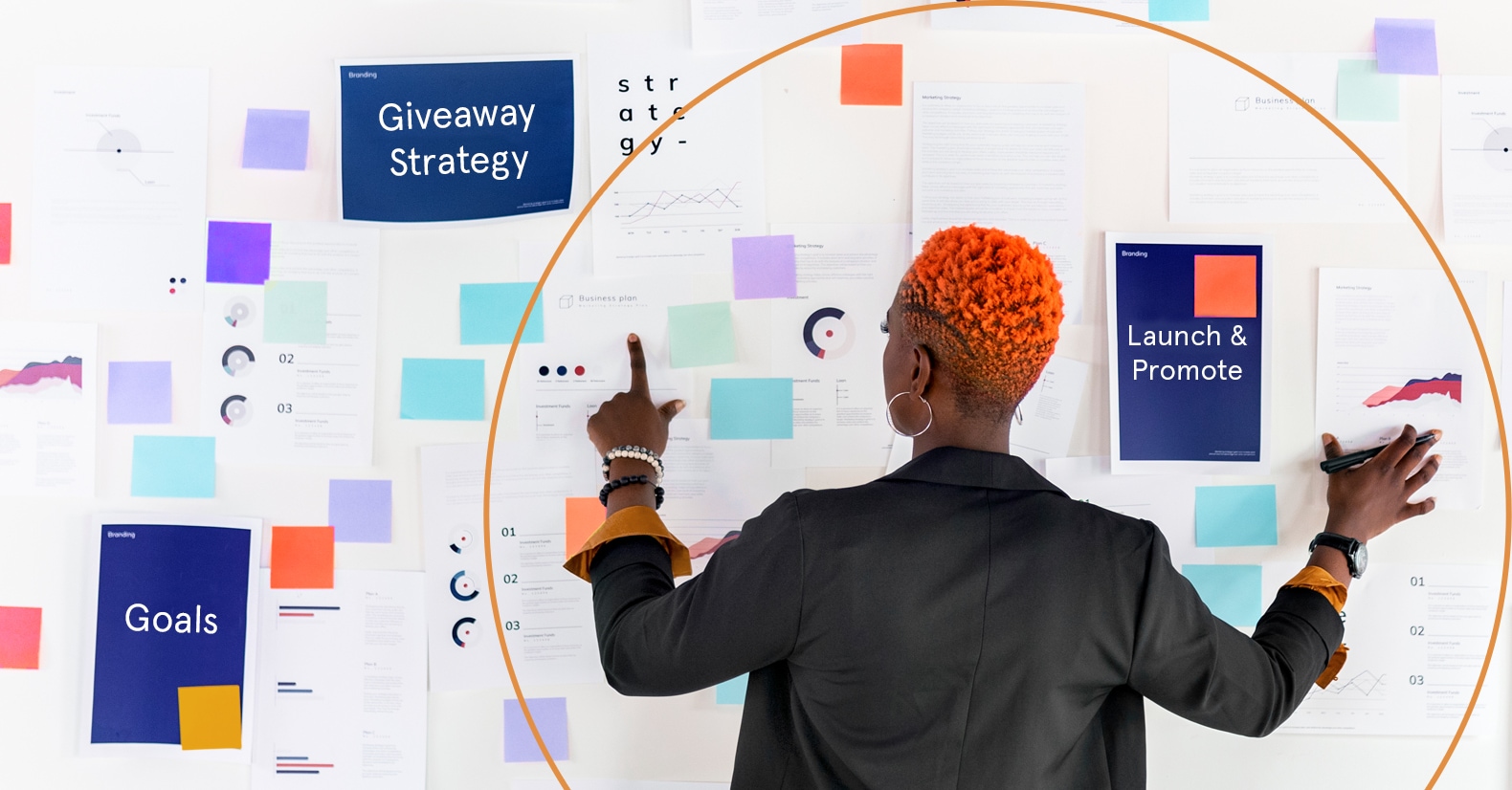 Thinking about doing a giveaway on social media as a way to reach new audiences? This guide will help you get started!
Social media giveaways are amazing strategies for growing your followers because:
You don't need a huge budget to run a successful giveaway.
You don't need a large following (just a 'buzz-worthy' carrot to give away).
It's (relatively) easy to get your giveaway or contest off the ground.
Today, you'll learn how to run your first giveaway in eight simple steps:
But before that, let's cover some basics.
Contest and giveaway — what's the difference?
Contests and giveaways aren't the same, though sometimes they can be used interchangeably. If you plan to run a giveaway, understanding the nuances of each will help you create a successful promotion plan—one that's directly suited to your goal outcomes.
What is a contest?
Think of a contest as a game of skill. Contests are typically a type of competition in which all entrants have to take a specific action and try their best to win. In contests, winners are selected based on their performance. The higher a participant's merit, the more likely he'll win the game.
Because of that, contests remove luck as a determining factor.
Contests could require entrants to submit a photo of themselves with your products, answer a question, make a guess or complete any other action or task that can be evaluated on performance for a chance to win a prize.
Case in point:
If you want to drive engagement or encourage user-generated content (UGC), running an online contest can be the right choice.
What is a giveaway?
Giveaways are a bit different from contests.
Here is a definition of a giveaway, according to Google:
A thing that is given free, often for promotional purposes.
When you host a giveaway, you want to offer your existing and potential customers a free gift without expecting to get anything in return. The winner is chosen from a pool of entries at random, not based on performance. With these in mind, you can think of giveaways as a game of luck.
A typical giveaway can ask participants to share a post on social media, refer friends, visit a specific website, or watch a promotional video.
Case in point:
If you want to improve brand awareness or grow your customer base, think about running a giveaway.
Below is the comparison table of contests and giveaways. Make sure you remember the key differences between them.
In this article, we'll focus primarily on giveaways and how to run one successfully. However, many of the topics we cover will also be applicable to running online contests as several of the techniques are the same.
Why should you do a giveaway in 2020?
Giveaways are one of the best marketing ideas if you want to build up your email lists with high-quality leads, increase your social following, or expand your brand presence.
Running a giveaway will:
Entice the audience to join. People always love free stuff. It's the nature of human beings to be excited when we get something without having to pay any cent.
Get customers' attention and build a strong relationship with them. When you offer something for free, it helps trigger an emotional connection between you and your target audience.
Make it easy to tease an upcoming product or feature release and attract followers to share.
Become more popular because social channels have been growing exponentially. Now giveaways aren't only effective on Facebook and Instagram but also on emerging social networks such as TikTok.
But that's not all.
In a recent study, Facebook showed that users are changing the way they interact with advertising. They no longer consumed ads passively. Instead, they now want to interact with branded posts.
Now that you understand the benefits of running a giveaway. Let's learn how to host your first giveaway step by step.
How to do a giveaway on social media
Running a giveaway on Instagram or Facebook might seem pretty daunting. Thankfully, though, it only takes eight steps to be successful.
Step 1: Set your goals
Generally, most people run a giveaway for either of the following reasons:
Engagement.
They want to start a conversation with their audience and nurture this relationship.
Lead generation.
They want to acquire more qualified prospects through social media.
User-generated content.
In other words, they want the audience to talk about their brands by sharing photos and videos. Because of that, they don't need to share the original content on their own.
Take this example from Target Junkie:
The image Target Junkie used for the post showcased all the products that a person can win by participating in the giveaway.
From the post description, it's easy to understand the goal: increase the size of the audience. To accomplish this goal, Target Junkie broke it down into three elements:
Ask followers to tag friends they think would be interested.
Get more likes on their giveaway post.
Encourage followers to tag more than one person.
By doing this, Target Junkie is more likely to meet their goal. You can apply the same technique by creating a clear and measurable goal. Then, allocate budget and resources to ensure you meet that goal. You also need to define specific metrics to evaluate your campaign.
You have to know what you want to achieve. Otherwise, you'll give away something for free without bringing any advantage to your business.
Step 2: Define your target audience
You don't want to give away a prize which just anybody would enjoy. You want to target a specific group of people who later may become your potential customers.
Remember: Your contest or giveaway should be designed to attract your ideal audience, not just any and every entrant.
To find your target customers, think about what they value, enjoy, and aspire to. What would entice your audience to enter your giveaway? What kinds of actions will they be willing to take? The more you do research on your market, the more you understand those who are ready to connect with you.
Step 3: Choose the right platform
Theoretically, you can run a contest or giveaway on any platform. Facebook, Instagram, Twitter, Tik Tok, LinkedIn, you name it.
However, it's more practical and effective to build engagement and get UGC if you choose a platform where your potential customers love most.
Whenever you implement a new strategy, you should always test it out in many different ways. Doing that, you'll see which platform generates the largest responses to your social media giveaways. In case you already choose a platform, you can skip this step.
When you test platforms, pay attention to their rules. Each platform has specific guidelines for giveaways that you must comply with to remain compliant. Ensure you read, understand, and follow each of the rules for your selected platform.
Step 4: Brainstorm social media giveaway ideas
Cool! You've got everything to be ready to go. It's time to think about the type of giveaway or contest that will help you achieve your goal. Note that the type you choose will determine how entrants can join your giveaway.
Below are five popular social media giveaway ideas you can choose from:
Tag to win
The idea is that you ask people to tag a friend to enter your giveaway. Once they do that, they become eligible to win the prize.
The tagged persons will likely receive a notification. Then, they may check out your profile and potentially become your followers. They're even likely to tag others, which helps bring more participants to your giveaway. Because of this, the tag-to-win contest does a great job of improving your social account's organic reach.
If you want to double the reach, you can ask people to tag at least two friends or to follow your account besides tagging someone.
Case in point:
To join the like-to-win or comment-to-win giveaway, entrants need to like your content or give a comment on it. You can ask people to follow your account as well, like this:
This classic giveaway is a tried and true way to increase engagement. To double the result, you can ask people to share your post, too. In this case, you should be careful because asking people to do too many things at the same time can make them ignore your post immediately.
Photo/selfie contest
A photo contest or a selfie contest is great if you plan to launch a contest on Instagram. It's a promotional campaign that works particularly well with products. It's also an excellent form of UGC.
For example, you can ask people to post a picture of themselves while they're using your product, or with the product somewhere in the background.
Or you can ask people to take any type of photo they wish and then submit the photo using a relevant hashtag that you create. Here is a good example:
Caption contest
Instead of asking people to share their photos, you upload a photo first and then ask people to caption it.
ou can either pick the best caption on your own or tell others to like the best caption. In the latter, the caption with the most likes is the winner.
Challenge contest
People love to win. So if you can create a contest that challenges them with a valuable prize, you get their attention.
Don't try to be complicated. You just need to come with a simple challenge. For example, ask your followers to answer a question or to tell a story.
In this giveaway, entrants have to write a creative answer. The question is simple but difficult enough to get people involved, which helps boost long-term engagement.
Step 5: Choose an awesome prize
Let's say you plan to run an Instagram giveaway. You want to offer one of these prizes:
"Win an iPhone 11."
"With $200 in Amazon vouchers."
"Win a new book by Nicholas Sparks."
These are great (and valuable) gifts, right? Who wouldn't want them?
But here lies a problem that beginners may have the first time they do a giveaway or contest: Generic prizes don't generate the results you want.
If you give away a generic prize, you end up getting people who are not your target audience. They just enter the game because they love to win, not because they're interested in your brand. They're probably the kind of people who will unsubscribe from your list once the campaign is over.
To solve this problem, you should be sure your prize is something your target audience loves, and is closely related to your product as well as your brands. You can apply one of these strategies to choose the best prize for your giveaway:
Buy a product, and then give it away. Noah Kogan once generated 6,411 contestants from a Seth Godin book giveaway that cost him under $100.
Offer your product. This strategy works well if you're an eCommerce business owner. Think about your best-selling product or a new product that makes your customers excited to have.
Always keep your target audience and your goals in mind if you want to do a successful giveaway campaign.
Step 6: Set up your giveaway
Once your prize is in the bag, you need to set up your giveaway. This step should be strategic.
How to write a giveaway caption
When it comes to giveaway caption, think about it as a product description. Then, ask yourself how you write the caption in a way that helps sell your prize to your audience.
Key things to include in your giveaway caption include:
What are the rules?
Who is eligible to join the giveaway or contest?
More details about the prizes.
A breakdown of exactly what they'll win.
Criteria to select the winner.
When will the winner be announced?
Try to answer these questions. At the same time, keep in mind the following rules when you start to write your caption:
Be consistent: Match your giveaway to your regular posting aesthetic.
Include the prize in the image: Show your audience how the prize looks like. You can post a teaser image in your stories (Instagram or Facebook) and tell followers to search for the full post on your account profile.
Don't bore your audience with too much text. Try to write short but concise.
Include hashtags such as #giveawaycontest, #giveaways, #photogiveaway, #photocontest. Hashtags are useful if you run an Instagram giveaway.
When should your giveaway start?
No matter when you start running your giveaway, make sure when you launch it, your audience is online, listening, and ready to join.
Normally, more people are browsing social media at the beginning of the week and on the weekends. You can run your giveaway at any time these days.
Or, you can choose a specific time of every month, for example, the first and last day of the month, to run your giveaway or contest. Also, don't forget the holidays because people always hunt for free gifts at these times of the year.
How long should you run a giveaway?
The length of time your giveaway lasts depends on the prize you're giving away, your goal, and sometimes, your budget. There's no solid rule in terms of giveaway length or the length of the campaign that precedes it.
However, in general, longer timeframes can promote procrastination, resulting in fewer entries and loss of excitement. Meanwhile, a shorter time frame can result in lower quality entries as participants have less time to prepare.
One or two weeks can be a good length for a contest. It's long enough to allow for solid content creation, yet also short enough to keep the audience's attention. In the case of a giveaway, however, in which no content is being created and less is required from the individual participants, a shorter time frame often is advantageous.
How do you pick a winner for a giveaway?
The way you choose a winner depends on the type of your giveaway. For example, if you're running a follow-to-win giveaway, the winner will be selected by random.
After you decide the winner, you should announce the person publicly. You can create an attractive video or write a compelling announcement to get as much attention as possible. In doing so, you make the winner feel excited and give him a lot of joy. If you do that correctly, you'll gain his loyalty.
When to announce the winner?
When your giveaway ends, your participants will want to know who won. If you wait a week to announce the winner, they'll lose interest. Hence, you should choose the winner and contact them within 24 hours.
Step 7: Launch and promote your giveaway
There are some cost-effective ways that you can use to promote your giveaways without running a paid advertisement. Try these:
1. Send to your email list
Here's why your existing email list is a good starting point to promote your giveaway:
It allows you to share value with your current subscribers and give them the chance to win awesome prizes.
Once some of those subscribers join, they may invite their friends and others to enter.
Your current followers are most likely to be interested in your giveaway. So, make them feel special and give them a heads up.
2. Add an alert bar or popup to your website
Maximize the value of every website visit by setting up an alert bar or popup to let your visitors know about your giveaway.
An alert bar is located at the top or bottom of your page. You can set it to show up at all times or set it to appear at your chosen intervals.
To create a smart bar, you can use Leadpages Alert Bars. You can customize the text, color, and CTA of the smart bar to make it consistent with your brand.
Alternatively, you can show a pop-up to announce your giveaway. The pop-up will be triggered at the middle or at the bottom-left corner of the site right when visitors go to your site. However, you should be careful when applying this technique because an ill-timed pop-up can be off-putting to your site visitors.
3. Create a landing page to promote your giveaway
Creating a dedicated landing page for your giveaway is a smart strategy to impress your target audience. A landing page allows you:
Add more information about the giveaway that can't be done if you just write a Facebook or Instagram post.
Design your giveaway in a way that gets your followers surprised. You can delight them with colors, font styles, images of the prize, etc.
Encourage mobile and desktop fans to join the giveaway without any barriers from social media.
If you're stuck with ideas for your landing page, you can take a look at our amazing templates for giveaways. This collection will give you many interesting ideas to design your own landing page.
Get your giveaway underway with the perfect landing page template!
Forget the time and expense of hiring a web designer—our landing page creator is the only partner you need.
Code-free drag-and-drop customizations
Mobile-responsive, high-converting templates
Features & functionality to fit any need
4. Collaborate with influencers
Reach out to influencers who have a lot of following and strong influence within your niche. These influencers can be bloggers, vloggers, writers, singers, etc.
The idea behind this technique is that you take advantage of the number of followers that your influencer has. By asking the influencer to share your giveaway campaign, you can reach a lot of potential customers who are interested in your product.
In return, you can give your influencers a product or any gift that is valuable to them.
5. Share your giveaway on social media
Think about promoting your giveaway or contest elsewhere. For example:
On Facebook: You can update a status about your giveaway, include it into the cover photo or Facebook Stories.
On Twitter: You can tweet a message, use hashtags, update your profile's header photo, etc. Make sure your giveaway will be shown clearly.
On Pinterest: You can pin the image of your giveaway or include the link to your giveaway landing page into your Pinterest profile.
On Instagram: You can include the link to your giveaway landing page in your bio, update your Stories, or share a post.
Step 8: Follow up and measure results
After you launch your giveaway, it's not over. It's just a starting point because you have to follow up and measure your results. This goes all the way back to your goal.
Social media giveaways aren't just a way to improve brand awareness or announce new products. They also give you great insights into your followers. You should use these pieces of information to improve ROI (return of investment) and inform your next campaign.
For example:
Read comments to get to know what your followers think about your product and your brand. You may know their attitudes, tastes, and interests as well.
Use results of your giveaway to discover your ideal posting times, find out super-fans, and compare engagement among social networks.
Peak participation by date. Find down which day your giveaway received the most interest.
Peak participation by time. Identify the hours that your followers and participants are most active. Use this to schedule your posting times to ensure you get the most engagement in future posts.
Are you ready to launch your first giveaway or contest?
When used right, social media giveaways can help you gain followers, get valuable customer feedback, and increase sales revenue.
Now it's your turn: in the comments section below, let us know which tactic you'll start with!