---

Think about Legos for a second.
No, not those $200+ monstrosities that build a fully functioning kitchen and dinette set. I'm talking about the old-school Legos. One size, multiple colors, tons of fun.
You could build ANYTHING with those! And all you needed were a bunch of these…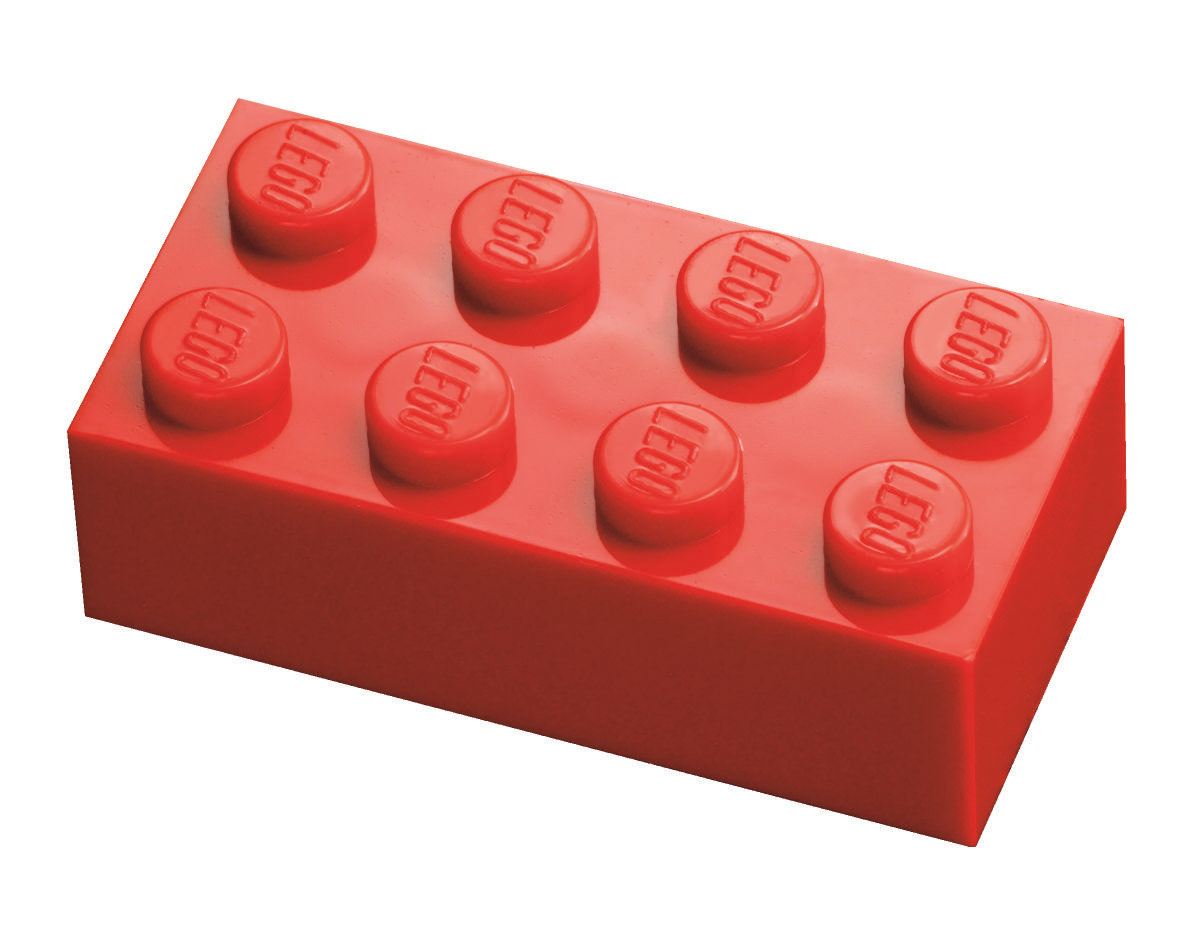 …and you were golden.
Surprisingly, funnels operate the same way. No matter how elaborate your funnel is, when you take a closer look, you'll find our special discovery used over and over again. It never changes and turns up in every successful funnel we've ever made: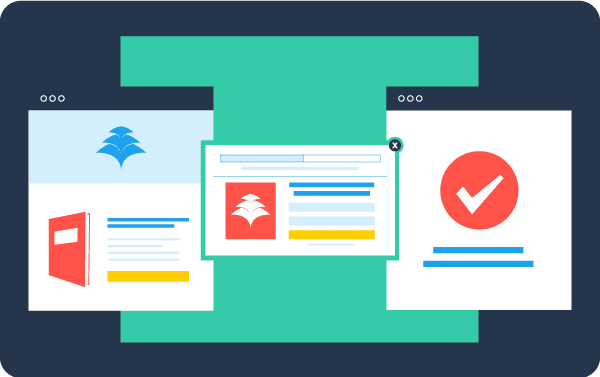 Voila! What you're looking at is the Micro Funnel that drives all funnels. With this, you can create even the most complex-looking funnel.
So let's break this Micro Funnel down into its components:
Landing Page/Blog Post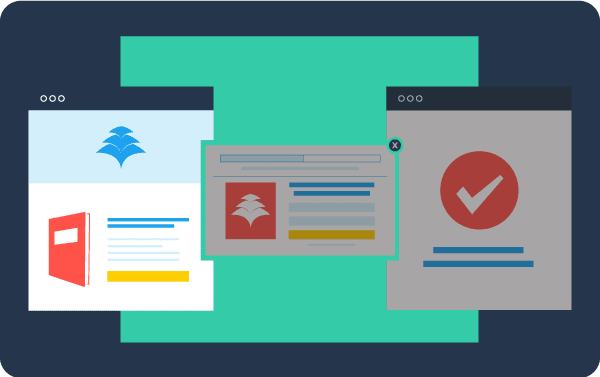 A landing page is simply a page with a purpose. This is the beginning of the Micro Funnel, and its purpose is to convey information that will drive action. It could be a blog post, a sales page, an opt-in page, a webinar sign-up page, or something else entirely. But no matter what, it needs to contain messaging that inspires your visitor to act.
LeadBox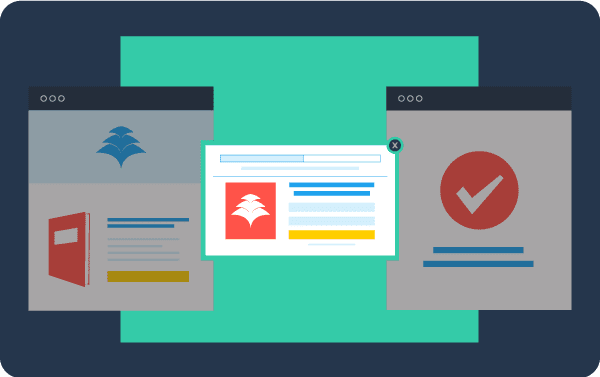 LeadBoxes are exclusive to LeadPages, and they're one of the biggest reasons why our customers see such high conversion rates. They make the difference between a "giving page" and a "taking page."
A "taking page" is a page that includes form fields in plain sight. Unfortunately, these pages don't convert well because they subliminally communicate to a visitor that they want to take something away from you—in this case, your information.
A "giving page" is a page that hides these form fields behind a link or button offering information or some other kind of giveaway. When visitors click the link or button, only then do they see a pop-up form (a LeadBox™) asking for their information.
Because these "giving pages" convert so much higher than "taking pages," we tie these forms to a LeadBox, which pops up after that call-to-action click occurs. It's in these LeadBoxes that you collect the visitor's information.
There are two types of LeadBoxes you'll use in a Micro Funnel:
Short-Form LeadBox: This LeadBox is one or two fields in length, usually asking for an email address and, at most, a name. Studies find that most kinds of opt-in forms convert better the fewer fields they have, so you'll want to use this kind of LeadBox in most cases.
Long-Form LeadBox: This LeadBox is three to eight fields in length and asks more in-depth questions. You'd use this in the rare cases when you really need more information from visitors in order to deliver what you're offering them, such as a free consultation or a custom analysis of their website.
When in doubt, stick with the short-form LeadBox and gather additional information later. If you're sure a long-form LeadBox won't drive visitors away, though, then you're looking at one of the most efficient ways to collect information.
Thank You Page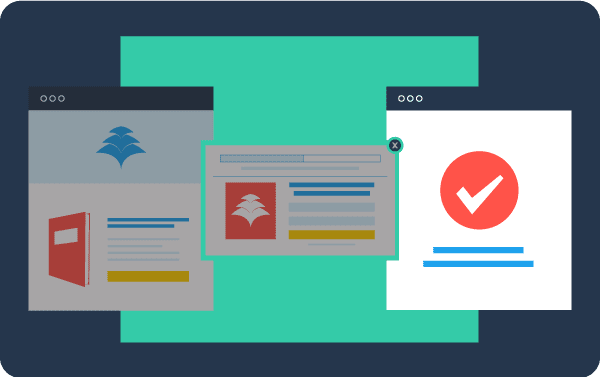 This page is the key to the Micro Funnel. It is the one page that acts as the closing of one conversion and the opening of another — all in the same page. It accomplishes that in two ways.
First, the thank you page is a nice delivery or confirmation tool. It'd be weird if you went onto Amazon, clicked the "Buy" button and then . . . nothing happened.
You need to affirm the visitor's action, so a thank you page acknowledges the purchase or opt-in. You can also use it to deliver instructions on how to claim that product or service. That's the closing of one conversion, and some thank you pages end here.
If you take a look at a full Micro Funnel again, you'll see that it ends at the thank you page: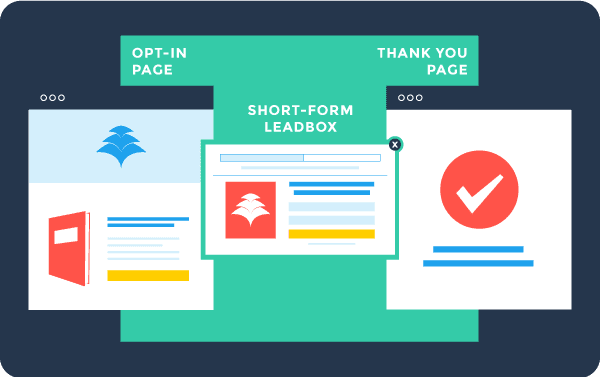 EXAMPLE: Dan referred a friend to a page about bike maintenance. That page offered a course on how to maintain your bike like a pro (and never go into a bike shop again). That person opted into the course by filling out the LeadBox, and a thank you page delivered the course.
Look what happened in this small Micro Funnel alone: engagement, an opt-in and a thank you page.
That's right: you've created an entire conversion funnel in just three steps. Crazy, huh?
From this thank you page, you can lead a customer through a new funnel with a series of emails and additional product pages. It's the perfect bridge to extend your funnels.
In fact, it might be more useful to think of this as a "thank you AND" page—you're thanking them for the action they took, and you're asking them to take another action.
That additional action could be to . . .
Join a webinar
Sign up to receive webinar reminders via text message
Share your page via social media
Opt in to get a new piece of content
Buy a product or service
…among other things. As much as possible, we advocate that you apply this approach to your thank you page.
When your thank you page functions like a "thank you AND" page, you can connect two Micro Funnels together. The thank you page acts as that connector piece.
Here's an example. Let's say I'm giving away a resource guide. A visitor opts in via a LeadBox on a landing page, and they're taken to the thank you page. On this thank you page, they're given the opportunity to sign up for a webinar.
That thank you page is now doing the work of two pages, and it's actually combining two Micro Funnels: one that offers a resource guide, and one that offers a webinar registration. We'd depict that connection like this: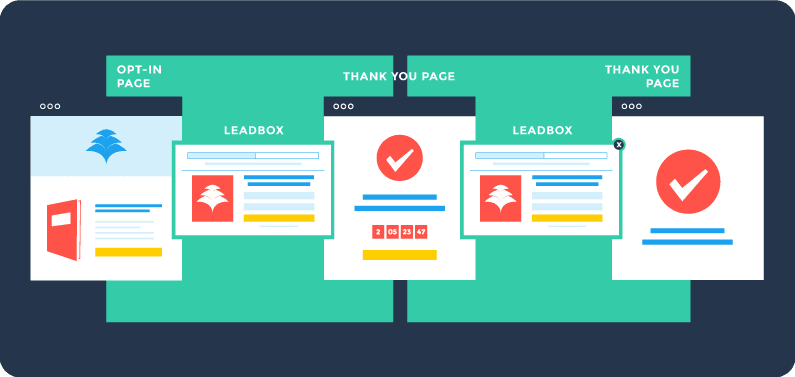 You can see that the thank you page from the first Micro Funnel and the webinar registration page from the second Micro Funnel are now one page, which connects the two Micro Funnels. Not only do you get an opt-in for your resource guide, but you've effortlessly parlayed that into a new webinar attendee.
To represent these different type of "thank you AND" pages, we've created five alternate "thank you AND" pages to specifically depict this dual use: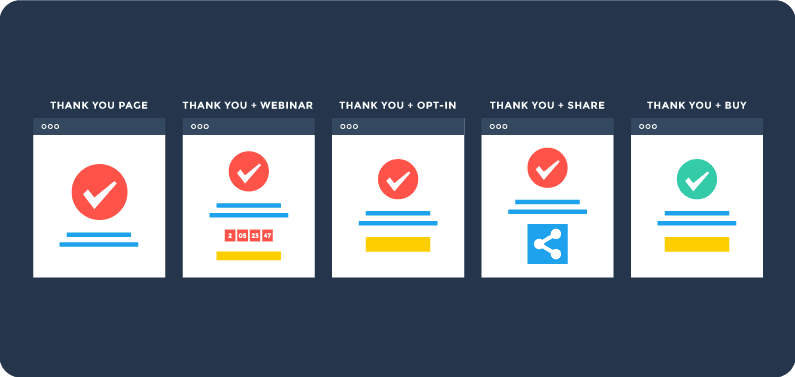 These five "thank you AND" pages achieve (in order) nothing, a webinar registration, an opt-in, a social media share and a purchase. You can use any of these to connect Micro Funnels throughout your campaign funnel.
NOTE: When your Micro Funnel generates an opt-in, or anything resulting in a non-revenue generating action, we refer to that as a Lead Micro Funnel. That's an important thing to remember because we'll be introducing a different classification of Micro Funnel later on in the lesson.
While you can do many different things on a thank you page, the most flexible part of a Micro Funnel is actually the beginning page. Depending on whether you're using this Micro Funnel to inform, sell, or upsell, that starting page will surely need to change to fit your needs.
So what kind of pages SHOULD you use? Let's find out.

OR