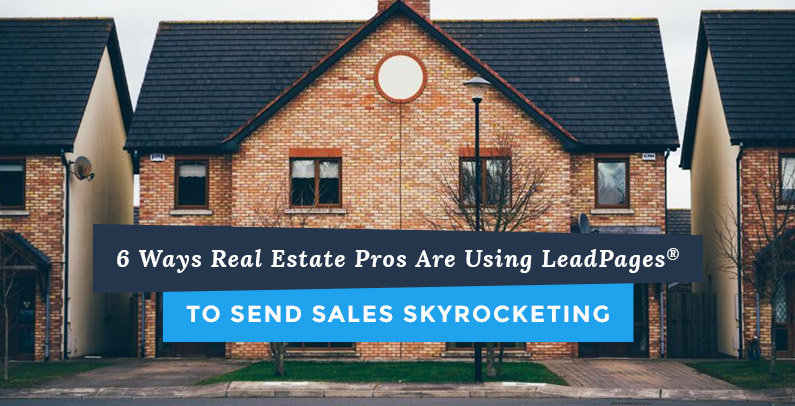 You hear these words everywhere you go: "Your business should be online."
Then you take a look at how complicated that can be. How much time it will take. How much money can be involved?
It's all so overwhelming that you decide to do the bare minimum: list your properties online and call it a day. Maybe you keep meaning to take the next step to present a compelling online presence for your business . . . but time keeps slipping away.
What's the result? You lose business. It's as plain and simple as that.
Fortunately, it doesn't have to be this way. Today, I'm going to show you 6 real estate marketing ideas that just about anyone in the real estate industry—or really, anyone who's taking a high-ticket, relationship-based business online—can use to get more sales without a ton of extra work.
Before we dive into strategy, let's take a look at how real-estate agents' jobs got so difficult in the first place.
A bit of history
The way the real estate industry has evolved over the years impacts your ability to land sales today.
For most of the last century, classified ads were the bread and butter of the newspaper business—and real estate ads made up the lion's share of that revenue.
But as the World Wide Web hit the scene in the 1990s, everything started to change. Traditional classified listings started becoming more and more obsolete as real estate buyers switched from thumbing through the Sunday paper to surfing the Internet 24/7.
While this represented a huge shift, it also offered strategic advantages. Savvy real estate agents quickly figured out that online exposure gave home buyers and sellers a better experience.
And when they did, consumers' appetite for online real estate information became insatiable. The more they got, the more they wanted. New companies popped up to provide the kind of information and the type of high-impact online experience that buyers were demanding. Sites like ForSaleByOwner, NewHomeSource, and Zillow all started offering more and more local market information, home search tools, online communities, and dynamic user interfaces.
Technology empowered both buyers and sellers, with huge amounts of information now available with just the click of a mouse. Today's first-time homebuyers have grown up buying and selling everything online, from clothes and shoes to televisions and cars . . . so it's no surprise that their natural instinct is to shop for homes in the same way.
Role change for real estate agents
It's been a big shift for real estate agents. Those who know how to tap into the power of online opportunities are thriving, while those who shrink from the challenge are going the way of the dinosaurs. Even the most powerful new technology will only make you obsolete if you don't know how to command its power.
The stakes have never been higher.
So now what? Your challenge is how to position yourself and your business effectively online and how to tap into all those sales just waiting to be captured.
Sadly, too many real estate agents are damaging their reputations and losing sales because they're not in tune with what works today. For example, many agents offer email notifications for listings. That can be a great step in the right direction, some agents end up spamming potential buyers with listings that aren't the best fit.
These old school tactics just don't cut it with today's more sophisticated home buyers. So . . .
What should today's real-estate pros do?
A good digital marketing plan today requires more than a website and a Facebook page. While those things can certainly be helpful, you need to set up a system that doesn't just sit there and look pretty. You need to put together a self-sustaining marketing plan that continually attracts new potential buyers into your sales funnel.
Define your goals
Before you can launch your digital marketing plan, it's important to figure out what your goals are for your business. Picture yourself this time next year. What do you want?
"I want to increase sales next year" is a good start . . . but it's not specific enough. Having goals is smart, but having SMART goals—specific, measurable, achievable, realistic, and time-bound—means that you might actually achieve them.
To create SMART goals, you'll want to sit down and ask yourself some tough questions. Who will make up the majority of the sales—home buyers or sellers? Where will you find prospects? What methods will you use to convert prospects into clients? When will you know that you've reached your goals? What's your timeframe for achieving each goal?
Each goal needs a concrete "accomplish by" date to instill a sense of urgency. Breaking down your yearly goals into quarterly goals can help you stay on track.
Define your target market
Think about your ideal client. It's important that you understand their wants, needs, and desires as fully as you possibly can so that you are prepared to wow them. The more clear you are about who you want to reach and what their needs are, the more effective you will be at landing their business.
That doesn't mean you won't work with other types of people, too. It just means that your sales and marketing efforts will focus on your ideal target. It's a time-honored truth of marketing that the best way to market to a lot of people is to address them as though you were speaking to one person at a time.
Here are a few things you'll want to know about your ideal customers:
What are their demographics? (i.e., gender, income level, age, marital status, etc.)
What are their goals?
Who influences their purchases?
How do they want to interact with you and your company (or competitors)?
What do they want from you?
What problem do you solve for them?
What additional services will interest them during the selling/buying experience?
Determine where you will market your business
From banner ads to Facebook posts, you can build your digital presence in so many ways. So, what's the best place to start?
so many ways. So, what's the best place to start?
In the real estate world, most agents have a landing page on their broker's website and leave it at that. That page is important, but frankly, it's the bare minimum. If you only do that, you'll be leaving money on the table and working harder than you need to in order to find the leads you want.
Now, Leadpages does make it easy to create a polished and professional online presence for your business, if that's all you're after. But I wouldn't recommend that you stop there—especially given the results you can achieve with just a little extra effort.
The following six tactics will help you see a tremendous boost in your business. Real-estate agents who are using these strategies are finding great success, but I suspect they're still in the minority for the time being. That's exactly why the time to jump on this is now.
1. Create property-listing pages your prospects can't find anywhere else
Massive real-estate listing sites can be fun to browse for home buyers, but they pose a couple of problems for sellers and for you as an agent.
For one thing, when you're trying to market a property, you want to eliminate distractions—and sites like these are nearly all distractions. You're competing with hundreds of other nearby property listings and agents, with few tools at your disposal to make your listings stand out. When you're working within some other company's framework, it's hard to control your message.
For another thing, these sites can make it tough to attach your name to a property (and make it stick). In fact, agents who have paid to advertise may appear more prominently around your listings than you do, depending on the site. Even if a visitor can easily find you, the information you're able to provide about yourself right there is likely to be very limited.
To get around this and create property listings that pop, you don't need to be a web developer. In fact, if you use Leadpages, you can turn your listing into a complete landing page in less than 10 minutes—and publish it directly to your existing site without touching a single line of code. You simply click and type to make changes, and upload your own images into our tested templates.
If you're not a Leadpages member and you are able to code or have a developer working for you, we'd like to offer you one of our real-estate landing-page templates free. It's made exactly for this purpose—you'll just need to add your own images and text.
If you're already a Leadpages member, you can click here to start using this custom template in your account right away.
Pages like this allow your potential buyers to dive into the details of the listing without being distracted on a multiple-listing site. You control the information, messaging, images, and colors while working within a template that's been specifically designed to maximize conversion (that is, the point at which people contact you for more information and transform from a prospect into a lead).
Here's another example of a real estate listing landing page, this one made with a template from the Leadpages template gallery: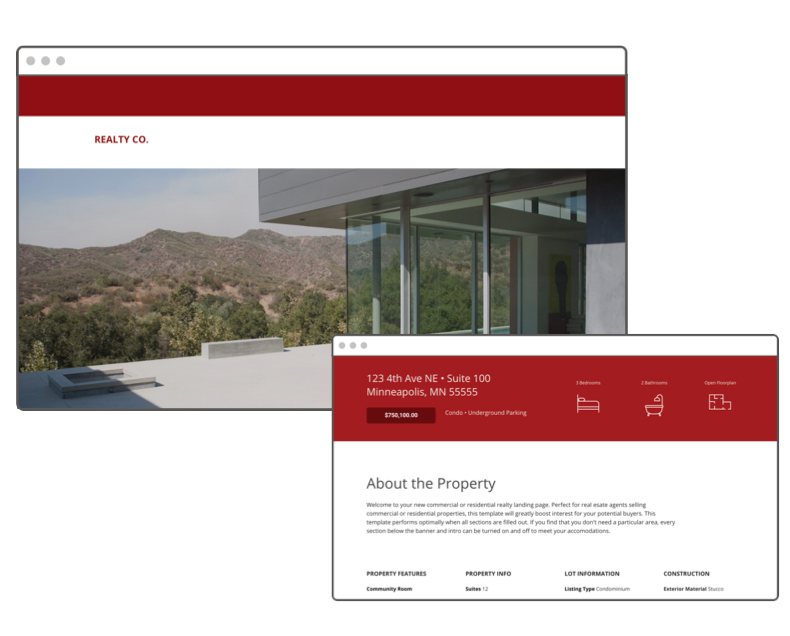 There's another bonus to this approach. Imagine you're a seller and you're considering working with one of two agents. One simply uploads your listing to the usual sites, while the other can show you examples of beautifully designed, individual listing pages. Which agent would you rather to work with?
2. Turn prospects into leads by offering them something new
"If only my real-estate website got more traffic . . ."
It's easy to think that if you were able to ensure a steady flow of visitors to your homepage, you'd be set. While you do need to think about how you'll drive traffic to your site, focusing on this aspect misses a very important part of the equation: what happens when people get there.
Whether you're running ads or paying an SEO consultant, the costs of getting traffic to your website can be high, so it's critical that you don't let that investment slip away through insufficient attention to how visitors will interact with your site. And the sad truth is that once you do get people to your website, most of them leave without interacting with you in any way.
When that happens, you have no idea who your visitors are or why they visited your site. Many of these people might have been hot leads for your business—and yet you'll have no way of contacting them.
What do you do to prevent them from drifting off and taking all their information with them? The answer is not to double down on your efforts to get something from them. Instead, you need to make sure they don't walk away empty-handed.
In the content marketing world, this is called a "lead magnet" or an "opt-in bribe." The strategy is simple: you offer something of value to potential clients, and they give you their contact information (usually their email address) in order to receive it. Thus, you have new hot prospects you can add to your email list—and, ultimately, provide the high-value service that lands customers for life.
This tactic is surprisingly easy to employ. You just need to think about two things: what you'll offer and where you'll offer it.
Your lead magnet could be a simple report, a short guide, an e-book, a live webinar, or another device of your choosing that answers questions and provides solutions to pressing issues your target audience faces.
If it's a text-based info resource, creating it can be as simple as preparing the document in a word-processing or desktop-publishing program and then saving it as a PDF file. If it's a live webinar or Q&A, you can get by with some very simple preparation—our own webinar expert Bob Jenkins has devised an easy-to-replicate webinar format he calls "The Easy EFFORT Formula."
So what will get your ideal client's attention? It'll depend on your own area of expertise and your client base, but here are some sample titles:
Think You're Cut Out for Being a First-Time Home Buyer? Take This Quiz
14 Common Misconceptions About Buying Your First Home
The Ultimate Cheat Sheet on Buying Your First Home
What You Can and Can't Expect a Home Inspection to Do for You
Expensive Traps that Could Cost You Big When Negotiating
How to Save Money When Selling Your Home
Check out this recent article on creating the perfect lead magnet for more inspiration.
Once you've created your lead magnet, you need to make it accessible to site visitors. For this, I'd recommend setting up a LeadBox™.
A pop-up is a pop-up window that appears when your site visitors click on a designated page, link, image, button, or line of text. pop-ups can also be set to appear after a designated amount of time or when a visitor is about to leave your site. Here's an example of one real-estate agent using a pop-up to offer prospective sellers a free home-value analysis (another, very common, form of a pop-up):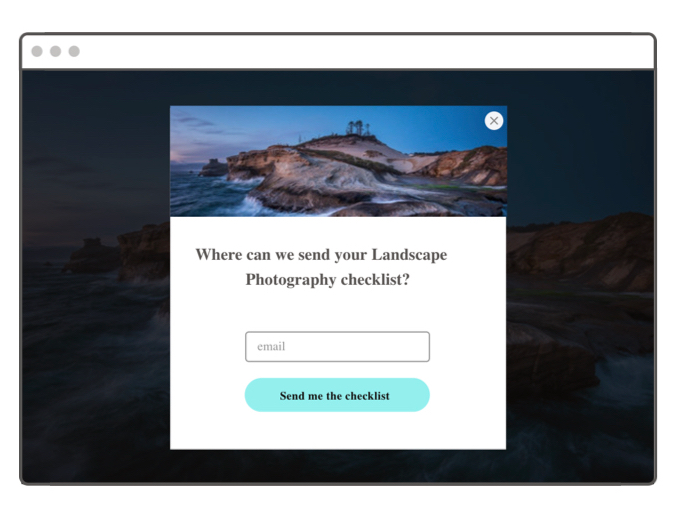 You can put a pop-up anywhere you're able to put a line of code. You can even put a link in a Facebook or Twitter post and offer your lead magnet directly from there. (We'll be covering one other powerful spot for pop-ups below.)
One natural spot, of course, is on your website's home page. You can make your pop-up the first thing someone sees when they visit your site or present it after you've introduced yourself. The important thing is that you're offering them something, not just asking for their contact information in a form embedded directly on their page. We call those kinds of pages "taking pages," and they're typically far less effective.
You can also create custom landing pages just to offer your lead magnet. These tend to be highly effective because they don't need to focus on anything but giving away your valuable resource.
The big orange button triggers a pop-up where the customer enters their information in order to download the guide.
When they're considering a decision as big as buying or selling a home, people naturally tend to do lots of research in advance. By creating a page and a lead magnet that answers their questions, you're pulling off a triple win: helping leads feel more confident in their decision, helping boost your image as a real-estate authority, and getting new leads onto your list.
3. Use strategic partnerships along with pop-ups to reach a larger audience
One of the most overlooked sources of leads for any small business is the rich pool of non-competing businesses that serve the same target market. Reaching out to your network and asking people with complementary products and services to co-market your business is a great way to gain momentum.
Let's say you know a home stager who is also looking to increase her business. You ask her to help promote an upcoming home-selling webinar, and in exchange, you send her referrals. Or, maybe you are setting up an event for first-time condo buyers. You could partner with a pre-qual lender to mention your services on a "recommended partner" page or in their email newsletter.
When you're asking anyone to help promote your business, of course, you increase your chances of getting a yes if you make it as easy for them as possible. That's why, again, I'd recommend you use pop-up in scenarios like this. Your partners can simply drop a link to your pop-up wherever they mention you, whether that's in a website sidebar, in an email newsletter, on a partner-offer page, or anywhere else.
The anchor can be as eye-catching as a fully designed small ad, or as simple as a text link to your name, but either way, when someone clicks, your pop-up will pop up so visitors to the partner site can get onto your email list. To make it more likely that they'll do that, I'd recommend offering a lead magnet here as well. If you can make any small changes to that lead magnet so that it'll be specially targeted to the partner business's audience, even better!
This can be an especially effective marketing channel because you're combining the power of pop-up with the power of referrals. Study after study has proven that referral marketing, or word of mouth, is one of the most effective forms of marketing. Assuming that your partner's audience knows and trusts that partner business, a recommendation from them will carry much more weight than a random ad somewhere out there in the world.
4. Capture hot leads by using Leadpages with Facebook
The custom listing-page and landing-page strategies I mentioned earlier become much more powerful when you combine them with Facebook.
Why Facebook, among the many social networks with marketing capabilities out there?
Because its audience is both very large and very local—and that audience can be reached very economically.
By "very local," I mean a couple of things. For one thing, a majority of U.S. internet users in just about every setting have Facebook profiles, and they typically indicate (at the least) their hometown.
Now, that's not unique. Most digital advertising platforms offer to target by location. But Facebook goes further. Among the dozens of ways you can create a custom audience for your ads, Facebook actually identifies users based on their behavior as "likely to move."
That means you're not just tossing ads in front of everyone in the zip codes where you work, you're finding people who are actually extremely likely to be interested in your services. Which in turn means you spend less to get better-quality leads. And you can drill down even further than that, tailoring your audience by estimated household income, age, and more.
Where should the links in those ads lead? Depending on your goals, you could send them to a lead-magnet opt-in landing page or a multi-listing landing page you've created with Leadpages. If you made your audience narrow enough, you could even show an individual property to the demographic who'd be most likely to want to buy!
You can also apply the lead-magnet strategy we discussed earlier right inside Facebook. Every single Leadpages template is 100% compatible with Facebook, which means you can use any page as a custom tab. It only takes four clicks to post a new landing page on Facebook and fire up a fresh source of leads. Plus, if you're running Facebook ads, you'll generally get a higher percentage of your ads approved if the ads lead to a page within Facebook.
Create opportunity and interest with trigger links
Email marketing has two big, ugly enemies: boredom and irrelevance.
If you email people the same thing week after week—or send them broadcasts that just aren't useful to them—they'll ignore you at best and unsubscribe from your list at worst. You start reaching fewer and fewer people with every email.
Despite this, too many real-estate agents send out "newsletters" that consist of nothing more than their latest listings, regardless of how relevant those might be to the hundreds or thousands of people on their email list.
For instance, you don't want to keep sending 25-year-old city-dwelling renter listings for $1.5-million houses in the suburbs. By the time they are ready to move into their first condo, you'll have presented yourself as annoying and out of touch. You had one chance to build a good relationship with that lead, and you lost it.
Rather than treat all email contacts the same way, give them the opportunity to tell you what they're interested in—then segment your list so you're only showing your leads the content that's most relevant to them.
If it sounds like that process might be a little tedious, don't worry: with trigger links, you can accomplish this within moments. When someone clicks on a trigger link you've inserted into an email, they automatically opt in to a list of your choice. Leadpages capture their email address for you and adds that contact to whatever email list you've chosen—no additional pages or sign-up forms required.
Let's say you work in four major parts of a metro area. You create an email that briefly talks about each area with the pros and cons of moving to that area. Then, you invite readers to click on a trigger link to indicate their interest in receiving updates from one or more of those areas—and your email targeting gets four times as precise.
You can do the same thing with pop-ups. Perhaps you want to see if you have any prospective sellers on your list. You could send out an email offering a free resource on preparing to sell your home and instruct recipients to click a trigger link to receive it. From there on out, you'll be able to send content about selling homes specifically to people who have expressed interest.
One more cool thing about trigger links: because Leadpages integrates with WebinarJam and GoToWebinar, you can also use a trigger link as a one-click signup method for any webinar you host. You could even use trigger links to collect signups for a live event, then email attendees' confirmation and further details.
Reach your customers with opt-in texts
As we've already discussed, building an email list of potential clients is critical to your ongoing success. Opt-in texts give you an upper hand to reach your customers and collect their email addresses in a new and exciting way.
To use opt-in texts, you ask your potential customers to text a specific word to a designated phone number or shortcode. When they do this, they'll automatically get a text asking for their email address so that they can receive the information you're offering them. Email addresses and phone numbers are automatically added to the list you choose from your integrated email service provider.
People are using opt-in texts in a wide variety of industries, but this tool is an especially natural fit in real estate because it lets you reach people when they're nowhere near a computer—such as when they're walking past one of your property-listing signs.
Real-estate agents often try to achieve similar results by posting QR codes on their property signs, but the reality is that these typically don't work. Studies have repeatedly found that only a small percentage of people have ever even scanned one, while plenty of people don't even know what they are. Plus, you have to open a QR code reader, take a steady shot . . . it's not exactly intuitive.
Sending a text, however, is something that most of us do every day. Opt-in texts are so easy to use, 98% of all people who text an opt-in text follow through and reply with their email address. That's a success rate that's hard to beat.
How are you going to get more real estate leads?
Some of these tactics may work better than others depending on the idiosyncrasies of your own business and market. Fortunately, if you use Leadpages, you'll have access to at-a-glance analytics for each landing page, pop-up, trigger link, and opt-in text you create, so you can track exactly how each campaign is doing overtime.
Be sure to measure the results you're getting against the SMART goals you set. At the end of the year, you'll have a sense of whether your tactics or goals need any adjustment.
Before you go, tell us: what real-estate marketing tactics are working for you today? Which ones have you seen others use successfully? Let us know in the comments!