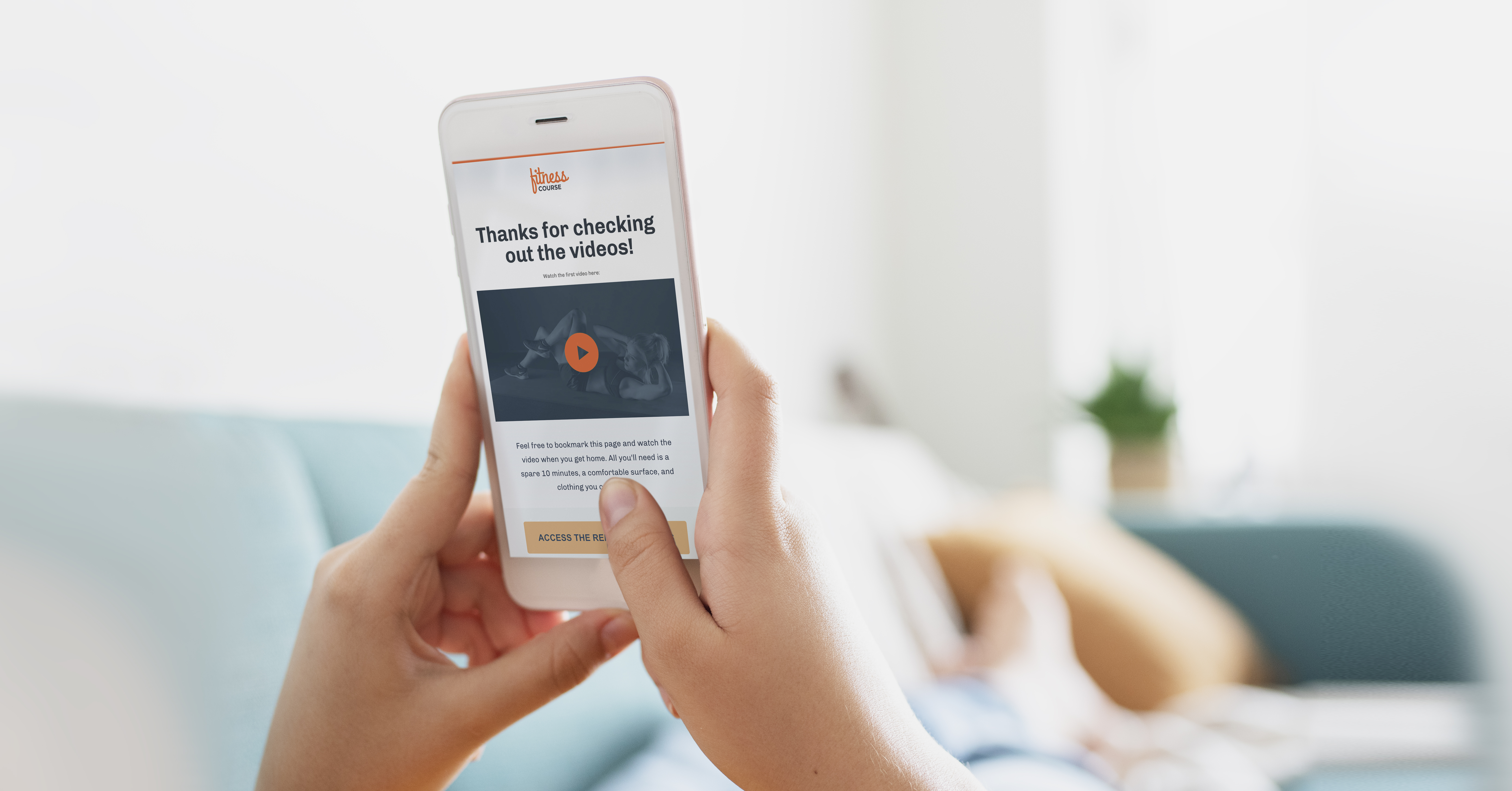 Say someone has found your website online… Maybe they went to your home page, visited a landing page, or perused through some of your product pages…
They become increasingly interested in every word they read on your page. Finally, they decide to take action: opt in for a download, subscribe to your newsletter, sign up for an event, or even make a purchase.
Because they've already taken action, you know they're deeply engaged with your brand. They may even be inclined to linger on your website to learn a bit more.
Whether or not they do depends on one thing that you can control.
Like a follow-up call, a confirmation or thank you page provides your audience with a clear 'next step.'
So—what makes the most sense for your particular audience and campaign?
"Do you continue the conversation?"

"Do you smoothly segue to a new topic of discussion?"

"Do you just let all that positive momentum drift away?"
Don't default to boring thank you page copy with messages like:
Your order is being processed. Thank you.

You are now subscribed.

Thank you for your purchase. Please call (555) 321-9876 if you have any questions about your order.
These confirmation page examples are certainly better than websites that don't clearly confirm that a user action was successful. But they tell the reader that this conversation is finished. When in fact, it should be just beginning.
It's the 'yes, and…' of website pages
If you're familiar with improv comedy, you know the importance of the principle of "yes, and …". It's when a fellow comedian adds something to a scene, then it's your responsibility to acknowledge what they've created and build on that (rather than contradicting them or refusing to play along).
So, the ideal thank you page is a "thanks, and …" page. It confirms what's just happened and advances the conversation in a logical direction.
Why do you even need a thank you page?
The nuts and bolts of a thank you page are this: that its use is to confirm the action the visitor just completed, sure. But, it should do more…
Your thank you page should engage, inspire, and draw a reaction or action. It should leave people feeling reassured and invite them to further engage with your brand.
Thank you pages often come after landing pages, thanking visitors for performing a specific action. Need a refresher on what a landing page is? We got your back.
What should your thank you pages include?
GetResponse says your thank you page should include:
A customer 'thank you' for taking a particular action:

Whether a person signed up for a webinar or newsletter, downloaded a long-form content asset, or bought something on your website, acknowledge the action they took.

Brand reinforcement:

Your branding should be similar on every customer touchpoint. It's no different with thank you pages. Thank you pages can be used as a brand reinforcement to show off your brand's vibe and promise. Just take it from Designbetter.co in this example:
A strong call-to-action:

Turns out, people actually like being told what to do. While you may not think a thank you page would require a hard sell, you actually can integrate many customers "asks" in it. Set some directions on what you want them to do next. Kelley Garrett from ekcetera invites subscribers to join their Facebook group

. If you're looking for other call to action confirmation page copy, here are some examples: Ask users to complete a survey, share your content on social media, register for an in-person or virtual event, purchase or download something, create an account within your website, or sign up for your email newsletter.
Social validation: Social proof is all about the bandwagon effect, which means following what others do.

Social sharing: A thank you page can encourage leads to spread the word on social media—then make it easy for them by including social share icons. Here's an example of social integration from one of our thank you page templates.
Thank-you page examples to aspire to
There are a number of different ways you can transform your thank you pages into hard-working members of your sales funnels. Don't believe us? These examples help put ideology to practice:
(The following thank you pages are organized by actions and options!)
1 – THANK YOU FOR… Opting into a lead magnet
A website visitor who has opted in to download a lead magnet from one of your squeeze pages is fairly advanced in your marketing funnel. They're interested in the website content you have to offer, but they may not be 100% interested in your company yet.
A thank you page should draw people deeper into your sales funnel. Yet you don't want to close a sale right then and there. You'll have more luck getting them to an intermediate step where they spend time considering your brand. So, if you're tasked with designing a landing page offering a lead magnet, you should be mindful of the next step of the customer's journey as you create the thank you page. Think of this page as a confirmation page of sorts, validating to readers that you value the time they took to download your content asset.
If you simply want to enable exploration, you may want to set aside a unified call to action and point visitors to several useful resources.
For example, the real estate thank you page example below makes it as easy as possible for visitors to just keep browsing, or to subscribe to the newsletter for more listings. It serves as a confirmation page of sorts, letting prospective clients know that you'll be in touch to take the next steps…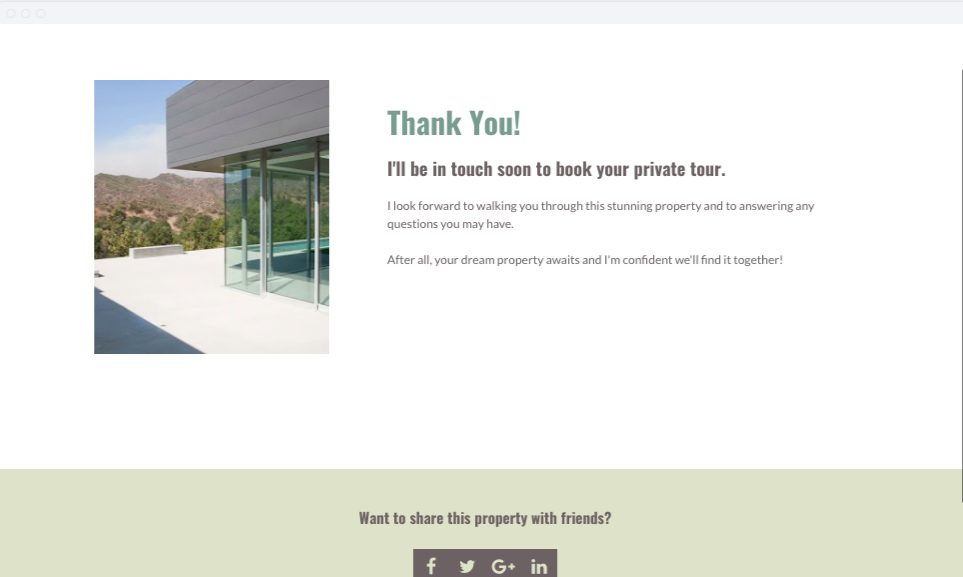 2 – THANK YOU FOR… Downloading "Next Step" Content
If your new contact has just opted-in for a simple lead magnet—say, a one-page PDF—you might want to use your thank you page to give them a deeper look at your area of expertise.
How? Perhaps you have a free course to offer, a longer information resource, or even a free phone consultation, depending on your vertical. Introduce a "next step" offer with a simple "You might also enjoy …" message and you've just created one of the easiest ways to capitalize on your new lead's state of engagement.
Here's a thank you page example from Infusionsoft:
You can prompt readers to download the asset via the thank you page and even offer additional resources to drive people to other pages on your website. In the example above, Infusionsoft's CTA is to book a demo, edging readers to engage in the next step.
3 – THANK YOU FOR… Registering for a Webinar
Those few "intermediary steps" can come in the form of a webinar. Here's why: you made a new contact online, and this marketing activity allows you to meet your webinar registrant "in person".
With this type of thank you page (or any other confirmation page for that matter), don't simply redirect new leads to a plain webinar page without explanation—you still have to acknowledge to users their action was successful (and that you're appreciative of the step they took).
Here's a thank you page example from us at Leadpages:
4 – THANK YOU FOR… Subscribing to An Email List
Let's be honest—someone who actively joins your email list places trust in your business. They've indicated that they're interested in what you offer and trust you to deliver.
Because of this, you don't want to disrupt that warm, fuzzy feeling by presenting new subscribers with a robotic confirmation page or a heavy-handed sales pitch. Instead, try one of these "thanks, and …" pages—which recommends other relevant content on your site:
5 – THANK YOU FOR… Coming to an Event:
When an email subscriber signs up they may be joining a community of other loyal subscribers. If you hold events where those people physically gather together, reinforce those connections by displaying a welcome or invitation on your thank you page. (Naturally, a webinar page can also work well here.)
To this end, use event page thank you's as a marketing opportunity. Here's a thank you page example from Race Roster:
You can even send a post-event thank you, along the lines of something like this example:
6 – THANK YOU FOR… Joining a Webinar:
Getting someone to sign up for a webinar doesn't necessarily mean they'll show up. In fact, some people are bound to forget or to double-book when the day arrives. That means they won't tune into your webinar, which affects your bottom line.
Here's a solution: make it super easy for webinar registrants to remember it by adding a reminder directly to their calendars. Link to three popular calendars—Microsoft Outlook, Google Calendar, and iCal—and invites registrants to simply click to add your event. Boom! You've successfully increased the chances of a registrant attending your webinar.
7 – THANK YOU FOR… Signing Up for a Live Event:
Even a small, live event requires a ton of grunt work to pull off. Make sure all the effort pays off by using your thank you confirmation page to increase attendance.
In the meantime, you can use your post-opt-in thank you page to make sure they actually use the coupon. Simply add a link to your online scheduling system to your simple confirmation page, as in this example:
8 – THANK YOU FOR … Making a Purchase
Even once a customer has finally made a purchase, you can still put your confirmation page to work for you. Try one of these tactics:
Upsell/Cross-Sell Page
Big retail websites typically do this by showing you related products on the purchase confirmation page. Smaller businesses can use a custom thank you pages to do the same thing with greater focus—and potentially more effective. Rather than treat the related product as an afterthought, explain why customers should consider it and how it fits in with the product they just bought.
Discount Page
What better way to hook customers into evangelists than to give them a deal? Kate Spade offers 10% off to her customers here, the ultimate thank you:
Redirect Users
Finally, it's possible that at this point, the absolute best thing a customer could do would be to keep browsing your site. In that case, you may simply want to redirect them back to a catalog or category page. A very simple page like the one below can let customers know what's happening. Here's an example from one of our templates:
Extra, extra! Offer Downloadables on Your Thank You Pages
Ever think about being ultra-resourceful to your users? A dead-simple way to do this is offering downloadable on your confirmation pages, including thank you pages.
Here's how it works:
Your visitors take a specific action on a landing page, pop-up, or otherwise.
Your thank you page appears.
Not only do you include gracious remarks about how you appreciate your readers, but you also go beyond the call and include resource links or buttons with resources related to what they may be interested in. For example, you could include links to related products, e-Books, or other content that would supplement their customer journey.
What's the biggest mistake someone can make with thank you and confirmation pages?
What's the biggest mistake you can make when it comes to creating thank you pages? Not creating one at all.
While creating landing pages, you must always consider your next step as creating a thank you page.
Why is this?
Without one, visitors may not know if their opt-in on your landing page worked. Even this short message can help reassure visitors that the action they performed on a landing page or website was successful. Think of this added step as a landing page best practice.
Another point to consider is this… Failing to engage your visitors any further means you're missing out on the opportunity for them to become paying (and loyal) customers.
Where to go for thank you page templates
Are you looking for an easier way out when it comes to creating thank you pages? Well then, thank you page templates are your answer. As a Leadpages user, you have access to 130+ customizable thank you page templates.
That's right…
We've got a robust collection of thank you page templates, specifically designed to make this part of your campaign as efficient and customized as possible. You can do all of these without even having to touch a line of code.
You can filter the templates section by "Thank You" with the left-hand dropdown. And you can even sort them by "newest added" or by "highest converting".
Start by browsing all thank you page templates, too. Each template is titled by use. For example, if you're looking for confirmation page example, or even a shop coupon thank you page, you can select what you want based on the best use case for your business.
Final Thoughts
You're not limited to the possibilities listed above. It may make sense to mix and match landing pages with different thank you page types.
Thank you pages are effective and applicable to all businesses. Use them for any user action, like a download, registration, quote request, signup, contact us form… the list goes on.
They add so much value to your business and take little time to do. (Especially if you take note of the thank you and confirmation page examples above to glean insight from what other business have done right.)
They can even be used for adding sales value through cross-selling, upselling, referrals, and promoting discounts!
Remember: graciousness pays off in your personal life and in business. Being gracious offers customers a lasting (and positive) impression of your brand.
What could you add to your own thank you pages or confirmation pages to drive sales? Tell us in the comments!