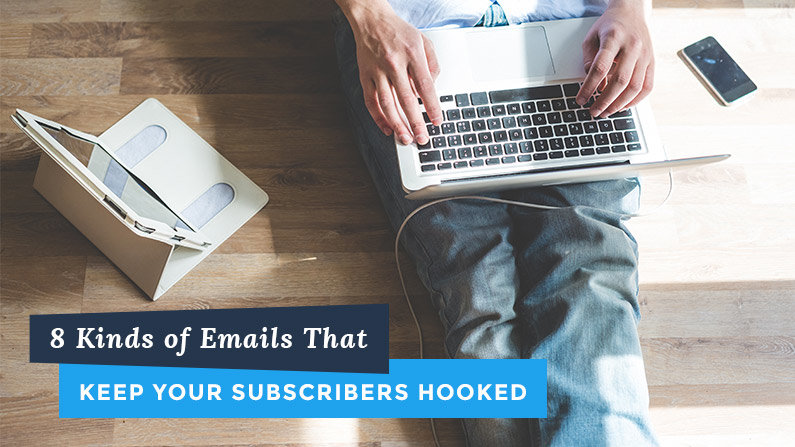 58% of our respondents say that email is their preferred way to be contacted by a brand; yet more than a third say they want fewer repetitive emails from the brands they have relationships with."

– Kristin Naragon, Director of Email Solutions, Adobe
Those stats come from an Adobe Campaign survey of 400+ U.S. professionals published in August 2015, and taken together they suggest that many businesses should be doing both less and more with their email marketing.
Less, in the sense that, clearly, many subscribers feel simply overwhelmed by the volume of email they receive every day.
Further evidence: the popularity of subscription-management apps such as Unroll.me, which more than 1 million people have used to mass-unsubscribe from irrelevant email lists.
More, as in more thoughtfully. Your email list is one of the most valuable marketing assets you have; it's why every one of the tools we make at Leadpages is designed to capture email addresses. So while you're trying to draw in new subscribers, you shouldn't neglect one way to keep your list size up: ensuring that your current subscribers stick around.
How often should I be emailing?
Part of getting email marketing right involves timing. How frequently you contact your subscribers will depend a lot on your business model. In December 2014, Unroll.me conducted a study of the email lists subscribers most frequently opted out of. Companies with the highest unsubscribe rates tended to be companies where customers were likely expecting a limited-time interaction or purchase: political campaign sites, job-search sites, travel search sites, and a collection of brick-and-mortar chains such as GameStop and Sports Authority.
Combine overwhelming volume with a limited regular need for a company's services, and you have the recipe for mass opt-outs.
The Unroll.me study also tracked which companies sent the most emails to begin with—and the results were interesting. Many of the companies who sent the most emails per subscriber were also among the most popular subscriptions.
If people really are feeling deluged by email, isn't this a little odd?
Not when you look at which companies appear on both the highest-volume and most-popular lists: Amazon, Groupon, Facebook, LinkedIn, Google. These are companies that many people deliberately interact with at least weekly, if not daily. Those subscribers welcome the chance to stay in the loop via an additional channel.
To determine how often you should be emailing your subscribers, realistically assess how often your average customer would be interacting with your company if email weren't even in the picture. If they use your services or access your content almost every day, it may make sense to send two or three emails a week. If the gap between interactions is longer, add space accordingly.
So once you've got some email subscribers, and you've assessed how often to contact them, what do you actually put in those emails?
We've talked to many of the smartest email marketers in the game over the past couple of years, and today I want to share a few of the most successful email tactics they've shared with us. Each of these kinds of emails serves a very specific business goal in addition to keeping subscribers guessing about what you'll send next.
Consider it your anti-boredom email marketing plan.
1. The talk to me email
Upon subscribing to something new, you may have received a message that goes something like this:
Thanks for subscribing! I'd love it if you'd reply to this email and tell me a little bit about yourself and how we can help you.
Marketers who use this technique aren't just interested in getting to know you better (though they may be genuinely want to know you better—answers to prompts like these can be a great form of market research). By asking you to send them a message, they're also nudging you to send a message to your email provider: that you know and trust them as a sender, and their future messages shouldn't be routed to your spam folder.
If the volume of responses you receive to this email allows it, sending a personalized response to people who reply can also help establish a warm relationship right off the bat. If you use Leadpages, you can sign up for automatic lead notification emails that ping you every time someone joins your list so you can reach out right away.
2. The fishing for compliments email
We recently spoke to Ezra Firestone about his incredibly profitable email sequences, and one of his favorite techniques is to use email to generate social proof, which he can then use on his website and to expand his social-media reach.
Ezra sends at least two kinds of emails dedicated to this goal. In one, he asks subscribers to take a selfie of themselves using one of his products and upload it to Facebook or Instagram. Then, he often adds them to a gallery on his site: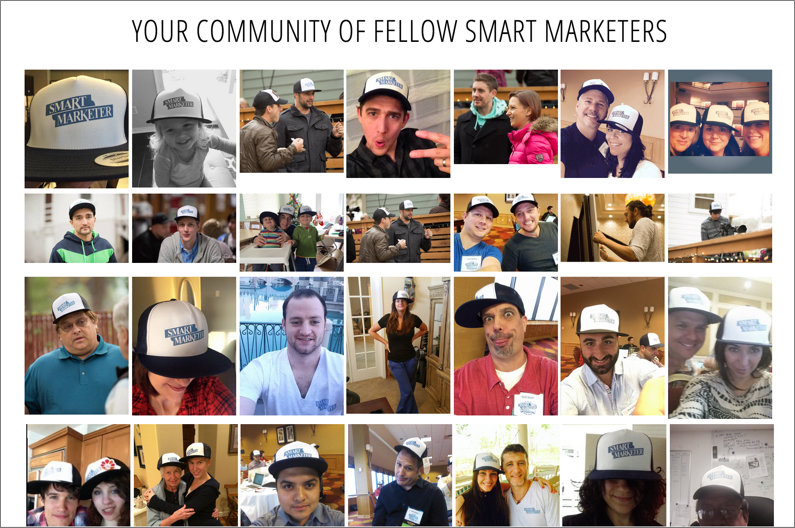 Social proof aplenty on the Smart Marketer website
In another subspecies of this kind of email, Ezra asks subscribers to record and upload a short video review of a product, which he can also add to an online gallery. In both cases, there's a major incentive: everyone who gives him a piece of social proof is entered into a drawing for a prize.
3. The quiz with a motive email
In a recent ConversionCast episode, Ryan Deiss of Smart Marketer explained how he developed an email survey/quiz hybrid that gathered data, got an enormous clickthrough rate, and got tons of sales conversions. All from one short email with very little technical wizardry required.
The quiz took the form of a single question placed directly in the body of the email, such as "How much do you think the average blogger makes per day?" Below it, he gave a variety of multiple-choice answers, which were hyperlinked so that readers could simply click to answer.
When they cast their vote, readers were taken to a custom landing page revealing the true answer and inviting them to take the next step. In the case of the blogging quiz, that could be registering for a webinar teaching bloggers to make more money.
In addition to doubling Smart Marketer's usual clickthrough rate and pulling in an impressive conversion rate, quizzes like this also give Ryan valuable information about his audience's level of knowledge and areas of interest, since he tracks how many clicks each "answer" link receives. And they can also generated additional content for him. After the quiz is over, he can email everyone who responded with a breakdown of how many people answered correctly as an intro to making another offer.
That's a pretty big impact from one 5-line email.
4. The time-sensitive email
Why would you limit the number of people who can take advantage of an offer you're making via email?
Because, paradoxically, stating a limit can make more people take advantage of the offer more quickly.
The principle of scarcity is used in many ways throughout marketing, and one of its most effective applications in email marketing concerns time.
The thing about receiving an email (as opposed to seeing an ad online or on TV) is that it stays put for as long as you want it around. This makes it easy to delay making a decision about opening an email indefinitely…until it sinks to the bottom of your inbox, never to be seen again.
To combat our collective tendency to delay non-urgent decisions, the next time you email about one of your products or services, try tying it to a limited-time promotion—and make sure you emphasize the limited timeframe in your subject line and email copy. Marketers who go from open-ended promotions to strict deadlines are often amazed by the jump in their open and click-through rates.
5. The list segmenting email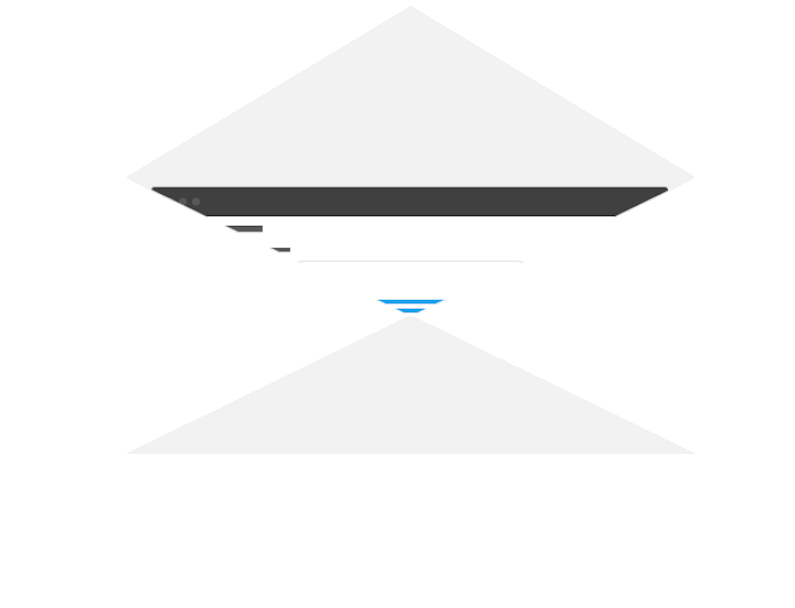 Say you serve several different groups of customers with different motivations, and you'd like to be able to send them different content.
You could ask them to fill out a subscription preferences form, but that typically involves routing them to an external page.
The other option: let them route themselves onto a new list with a single click, without leaving their inbox.
That's what tigger links allows you to do. When you paste a tigger link into any broadcast email, subscribers can instantly register for one of your lists, sublists or webinars.
One example: say you'd like to be able to email people about local events you're involved in, but only a small portion of your audience lives near enough to be interested. You could send an email with a tigger link inviting nearby subscribers to get on the events list, and avoid bugging everyone else with information they can't use.
6. The free R&D email
Is your next product idea really going to land? Maybe you should let your email list decide.
That's what Bryan Harris of Videofruit did, as he explained in an interview with Tim Paige last year. Here's how Bryan explained his process:
The first email said, 'I'm working on a big project. I would love to get your feedback, are you interested?'

Nearly everybody replies back yes.

So anybody who replied back yes, I would send them another email and it said, 'Hey, here's the description,' with a link to a public Google Doc, which was a sales letter for the product.

And then the second thing I ask them to do is to fill out a survey. The survey asked them for their name, their email, and 'Do you want to buy the product?' And then after that, it just asked them for feedback."
That feedback, Bryan said, was "invaluable." It showed him that there was enough interest in his next product to make it profitable, and also helped shape the exact form it would take.
7. The do you really like me Email
Imagine putting a big, bold "unsubscribe" link at the top of every email you send.
That sounds crazy, but a similar tactic has actually been shown to improve email marketing stats. When Danny Iny of Firepole Marketing sent an email titled "Getting too much email?" with a "no hard feelings" way to opt out inside, he was floored by the response.
Danny conceived the tactic as a way to cut loose any unengaged subscribers who were dragging down his open rates (and, as a result, potentially increasing the tendency of email services to assume his messages were spam). But instead, he heard from lots of subscribers piping up to say how much they enjoyed his emails, and afterward, his average open and clickthrough rate improved by 30%.
Sending an email like this can do a couple of things. It communicates to subscribers that there's a real person who cares about their email experience at the other end of the internet, making them more likely to open emails in the future. And it can force a decision for less engaged subscribers: should they go ahead and make the purchase they've been mulling over for months, begin a more active decision-making process, or conclude they're never going to make a purchase from you and unsubscribe?
Any of these three pathways is more valuable to you than the limbo of receiving but never opening your emails.
8. The all-about-content email
Most of the kinds of emails I've listed so far have been very action-oriented. But long-term engagement as a customer doesn't always take the form of a series of big decisions. (That'd be hard to sustain month after month.) You need something to fill the gaps between those decision points.
That something is content. No subscriber wants to field an endless series of sales pitches. You'll get better results if you commit to regularly giving your email list something of value, rather than always asking them for money or time.
Content-first emails are easy to plan if you have a blog—it's simple to send links to your posts along with enough introduction to get readers interested. But even if you don't, you can place engaging content right in the body of your email. Consider sending things like:
A roundup of the most interesting recent writing in your area of expertise
A behind-the-scenes look at what's happening in your company
Short profiles of your staff
Inspiring customer stories
If you have a link to a relevant sales page, feel free to add it in where appropriate—but selling shouldn't feel like the raison d'être of this kind of email. It's about nurturing your relationship with subscribers so that they stay interested in what you have to say for months and years down the road.
Have you received any memorable emails lately—or unsubscribed from an awful ones? Tell us about them in the comments!