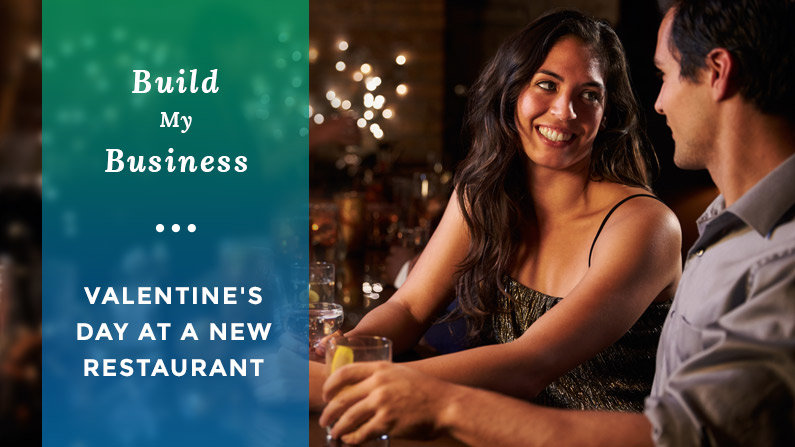 Editor's Note: This week, marketing project manager Jason Martin digs into two of his favorite subjects: cuisine and marketing.
During high school and college, I experienced the hustle and bustle of working in restaurant kitchens as an entry-level cook (though of course, I thought of myself as a chef). So today, when I go out to local restaurants, I make a habit of looking around me and wondering what's going on behind the scenes.
Which tables are part of a loyal customer base? Who's visiting for the first time—and will they come back? What got these people in the door?
I usually assume it was through word of mouth, whether referrals or reviews. When I worked in restaurants, I noticed there was never much money to spend beyond basic operating costs. These places had neither the cash flow to sustain a marketing budget nor the expertise to execute a digital strategy.
But even with a shoestring budget, I think the average small restaurant—even a brand new one without much existing word of mouth—can gain a lot from some basic, inexpensive marketing assets, as long as they're linked together in the right way. That's what I set out to do with this start-to-finish marketing campaign.
If you run any kind of brick-and-mortar business with a tiny marketing budget, I hope you'll find some helpful tips here.
The goal: leverage seasonal celebration to get new customers who'll spread the word
There's nothing like a holiday when you're in the restaurant business. With Valentine's Day approaching, I thought this would be the ideal time to kick a digital marketing funnel into gear for a small restaurant.
Many, many small businesses run Valentine's Day and other holiday promotions, of course. But in my experience, few of them design those promotions to keep getting results year round. That's a major, underrecognized opportunity that I seize in this campaign.
Because I wanted to design a strategy that would truly work for nearly any restaurant, I decided to make things a little bit tricky for myself. The imaginary restaurant I devised for this campaign would be a brand new American neighborhood restaurant in Brooklyn—plenty of competition, not much of an existing reputation.
In other words, it might have a harder time than most established restaurants filling its tables on Valentine's Day when couples tend to flock to old favorites or splurge on new destination restaurants.
This campaign is designed to change that, and permanently boost my new venture's status on the culinary scene. Here's a visual overview of how it will work:
Step 1: make the most of free traffic sources
As a restaurant, I have an advantage that many other kinds of businesses don't: I'm almost guaranteed to have some kind of presence on the web due to outlets such as:
Restaurant listings in local publications
Local food and neighborhood news blogs
Location services like Google Places and Foursquare
That's a ton of free publicity, and I'll use it to my advantage by being sure to "claim" any listings I can. I'll also set up a Google Alert for my restaurant name to make sure I can follow up with any media coverage and make sure all the details are right—including my website URL. (More on that later.)
Other traffic sources require a little more effort, but they're still well within my capabilities. I'd also get initial attention by:
Posting updates regularly on my Facebook page and Twitter feed
Uploading pictures of my restaurant and food to Instagram
Partnering with delivery sites (think Caviar, Postmates, UberEATS, DoorDash, Seamless, Eat24, Foodler, Delivery.com, GrubHub)
Most of these sources will link to my main website's home page by default; in other cases, such as my own social posts, I can direct traffic to any page of my choice. I'll use both in the next stage of my campaign.
Step 2: Get the reservation
Key tools: Leadpages landing pages, Pop-ups opt-in forms, OpenTable reservation platform.
You can get endlessly elaborate with restaurant website design. But I'm trying to keep my marketing budget low, so I'll choose a landing page template that looks great out of the box and is easy to customize.
I scrolled through the Leadpages template library and chose Lee Shadle's Ten Star Restaurant Site template for my site. Here's how it looks: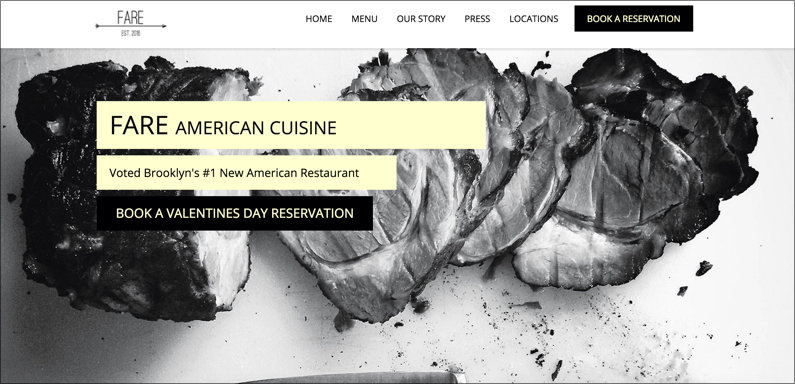 Unlike most restaurant home pages, this one has a prominent call to action: Book a Valentine's Day Reservation. That means that during this promotion, traffic arriving from earned media and listing sites will all be directed right where I want it to go. When they click, visitors go to a second landing page: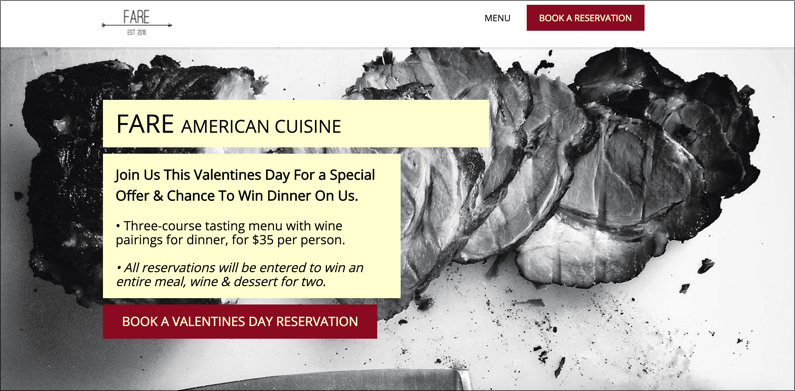 This page is visually consistent with my home page, but it's all about my call to action: make a Valentine's Day reservation and automatically be entered in a drawing to get your dinner free.
When visitors opt into reserve, I'll use a LeadBox™ (triggered by the call to action button) to collect their email address so I can enter them in the contest. Then, I'll set my OpenTable page as thank you page for the pop-up so customers can book immediately afterward.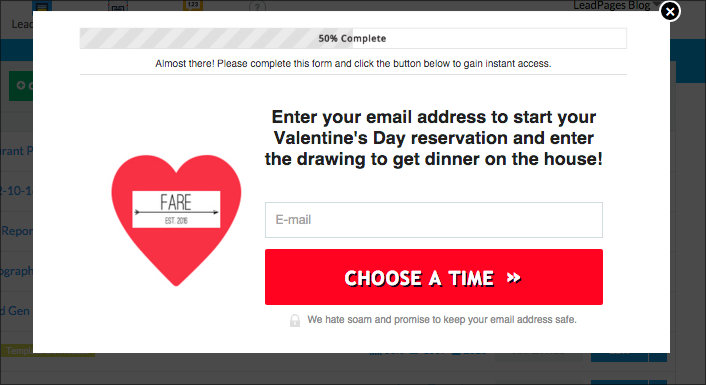 Meanwhile, I'll use my own social media channels to tell people about the contest and link straight to this landing page.
Step 3: get them to the restaurant
Key tools: Emma email marketing, opt-in texts.
Now, I want to make sure all the people who made reservations actually show up. So I'll give them an extra incentive while opening up a new avenue for customer contact.
I'll integrate my LeadBox with Emma, an email marketing service designed for creative small businesses. Using Emma, I'll build an autoresponder email that will go out a few days after someone opts into my LeadBox™.
This email will do two things:
1. Remind them about their reservation
2. Give them an extra incentive to show up and stay in contact
In my email message, I'll encourage customers to text my LeadDigit to opt-in for a free champagne toast with their meal; I can either use the Lead Magnet Delivery system to automatically send them a coupon, or they can simply show the confirmation message on their phones to redeem. Giant chains such as Chipotle have used this tactic effectively in recent months: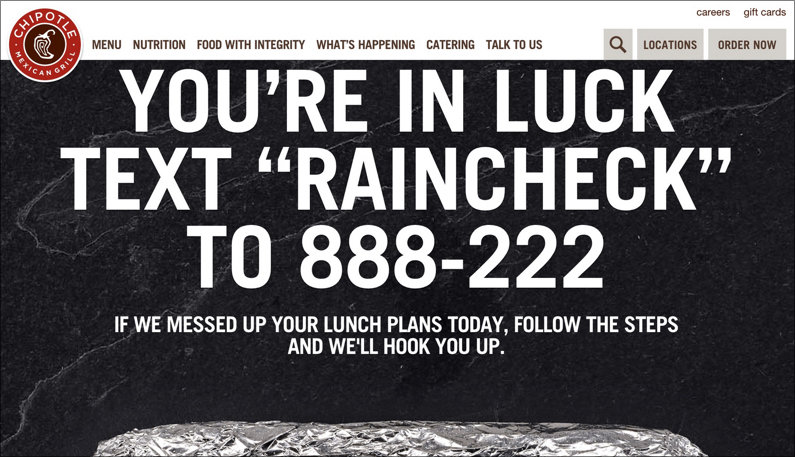 Meanwhile, I'll have collected the information and permission I'll need to contact them by text if I decide to run a full-blown mobile marketing campaign in the future.
At this point, the first phase of my campaign is done. I can shift my focus away from marketing and back to all the things I need to do to make sure my new customers have the best Valentine's Day meal possible.
That will include making sure I set the scene for a very photogenic evening to encourage couples to share their experience on Instagram, Facebook, and Twitter. When you combine the natural impulse to take couple-selfies on Valentine's Day with the year-round impulse to document beautifully composed meals, it's a ripe occasion for social sharing. I could even print our social handles on the special menu so that these posts link back to us.
Step 4: get them to come back—and spread the word
A day or so after Valentine's Day weekend, I'll use an automated email to reach out to my new customers and invite them to tell us how their meal was. I'll include a link to this page, made with the Test Your Knowledge Opt-in Page template: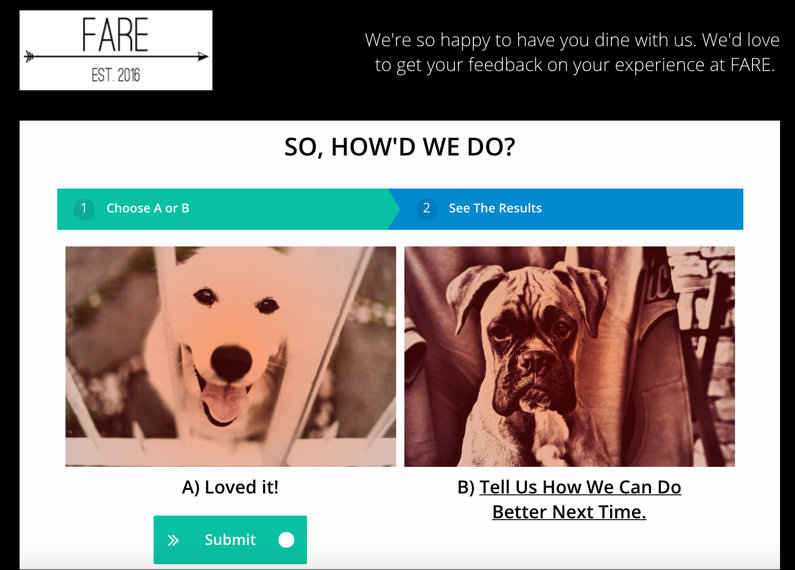 If they click the button on the left, they'll see a message asking them to share their experience on Twitter—which I'll make easy by making the call-to-action button a Twitter share button.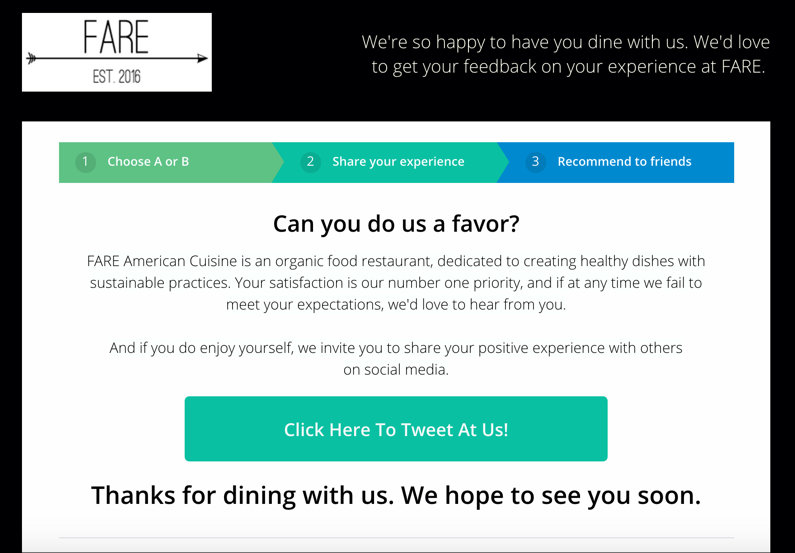 If they indicate that they weren't happy, they'll have a chance to request a phone call so I can make it right. (And if I can't, I can remove them from my email list at this point to avoid reminding them of their unhappy experience and provoking negative user-generated reviews.)
With Valentine's Day weekend behind me, I can start thinking about longer-term marketing. Now that I have a small email list, I can keep in touch with my new customers periodically to let them know about new menu items and events, encourage them to leave Yelp reviews, and reach out with new promotions during slow periods.
From one holiday and one promotion, I've generated revenue, positive word of mouth, and the start of a loyal customer base—all without spending any money beyond my fairly inexpensive subscriptions to LeadPages and Emma.
What kind of business or campaign would you like to see featured next in the Build My Business series?
Tell us in the comments!