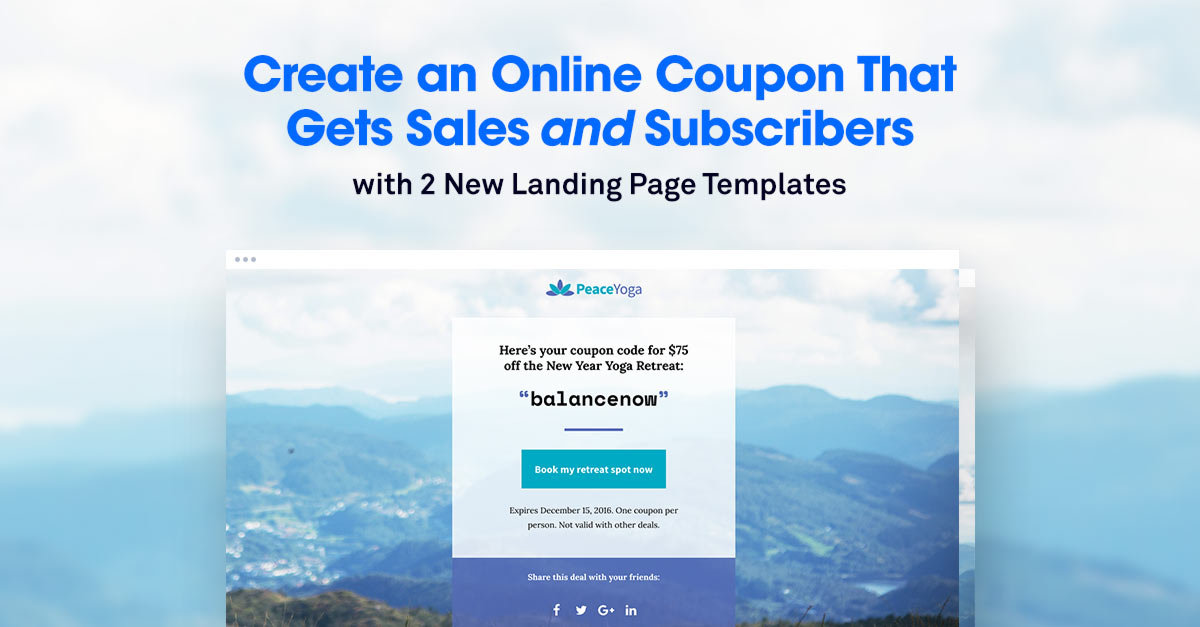 There's something weirdly compelling about online coupon codes.
I'm sure you've seen this. You go to a website, and the first thing you see is a big banner or popup that says something like: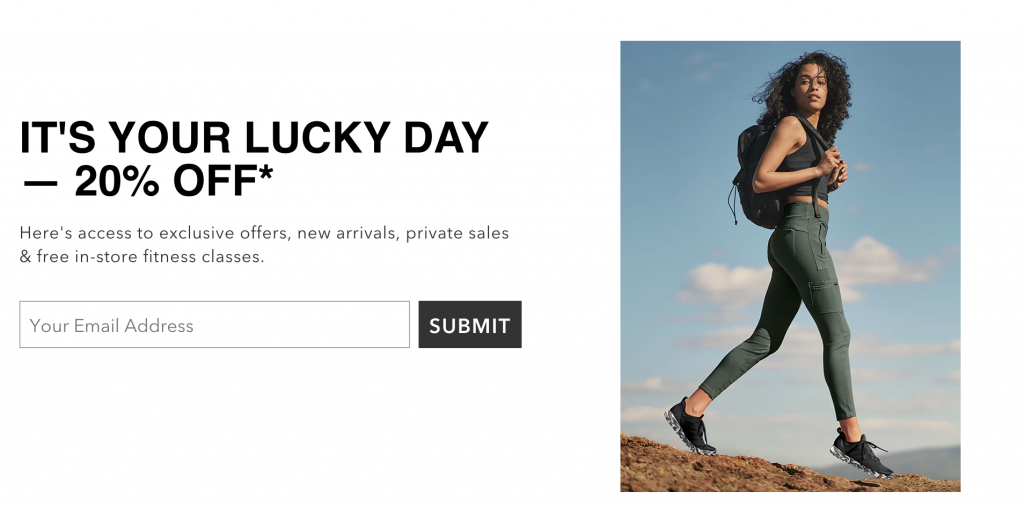 Now, just about any visitor knows there's nothing "exclusive" about this. And nomenclature aside, the "code" is far from a secret password or backdoor hack—it's right there on the front page of the website.
And yet … doesn't it feel a little more special than it would if you simply selected a pre-discounted item from the website? Isn't it sort of fun to find the code, type it into the little box, and be pleasantly surprised by the new total?
Statistics tend to back up this psychological appeal. For instance, according to a 2016 study from location-analytics company Placed, "More than 3 in 5 consumers actively seek out coupons" specifically, preferring them to other kinds of promotions.
Coupon codes can be nice for the seller, too. Instead of having to adjust prices for every single item when you want to run a sale, you can just create a coupon code in your e-commerce platform and publicize it however you want.
With Black Friday, Cyber Monday, and general holiday shopping madness in the air, the Leadpages team has just released two new templates designed especially to help you create online coupons—with a twist that makes them even more effective than the average coupon code.
If you're a Leadpages customer, you can get this pair of drag-and-drop templates by logging into Leadpages right now—just look for the ones marked "Black Friday Deal" at the top of the Drag & Drop section of your template library.
If you aren't using Leadpages yet, there's still a way for you to try these templates, too. Click the link below to try these templates—and the rest of what Leadpages offers—FREE for 14 days.
The Black Friday deal opt-in page
We've called this the Black Friday Deal template to make it easy to find, but you can use this year-round—whenever you want to create a quick burst of sales by setting up a coupon code. (And of course, there's no rule saying you have to use it for a coupon code, either. This template is great for any simple opt-in offer, especially a limited-time opportunity.)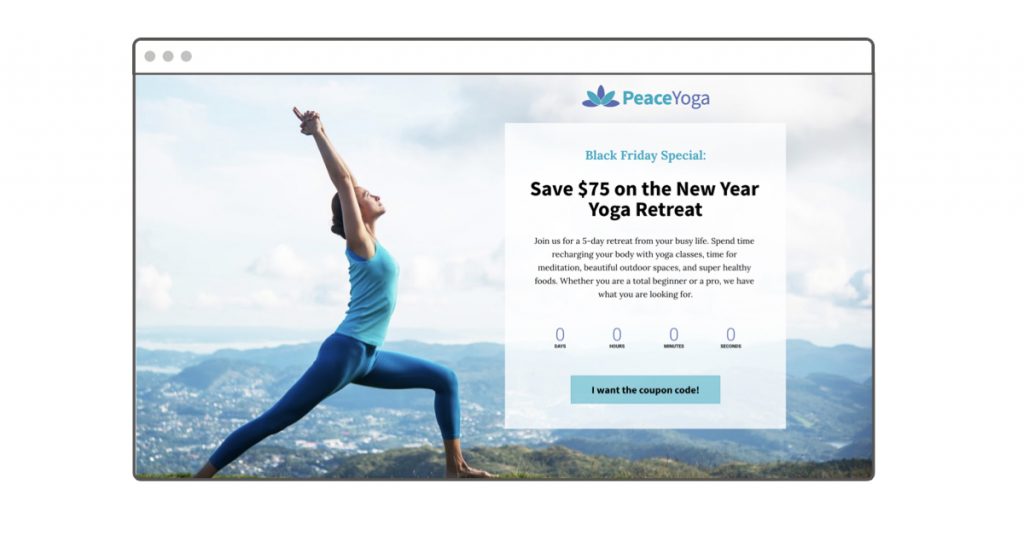 Why use a landing page to offer your coupon code, instead of dropping a banner on your homepage or emailing the code to your existing list?
There are a few reasons you might want to try this.
It helps you avoid undercutting the full-price sales you'd normally get. If you're trying to use a coupon code to bring in a new audience, you don't necessarily want your existing customers, who'd be buying anyway, to get the discount. And that's exactly the risk you run if you splash your discount code across your homepage.
Instead, decide on different channels to broadcast your coupon code promotion—perhaps paid, targeted social media, paid search ads, or even a guest post on a partner platform. Because this landing page stands apart from the rest of your site, it doesn't need to affect any other campaigns or sales strategies you're currently using.
It trades distractions for decisions. The typical homepage offers lots of different options, and depending on what visitors head there to do, they might not notice your discount-code banner or call to action.
Or they might see it, make a note to come back later … and get distracted by another competing offer somewhere else on the internet before they have the chance to return. (I know I've definitely intended to come back later and take advantage of an online sale that ultimately ended before I made my way back to the site. That's disappointing for both me and the retailer.)
By presenting your coupon code on a landing page, you force visitors to make a decision right then and there. And when you require a decision, at least some of those visitors will decide to opt in.
It builds your email list … even if someone doesn't buy right away. This is one of the coolest things about this mini campaign: it mitigates the chance that someone will grab your coupon code but ultimately walk away without buying.
When someone arrives at this page, they're asked to do one thing: enter their email address to get your exclusive, limited-time coupon code.
And, faced with the prospect of missing out on something they may never be able to get again, many visitors will go ahead and opt in, even if they're not 100% certain about making a purchase that day. There's that countdown timer ticking away—why not play it safe and get in before it runs out?
If your offer nudges them over the fence, great. But if it doesn't—well, now you have their email address. And you can send them engaging content and future offers until the time is right for them to buy.
In the typical coupon code scenario, these undecided shoppers would be just be … gone. No way to follow up with them, and no recourse besides waiting and hoping for them to return.
It's common for ecommerce checkout pages to contain an "opt into our email list" checkbox. But because this call to opt in happens before checkout, it casts a much wider net and draws more people into the top of your marketing funnel.
Once you've got the initial opt-in, getting your new lead to purchase and apply the coupon code could hardly be easier. For that, you'll use the second template in this set.
The Black Friday deal coupon code thank you page
This template is very simple, but every element does something to help your promotions run smoothly.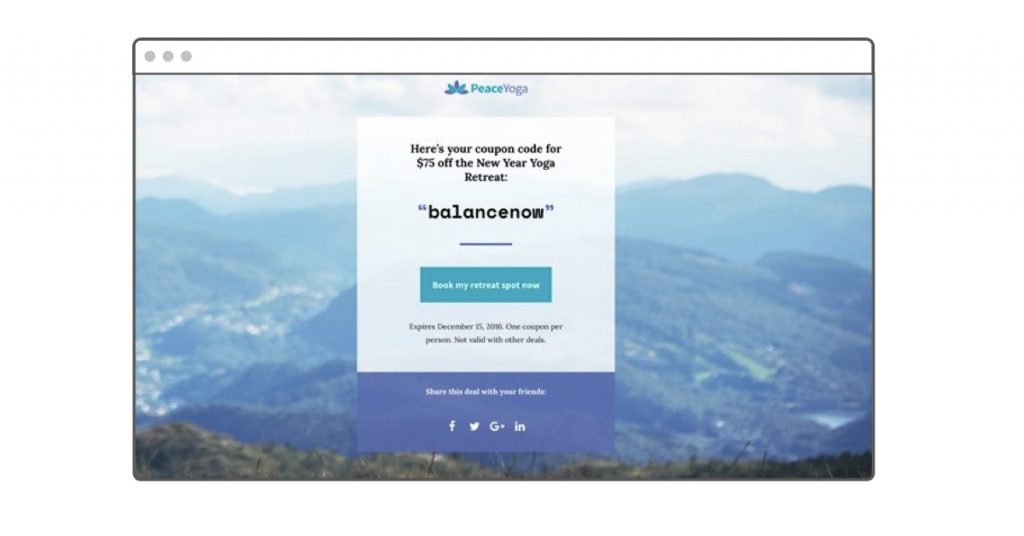 First and foremost, this page acts as the delivery mechanism for the coupon code new leads have just signed up for. (No need for them to go check their email and come back.)
Before launching this page, set up a simple coupon code in whichever e-commerce platform you use. For instance, Shopify lets you create coupon codes that apply dollar-amount, percentage-off, or shipping discounts on any product or collection of your choice, and WooCommerce offers similar options—to name just two popular and accessible platforms.
Just below the coupon code, this template presents a bold call-to-action button so you can ferry people directly to your product page or the checkout process, where they can apply the code. A bit of fine print underneath lets you add any necessary clarification around how customers can apply the offer.
Finally, the page has space for social share buttons to help customers help their friends get in on your deal. In fact, I'd recommend you always add social-share options to your coupon pages: Experian has reported that coupons tend to have a wider word-of-mouth reach than other kinds of promotions. Looking at emailed coupons alone, they found that "referral rates for coupon email campaigns were more than 1.4 times higher than for non-coupon mailings." (And that was in 2009, so it may be even higher now that social sharing is more deeply embedded in consumers' shopping habits.)
A traffic source, these two landing pages, and your ecommerce platform—that's absolutely all you need to get plenty of leads and sales from your coupon code offer. There's plenty of holiday shopping time before the end of the year, so go ahead and start using these templates right away.
If you're a Leadpages customer, you can get this pair of drag-and-drop templates by logging into Leadpages right now—just look for the ones marked "Black Friday Deal" at the top of the Drag & Drop section of your template library.
If you don't have Leadpages, you can still get these new templates. Click the button below to get 14 days of Leadpages for free.
Have you tried using coupon codes for your business yet (or just thought about trying it)? Tell us what's worked or what challenges you've encountered in the comments.