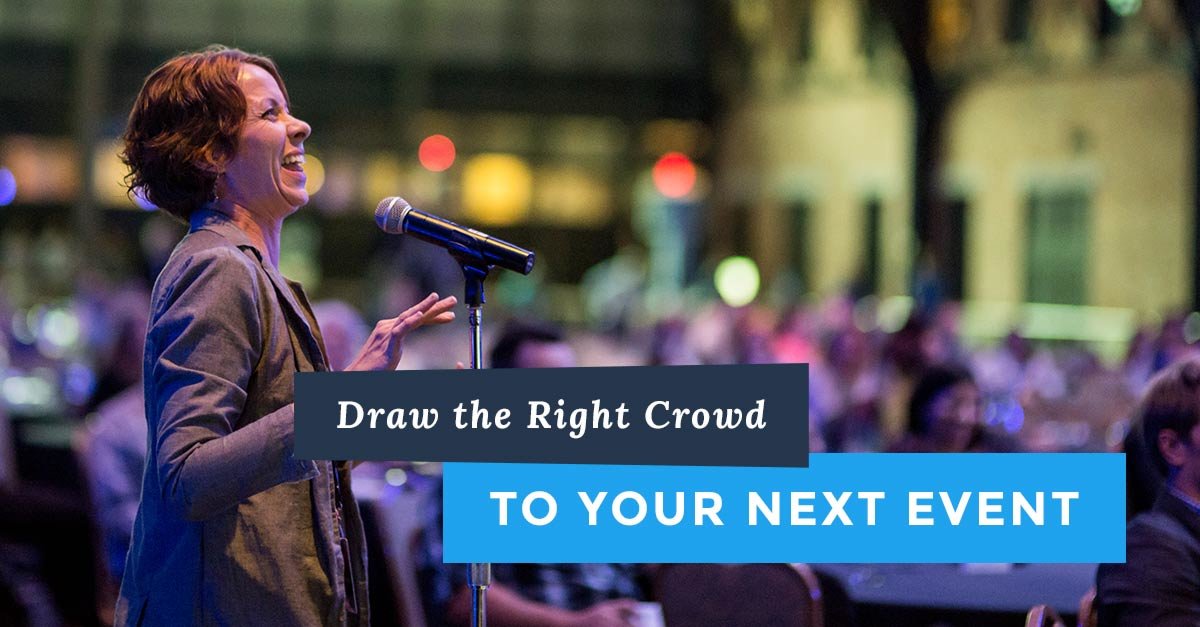 You could say I learned about event marketing the hard way.
One October when I was 12 years old, I had a great idea: I'd throw the perfect preteen Halloween party. Costumes, orange and black treats, a trip to the local haunted house, scary movies and slumber party to follow. I convinced my mom to let me do it and set about inviting every girl I even sort of considered a friend.
Then the evening arrived—and so did all three of my guests.
More like two and a half, really. One left right after the haunted house.
Now, I'll admit: I wasn't the most popular kid in school. But part of my dismal attendance rate came from my total failure as an event marketer. As I recall, my promotional strategy consisted of saying something like, "Hey, I'm throwing a Halloween party next weekend. Can you come?" in the cafeteria about a week ahead of time.
No invitations. No buildup. No trying to get my friends' parents on board.
We still had fun at that tiny Halloween party, but my enjoyment was dampened a bit every time I remembered the people who had failed to show up.
If you've ever hosted a business event that flopped, this may feel a little familiar—though an under-attended event as an adult is less likely to result in hurt feelings and more likely to lose you money. There's nothing like an in-person event to stir up massive enthusiasm for your cause or company, but as powerful as live events can be, they often require plenty of financial and logistical resources.
In other words, you need to ensure a return on your investment by ensuring that you can either sell enough tickets or get enough people in the room to sell to (depending on the type of event).
How do you do that? Once you have a basic event concept that will appeal to your audience, you still have to make lots of little marketing decisions that can help or hurt your attendance rate.
To understand how to make sure those decisions are the right ones, I sat down with Julie Carroll. She's our Conference and Events Director at LeadPages, and in addition to masterminding the massive production that is our Converted conference, she makes sure LeadPages has an engaging presence at the variety of events our team attends throughout the year.
Here's Julie making things run at Converted 2015: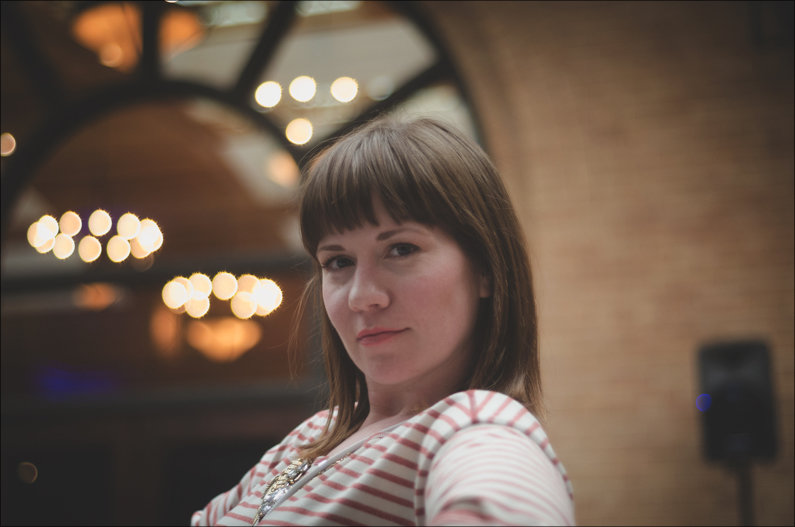 Julie's spent most of her career planning events in the worlds of extreme sports and technology, and she's been involved in productions ranging from the X Games to CES, among other fast-paced events, big and small, around the globe. Based on her experience at LeadPages and elsewhere, she helped me compile the following list of dos and don'ts for marketing your next event.
To help you put some of these tips into action, we're giving away two of our top event landing page templates. These templates were designed partly based on needs Julie ran into while marketing Converted and other events, and we've seen a number of gorgeous event pages made with these since they were released. Download your own copies to use here:
Click Here to Download Our Top 2 Event Landing Pages
If you have
LeadPages™
, you don't need to download this template – it's already available to you inside your LeadPages account. Just
log in
and you'll see how super easy it is to customize this page in seconds with no technical knowledge or skills, make it mobile responsive, integrate it with your email service provider or CRM, run A/B split tests, and publish it to Facebook, WordPress, or your own server.
Do: Consider your event an extension of your overall marketing strategy.
"You're really missing a huge opportunity if you don't go out and implement the exact same thing you're doing online out in the real world," Patti Keating of Entrepreneur Unleashed observed when she appeared on the ConversionCast podcast. She should know—she's been able to earn six figures from new clients sourced from a single event.
That means that, just as you would with a webinar, a sale, or another kind of promotional endeavor, you should think of your event in terms of your larger marketing goals. If your primary goal is to earn revenue through selling tickets, what's your plan for those attendees after the big day is over? If your event itself is a sales tool, can you adapt the best online tactics you've discovered to a 3-D, in-person context?
Don't: Rely on your ticketing platform to market your event.
Ticketing platforms like Eventbrite are invaluable for all kinds of events, from the smallest free meetups to the largest festivals. The only problem: they give you limited control over the way your event page appears, Julie notes. It's possible to use formatting and images to some extent, but unless you wrangle some HTML, you end up with something that looks more or like this: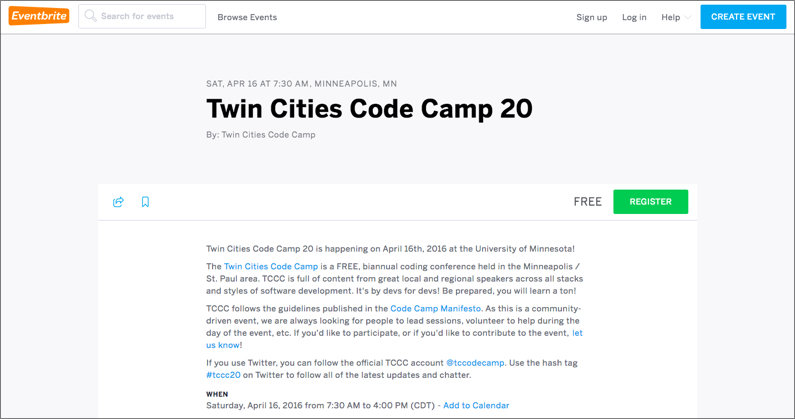 It's fine—clean, clear, and quick—but it doesn't help you immediately understand what's special about this event (compared to the hundreds of other events listed on Eventbrite). If you try to get too comprehensive with the details, you end up with a massive wall of text.
On the other end of the spectrum, you may not have the resources or inclination to create a permanent home for a temporary event on your core website.
So what do you do instead?
Do: Share plenty of content about your event on a dedicated landing page.
"A landing page is really important for marketing your event," says Julie. In particular, she's found the most success with a specific kind of landing page: the minisite.
Think of your event minisite as an ultra-focused, one-page website just for your event. Rather than treating different aspects of your event on different pages, you cover them in different, well-defined sections of one long page. For best results, you can use a navigation bar at the top that contains only internal links, so visitors can jump down to the section that interests them.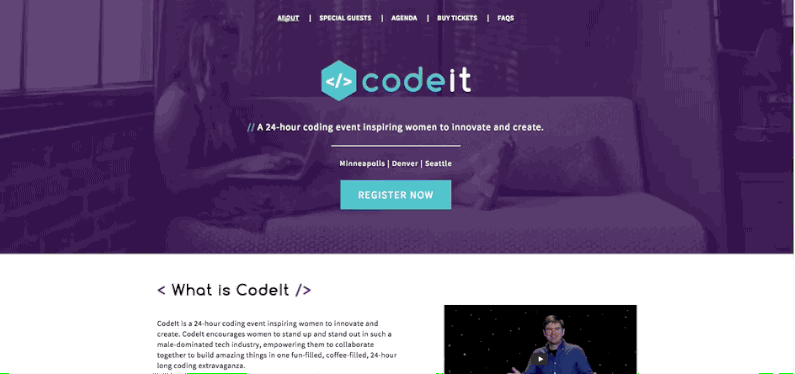 What else should go on your event landing page? Here's a list of top event-page priorities I compiled with help from Julie:
First-fold basics: Event name, date, time, location—pretty obvious, right? Right, but consider the weight you put on each element. While it may seem natural to put the focus on the logistics, there'll be time to spend more time on those details further down the page. Up top, you need to focus on grabbing attention from the moment someone lands on the page. Try a mood-setting background image and a compelling headline or subhead that shows visitors what your event's about, not just what it's called.
Bold call to action: Also important in that first section: a call-to-action button. This can link to an external ticketing page, a cart pop-up (powered by tools like Shopify, Stripe, or PayPal), or even an internal ticketing section on your landing page. If you use LeadPages' new drag-and-drop page builder, you can add an HTML field and embed an Eventbrite widget directly into your landing page: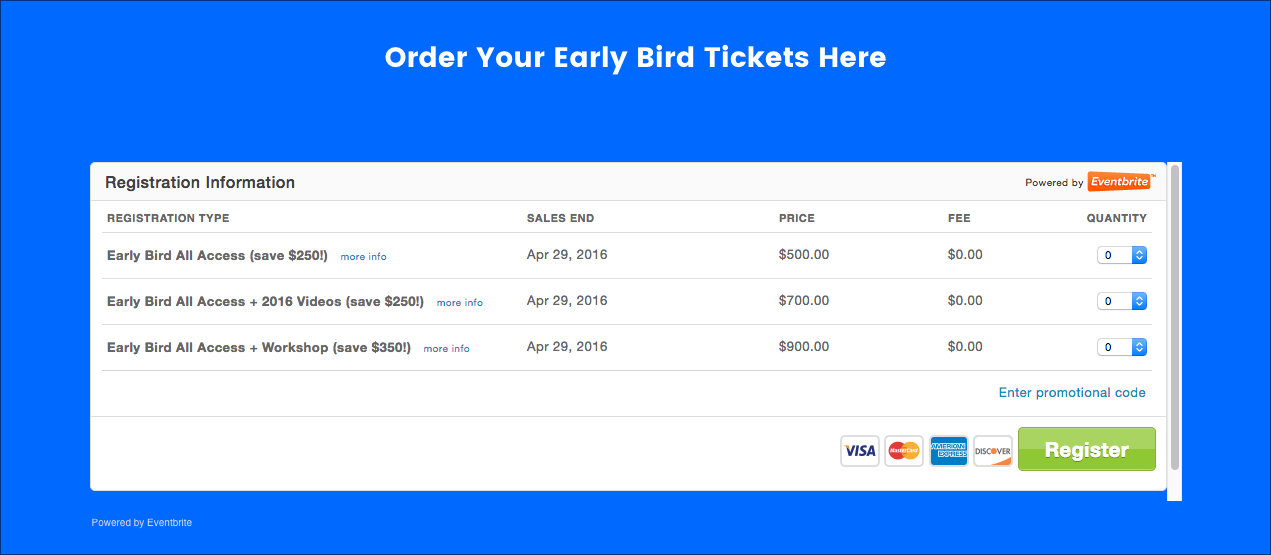 Multimedia content: One of the best reasons to use a minisite event page is all the kinds of content you can use to get people excited. Photos and video of things like your venue, your speakers or performers, or footage from past events can all help visitors picture themselves in the room.
Social media options: Events are always more fun with a friend. Take advantage of this natural motivation to share and make sure you have social sharing icons on your page. You can also add widgets to pull in relevant tweets and Facebook posts showing more facets of your event (or even showcase enthusiastic tweets from your fans).
The nuts and bolts of attending: Where's your event located? What's the schedule? If you're holding a multi-day event, are there accommodations for out-of-towners? What should guests bring? Your event page should answer all the biggest questions attendees are likely to have before deciding to buy. These details can appear toward the bottom of your page, and you can handle them with a mix of text, FAQs, and even embedded widgets such as interactive maps and hotel booking tools.
Need a ready-made page that will let you do all of this? We're giving you two of them, totally free (including the one you see above). Download two minisite templates made especially for events below:
Click Here to Download Our Top 2 Event Landing Pages
If you have
LeadPages™
, you don't need to download this template – it's already available to you inside your LeadPages account. Just
log in
and you'll see how super easy it is to customize this page in seconds with no technical knowledge or skills, make it mobile responsive, integrate it with your email service provider or CRM, run A/B split tests, and publish it to Facebook, WordPress, or your own server.
Do: Start promoting far enough in advance.
The bigger the commitment you're asking for, the sooner you need to start promoting and/or selling tickets. With events as big as the ones Julie's used to putting together—that is, multiday affairs drawing guests from around the country and the world—she starts planning a full year in advance, then starts selling tickets 8 or 9 months ahead of time.
For smaller events, this might be overkill. But she recommends you err on the side of more advance notice.
For one thing, it allows you to tap into the power of networks earlier. Getting a few well-connected people on board early on gives them more time to tell their friends and colleagues about the event and get them to come along.
You can also incentivize these "early event adopters" by offering an early bird pricing level. These people are valuable supporters, and it pays to show them some gratitude!
That said, you also don't want to do a big promotional blast 6 months in advance and wait until the week before to promote again. Ramp up the intensity gradually, and let excitement build over time as different pieces of your event—speakers, activities, discussion topics—fall into place. Every new development is a reason to remind your audience about the great time you have in store for them.
Even months ahead of time, you can give your call to action urgency with something as simple as adding a countdown timer to your landing page.
Don't: Think your ticket prices have to be set in stone.
Successful marketers promoting paid events know that a little flexibility goes a long way. You may actually end up making more sales and building a better reputation for your events if you're able to strategically lower ticket prices. For instance, might it make sense for you to offer group rates, discounts for a certain industry or a co-promoter's audience, student rates, or free press passes?
Free-ticket contests can be another way to build excitement for your event. If you do this, Julie suggests a way to make sure the winner is actually committed to attending: ask for a small deposit up front to claim the ticket, then refund it once they complete the registration or check in so a seat isn't saved for someone who doesn't show.
Do: Remember ticketholders may not be the only people you need to market to.
Another reason to use a longer, minisite-style event page is that it gives you space to talk to different audiences. For many events, you may need to appeal to potential speakers, vendors, sponsors, or partner organizations in addition to attendees.
If that's true for you, devote a section of your page to each additional group you need to reach, illuminating the benefits of becoming part of your event. As your roster fills up, use these sections to highlight the other people and organizations involved. This can create a snowball effect as others see firsthand the kind of attractive exposure your event is able to give them.
Don't: Forget that your audience members are the guests of honor.
Of course, you can't lose sight of who you're primarily serving with your event: the faces in the crowd.
"The most important thing is to know your audience," Julie says. "You can do everything the way you think it should be done, but your audience doesn't necessarily care about the same things." For instance, perhaps your marketing plays up an expensive, hot new DJ when your audience consists mostly of middle-aged rock fans; or you schedule your biggest promotional push during a week when many of your best prospects will be on vacation with their families.
It's easy to get into event-planner mode and focus on pulling off a perfect-on-paper occasion, but unless it truly connects with the target audience, it won't stick in their memories long.
There's no magic bullet here. Every time you create something to market your event, ask yourself: does this reflect what my audience really cares about? Anything that's not essential to what motivates them to attend should be downplayed, or perhaps even left unmentioned in your marketing materials.
After all, it's not a bad idea to leave a few little surprises for the big day.
Do: Look for promotional possibilities everywhere.
Now that you've set up a beautiful, engaging event page, you need to get the right people to it. In addition to the standard digital marketing arsenal—emailing your list, posting on social media, running a few paid ads—events offer some unique marketing opportunities. Here are a few:
Set up a custom thank you page that encourages registrants to share the event on social media, or even offers a bring-a-friend discount.
Ask any sponsors, suppliers, vendors, or venues if they'll post about the event on social media or add it to their newsletters.
Consider alternative "sponsorship" arrangements where, in lieu of a donation, your sponsors let you email their mailing list about their event.
Book speaking engagements in the months leading up to your event and mention your event while on stage. (You can also use a LeadDigit to get audience members to opt in for more information or access a discount code while you're at the podium.)
Work with any fellow speakers, presenters, or performers to promote the event to their own followings.
Research local and industry publications and submit event listings for your event.
Send out press releases to local media, websites in your niche, and relevant bloggers.
Add a link to your event page to your email signature.
If your event has a heavily local audience, send postcards directly to businesses or organizations that might be interested (printed with your landing page link, of course).
You may well get in the habit of asking yourself, "Could I promote my event here?" everywhere you go. With the right event and these tips, it's an attitude that should eventually get you event-goers everywhere you turn.
Click Here to Download Our Top 2 Event Landing Pages
If you have
LeadPages™
, you don't need to download this template – it's already available to you inside your LeadPages account. Just
log in
and you'll see how super easy it is to customize this page in seconds with no technical knowledge or skills, make it mobile responsive, integrate it with your email service provider or CRM, run A/B split tests, and publish it to Facebook, WordPress, or your own server.
What other event marketing tips would you add to this list? Tell us in the comments!