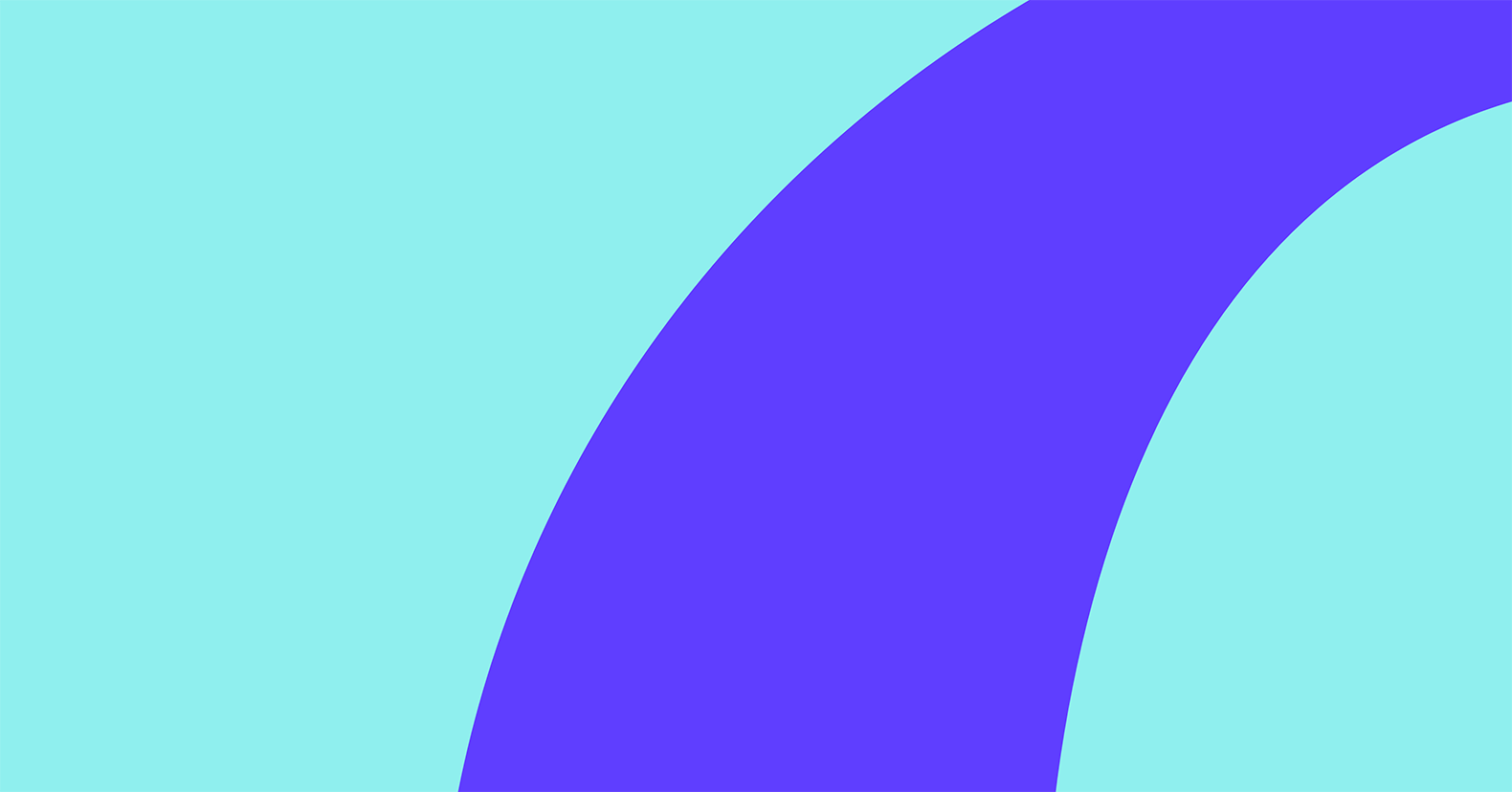 In 2019, U.S. Small Business Saturday spending hit a record $19.6 billion in total. Most consumers reported that they felt more encouraged to shop small on this day.
You may already know, for most small businesses, Small Business Saturday is the best sales period of the entire year. That's why we don't need to unload more stats on you.
In this article, we'll walk you through everything you need to know about Small Business Saturday 2020, including:
What does Small Business Saturday mean?
Why is Small Business Saturday important?
How to make your Small Business Saturday a success
Whether you're a small business owner who plans to join for the first time or a Small Business Saturday veteran who's looking for some fresh ideas, this guide will benefit you.
What does Small Business Saturday mean?
Small Business Saturday is the day to show appreciation for what small businesses do for their communities and encourage people to shop locally. This annual holiday falls on the Saturday after Thanksgiving, a day after Black Friday, and two days before Cyber Monday. Small Business Saturday 2020 will be on Saturday, November 28.
This special day was originally established by American Express in 2010 and then officially co-sponsored by Small Business Administration (SBA) since 2015. Today, Small Business Saturday hasn't just become a staple in the American holiday shopping season but also appears in many countries like the U.K., Australia, and Canada.
Why is Small Business Saturday important?
Small businesses account for over 99% of all businesses in the U.S. and employ nearly 50% of the country's workers.
However, it's hard for small businesses to compete with big-box stores and online marketplaces like Amazon. That's why there's Small Business Saturday.
Small Business Saturday aims at driving awareness of the importance of small businesses and encourages shoppers to put their money into companies/organizations in their community. The initiative embraces all types of small businesses, both online and offline.
It's a campaign that everyone should support—an opportunity to spend money with independent businesses up and down the country.
Small Business Saturday is also a win-win situation. Shopping on this day, consumers enjoy all sorts of cut-price deals, special offers, and promotions—some of which can't be found in any other holiday sales.
Because of that, Small Business Saturday is a golden opportunity for small businesses to boost sales and strengthen their relationship with local consumers.
How to make your Small Business Saturday a success
Preparing for Small Business Saturday can be a challenge for small business owners. There's an event planning to be done, decorations to be applied, and promotions to be marketed.
That said, you can save tons of time and effort while getting the best results if you take the right steps. Think strategically and creatively about what you can do to surprise your local customers.
In case you're stuck with developing a strategy, here are 6 steps you can follow. Each step includes proven tactics you can apply for your business.
Step 1: Do some basics.
Ensure everything is all ready for the day, from website to customer service. No matter how awesome your offer, if your website loading speed is slow, it leaves a bad impression on your potential customers.
Check out these tips to make a good preparation for your Small Business Saturday 2020.
Get web ready
Only 64% of U.S. small businesses have a website. Some business owners even don't know where to start a website. Meanwhile, 82% of smartphone users check online stores before they are about to make in-store purchases.
Talking about why you should have a website and how to build it is beyond the scope of this playbook. But one thing you should remember is that you need a website. Seriously.
If you haven't had it, build it. With Leadpages Website Builder, you can create your first website in a short time.
If you already own a website, do these things:
Update all contact information. You'd also be surprised by how many small businesses forget to include contact information like telephone numbers and addresses. If you want people to come to your store, you need to tell them where they should go.
Review your site as if you were a customer. All promotions should be prominently displayed. The payment process must work properly. The site loading speed should be as fast as possible. All product descriptions are error-free.
Take advantage of free resources
American Express provides the Shop Small Studio marketing package to get your business' name out there. You can sign up to download these free resources right now and then customize them the way you want.
The Official Shop Small Studio marketing package includes:
Shop Small logos
Digital banners
Infographic
Printable signage
Sample email templates
Social media posts
Facebook cover image
These tools help you easily reach out to your customers and let them know you're participating in Small Business Saturday.
Also, American Express gives you a chance to list your business on Shop Small Map or Shop Small Online Directory. Check here to see if your business is eligible for this.
Extend your opening hours
Small Business Saturday is your day, so take advantage of it as much as possible. If you usually close your store at 4 p.m. on Saturdays, consider staying open till 8 or 9 p.m, possibly one week before, during, and after this day.
Also, tell your customers about your extended opening times on social media, your website, or via email.
Prioritize customer service
Small Business Saturday is the day to establish a relationship with your customers. That's why making a good impression with shoppers is important.
Train your staff about customer service and give them the tools they need to create the best shopping experience for customers.
Send marketing emails in the weeks before the event
One of the reasons why people join your email list is because they want to hear from you. So when you plan to launch big deals on Small Business Saturday, tell your subscribers and build excitement around your offers.
To get started, you can send the first email three weeks before the day, then one or two weeks leading up to the final promotion.
Case in point: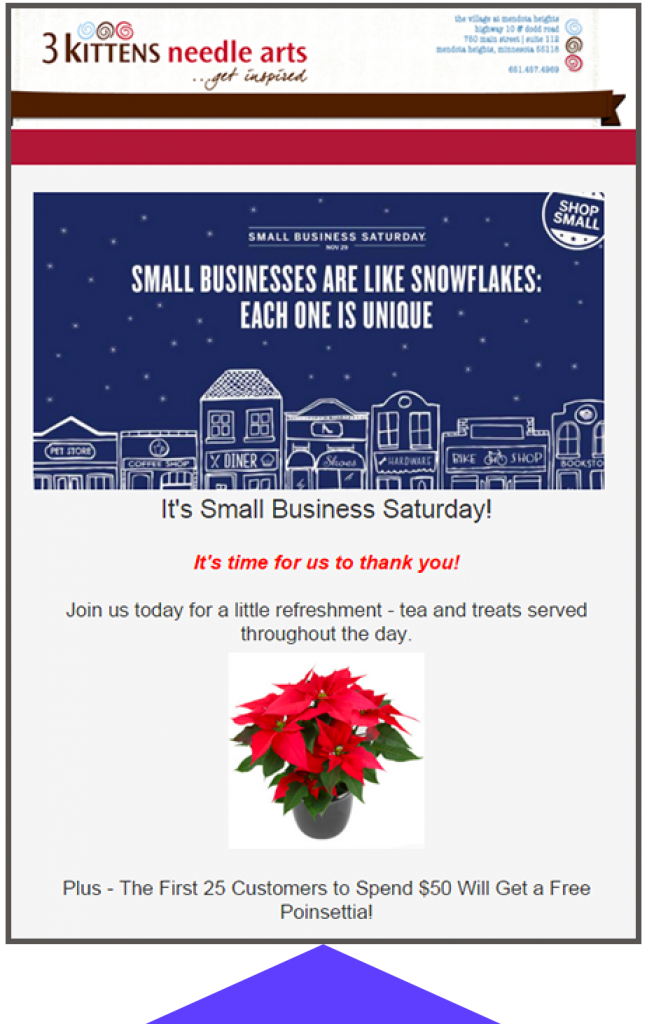 By doing that, you can have a good idea of the initial demand for your sales before the holiday.
Prepare your inventory 
Whether you're expecting in-store purchases or online purchases, it's crucial to ensure your inventory is well-stocked and well-controlled.
The best practice is to use customer analytic tools like Canopy Labs, StitchLabs, and InsightSquared. These tools will help you make predictions on customer behaviors and spending patterns based on historical data.
Alternatively, you can streamline fulfillment to keep you on track and make customers happy. Ecommerce shipping solutions like USPS can plug right into your inventory management platform to help you do that.
Step 2: Make deals and promotions.
Think about compelling offers and promotions to attract local shoppers. Some promotional themes for Small Business Saturday are "Shop Small," "Buy Local," "A day when we all shop small," or "Support America's small businesses."
Offer an exclusive deal
You can offer freebies or special discounts around Small Business Saturday. A good idea is to give away one product or substantial promotion that isn't available at other times of the year.
In 2016, people living in Oakland County (Michigan) were invited to join the Shopper Contest. They needed to shop at any Oakland County small businesses on November 30, then texted photos of their receipts, and got a chance to win one of these three prizes: $5000, $2,000, and $1,000.
Use this example to get inspired for your own contest. Think like this: Anyone who comes into your store and makes a purchase on Small Business Saturday will be given a chance to get a basket worth of products/services or even a gift card. This will give people an extra reason to stop at your place.
Note: You might be tempted to try to offer deep discounts, but don't. Remember that shoppers come to you for a different reason—to support local businesses.
Alert passersby via chalkboards, flyers, and posters 
Let your loyal customers know ahead of the time that you'll celebrate the day. You can do this by placing a chalkboard outside your store, posters on your storefront window and hand-out flyers in a prominent location inside. This will help spread the word about the holiday to existing customers and passersby.
You can also print and fill out American Express's handy flyers here or create your own using Canva. You can also get flyers designed or printed at a local design shop.
Advertise on social media 
Besides in-store promotion, you should consider social media marketing as well. Try to share with your followers what local events are planned and how they can participate, as @mikelle_llewelyn did.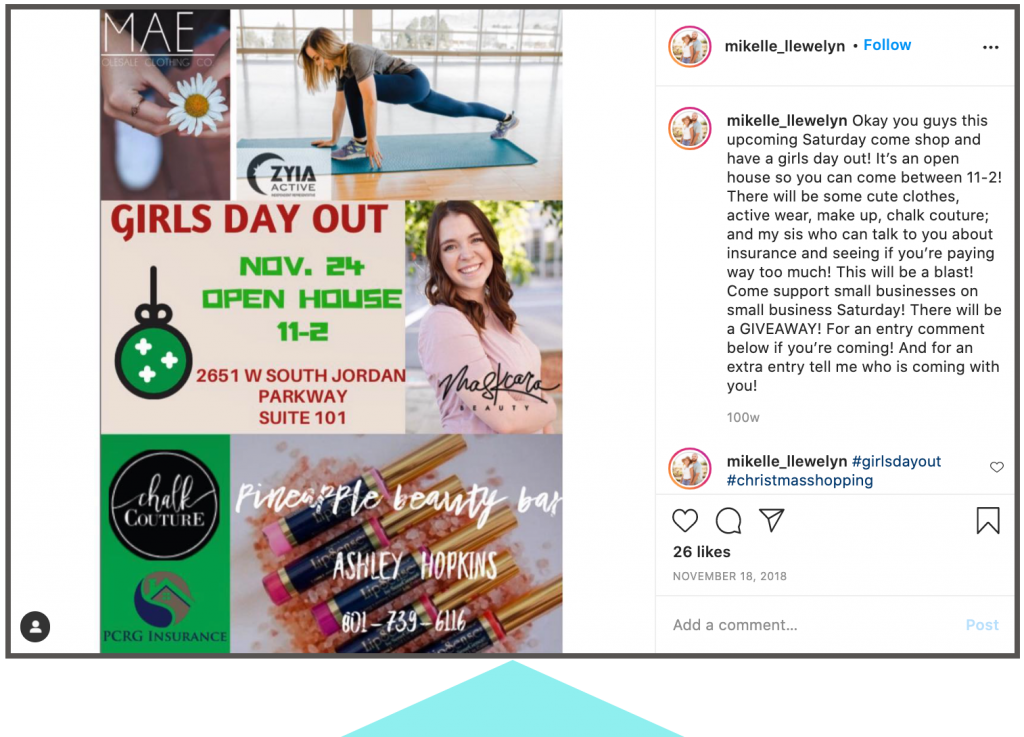 Remember to use hashtags like #SmallBusinessSaturday and #ShopSmall to connect with the broader Shop Small community.
Also, like and share other social media posts about Small Business Saturday to get the message out to people across your town.
Step 3: Get connected.
Attend Small Business Saturday events
It takes more than one small business owner to make a significant impact on the local community. That's why all merchants should gather together.
Here are some ways to find Small Business Saturday events:
Find out what your local community has planned and ask to become part of it. By joining forces with other merchants, you can get free promotion through the town, merely for registering as a participating business.
Go to Eventbrite or Meetup and search for "Small Business Saturday" to find events that will be held in your area.
Check with your local business alliance, Chamber of Commerce, and Local First organization to see if they have anything planned.
Ask other small business owners in your community if they will run any event on this day.
Hopefully, you'll find a great event like a 2019 art show hosted by Historic Fayetteville Convention & Visitors Bureau. Small businesses, including Waterstone Outdoors and Wild Art & Wonderful Things took advantage of this event to promote their products.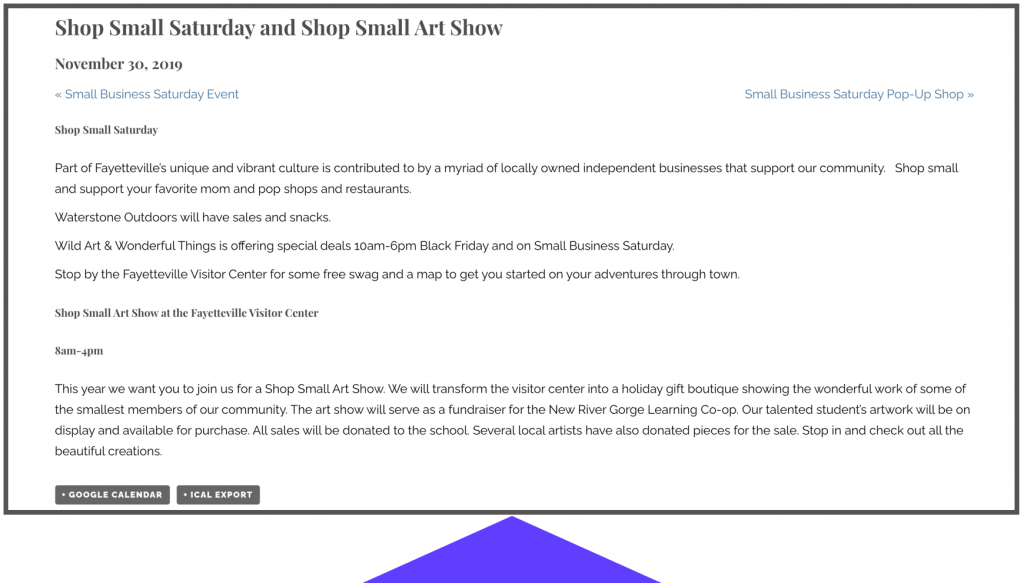 If you can't find any event, you can organize an event on your own and invite other small businesses to join.
Partner with a local influencer or official
In 2017, the Indie bookstore Politics and Prose Bookstore invited award-winning author Jason Reynolds to visit their store on Small Business Saturday. This created a positive experience for shoppers.
He shared, he talked, and he inspired so many people who are looking to write and are navigating what that looks like. He also shared his personal experience and what his journey has been," the Youngs added. "A lot of these customers have not met him before, so to be able to give them the opportunity to meet this New York Times bestselling author and chat with him one-on-one was phenomenal.
Before the event occurred, Politics and Prose Bookstore created a Facebook event and invited their followers to come.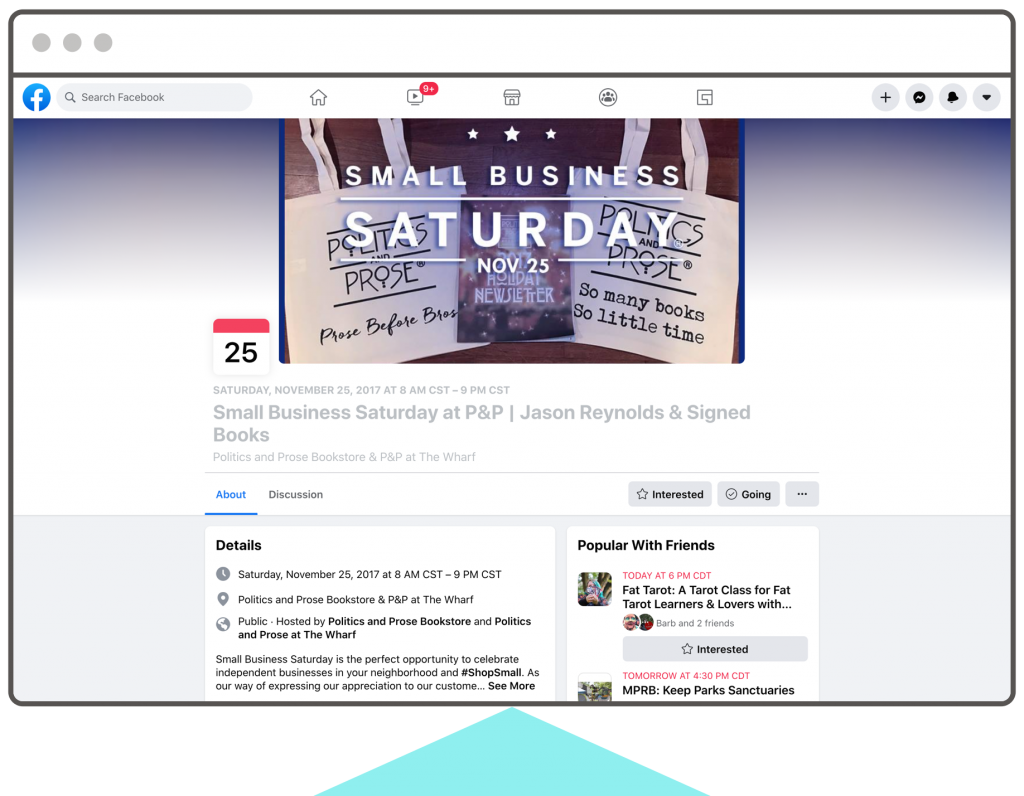 While not all shops can get an NYT best-selling author into their store, consider inviting local officials, creatives, or even pageant winners to make your shop into an impromptu photo opportunity.
Support local charities
Customers love knowing where their money's going—especially if it is for a good cause.
You can look for a charity in your area or a cause that the locals care about. Then, design a donation program that resonates with your potential customers.
Take a look at this example: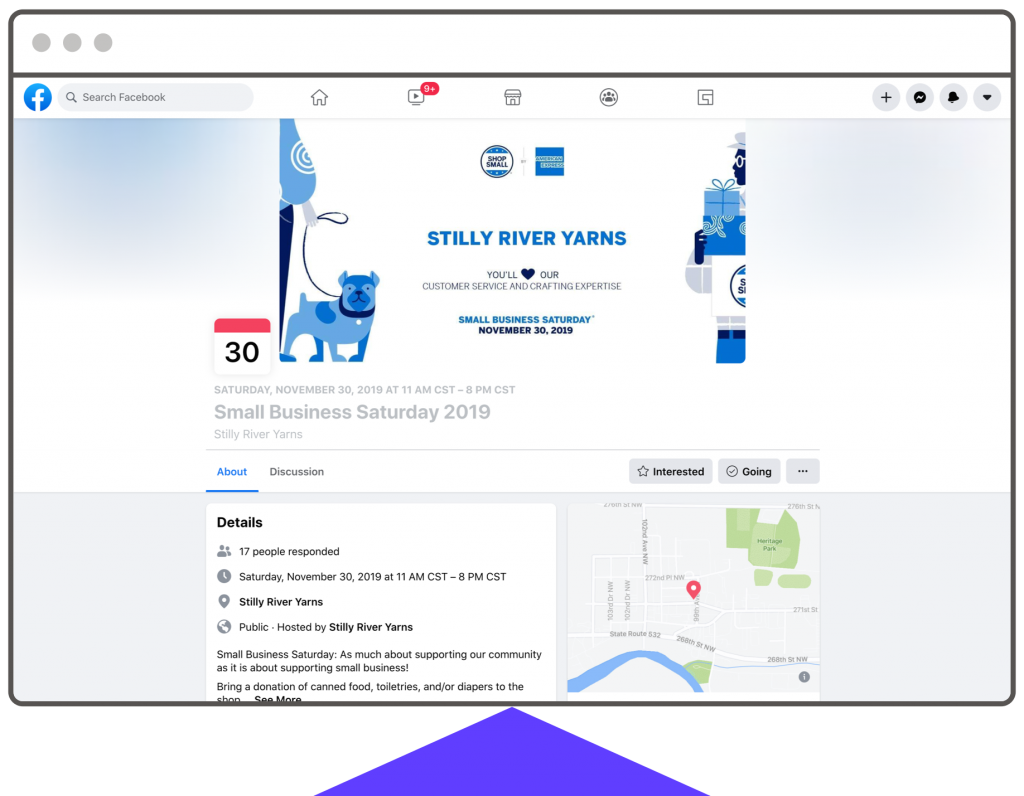 Stilly River Yarns, a full-service yarn and fiber arts shop at Stanwood (Washington), had big success on Small Business Saturday in 2019. They asked shoppers to bring canned food, toiletries, and/or diapers to the shop when visiting on Saturday, November 30.
In return, shoppers would get a discount at the checkout. Stilly River Yarns then delivered all the donations to Stanwood Camano Food Bank & Thrift Store. This organization focuses on helping alleviate hunger & meet the basic needs of families in the community.
Celebrate other small businesses
Small Business Saturday is a community event, so think about celebrating other small businesses. You can retweet or reshare their social media posts to show your support.
Case in point:
Think about promoting and cross-promoting each other's businesses on social media sites. Promote the page and continuously use the hashtags #shopsmall/#shoplocal everywhere you can, and always talk about each other. It's pretty simple really—promote your fellow small business, and they'll return the favor.
Step 4: Spread your message.
Get some press coverage
The media LOVES Small Business Saturday, so grab the opportunity to get some publicity for your store. Don't just wait around for the press to swing by. Go out there and find PR opportunities.
Here is an example: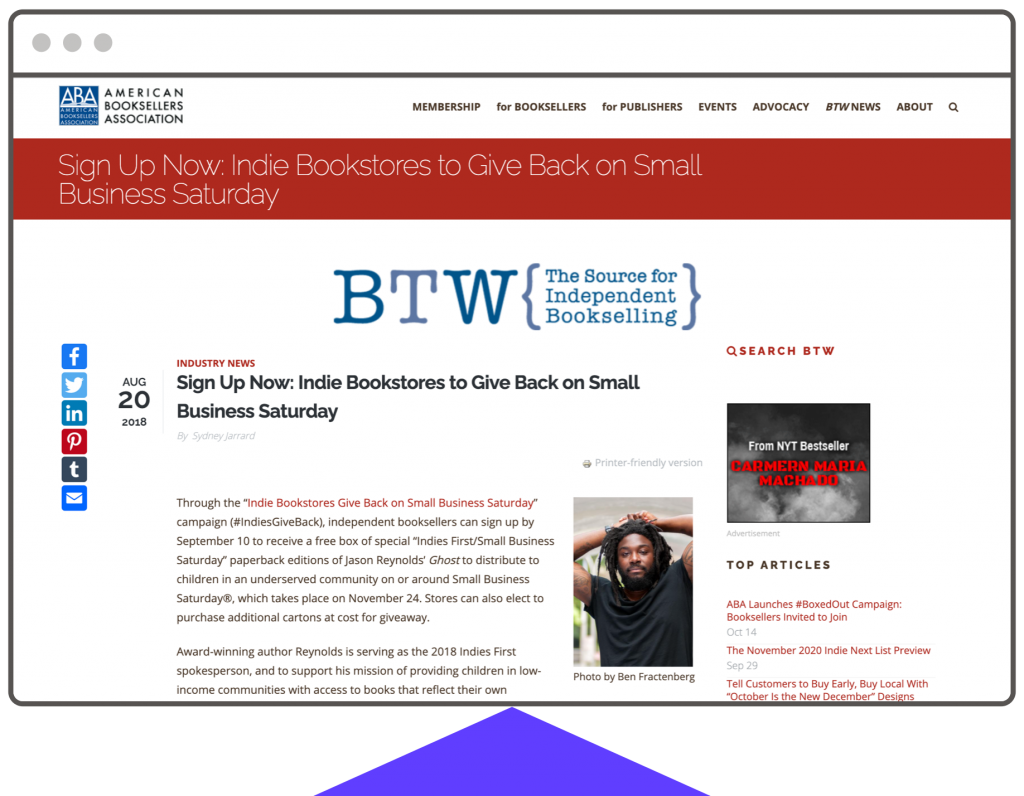 If you're holding an event or offering an exclusive deal for Small Business Saturday, find local bloggers or journalists who can cover your story. Tell them about your exciting plans for this special day and see if they're willing to write about your initiatives.
Share your story on social media
Tell your business journey on social media. You can talk about how you came up with your business idea, what you went through from the first day until now, your failures, your success, your behind-the-scenes, or how you feel when people love your products.
Here is an example from @loandbeholdstitchery: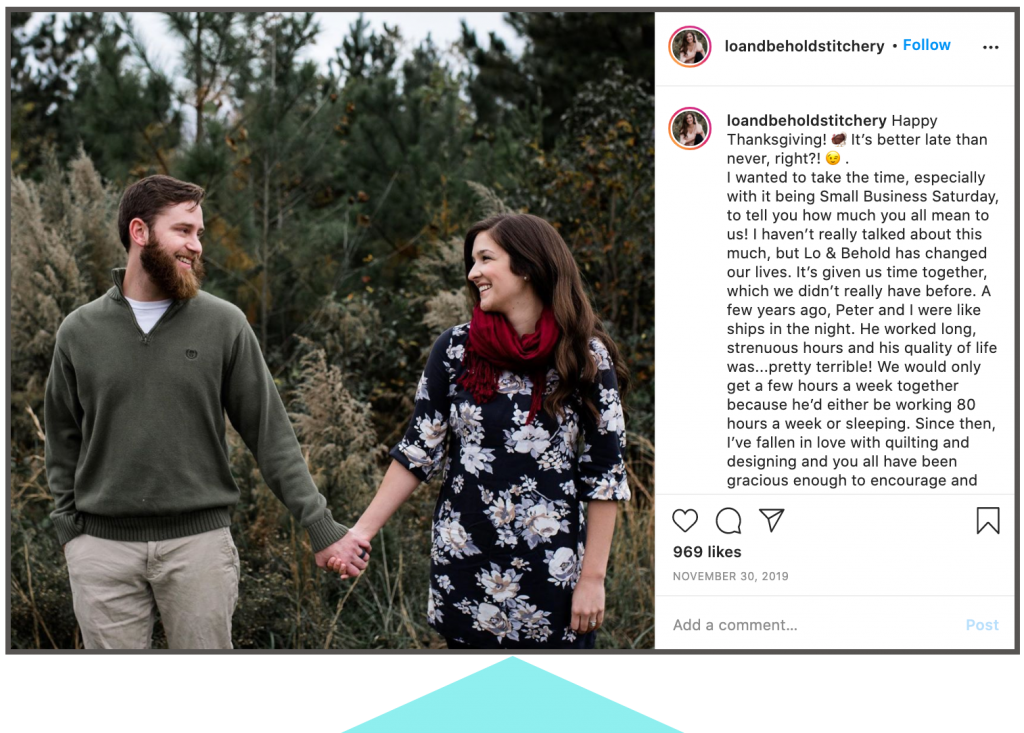 And don't forget to include specific event hashtags in your posts: #smallbizsat, #smallbizsaturday, #shopsmall, #shoplocal, and #smallbusinesssaturday. There are over 1.6 million Instagram posts using #smallbusinesssaturday. So make sure you're part of those conversations.
Reward check-ins
To get customers to share your small business with their friends, ask them to check-in through social media, and give them a discount or a free gift in return. Word of mouth marketing always works.
Case in point: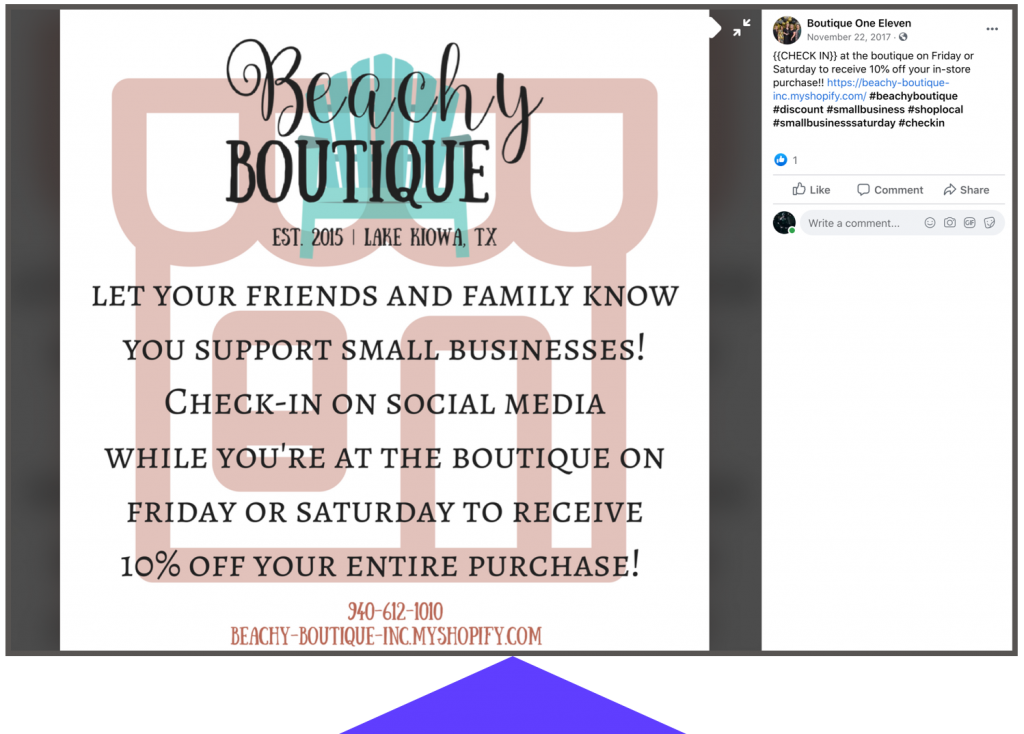 Step 5: Make it a can't-miss event.
Hold a kickoff event
Organizing a kickoff event is a good way to start off your Small Business Saturday. You can invite loyal customers to your store, offering them snacks, beverages, and a special discount or freebie to show they're special and get them excited for the day.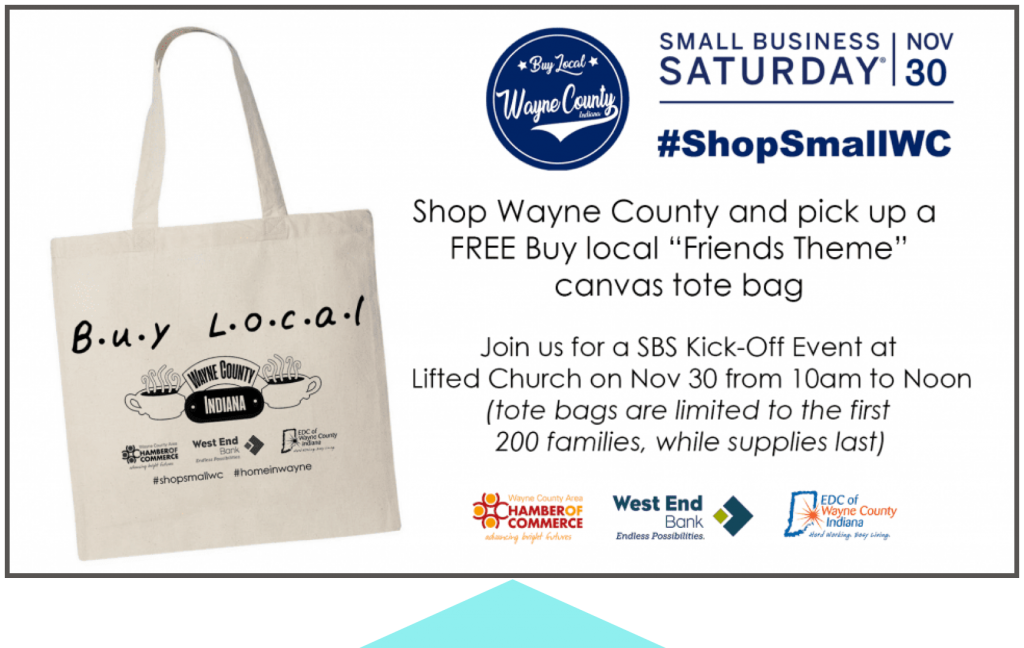 By holding a kickoff event, you can get attendees to spread the word about your store, and more people will know you and want to come to you.
Sponsor a scavenger hunt
Community authorities may hold scavenger hunts on Small Business Saturday. You can participate by sponsoring the rewards. A scavenger hunt can incentivize the locals and visitors to explore their towns—and discover stores like yours.
For example, in 2018, cities from Anchorage (Alaska) to Fruita (Colorado) offered scavenger hunts to get people to celebrate their towns and do some shopping. Many local small businesses and hundreds of people joined the event.
Step 6: Look ahead!
After the Small Business Saturday event is over, you shouldn't slow down. In fact, it's good to keep the momentum going through the end of the holidays and into the new year.
Track your interactions
If you implement lead generation tactics during Small Business Saturday like a landing page or an email marketing campaign, consider using the collected data to track customers' behaviors. You can track the number of lead magnet downloads, email open rates, or click-through rates.
If a lead showed a lot of interaction with your business after the initial lead magnet, the high chance is that they're more likely to purchase from you.
Say thank you to shoppers
Take some time to engage with both your satisfied customers and displeased visitors. Say thank you to followers who bought from you, show your appreciation, and ask them for feedback on what made their experience so enjoyable.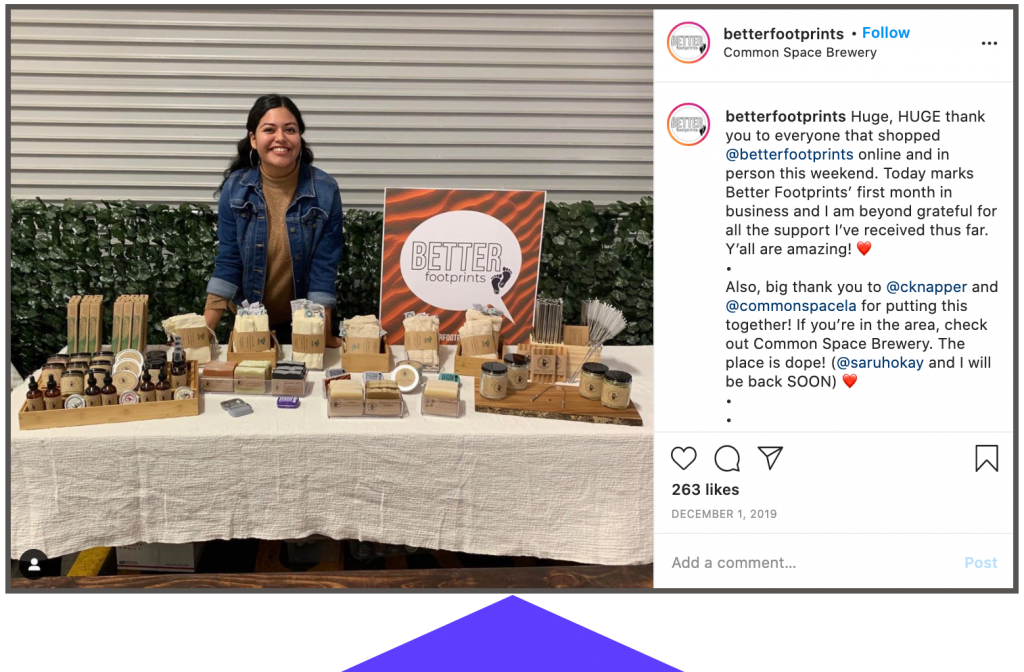 By doing that, you show your customers that you truly care about their experiences. You're welcome to their feedback and try to improve your service.
Don't forget to enjoy yourself
At the end of the day, Small Business Saturday is for celebrating small business owners like you. So, remember to sit back, relax, cheers to yourself and all your hard work!
Don't miss your 2020 Small Business Saturday!
Despite many other holiday events like Cyber Monday and Black Friday, Small Business Saturday has its unique place in the festive season. If you're running a small business, make use of the tips above to build out a strategy that will work for your business.