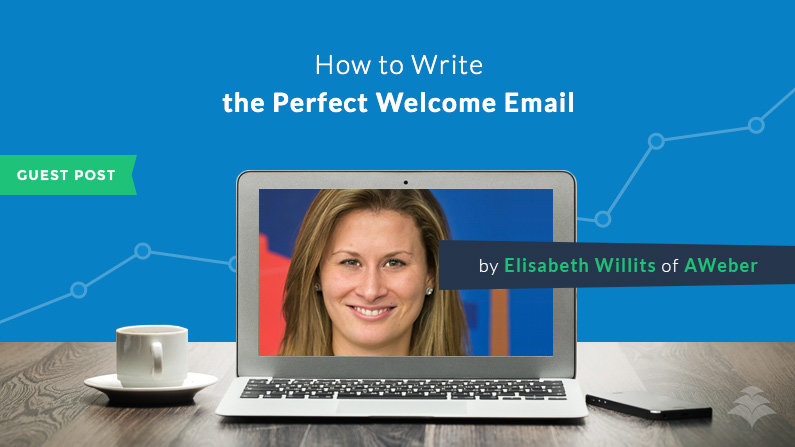 Editor's Note: We're happy to welcome Elisabeth Willits to the Leadpages blog today. Elisabeth spends her days helping people master email marketing at AWeber (one of our favorite email service providers), and in this post she shares her expertise on a crucial step in your email sequence: the welcome email.
Once you've created a beautiful landing page and signup form, it's gratifying to see new subscribers join your email list. It's evidence of a job well done (and the simple fact that your landing page is working). Hooray!
But if you find yourself asking the following questions:
What should I do with those subscribers now?
What do I write in my first email?
How many emails should I send subscribers, and when should I send them?
… you know the story isn't over.
Consider your new subscribers for a moment. They were willing to give you their email address. They're interested in you. They also trust you enough to feel confident you won't spam them.
But chances are, they don't know much about you yet. They want to learn more. And the best way to tell your new email subscribers about yourself is with an automated welcome email series.
What is a welcome email series?
A welcome email series is a group of automated emails that are sent to your subscribers when they join your list. You can use them to introduce yourself, explain your company or product, and convert your new leads into customers.
With an autoresponder welcome email series, your first email is automatically sent right after a subscriber joins your list—which means you get to connect with your subscribers at their peak engagement.
As your subscribers receive the emails in your series, you'll gradually build more and more trust by giving them information they want. In return, you get a chance to connect with them and turn them into loyal fans of your business.

But before you start writing your welcome series, here are some tips to keep in mind:
2 tips before you start writing
1. Personalize Your Emails
Has someone ever called you by the wrong name over and over, no matter how many times you corrected them?
Sending impersonal emails is kind of like that. If your emails make subscribers feel like you're not really paying attention to who they really are, they're going to stop opening them.
Your subscribers should feel like your emails were written directly to them. Address subscribers as "you," send emails based on subscriber interests, and include first name fields in subject lines and content. (This last practice can have a bigger impact than you might think—a 2015 study from Experian Marketing Services found that emails with personalized subject lines were opened 29% more often on average than non-personalized emails. If you're collecting leads' first names, use them!)
2. Set Expectations and Stick to Them
Your first email in your welcome series should explain exactly what email content your subscriber will be receiving from you. And if you promised your subscriber a free guide on "Making Cream Cheese Frosting That Melts in Your Mouth," your welcome email should deliver it.
If you use Leadpages, you can deliver the guide itself automatically through its lead magnet delivery system. But you should still send a followup welcome email that puts your lead magnet in the context of the rest of your company and explains what leads can expect in the future.
How to start writing your welcome emails
While you might feel overwhelmed by the idea of writing multiple emails for your email series, you don't need to worry. Start with two or three emails. You can always add more later on.
And really, there are no hard and fast rules for how many emails to include in a welcome series. The number of emails depends on the information you want to convey. Decide what you want to share, and then define how many emails you'll need to share it.
Not sure what information you should include in your welcome email series? A good place to start is with what's most important: your pillar content.
Pillar content resolves your subscribers' most pressing questions and problems. You should also include more information about your business, so your new subscribers have a chance to learn more about you.
For example, imagine you teach online cake decorating classes. When people visit your website for the first time, they see a landing page encouraging them to sign up for your free guide, "Cake Decorating for Beginners." Your content for your welcome email series could look like this:
Email 1: Here's Your Cake Decorating for Beginners Guide
This email delivers the guide you promised, welcomes your new subscribers, and informs your subscribers what kind of emails they'll be receiving from you.
Email 2: Three Best Practices for Decorating Your Cakes with Fondant
Your second email shares your blog post "Three Best Practices for Decorating Your Cakes with Fondant."
Since your subscribers are interested in learning about cake decorating and because decorating with fondant is notoriously tricky, this blog post solves a potential subscriber pain point.
Email 3: How to Decorate Your Cakes in 30 Minutes or Less
In this email, you include a link to your blog post "How to Decorate Your Cakes in 30 Minutes or Less." Anyone with cake decorating experience knows that decorating a cake can take hours. Because the blog post resolves this problem, it's another piece of valuable pillar content.
Email 4: Master the Art of Decorating Cakes
In this email, you explain what subscribers will learn when they participate in your online decorating course. You share a customer testimonial in which a customer raves about how awesome your decorating class was. And to top it all off, you include a call to action that says, "Sign up for my baking class today, and receive 20% off."
The discount in your call to action creates a sense of urgency, the customer testimonial builds trust, and providing learning objectives educates your subscribers on the value of the class.
An inside look at an AWeber welcome email series
To connect with our own blog readers, we feature a signup form on our blog homepage that adds people to our weekly blog updates.
Our welcome series for these new subscribers consists of six emails that feature recent blog posts and announcements about new email courses, upcoming webinars, and more.
Email 1: Thank You for Subscribing to the AWeber Blog
The first email has three goals: to deliver a free "Standing Out in the Inbox" guide, welcome the new subscriber, and set expectations for the emails they'll be receiving.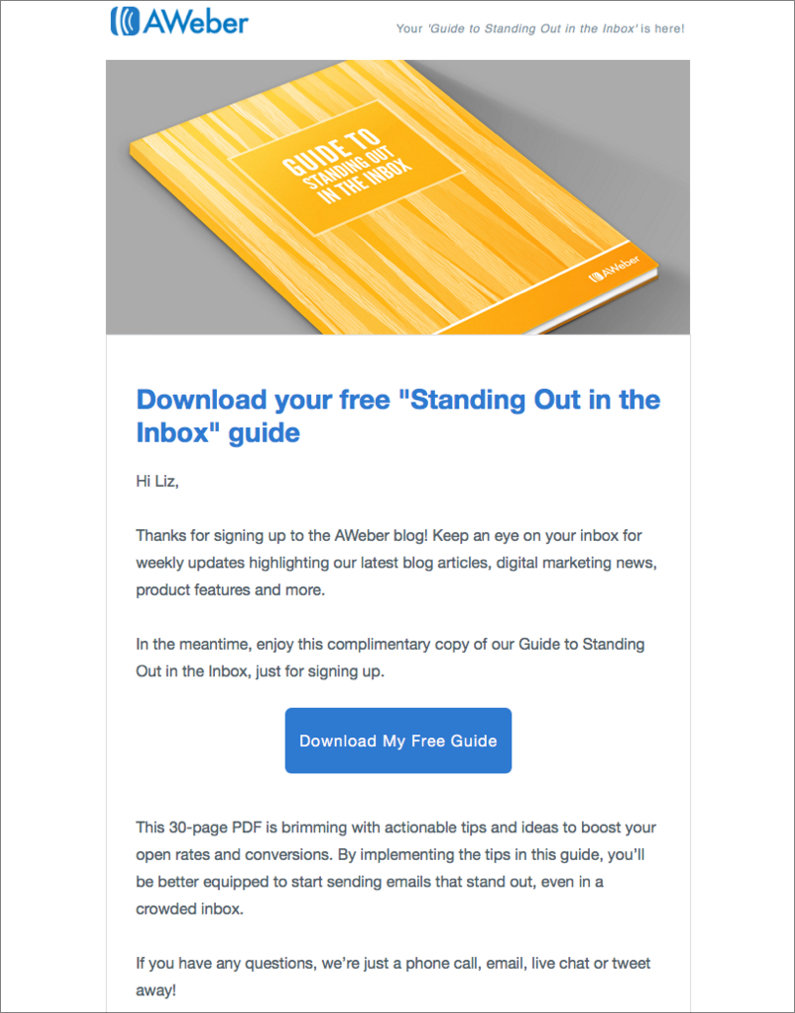 Email 2: Meet Your Email Marketing Tour Guide
In the second email, you can click a button to get AWeber's collection of free email marketing PDF guides. These PDFs give subscribers all the tools they need for email marketing success.
Email 3: Grow Your Business with Email Marketing
In the third email, subscribers can choose to download a free "Growing Your Business with Email Marketing" guide. Notice that we're beginning to narrow the focus, moving from a collection of resources to one specific resource that guides subscribers down a clear path.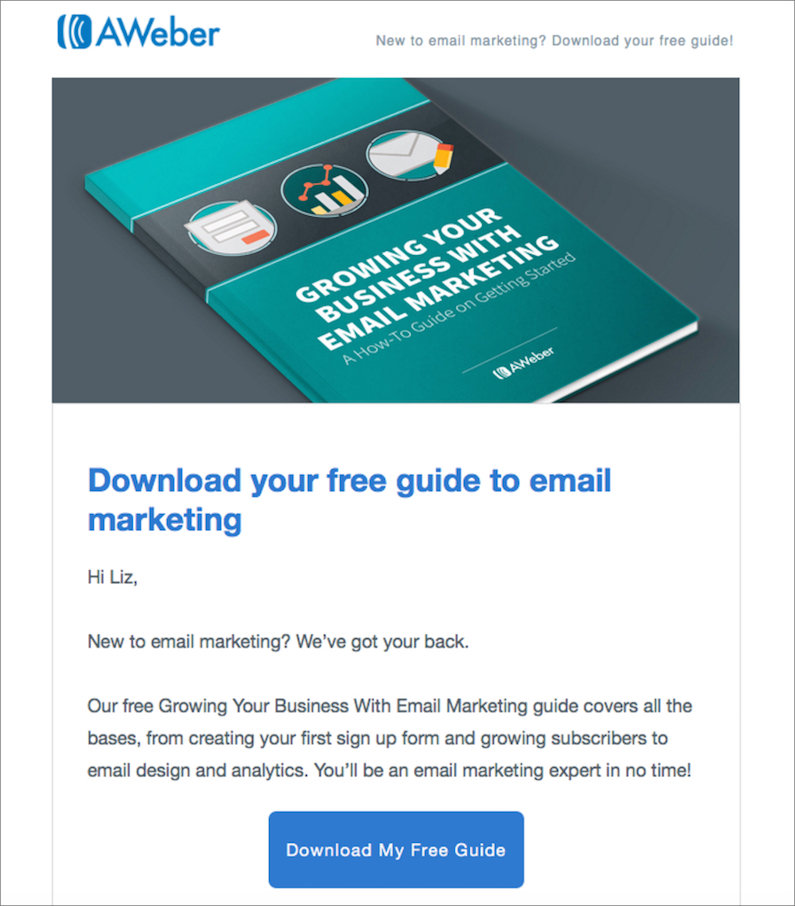 Email 4: How to Create Effective Pop-Up Forms
With this email we dig into one very specific tool customers can use with AWeber: pop-up forms, which can be really effective at driving email marketing success. To help subscribers grow their lists, the fourth email of the series delivers a free guide about pop-up form optimization.
Email 5: Join the Email Marketing Conversation on Twitter
The fifth email asks subscribers to follow AWeber on social media and explains why they should.
Note: when you're writing your emails, it's important to ask yourself, "What's in it for my subscriber?" If you explain the benefits your subscriber gets, they'll be more likely to act. In this email, we call out benefits including access to marketing tips, contests, small business ideas, and networking opportunities.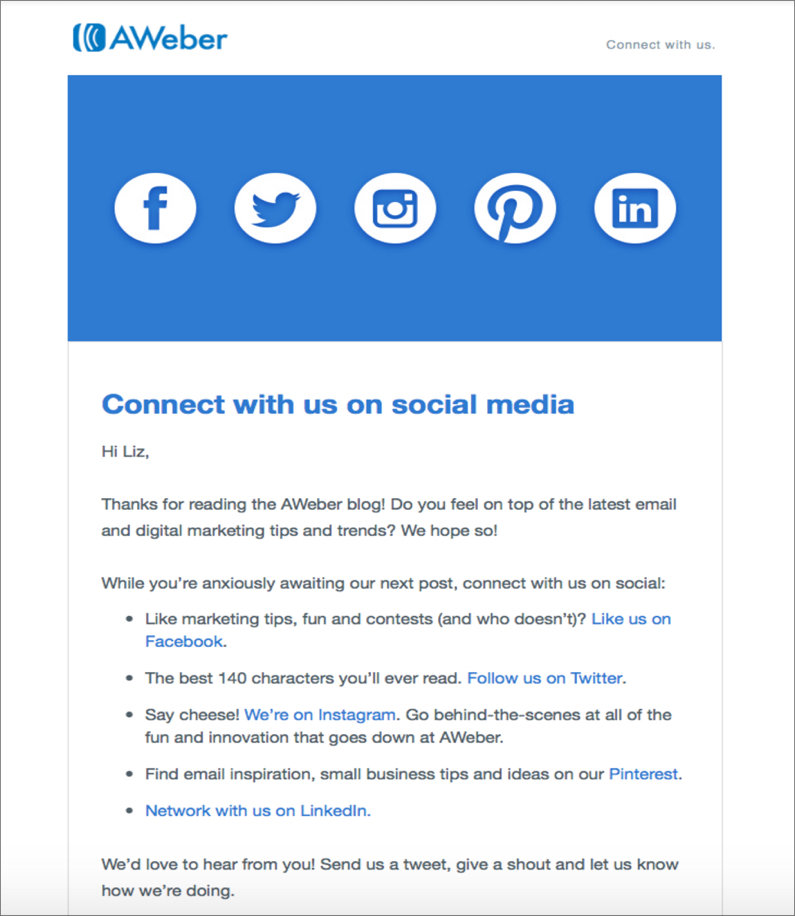 Email 6: We Want to Hear from You!
The welcome email series ends by asking subscribers to complete a survey. Survey results teach you more about your subscribers, which allows you to connect with them on a more personal level.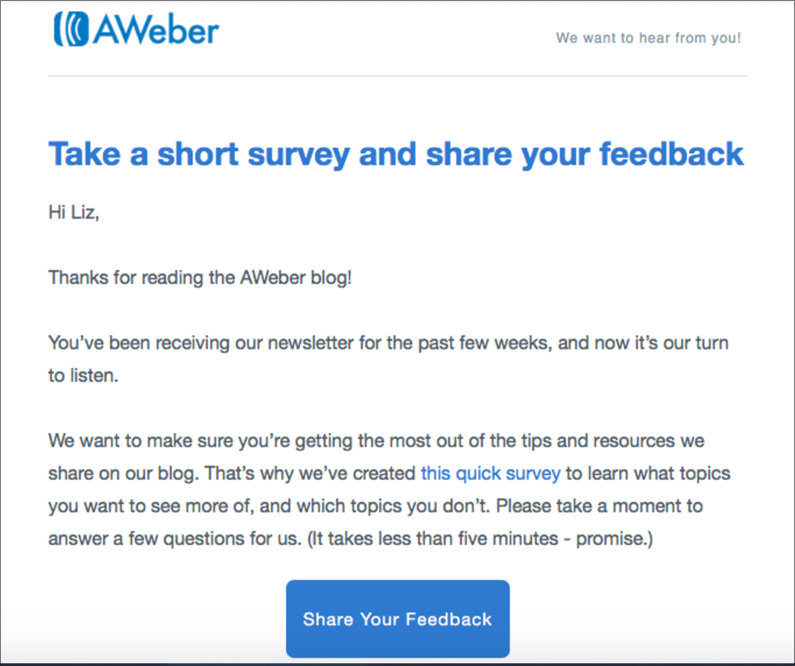 And with that, the initial welcome series ends—and a new sequence begins. With the information from the survey, we're able to design more personal follow-up campaigns and other kinds of communications, strengthening connections with our leads and, ultimately, the customers those leads become.
Start welcoming your subscribers with AWeber + Leadpages
Did you know that AWeber integrates with Leadpages? Set up the integration in a few clicks, and the leads you collect with Leadpages will automatically be added to the AWeber email list of your choice. Here's a quick peek at how it works:
Once you're all set up, go get started on your own perfect welcome email series!
As a subscriber, what kinds of emails do you appreciate receiving when you opt into a new email list? Share in the comments.