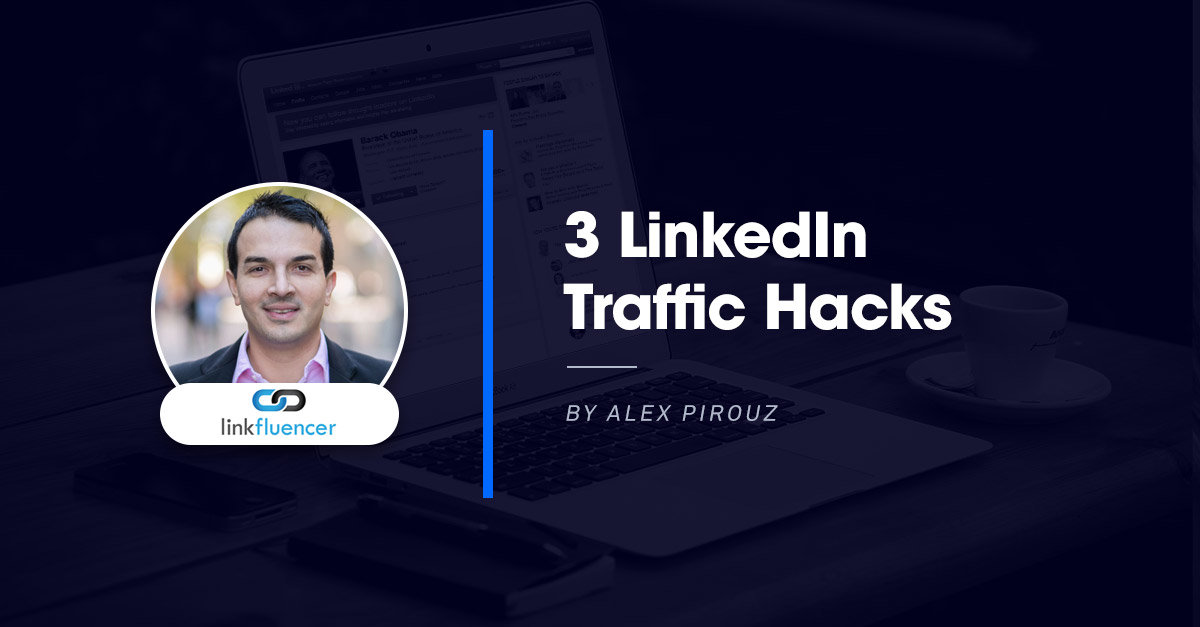 Editor's Note: We're pleased to introduce this guest post from LinkedIn expert Alex Pirouz. Alex is the founder of Linkfluencer, which has helped 14,000 people from 33 countries in 55 different industries master lead generation on LinkedIn. You can often find him traveling around the globe speaking at events to help transform the way entrepreneurs market themselves online, and today he's sharing his LinkedIn expertise on the Leadpages blog.
You're probably well aware that whenever you create a landing page, you need to think traffic.
Otherwise, your page is likely to turn into a ghost town (population: you and only you). And after all the blood, sweat, and tears you've put into your campaign, that's not a place you want to be.
Now, you can be like everyone else and invest in Google Adwords, Facebook Ads, or other popular advertising services. But if you don't know what you're doing, you could lose your shirt in the process.
So before you start selling your clothing to get a trickle of traffic, I have a suggestion: take a look at other platforms where you might be able to generate a ton of traffic for very little spend and effort.
As you might guess from the title, I have one platform in particular in mind: LinkedIn. So far, its traffic-generating power is ridiculously underutilized—and while I may be on a mission to change that, there's still time for you to get in on this before these tactics become par for the course.
In this post, I'm going to share with you 3 great traffic hacks you can start implementing today to get yourself a heap of traffic to your beautiful, high-converting sales funnel—ensuring it'll never become a ghost town.
Traffic Hack #1: LinkedIn Pulse
If you've been a LinkedIn user for some time, surely you've seen this?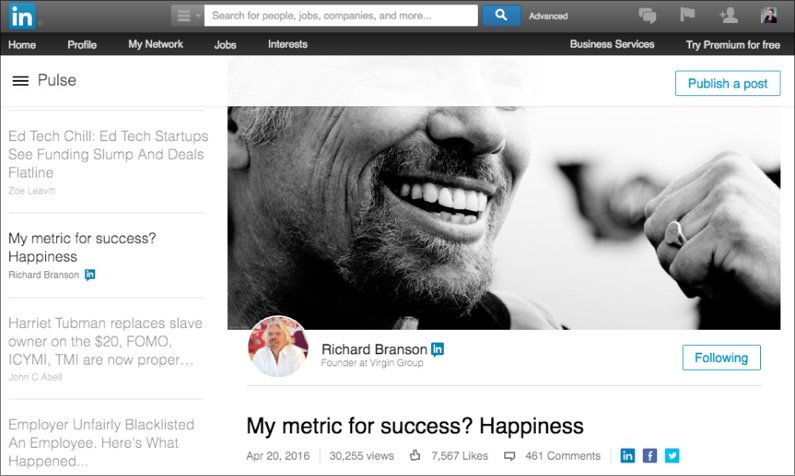 LinkedIn allows you to publish articles within the platform (just like a blog). This feature was rolled out in 2014 and has been a game-changer.
Some of these posts from users get hundreds or thousands of impressions in a short space of time.
To add to that, they can potentially rank really well in Google searches.
Finally, they can get you even more than great traffic, because you can place links throughout and at the end of the post promoting your landing page—so your article can turn into leads or sales.
Here are a few tips to create LinkedIn Pulse posts that will be found by most people:
1. Be strategic with your keywords. If your post content will only live on LinkedIn Pulse, it's especially valuable to find a popular search keyword to target and add it to your headline, subheadings, and other relevant places throughout the post.
2. Include pictures and videos to break up your text. Remember, most readers are skimmers, and on LinkedIn, they're not necessarily looking to settle in with a long read.
3. Create a ton of value within the post. LinkedIn users are on the platform to accomplish something—whether it's job-seeking, hiring, or networking—so ensure that your content is as actionable as possible.
4. Include a call to action in your bio. Don't simply link to your landing page—add an engaging call to action to let readers know exactly what they'll find there.
5. Promote your post outside LinkedIn, too. Don't simply link to your landing page—add an engaging call to action to let readers know exactly what they'll find there.
Choose your Pulse topic wisely and it can presell your prospect on what you have to offer before they even get to your landing page.
I've seen this in action myself. On any given week, we generate anywhere between 50 and 100 leads simply by posting two articles on LinkedIn.
Traffic Hack #2: Media Opportunities
Most businesses that use LinkedIn's messaging feature beyond recruiting new employees use it to seek leads for their business directly.
We've all seen the downside of this. Someone random sends you a connection request—and then the moment you click the "accept" button, you get a spammy canned message pitching their business to you.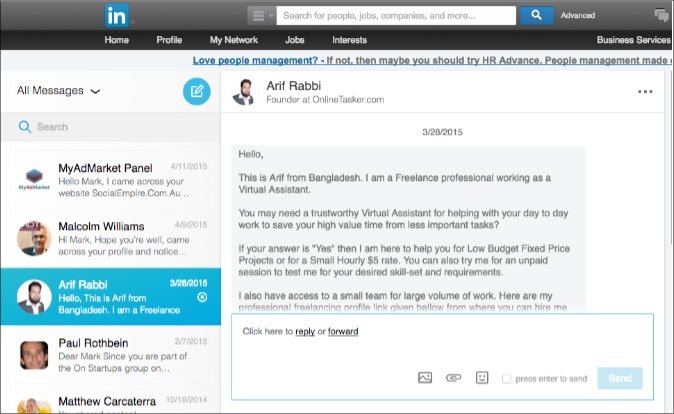 As the great Mark Twain wrote, "Whenever you find yourself on the side of the majority, it is time to reform (or pause and reflect)."
In this case, a little reflection can inspire you to use LinkedIn messages for something completely different that can generate you a ton of traffic.
In short, go after media opportunities. As early as 2011, a survey from the Arketi Group reported that 94% of business journalists could be found on LinkedIn, and I wouldn't be surprised if the numbers had increased since then.
With a little thoughtful outreach, you can connect with these journalists and get your company's name and expertise in front of thousands of people.
Here are my tips for creating media opportunities through LinkedIn:
1. First, pinpoint publications. Do some research to discover which media publications (online and offline) people in your target market read. To make sure you're on track, ask a few of your top customers personally where they go for information or toss out a question to your social media followings.
2. Next, do some reading. Browse each site or publication and identify some articles you think would really appeal to your target market.
3. Follow the names. Note who wrote each of those articles, then find them on LinkedIn using the Advanced People Search function.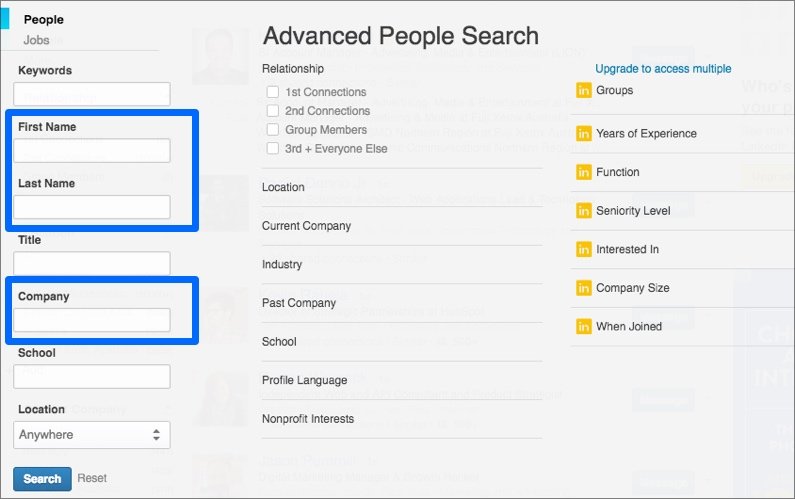 4. Connect!
How you approach this last step is critical. You wouldn't propose marriage before someone accepts your invitation for a first date, and you shouldn't come on too strong here, either.
First, initiate a sequence of messages that builds a relationship with that journalist. Then, once you have a bit of a connection, ask if there is anything they are writing on which you think you can comment on.
Or create an angle for them and write the article yourself.
Be proactive, but be cool. Although the traffic doesn't come directly from LinkedIn, you still created the relationship that created the traffic through LinkedIn.
So we'll claim that one.
Traffic Hack #3: Joint Venture Partnerships
There's one more way to indirectly generate traffic from LinkedIn that I want to tell you about: joint venture partnerships. In partnerships like these, you join forces with another business in a joint marketing effort so that each of you can reach the other's audience.
At Linkfluencer, our own database of 16,000 leads has been built in large part through strategic partnerships we developed through LinkedIn. Here's what I've learned about forming alliances like these:
1. Look at the products and services your customers use before, during, and after your service. For example, if you're a web designer, it's highly likely that your prospects are going to be seeing a graphic designer for a logo before they look for a web designer.
2. Find out who's offering those products and services. Once you have a list of complementary businesses that are not in direct competition with you, use the Advanced Search feature on LinkedIn to find them.
3. Connect!
Again, be both considerate and strategic with your approach when you do connect and begin to engage.
Your Assignment: Assess Your Profile, Then Start Connecting
Feel ready to run with one (or more) of these strategies? Before you do, there's one quick check you should make.
With each of these strategies, it really pays to work hard on your profile first so you present yourself in the best light to Pulse readers, journalists, or prospective partners.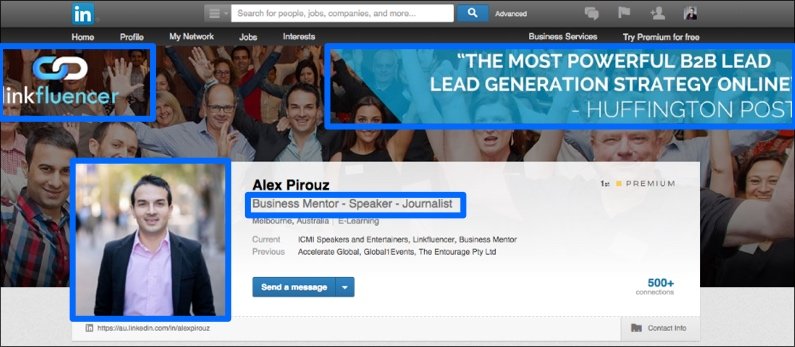 That's my own profile above. You can see I've included:
A highly informative background image, containing my company logo and context for why what we do is important
A professional-looking headshot
A concise description of what I do
Just as you would optimize your landing page, if you're generating traffic through LinkedIn, you want to optimize your profile for conversions.
If you have a terrible or nonexistent profile photo, no recommendations, and experience that includes your job flipping burgers as a teenager—it's highly unlikely you are going to convert partners and media contacts.
I believe there is a bit of an art to creating a high-converting profile, which is why I created my guide, The 3 Steps to LinkedIn Mastery. Click here to see what's inside and download a free copy.
I hope these little traffic hacks spark some ideas to grow your traffic quickly through LinkedIn!