There's one thing that we often tend to ignore when designing an online marketing strategy: the power of the offline world.
As in, the place where most of our leads spend most of their lives—and where plenty of our ripest lead-generation opportunities exist. For many of us, the best time to generate enthusiasm and engagement doesn't necessarily come when our audience is seated in front of a computer screen or scrolling through a smartphone.
Instead, these opportunities arise when we're presenting at a conference. When we're networking. When we're doing outreach in our communities. Perhaps even when we're setting a chalkboard sign out on the sidewalk, or entertaining a crowd on stage.
So how do we seize those opportunities for connection, conversation, and conversion? Rather than turn to old-school tactics such as brochures and business cards, we can rely on something very modern: our leads' ever-present mobile phones.
Leadpages' mobile-messaging lead generation tool, opt-in texts, was created precisely to fill the gap between offline and online lead generation. Since it was released, opt-in texts provide spectacular results for the small business owners who use it. And if your audience occasionally takes a break from their computers, it may be time to add opt-in texts to your marketing toolkit.
In this post, we'll be rounding up everything you should know about using opt-in text, plus everything we've learned so far from analyzing our users' results.
You can skip around to the sections that interest you most, or take it all in at once to become a bona fide opt-in text master.
Before you scroll any farther, you should know you can get access to opt-in text with a Leadpages Pro or Advanced subscription.
Click here for pricing plan details.
What is an opt-in text?

The opt-in text is a tool that allows you to collect leads via text message.
People who see the phone number and text code that you promote can opt into your email lists via SMS messaging—that is, the same text-message service most people use on their phones every day. This tends to be a very user-friendly experience for your leads since it's often much easier to text a short word to a short number than to open an Internet browser, type in a URL, and then fill out a form.
Through integration with your email service provider and Leadpages' lead-magnet delivery service, you can arrange for your new leads to automatically receive something good. For instance, slides during a stage presentation, information about a property listing, email updates on your project, or even a coupon for your business.
For a little more background, check out this blog post, "Why We're Betting Big on Mobile Marketing," which we published just before the opt-in text launch.
How does it work?

Here's how any opt-in text campaign you set up will work:
1. Once inside Leadpages, create a new opt-in text.
You'll select a number your leads will send texts to (either a short or long number depending on your country) and a unique code they'll text to you. You'll also create a short message that leads will receive when they text the code to the number.
2. Decide what you want to happen when someone texts your opt-in text number.
You can choose to:
Add them to any email list (most email service providers can also capture their phone number)
Get email notifications with their info so you can follow up with them later
Sign them up for a webinar
Send them an email message with (or without) a resource via the Leadpages lead-magnet delivery system.
3. Put your opt-in texts out into the world!
4. When someone texts your code to the number, they'll receive the message you wrote
For example:
Thanks for opting in! Please reply with your email address only and we'll send you the free bonus right away.
5. Your lead will reply with their email address.
From here, everything is automated according to the actions you chose in Step 2.
6. Finally, your lead receives a thank you and confirmation message.
This also includes information about how they can opt-out of receiving messages or get assistance.
7. Congratulations! Your list has just gotten a little bigger.
What should I do with my opt-in text?

Because opt-in texts are so simple and intuitive to use, you can really promote them just about anywhere. That includes:
In print, such as advertisements, billboards, posters, flyers, and signs
Audio media, such as podcasts, radio appearances, and ads
On-screen in videos and video ads
In-person—mention your opt-in text onstage at speaking engagements, add it to your presentation slides, or even use your opt-in text as a business-card substitute at conferences
In social media graphics on Instagram and other anti-linking platforms
Where can I use opt-in text?
We now offer local opt-in text numbers for the U.S., Canada, Australia, and the United Kingdom. This means you can use opt-in text locally in these countries without generating international texting fees.
However, if you would like to use opt-in texts outside of these countries, you can still use 10-digit numbers from the above 4 countries. International SMS texting rates do apply.
Currently, opt-in texts use codes like 33444 or 44222 are currently only available to U.S. mobile carriers.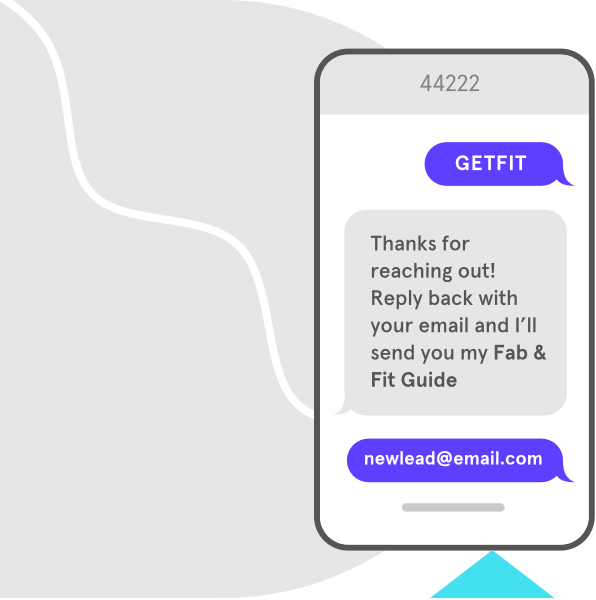 Collect leads via text message
Use the power of Leadpages' SMS opt-in text messaging to grow your email list from anywhere your customers carry their cell phones.
Are there any limitations?
Perhaps. If you'd like the ability to send text blasts to lists of contacts anytime you want—we hear you, and we agree this would be a great feature to add to opt-in texts. However, it's not part of this tool right now.
Currently, Leadpages Pro accounts can have up to 10 opt-in text campaigns running at any time. That means 10 unique codes people can text to be added to 10 different lists if you like. We've found that's more than enough for most accounts. Advanced members get an additional 10 opt-in texts within each of their active subaccounts.
There are no limits to the number of times your opt-in texts are used or the number of conversions that you get from them. You will not be charged any additional fees beyond your regular Pro or Advanced Leadpages membership.
How can I get access to opt-in texts?
To get opt-in texts—plus other great features of Leadpages, simply sign up for (or upgrade to) a Leadpages Pro or Advanced membership. Click here to learn more.
Have any lingering questions about opt-in texts, or any success stories to share? Tell us in the comments!