When Leadpages first started this was our highest converting webinar registration page. In fact, Ryan Deiss was an early adopter of this page. When Ryan started using this page, it was early in the history of Leadpages and honestly, we were a little nervous that the page wouldn't perform up to Ryan's standards. However, those fears were quickly dismissed. Shortly after deploying this webinar registration page, Ryan said this.
"A few weeks ago, I held a webinar and the registration page converted at 72%. This was by far the highest converting landing page I have ever tested. Confession, I didn't design it and neither did my webmaster but I was able to make it in about three minutes using Leadpages and we're really thrilled with the result."
So why did this webinar registration page perform so well across the platform? Let's break down why this page converted so well and then we'll look at how we've improved upon this page to create even higher-converting webinar registration pages for our customers.
Design matters
This page converts so well because it uses the best conversion design practices we know of. Everything on the page from the color of the text to the location of the button is based on best conversion practices. Typically with webinar registration pages from services like GoToWebinar, these pages are ugly, not designed for conversion, and just don't work as well. Not to mention if the visitor comes to this page on a smartphone, the page isn't mobile responsive. By simply redesigning this page with these things in mind, conversions will increase.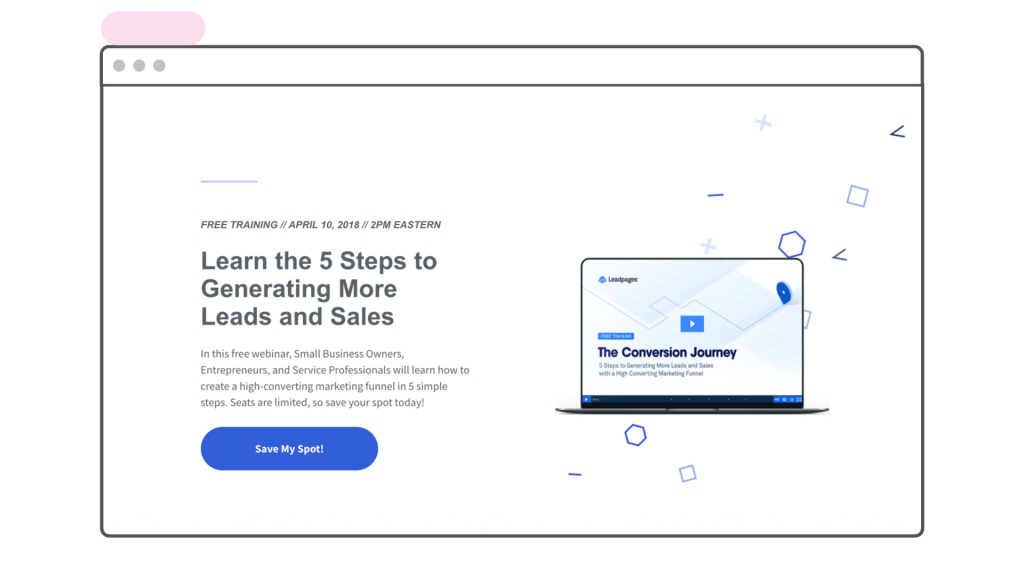 Add a two-step opt-in
This page features a two-step opt-in so instead of coming to the standard webinar registration page you come to our webinar registration page and you don't see the opt-in box. When you to a landing page and you immediately see an opt-in box, it looks like the landing page owner wants to take rather than give and that's in many cases off-putting. What's more disarming is they only show the opt-in box when people ask to register like this two-step opt inbox does. Step 1, they ask, step 2 they opt-in and register. Plus having a two-step in forces the person to make a choice, do you want to opt-in or not? This one tactic in many cases has shown up to a 50% increase in conversions.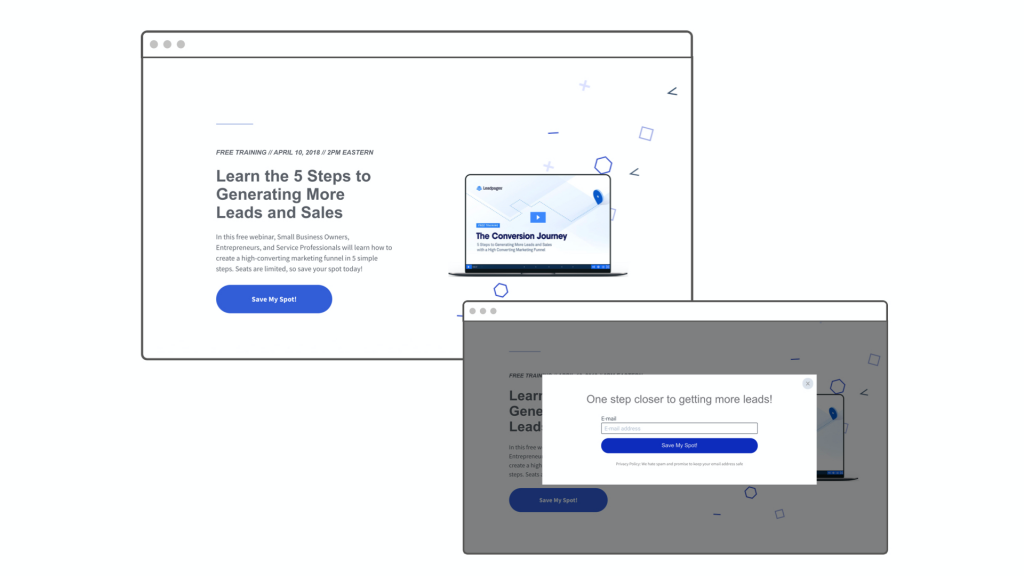 Ask for less
This page doesn't require a lot of info to register, only an email address. The more information you ask for, generally the lower conversions will be. The typical page asks for first name, last name, and email. Here you only need an email address to register so it makes it a breeze to register for this webinar. But with Leadpages, if you do want to request additional fields like address, phone number, etc., you absolutely can. But by default, this landing page only asks for your email address.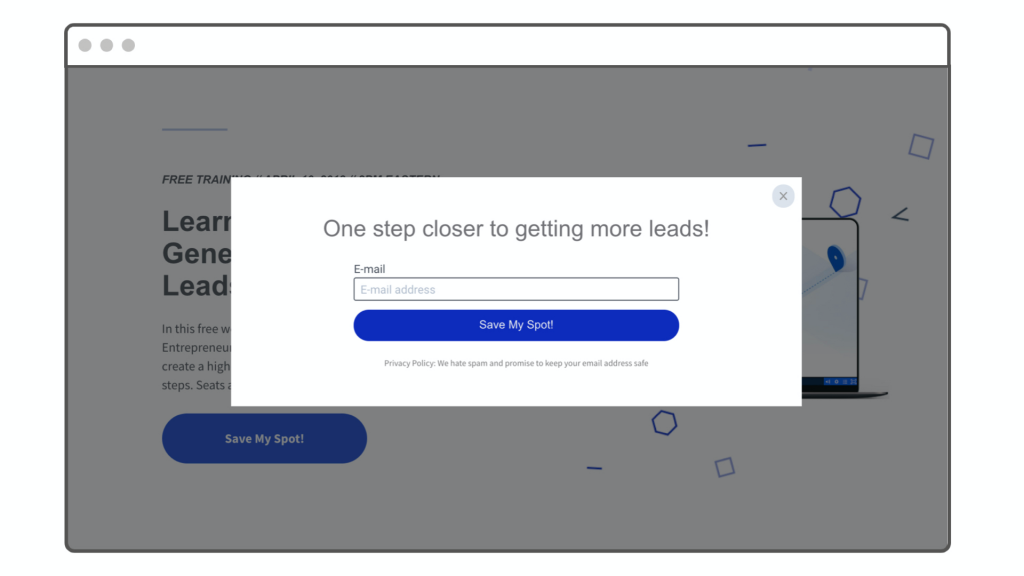 Add top-notch copy
Ryan just needed really good copy. If you're not a copywriter, all of our pages come pre-populated with proven tested copy that you can modify to use in your business. So after the success of the page, Ryan used, we took customer feedback and conversion data and releases high converting webinar registration page. Eventually, it out converted the page Ryan originally started with. So the original winner was Ryan Dyss'. The second page was an improvement on what we learned from Ryan's page then we topped off those two pages with this James Shramko page. This page was the highest converting webinar registration page in Leadpages for quite a while.
This works incredibly well because it's designed to create curiosity. The mind map is blurred out so you can't see exactly what's there and that drives curiosity in itself. This encourages people to opt in to get the mind map so they can see what the mind map actually says. Next, the image of James lends itself to creating a connection with him because they can see that he's a person and he's a professional not some nameless corporation. It features our two-step opt-in that we talked about earlier so I don't need to go into that again.
Finally, it doesn't oversell the event. It has the time, the headline, the image, and the mind map. Often we found that the landing pages that are the most simple and to the point with less text and content convert the best. This page proves that statement. This page is one of our highest converting webinar registration pages for quite a long time. As a company, we're continually tweaking our pages to optimize the conversion rates for our customers and this page was no exception. We wanted to build a page to achieve even higher conversion rates than the James Shramko page. With testing data and best conversion practices, we then created the web 3.0 webinar registration page.
When you sort the page by their highest average conversion rate by clicking this button, you'll see that it's currently the best converting webinar registration page inside of Leadpages. The web 2.0 webinar registration page utilizes all the best conversion rate optimization tactics from all the pages like the countdown timer, the blurred out mind map to create curiosity, presenter images, and beautiful design. Not to mention this page is mobile responsive so it adjusts to whatever size screen the viewer is on and it looks great. So in conclusion this is the reigning champion but we'd love to beat this one too. If you have any suggestions on how to do that definitely let us know.
So let's go over how to set this page up. To customize this page inside of Leadpages, we'll click on use this template then we'll select what market we're in and then like with all pages inside of Leadpages, you just click on something to edit it. I'm hosting this webinar so I'll hide the second image. I need to update my name here so I'll just click on it, add my name and I'm done. Now I want to update the date over here on the left. Finally, under the dynamic control section, I need to add the webinar start time for the countdown timer. So I'll go into dynamic controls, I'll enter in the time the webinar starts.
Now a note here, you may not see this update on the page when you save this however when you publish the page the correct time will display. Now I need to select my opt-in form integration so I'll select my email service provider, and which list I want to add people to. Since this is a webinar registration page, I'll need to turn on, integrate with GoToWebinar, and select the webinar people who will register for.
Finally, let's set up our lead magnet delivery by turning on this button right here. The send a custom email after opt-in feature handles sending your mind map free report downloadable eBook or whatever else you're giving away in exchange for someone's email address while your email service provider still functions exactly the same as it normally would and sends out all the other emails you've set up in your email service provider account. This is a huge time saver and our favorite way of delivering lead magnets. So now let's say that we're done customizing and will name the page and once I save the page and hit publish the page is now live on the internet and Leadpages gives me a URL that I can use to immediately view the page. So we'll go there and check the page out.
Here's the page we just created looking great. Back in the publishing window, we have a few more options. You can publish the page to WordPress, publish the page to Facebook as a Facebook tab, or finally, you can download the file and put it in on your own server. If you're not a Leadpages customer, you will need to be a coder or hire a coder or hire a coder to make the downloadable template below work. For non Leadpages customers, it's a bit more difficult to set up. Here's what you'll need to do if you're not a Leadpages customer.
Now it's your turn
If you're a developer, click on the link below and opt-in to download the templates lead magnet delivery system that will deliver it to you. Modify the HTML and CSS using your coding skills or the coder you've hired, integrate it with your autoresponder, WordPress, etc., get your landing page code that you've generated and finally publish the page. So these are all the steps that you'll need to take if you're not a Leadpages customer. We found that if you're not a Leadpages customer, typically it will cost around $300 for a coder to customize and publish each page for you. If you are a Leadpages customer, you can customize each page and have them live online within five minutes. In fact, you don't need to download the templates.
They're already available in the member's area where Leadpages handles everything for you including making them mobile responsive, sending out your lead magnet, integrating the pages with Facebook, WordPress, and so on as well as integrating the pages with your autoresponder like AWeber, MailChimp, InfusionSoft, Office Autopilot, etc. Plus if you use these pages with Leadpages you'll get amazing analytics and the ability to run split tests on different variations of each page. For example on this page, you could split test X versus Y with just a few clicks. If you'd like to start using Leadpages in your business, go to Leadpages and start your free 14-day trial.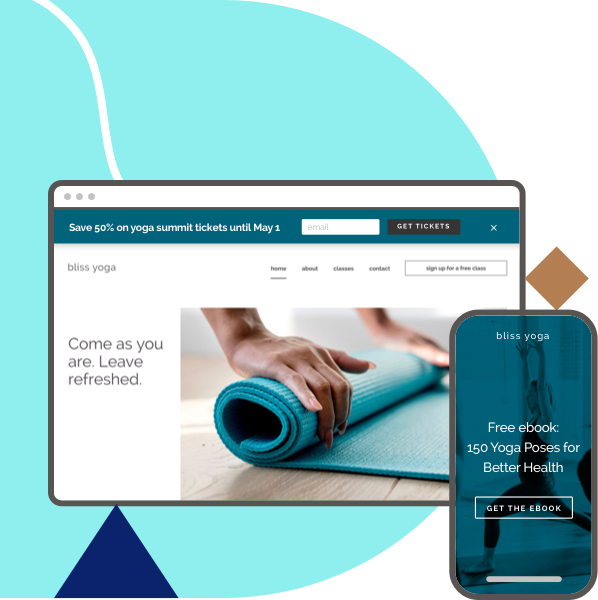 Turn clicks into customers
Leadpages helps small businesses connect with an audience, collect leads, and close sales. Easily build websites, landing pages, pop-ups, alert bars, and beyond.