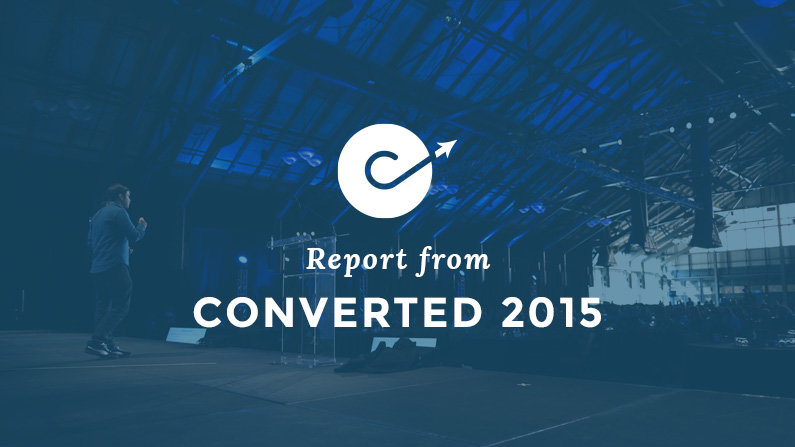 If you missed  Converted 15, you missed a lot.
As anyone of the 500+ people who were at Converted 15 can tell you, our speakers delivered too many conversion strategies to count in just two days. (In fact, my hands were cramping from taking so many notes.)
Not only that, but our CEO, Clay Collins unveiled two of our most-recently launched conversion tools at Converted, that you can start using immediately to boost your results. (Both these conversion tools are free to use—I'll show you how to get both in a moment.)
In today's post, I'll give you a quick breakdown of my favorite "reveals" from Converted (including my personal favorite top 5 conversion strategies). I'll also show you our single best new tool to boost your own conversions, by overhauling your sales funnel.
But first, let's start with our keynote speaker, Ryan Holiday. . .
Ryan Holiday – Growth Hacker Marketing: The Future of PR & Marketing
As Ryan said, "Growth Hacking is a mindset rather than a tool kit."
If you have that mindset, you can find the low budget, non-traditional strategies that get and keep customers long-term to grow the company. (And you won't have to spend millions of dollars on expensive promotional campaigns and launches to find that growth.)
For example, Ryan told the story of how Airbnb's engineers coded a workaround that allowed every Airbnb member to seamlessly cross-post to Craigslist, (something Craigslist doesn't technically allow), giving Airbnb, and their members, free distribution on one of the world's most popular websites.
That's just one of many strategies Ryan revealed.
Ryan's Takeaway: "I want people to think about what marketing would look like if you were reinventing it right now… And the #1 thing that drives results is the product itself. How do I make this thing so good or so firmly fill a market need that I don't need to do much marketing?"
That's something to think about as you're creating your own products or launching a new business.
Pat Flynn – How to Create an Audience of Raving Fans with Your Content
Pat, the snappiest dresser of the day in his pink shirt and tie, brought home exactly how to grow your audience with your content.
Pat gave a tip that I believe every marketer should know. That's you never approach marketing as if it's B2B or B2C, instead, you should think of marketing as "P2P" or person to person.
What does that mean? It means that you're a person who's always speaking to another person—your ideal customer. As you're creating content, the best thing you can do is "put more you in your content." That's the first step in creating raving fans for your business.
For example, as you may know, if you follow Pat's podcast, Pat is a raving fan himself of the Back to the Future movies. To celebrate "Back to the Future Day," October 21st, 2015 (the day Marty and Doc traveled to the future in Back to the Future II), Pat showed us how he arrived in style at the New Media Expo.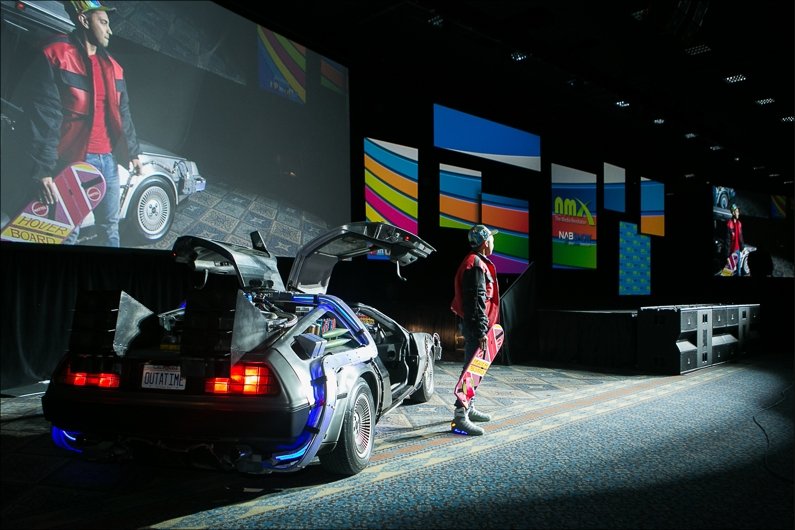 Pat's Takeaway: "Raving fans are not created the moment they discover you. They're created by the moments you create for them over time. So as a content provider and the face of your business, you have to provide multiple moments to lead to a person converting into a raving fan."
Mari Smith – How to Use Social Media to Introduce Fans to Your Site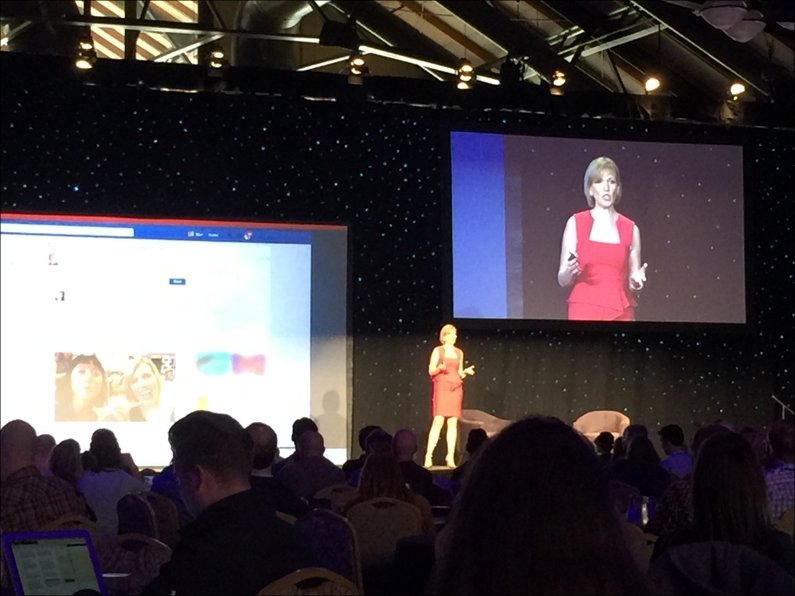 The "Queen of Facebook" Mari Smith showed everyone at CONVERTED exactly why (and how) social media can be such a business asset.
Mari also showed what kind of content is working on Facebook—including the three biggest emerging trends she sees coming on Facebook right now.
Here's just one of those emerging trends: According to Mari, video is the new-and-upcoming powerhouse for getting higher conversions on Facebook. It's also the best way for business owners like you to tell your story and connect with your audience.
Mari's Takeaway: "What's my secret to Facebook's success? Be a member of the community first, and a marketer second."
Ezra Firestone – The Right Way to Speak to Your Leads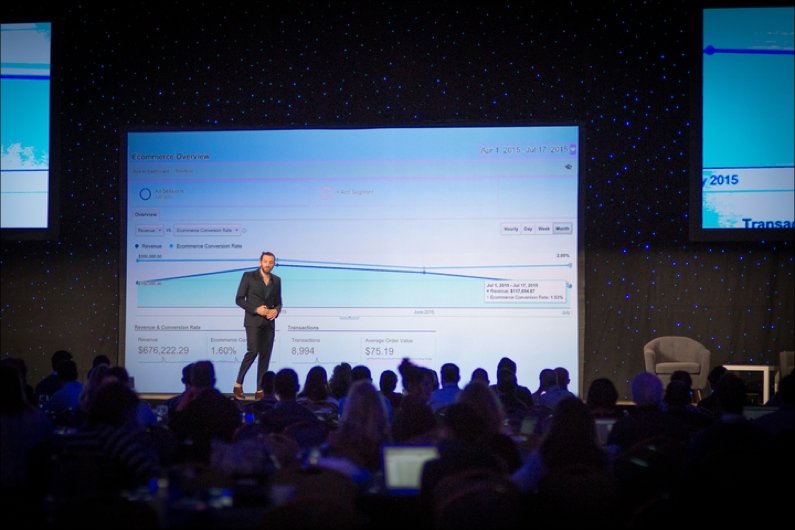 LeadPages super-user, Ezra Firestone kicked off his presentation by walking us step by step through his entire sales funnel. Ezra included everything from how he drives traffic to his first landing page in his funnel to how he creates his upsell offers and follow-up sequence.
One of Ezra's big reveals? Use your best content as your landing pages itself, so you can get your customers to chase you (instead of the other way around).
For example, Ezra showed everyone at CONVERTED one of his landing pages that sold his product, but really delivered incredible information about that particular product.
Ezra also showed the importance of keeping your customers once you have them. That means using cross-selling, upselling, and other strategies to keep your customers engaged and purchasing—even if you only have one main product to sell.
Ezra's Takeaway: "Use pre-sell content on the front end and back end of your business! Have dynamic post-purchase engagement sequences that cross-sell and upsell differently based on the front end product that was purchased."
Clay Collins – Two All-New Conversion Tools (Free to Use Immediately)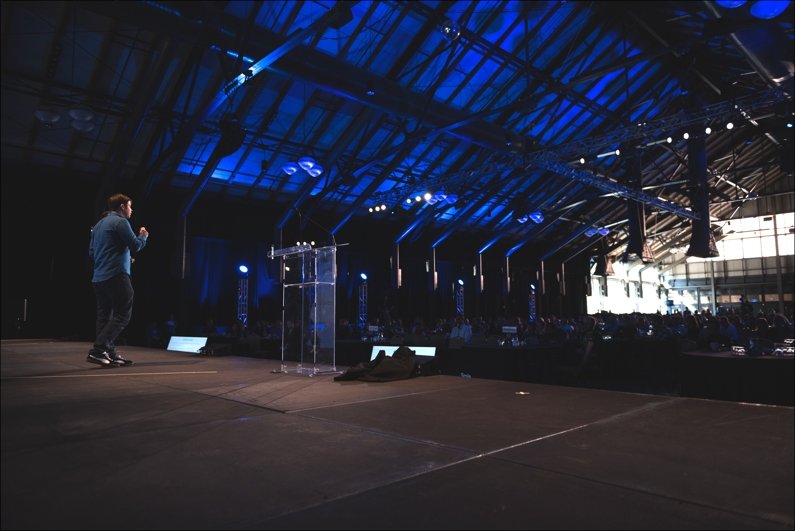 Besides playing host to our 16 Converted speakers, our CEO Clay Collins took the stage yesterday to unveil some major product announcements.
Clay revealed far more than can I say here. But I want to make sure you hear about two of the all-new conversion tools that Clay introduced at Converted yesterday.
Conversion Tool #1: Landing Page Grader
Just two days ago, we launched our all-new Landing Page Grader.
This brand new conversion tool will tell you if your landing pages are designed to convert by literally grading your page's effectiveness.
Simply drop any landing page URL into the landing page grader, and this new tool will instantly tell you if your page is optimized for the best landing page practices. That includes evaluating your page's mobile responsiveness, SEO, lead capture forms, and even common mistakes.
Go here to try out this free landing page grader instantly.  
Conversion Tool #2: Rapidology
Rapidology™ is our new WordPress plugin. It's 100% free, and it allows you to create gorgeous email opt-in forms, popups, and widget, with no design or coding skills required.
We have just released version 1.2, which includes even more email service provider integrations, template designs, and an on-click form function, which the prior release didn't have.
Go here to check out Rapidology, and download this 100% free plugin for yourself.
We're already busy planning next year's Converted conference, and we expect to have even more A-list speakers joining us to give even more extraordinary presentations to help you grow your business.
So what questions can we answer for you at next year's event? Tell us in the comments below.