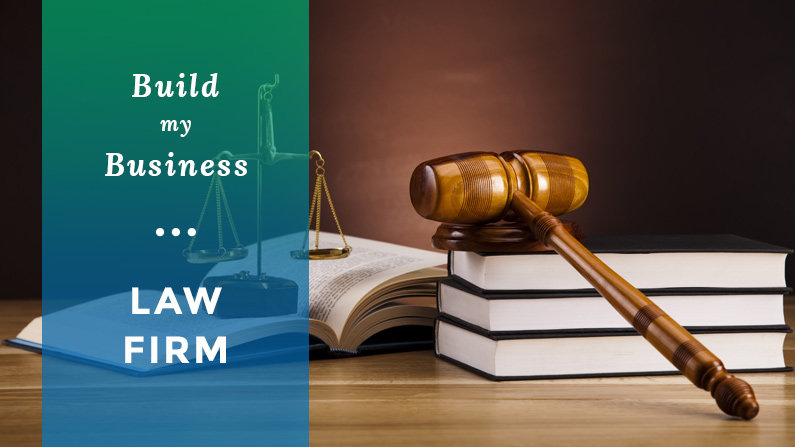 Editor's Note: This post is part of our Build My Business series, in which our in-house experts, hobbyists, and insatiably curious marketers show you how they would use Leadpages to launch a campaign for a very specific—though hypothetical—business purpose. This week, writer Tanya Brody builds a modern tool kit to update the tradition-bound world of lawyer marketing.
"I'm not a real lawyer, I just play one on the Internet."
That was something of a tagline for me in my last copywriting role. After spending 3 years writing websites for lawyers at a lawyer marketing company before I joined Leadpages, I've seen the many ways lawyers market themselves and how they've succeeded, or failed miserably.
I have a pretty good idea of what does and doesn't work in lawyer marketing, and I know how to use Leadpages to grow a business. Combine these two and you have a recipe for growth.
In this post, I'm going to show you how to create a campaign that targets the right audience and increases your qualified leads. I'm also going to show you how to apply these strategies to your specific area of practice.
So now we'll pretend I'm a lawyer running a three person firm who needs more qualified leads for my business. We're keeping the lights on and paying the bills, but I do need to make sure I get everything I can out of my limited advertising budget.
The firm's practice areas are:
With all of that in mind, on to…
The campaign funnel
This campaign blends traditional and digital legal marketing techniques, but, like all campaign funnels, it has three basic phases:
Attract: I'll attract new potential leads with paid media, social media, and traditional advertising.
Engage: I'll engage these folks using email and webinars.
Sell: I'll offer a free consultation to get these leads in the door, where I can evaluate their cases and have them sign a retainer, if appropriate.
To help you apply this strategy to your own practice or any other consultation-based business, I've put together a free lawyer marketing tool kit that includes:
The Enterprise Lead Gen Template
The Thanks for Signing Up Template
The Single Host Webinar Registration Template
The Free Consultation Template
A Lawyer Marketing Checklist
Click on the button below to download the tool kit.
Phase 1 – attract
Paid Media:
I already know that most lawyers use paid media, such as Facebook advertising, Twitter ads, Google AdWords and other PPC systems like Bing, so I'm going to start there. Each of these services offers a very targeted system so I can show my ads only to people who may actually be interested in my services.
This is great for me, as I don't have $10,000—$50,000 to spend on paid media every month.
I'm going to target my keywords and demographics carefully so I can get the clients I'm really looking for.
For Google AdWords, I'm going to narrow down my targeted keywords. Instead of just using "criminal lawyer" I'm going to use specific crimes, like "assault lawyer" and "DUI lawyer." This will narrow my audience, but it will put my ads in front of the people who are in need of those services.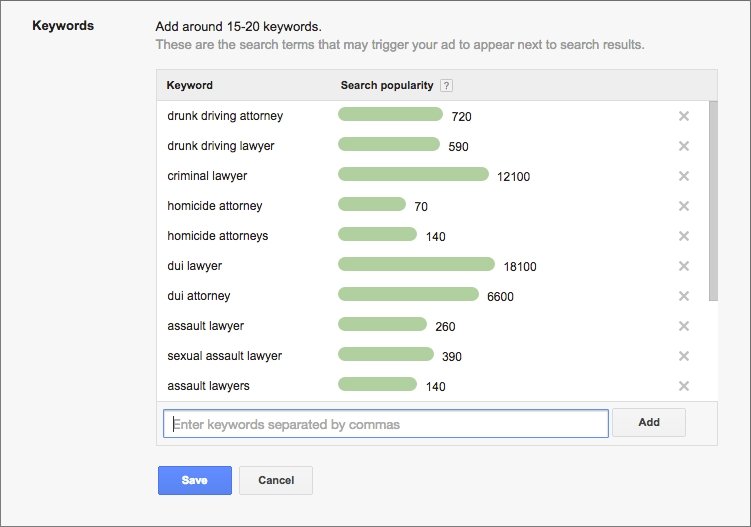 Here is one of my Google AdWords ads:

I'll make at least one of these to go to each landing page I create.
For Facebook and Twitter, I'll include everything from the location and income of my ideal clients, to case specific details. For instance, I'll include my ideal clients' relationship status to drive potential clients to my family law landing page.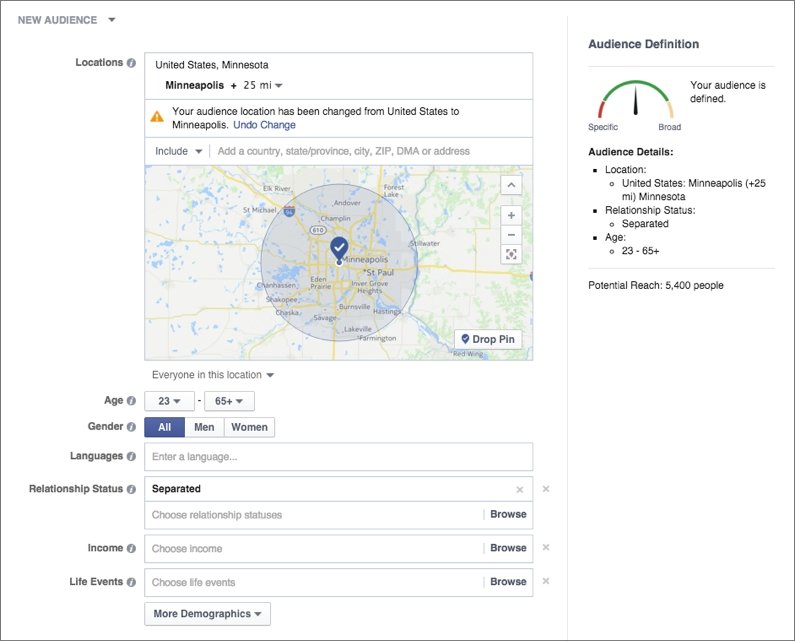 The more I refine my target audience the more likely I am to get genuinely qualified leads and the less I'll spend on paid media.
Each of my Facebook ads will relate to the landing page and practice area I'm targeting and will include the offer for the lead magnet I'm giving away as the call to action.
For example, here's the text for my Facebook ad driving traffic to a family law page:
Worried About How Your Divorce Will Affect Your Kids?
Download our free guide: 5 Ways to Help Your Children Deal With Your Divorce
Get the Guide Now.
For more on setting up an ad campaign, check out our free Facebook Advertising System course, as well as this post on paid media. One of our earlier Build My Business posts also has an excellent rundown on using Google AdWords.
Landing Pages:
One of the big mistakes many lawyers make is to use the home page of their website as a landing page for their paid media ads. Unfortunately, this can confuse many site visitors and cause them to abandon the page immediately when they don't see the information they're looking for.
Instead, I'll use individual landing pages that correspond to each of my ads. Each of these pages will offer a targeted lead magnet (also known as an opt-in bribe) to entice visitors to give me their email addresses.
Giving away something useful is a great way to build a relationship with my potential leads. It also positions me as an expert in my field, regardless of how many years I've been in practice.
For instance, here's a basic squeeze page I created for my family law practice, targeting people with kids who will have to figure out their child custody arrangements: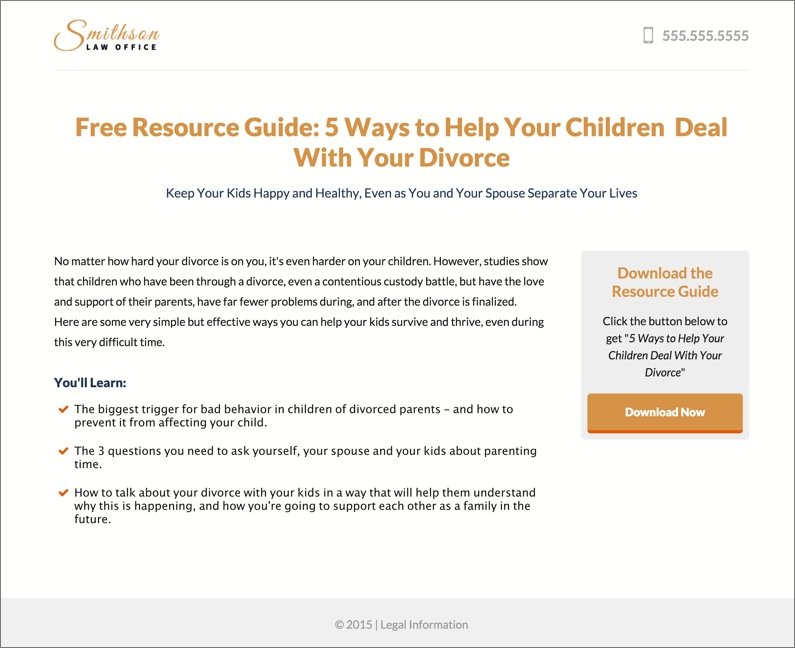 All of my paid media ads that link to this page will have a similar headline and the call to action will be for the resource guide.
Thank You Page
Along with every landing page I make, I'll add a Thank You page. Not only does this acknowledge that I appreciate people opting in to get my lead magnet, it also gives me the chance to engage with them further, by offering my free consultation or inviting them to a webinar.
The Thank You page I've created here directs people to an online scheduling program so they set up a consultation.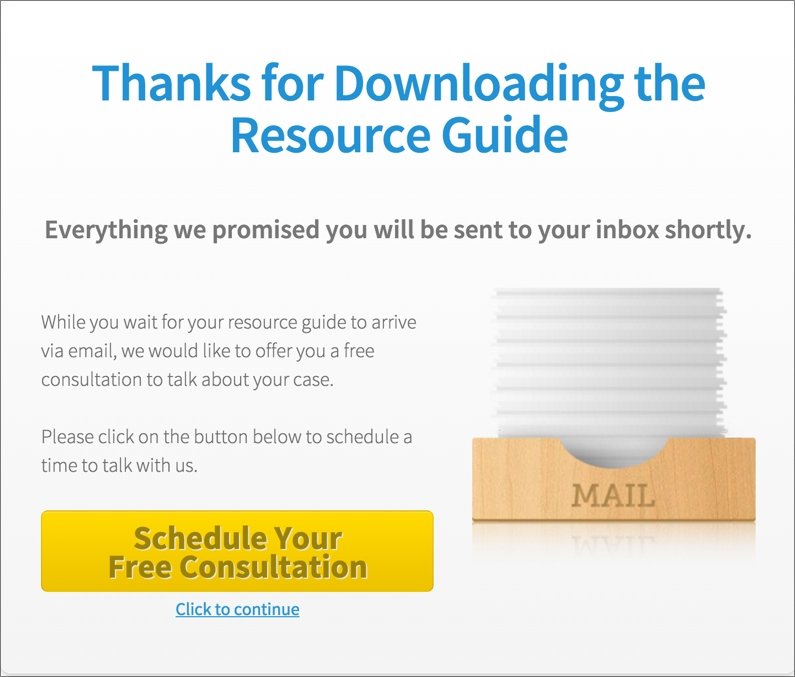 Once my landing pages are in place, and I'm running paid media ads to them, I should start to see my list of potential clients grow.
Finally, I need a website. Once people see my firm name and logo on my squeeze pages and lead magnets, they'll want to learn more about my firm.
Because I'm running a small firm, I can't afford an expensive website. Instead, I'm going to use a minisite landing page template and customize it for my firm.
For example, Leadpages offers several minisite templates, including this one, which is designed specifically for law firms. It even includes a button to schedule a consultation.

Traditional Lawyer Marketing (with a Twist)
Many law firms use more traditional methods of marketing. These include everything from billboards and television ads to networking meetings and referrals from other lawyers.
The problem with these methods is that you can't follow up with people directly to keep your name at the top of their minds when they do need a lawyer.
So I'm going to add a LeadDigit to my marketing efforts.
LeadDigits® allows you to capture an email address by having potential clients text a unique text identifier to a specific phone number or short code. This means you can market to your target audience anywhere they are carrying their cell phones.
The LeadDigits® system also allows you to send a lead magnet and register the sender for a webinar, all in one fell swoop. It's pretty awesome and will be a great way for me to grow my list off of the Internet.
For instance, when I run television ads to get personal injury clients, I'll put a LeadDigit® at the end of the commercial, like this:
"Text INJURED to 44222 to learn about the top 5 questions your insurance company will ask that you shouldn't answer without talking to a lawyer."
When I attend Bar Association meetings, I'll instruct my fellow attorneys to text REFERRALS to 44222 so I can follow up with them quickly and be at the top of their referral list. When they text their email addresses to my LeadDigit, they'll instantly be sent a welcome email and a referral agreement form, so they have it handy.
Phase 2 – engage
Once I've started building my list, I'll have people who click on that Free Consultation button, and people who won't.
My email service provider, MailChimp, lets me separate my list into segments so I can mail certain potential clients about different things, or at different times. (All of the major email service providers have this feature.) I'll separate my list into two separate groups for now, people who have already scheduled a free consultation and people who haven't.
Then I'll engage this second group of folks in a couple of ways:
Email:
Survey potential clients:
I'll ask my potential clients why they were interested in my lead magnet to gauge where they are in the buying cycle. People don't usually look at legal advertising unless they have a problem that has to be solved by a lawyer.
I'll ask questions that will let me separate out potential clients that may want to retain my services in the near future, and those who may want to work with me in the next six months to a year.
A very simple way to do this is with LeadLinks®. A LeadLink is a link in an email that lets you move a respondent from one email list to another, within your email service provider's program. (It will also let you register respondents for a webinar with a single click.)
Here is my list of questions. Each of these would be a separate LeadLink.
Why were you interested in our free resource guide?
I have a legal problem I need help with right now.
I may have a legal problem I need help with in the next 6 months.
I was just curious and I wanted to know what to do in this situation in the future.
When respondents click on one of these links, their email address is moved to a new list within my email service provider account. I can follow up with the folks who say they need help right now immediately. Then, I'll gradually build a relationship with the folks who fall into the other two groups.
Send weekly or monthly newsletters:
For those folks who probably aren't interested in my services right away, I'll keep them engaged with useful information. I can include general tips on dealing with basic legal concerns. I'll also have a section where potential clients can ask questions and get a response the next week or month. (This can also help me determine where a potential client may be in terms of needing my services.)
I'll add the standard disclaimers about not offering legal advice outside of a client/attorney relationship, and I'll check with my Bar Association to make sure I'm not breaking any rules.
Webinars
Webinars can be a great way to engage potential clients. It gives them a chance to learn more about you, and it gives you a chance to show your expertise in your area of practice.
Check out our free course, The Webinar Funnel System, which shows you how to use webinars to build your business. (In fact, this system is the secret to how Leadpages grew from 0 to 40,000+ customers in just over 2 years.)
I'm going to promote my webinar in two ways:
I'll send an email to my list of "not quite yet" folks and include a LeadLink® that lets them sign up for my webinar with a single click.
I'll drive paid traffic to a webinar landing page: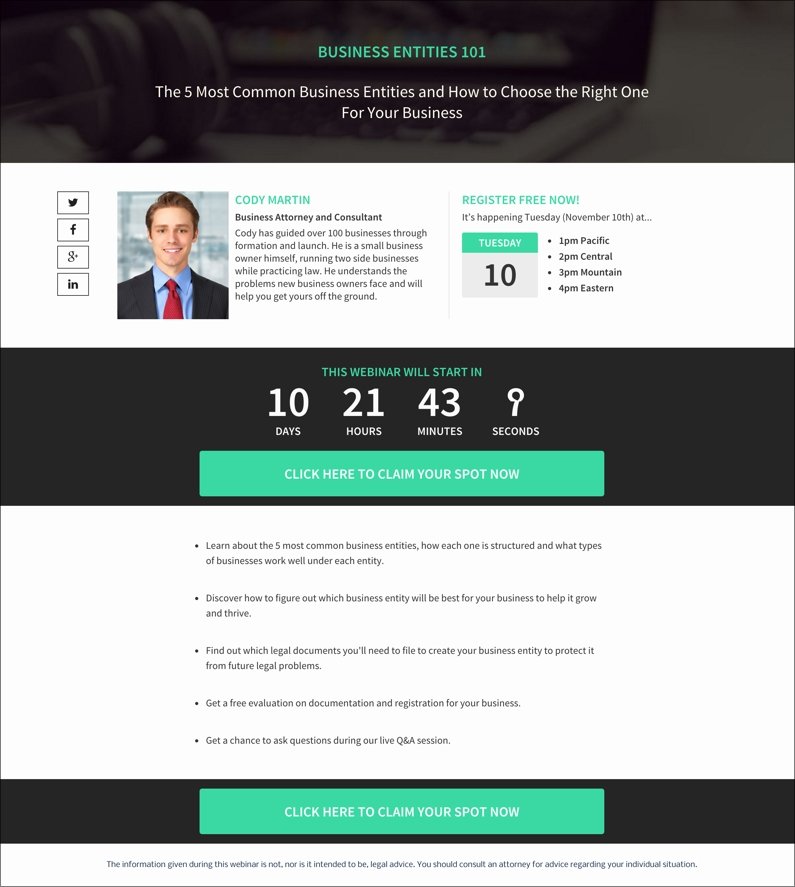 Again, I'll check with my Bar Association to confirm that I'm not breaking any rules and I'll make the standard disclaimer about legal advice, as I have done here at the bottom of the page.
At the end of my webinar, I'll invite my audience to schedule a consultation, by using a LeadDigit® so I can contact them directly.
Phase 3 – sell
My main sales method is going to be a free consultation. And once I get potential clients in the door, I'm confident I can convince them that I'm the right lawyer to solve their problem.
The great thing about this sales funnel is, once you have them on your mailing list, you have plenty of ways to follow up with potential clients as they move closer to needing your services.
This will let you keep your case flow steady as you continue to build your list for the future.
What's next?
Now I have a steady stream of qualified leads coming in. Some will want to engage my services right away and some I can follow up with in the coming months.
There are a few other things I can do to bring in new leads and engage my current list:
Blog: I can blog about everything from changes in the law that affect my area of practice, to real life ways to apply the law to my potential clients' lives. I can also answer questions in the comments to engage my potential clients (again, standard disclaimers apply).
Podcast: I can talk about the same things in my podcast that I would write about in my blog. Because people use different types of media to get their information, I wouldn't have to worry about crossover audiences too much. I could also interview other lawyers about their areas of law or talk about the outcomes of cases in the news.
Social Media: Social media is a great place to engage potential clients and can help with paid media efforts. I could share articles written by others, post my own blogs and let my potential customers see "inside my business" by showing how I work and interact with people. I won't break client/attorney confidentiality, but I can post pictures of my office, my colleagues and any community events we participate in.
These strategies wouldn't be the first ones I reach for, since they'd help build my audience more gradually. But they can all be very effective in the long run.
Go get clients!
You now have the basics for building a solid list of qualified leads for your law practice. You can apply all of these ideas to any area of law. I've shown you a few of the more popular areas of law in this post, but you can customize each of these strategies to fit your audience and your practice.
Click on the button below to get the lawyer marketing tool kit and get started.
Are you using any of these strategies in your business? Let us know in the comments.