Editor's Note: Welcome to the latest installment of our Build My Business series, in which our in-house experts, hobbyists, and insatiably curious marketers show you how they would use Leadpages® to launch a campaign for a very specific—though hypothetical—business purpose. Today, paid-media manager Andrew Scherr shares his campaign for a business that anyone with a little web savvy could start: an online electronics company.
Before I joined Leadpages, I worked in the marketing departments of several different e-retailers. Back then, my favorite days of the week were the days that we sent out our segmented marketing emails.
Why? Because right after sending those emails, we would see a giant spike in revenue—without a corresponding increase in ad spend.
Despite this trend, lead generation was never a major focus of our marketing plans. Knowing what I know now, I think we could have dramatically improved our marketing ROI by concentrating on our email list-building programs.
Now, most e-retailers do maintain some kind of email list. But often, the only way they get people onto that list is by including an auto-checked "subscribe me" box on the checkout page.
I think that's a little backwards. So I devised a simple marketing campaign designed to get more online sales by putting lead-gen first. To see the whole campaign laid out in one easy-to-follow infographic, download my E-Commerce Campaign Infographic below:

It's not just the big-box stores that can compete using digital marketing strategies like this. In fact, I specifically designed this campaign for one of the most accessible business models I know of: drop-shipping.
When you go into business as a drop-shipping company, you don't need to maintain vast warehouses of inventory. You don't need to manufacture anything yourself. You don't need a delivery fleet.
All you really need to do is select profitable products from wholesalers, market them effectively (at a bit of a markup), and get your customers' online orders to the wholesaler that stocks them. The wholesaler handles things from there.
With electronics especially, customers tend to do lots of online research and bargain-hunting before they buy. For that reason, I think an electronics retailer in particular could find success with the drop-ship model and some careful online marketing.
But really, you could use the techniques I'm about to give you for nearly any kind of drop-shipping or e-commerce business. Just change the content of the ads and landing pages to match your chosen product niche.
Step 1: Get Inexpensive Traffic
Key Tool: Facebook Ads
Since any drop-shipping business needs to pay careful attention to profit margins, it's important for me to keep an eye on my marketing spend. To get some initial visitors to my site, I have a couple of options.
Search-based Google AdWords ads could be a good fit here for many businesses (and for that reason, you'll see AdWords as an option on the campaign diagram below).

But considering my big-name competitors in the electronics space, AdWords might get expensive in this particular scenario. So first, I'll reach for a cheaper option: Facebook Ads.
When you have a potential customer base of everyone in the country, how do you start advertising? With careful targeting.
I'll start by creating custom audiences of people who have demonstrated an interest in tech products. For instance, I could show my ads to people who are fans of tech-review sites such as CNET and tech manufacturers such as Vizio:

I would create at least 4 different ad sets, each aimed at one of my 4 main product categories (and an audience I've targeted for that category):
Here's how one of my Facebook ads might look for my audience of prospective TV buyers: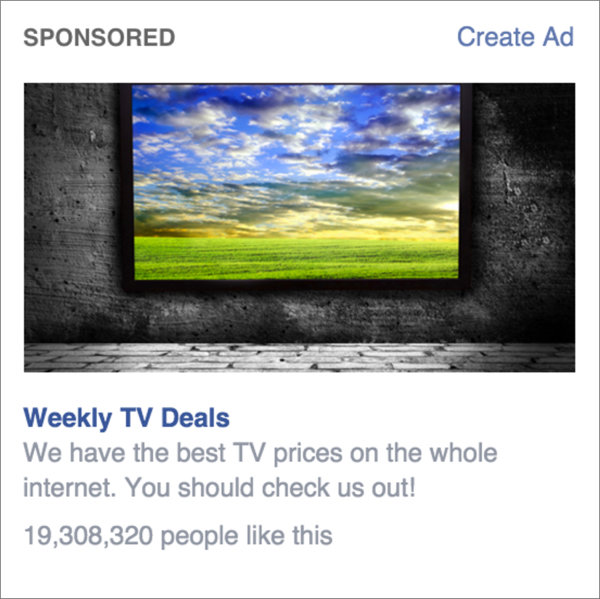 So once this ad catches someone's eye, what happens?
Step 2: Send Visitors to Elegant Welcome Pages
Key Tools: Leadpages® landing pages and LeadBoxes® opt-in forms
What do you envision when you think of a major e-commerce company's homepage?
Typically, there's information overload: lots of navigation menus, sale banners, featured products …
I don't want my Facebook ad traffic to have to find a path through all those distractions to reach the call to action I've set up in my ad. So instead of sending them directly to my homepage, I'm going to send them to one of 4 different welcome pages, like this one I created using the Home Value Opt-in Page (designed for real estate, but super easy to modify for any business):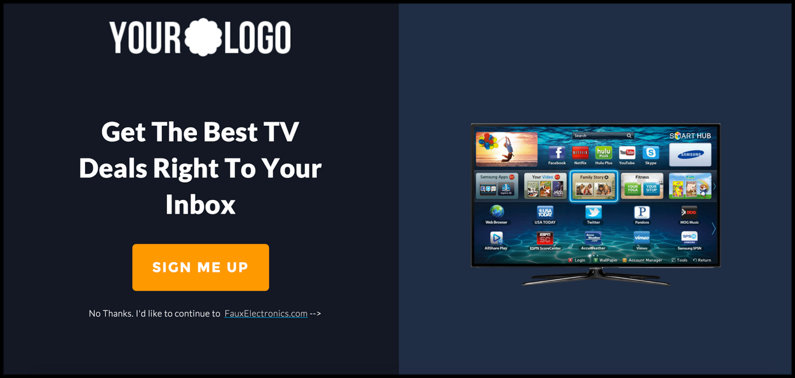 This page presents just 2 options: join my email list or continue on to the homepage. It's short, simple, and designed to convert without presenting a major obstacle for visitors who are ready to buy immediately.
When someone clicks the opt-in form, they'll see a LeadBox™ opt-in form like this: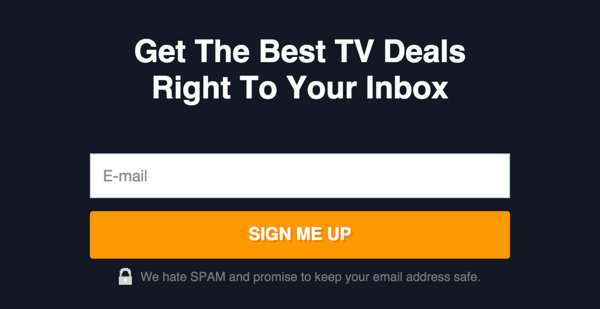 To make sure people who find my site through other channels also have the chance to opt in, I'll also set up timed LeadBoxes® to appear on the appropriate product-category pages (being sure to set it to appear only once every 7 days or so in order to avoid overexposing frequent visitors).
Once someone does opt in, they'll see a thank-you page that lets them know they're being redirected to the product category page (which I'll accomplish by pasting a simple redirect script to the tracking script section of the LeadPage):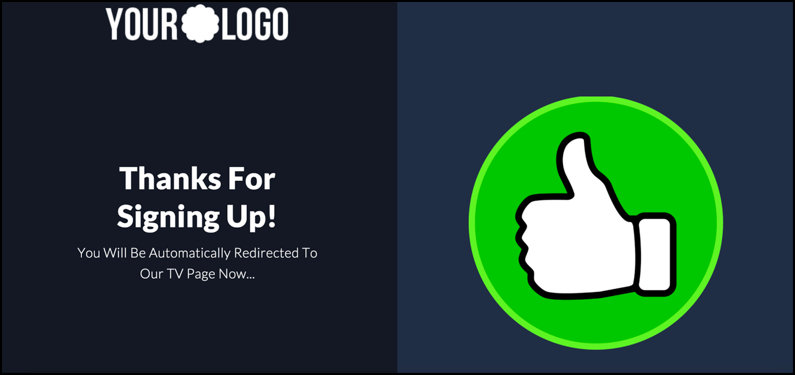 I'll create a landing page sequence like this for each of my 4 product categories, so everyone clicking through from a Facebook ad will see a welcome page that fully matches the messaging they've already seen.
Step 3: Send New Leads to Segmented Email Lists
Key Tool: ActiveCampaign
Once I know what kinds of products my leads are most interested in, I can add them to an email sequence that encourages them to buy something in that category.
To do this, I'll simply integrate each of my 4 product-category welcome pages with a different ActiveCampaign list—a good email tool for an entry-level drop-shipping business, since it will allow me to keep my costs low and will integrate with my shopping-cart platform (more on that shortly).
ActiveCampaign also gives you the option of implementing some automation to help segment your list even further. This is important because if someone actively engages with my emails, I'll send them emails more frequently than to someone who rarely opens them.
As my email list grows, I'll be sure to regularly upload my existing leads' information to Facebook and exclude them from my ads, since I'm now able to market to them for practically nothing via email. Even using tactics aimed at keeping marketing spend low, it's more expensive to acquire a new set of eyeballs using paid media.
Every week I'll send a different email to each segment with my sale-priced items combined with my items that I have the best margins on. Here's an example of the kind of content I could send to my TV segment: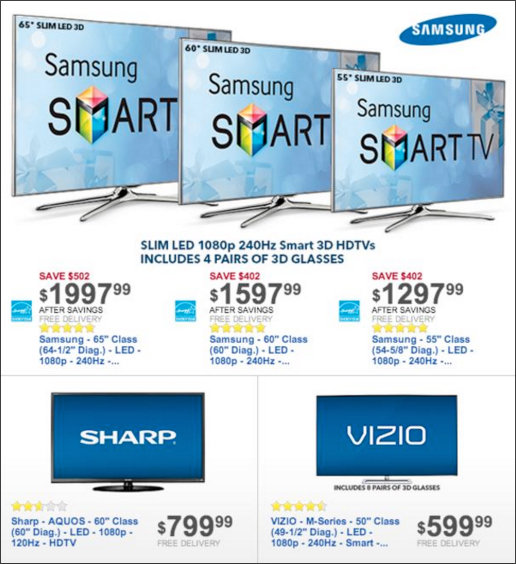 When they click through from one of these emails, my leads will have reached the last stop of my campaign funnel …
Step 4: Send Leads to Product and Cart Pages
Key Tool: Shopify
Finally, I need a way to actually allow my site visitors to buy my products. For this, I'll use Shopify. As e-commerce platforms go, I've found Shopify to be inexpensive, easy to use, and quick to set up—you can even upload product data directly from a CSV file to get hundreds or thousands of products into your store at once. (In fact, I once had a 10,000-product Shopify store of my own, which I managed with no trouble.)
When leads click through from my emails, they'll land on a product page that's equipped with a Shopify buy button. From there, they'll breeze straight on through checkout … and, I hope, keep my store in mind the next time they're in the market for a shiny new gadget.
To get an illustrated look at my campaign from start to finish (which you can keep on hand the next time you're mapping out your own e-commerce campaign), be sure to grab my free E-Commerce Campaign Infographic before you go:

Have a question about this campaign, or a suggestion for an industry you'd like to see covered in the next Build My Business post? Tell us in the comments!