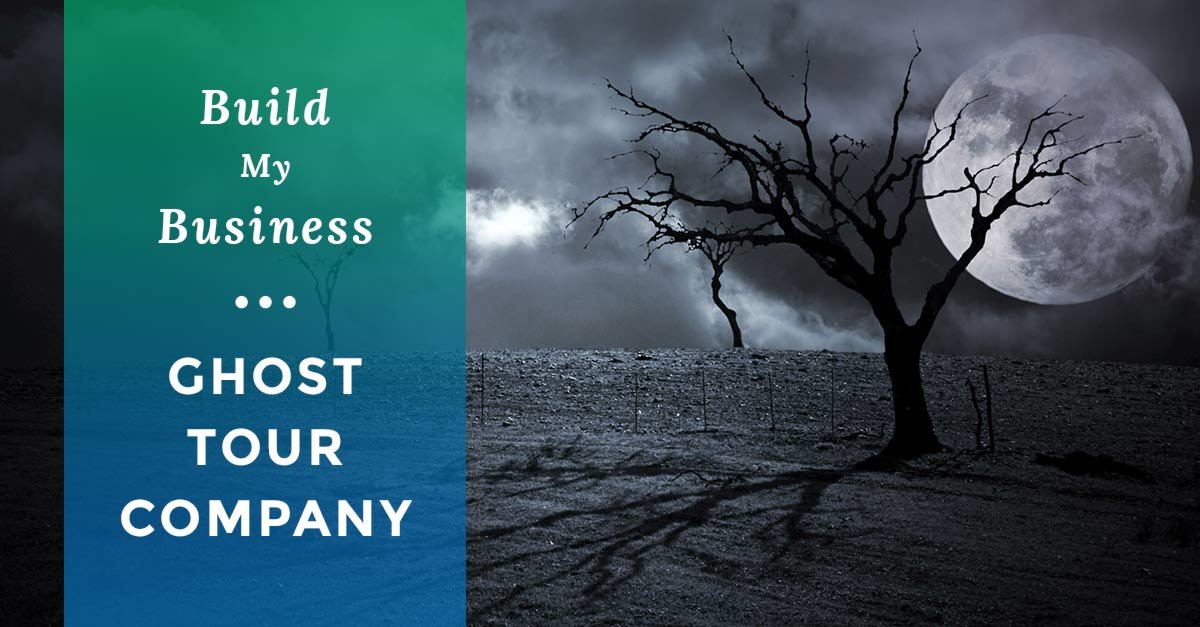 Editor's Note: This post is part of our Build My Business series, in which our in-house experts, hobbyists, and insatiably curious marketers show you how they would use LeadPages to launch a campaign for a very specific—though hypothetical—business purpose. This week, I celebrate the witching season by imagining a campaign to launch a new ghost tour.
How do you market something that may or may not be real?
I started pondering that question a few weeks ago, when my partner's mom was in town. On the itinerary for the weekend: a ghost tour. It turns out that almost any time she's in a new city, this veteran science teacher looks for the local ghost tour.
"So does she really believe in ghosts?" I asked my partner.
She shrugged. Not really, it turned out. She just likes ghost tours.
At first I thought this was a little strange. But then I thought about all the hours of my life I've spent watching Unsolved Mysteries and creeping myself out with scary stories—despite not being the type to argue for the existence of the supernatural.
It seems to be human nature: no matter what you believe, it's fun to give yourself goosebumps. So to kick off the spookiest month of the year, I gave some thought to how I would use our deep-seated love of the eerie to build a campaign for a ghost-tour company.
The context
To make things more interesting, I imagined a context for my campaign. I decided this would be a new venture undertaken by a small company that already ran non-spooky historical tours but wanted to drum up some new seasonal business. And I assumed I had at least two existing marketing assets: a basic website with an online booking system and a small email list.
I figured that in a mid-size metro area like the Twin Cities, I'd have a little competition. I did a search for Minneapolis ghost tours and found just one small company offering them. To set my new venture apart, I decided I'd call out what made it different in my marketing materials:
Deeper history: Since my company already focused on historical tours, I felt I could rightly claim that our tours were more historically accurate than the competition's.
Wider geographic range: My competitor offered walking tours confined to one small area of the city, so the fact that I was able to offer bus tours was a real asset.
Limited-time offer: I thought I could create a sense of urgency and exclusivity if I decided to hold my ghost tours only through mid- autumn, and limit the group size.
These three points will inform the landing pages I create and my other messaging throughout the campaign.
My campaign funnel
Rather than invest a lot in just one source of advertising, I decided I'd get the best results if I sought my audience using several different methods. Since Halloween-time spookiness has lots of fans, I figured my tour attendees could come from just about anywhere.
My campaign funnel (like all campaign funnels) would have three phases.
I'd attract attention via email, traditional media, guerilla advertising, Facebook and Google ads, and social media.
I'd engage prospective tour guests with a unique lead magnet and follow-up emails.
And I'd make the sale with a dedicated landing page for the tour that would link to my online booking site.
Here's a broad diagram of this general funnel type, though in practice I'll create more loops and connections between the different elements: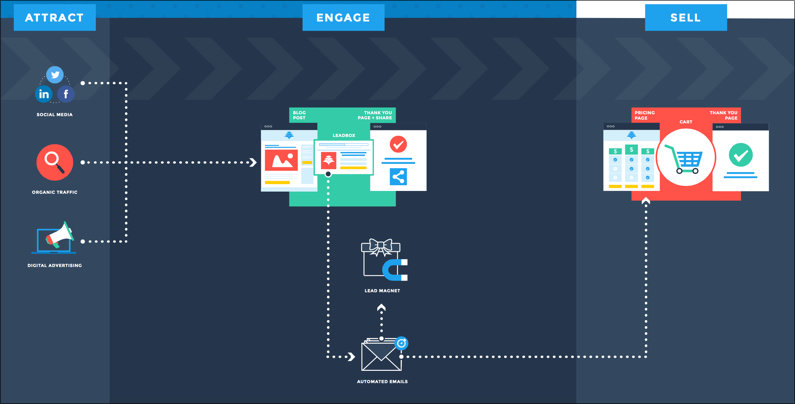 Let's take a closer look at all the elements I'd use to construct my funnel, step by step.
Email
Many of my most promising prospects most likely lie among people who have already attended a past tour and have subscribed to my mailing list. So the first thing I'd do is send them a broadcast email announcing my new ghost tour.
I'd keep track of who opened that email in my email service provider, Constant Contact, and then I'd drill down even further to identify those who opened it but didn't purchase a tour ticket. They'd get an additional email a couple of weeks down the line to rekindle their initial interest.
Custom landing page
Where would I send this portion of my audience? That's where my first landing page comes in. Although my main website has information on this new tour, it also has some potential for distraction with information about my other tours and the rest of my company. So I'd use LeadPages® to create a new page that's just about the ghost tour, and publish it to an easy-to-remember domain such as ghostbus.com.
Because I wanted to keep things ultra-focused, I adapted the Simple Webinar Registration Page, taking full advantage of the template's urgency-driving elements to play up the limited-time nature of the tour. When visitors click the call-to-action buttons, they'll be taken directly to my online booking and payment system. Here's the page I built:

Digital Advertising
To attract interest from people who aren't already familiar with my main business, I'd turn to two tried and true advertising platforms: Facebook Ads and Google AdWords. My strategy for each would be slightly different:
Facebook Ads
First, I'd take full advantage of Facebook's extremely precise targeting capabilities to display my ads to people who are most likely to have a natural interest in my tour. I'd build an audience of people in my geographic area who like things such as ghost-hunting reality TV shows, scary movies, and the History Channel.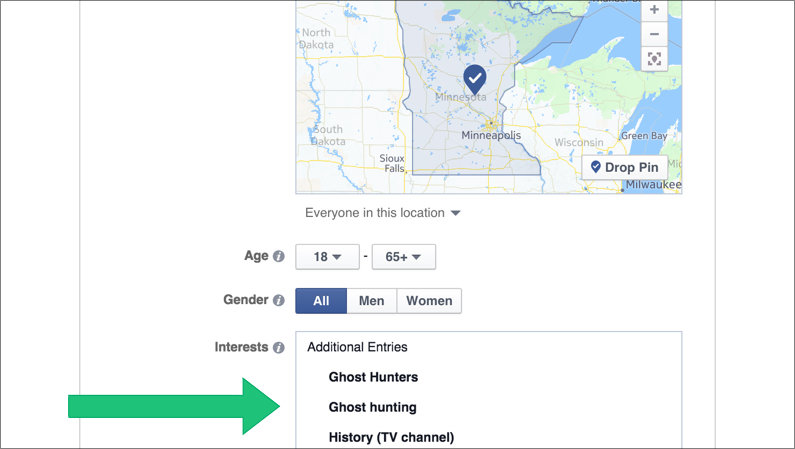 Then, I'd create an ad offering a unique lead magnet: a map of the "10 Most Haunted Places in Minnesota," which I'd compile with the help of some historical research. The entire map would serve as a teaser for my tour: most of the places I'd choose would be stops along the route, and I'd give just a little glimpse into the history behind each one to keep people dying to find out more.
Here's the ad I created: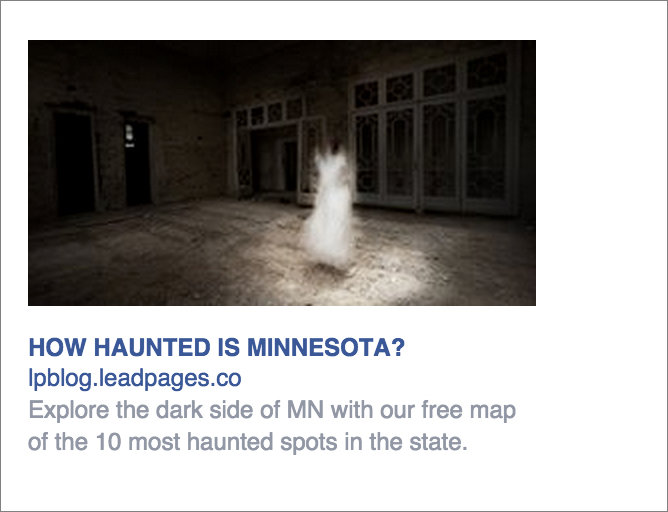 To give away this lead magnet, I created a second landing page with LeadPages®. In the interest of efficiency, I'll use this page for one of my AdWords campaigns as well.

When visitors download the map, they'll be added to my email list so that I can email them with more detailed tour information later. Those who care to scroll down can also get some of that information right on the page, which will be helpful when I use this page with Google AdWords.
Google AdWords
AdWords prefers ads that link to pages with contact information and a strong navigation structure. That's why I chose to modify the Free Consultation template, which includes both contact info and (internal) navigation links while presenting a strong primary call to action.
And those features aren't just good for Google. Some portion of the people who click through to this page may be ready to buy tour tickets right away, so further down the page I include a link directly to my booking page.
I'd create an ad group for this page based around keywords such as "haunted places Minnesota" and "ghosts in Minneapolis." But I'd also create a second ad group to appear with more specific searches. To capture people who are already specifically seeking out a ghost tour, I'd target people searching things like "ghost tour" and "Halloween activities" nearby.
Because those people have already decided they're interested in signing up for a spooky event, I'd have them bypass the lead-magnet stage of my campaign funnel and send them directly to the first landing page I created. Here's a sample ad for this group: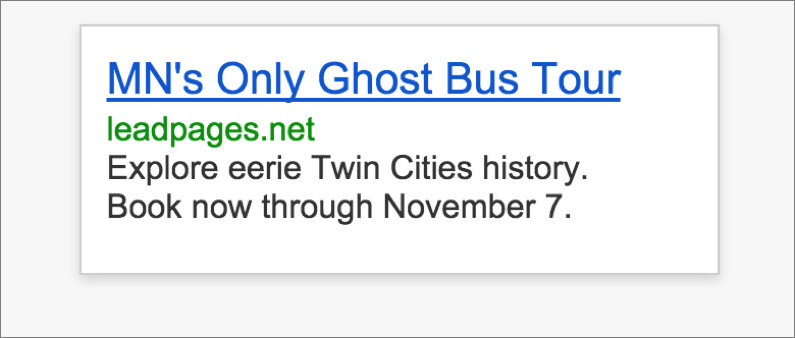 Because these are highly qualified leads, I'm OK with paying a little more for these clicks. I'll increase my maximum bid for these ads accordingly.
Guerilla advertising
Imagine walking around the city as evening falls and dead leaves rattle down the street. You come upon an eerie message written on the sidewalk in chalk:
This place is haunted
Look closer, and you see something more mundane but still intriguing written beneath it:
Text GHOSTSMN to 33444 to find out more.
You've just stumbled on my LeadDigit. When people stumble on these messages and text the number, they'll be prompted to enter their email address to receive my "Map of Haunted Minnesota" lead magnet and get information about the tours.
Of course, I can publicize my opt-in text in other ways, too—but this simple tactic is a free and easy way to start building some spooky buzz.
Traditional Media
My new tour would be a natural fit for local papers, magazines, and perhaps even radio and TV news segments, all of which often cover seasonal events. But in this case, I've got something even better than a simple event listing in my pocket: my lead magnet. "Local historians name the 10 most haunted places in Minnesota" is a great angle to pitch to media outlets.
In print and online, I'll make sure to supply my catchy landing page URL (ghostbus.com). And if I can get a radio appearance, I can tell listeners to text my opt-in text to get more information.
Social media
When people opt in for my lead magnet, they'll be invited to share the page on social media via a custom thank-you page. I'll even give them an extra incentive by offering a $5 discount to anyone who shares on Facebook or Twitter. Here's the page: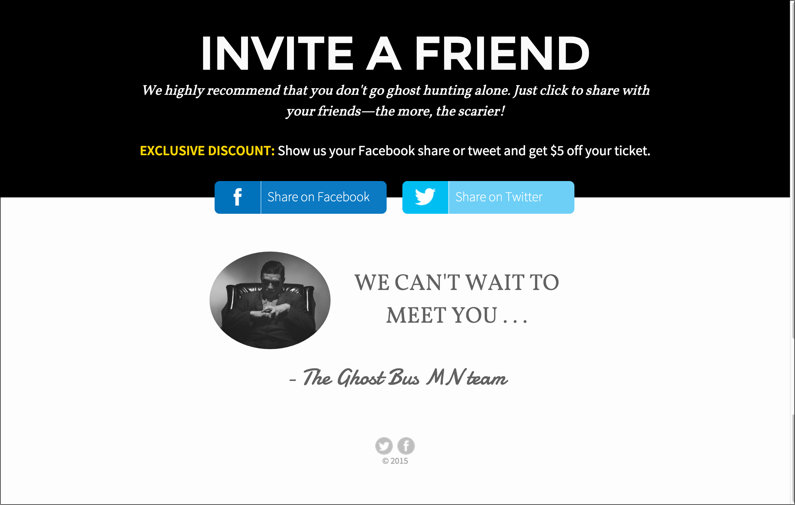 In the early weeks of ghost tour season, I'll also encourage my tour guests to share their experience on social media by posting photos and tagging my company. I'll make sure to identify especially eerie photo ops along the way.
What's next?
By this point, I should be filling up my tours from many different traffic sources—all while building a robust email list that I can use throughout the year to tell subscribers about my other, non-haunted tours. If this campaign gets this branch of my business off to a successful start, I can start thinking about other creative marketing possibilities, such as . . .
A blog: I could start engaging a year-round audience of spooky-history fans by collecting stories of local hauntings, both from my files and from reader submissions. (This would also be a natural additional place to offer my lead magnet.) Scary Stories to Tell on the Web?
Live events: I might try running ads to offer a sort of in-person lead magnet: tickets to a free 30-minute Intro to Ghost Hunting session, to be followed by a full paid tour for people who decide to stick around.
An app: Maybe you've heard of PadMapper, an apartment-hunting site that collects apartment listings from several sources and places them on a map. I think I could get lots of attention for my tours by launching GhostMapper, an app built with the Google Maps API that would allow users to add their own reported hauntings to a map of otherworldly phenomena.
These wouldn't be the first strategies I'd reach for. That's partly because, if successful, these avenues could cause my ghost tour—originally conceived as a seasonal spin-off—to take on a life of its own.
For an established business, that possibility is both exciting and a little scary. But that's what happens when you venture into the unknown . . .
What kind of business should we cover in our next Build My Business post? Tell us in the comments!