What do you do when your product is technologically advanced, but your three-person marketing team isn't necessarily?
In the case of Four51, the answer involved capitalizing on the team's content-marketing strengths by using a code-free lead-gen platform. Peek inside this B2B e-commerce powerhouse in this two-minute video case study (and if you've got more than two minutes, dive a little deeper below).
The company: Four51
Where they work: Minneapolis, MN
Who we talked to: Marketing Director Kayla Bryant
What they do: Four51 makes helps complex B2B enterprises manage and automate their ordering processes through the cloud-based platform OrderCloud™.
What makes them special
They're helping enterprises work better in a way that feels natural for younger workforces. Kayla observes, "We know that millennials have now overtaken baby boomers as the biggest portion of the U.S.'s employee base, and yet the majority of businesses still run a lot of what they do offline. So we help customers reduce their order costs, improve their customer and buyer experiences, enable their sales forces, and help their operations run better."
Their unexpected beginnings
Four51 was founded back in 1999 with one simple goal: providing a better way for businesses to order their business cards online.
Their marketing goals
"Growing our subscriber base is very important to us," says Kayla. "We have a lot of focus on both generating leads, and then also nurturing them. The more leads we're able to capture, and the more education we're able to get out there in the space about B2B e-commerce, the bigger impact we'll be able to make."
How Four51 has streamlined its marketing
"We are big Salesforce (for CRM) and Pardot (for marketing automation) users at Four51, but we were frustrated with our inability to create custom landing pages or experiences in a mobile responsive way," says Kayla.
"We also wanted the ability to keep leads on a webpage to fill out a form (via a pop-up, for example) to increase the number of leads we were able to generate. Leadpages allows us to create forms within Salesforce's platform and easily place them on the custom landing pages we create in Leadpages. The whole integration works great!"
In addition to Salesforce, the Four51 team relies heavily on WordPress and Google Analytics. Kayla says: "We use all of these different tools, and it was hard for us to find something from a lead-capture standpoint that would allow all those things to integrate and work well together, which Leadpages has allowed us to do."
How Four51 ensures a seamless browsing experience
"People are more apt to download more content" when they don't have to leave the page, Kayla says she's noticed. "We've also used leadboxes to grow our monthly newsletter subscriber base. They don't need to change anything about what they're doing when they're browsing through our website, something just pops up and asks them for their email address. We've found that to be very successful."
How Leadpages is helping Four51 grow
"Leadpages has helped us increase our efficiency in creating lead gen experiences for all of the different campaigns we have going on," Kayla reports. "We've also been able to use Leadpages' expertise to get ideas around best practices for setting up landing pages for different types of campaigns (Adwords, webinar, social, etc.) through the templates they've created and have available to customers. Because of this, we've been able to increase our leads per month by close to 100%."
Sample page: Below, Four51 has used Leadpages' PPC/AdWords 2.0 Landing Page template to build a paid-search landing page that's beautifully integrated with the company's branding and navigation structure: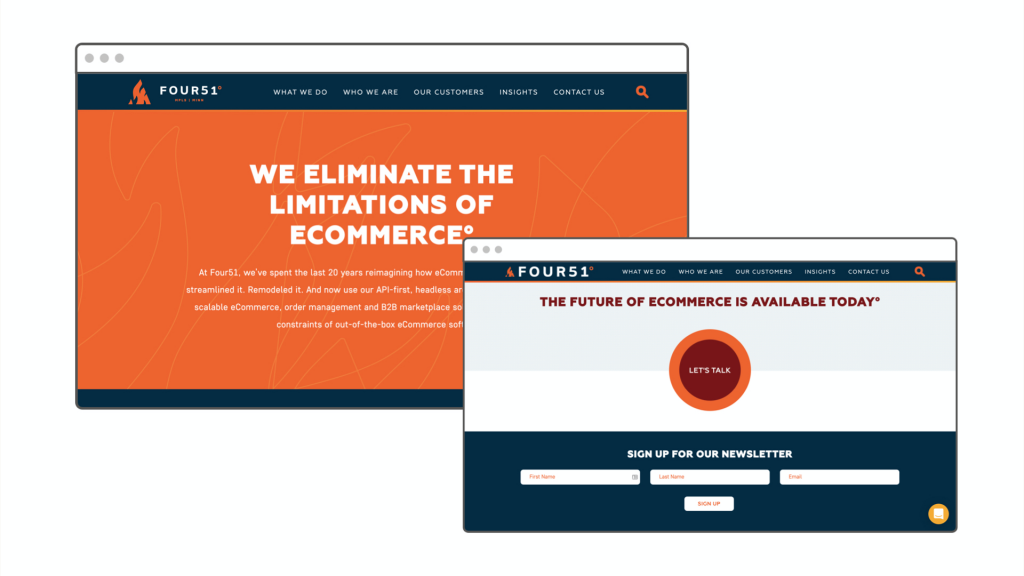 Interested in trying this template for your own paid campaigns? Click below to download the free template files:
Four51's story in Kayla's own words (video transcript)
"Four51 is on a mission to revolutionize the way businesses run. We offer a B2B e-commerce platform called OrderCloud.
"Generally, we're looking for businesses that are really complex, who are interested in making what they do more efficiently so they can save money, they can improve their revenue, they can make an all-around better experience for their employees and for their buyers.
"We have a really small marketing team. There are only three of us, and we have very limited technical expertise on our team. Leadpages has allowed us to very quickly and efficiently create custom and really effective landing pages that help us attract leads.
"Something that we really like about Leadpages is that all of the different landing pages are templated to your needs already. Leadpages has done a lot of research around what makes a good landing page, what is going to attract a lead, and what's going to drive them to take an action. We're able to super quickly select a template, drag, and drop things we're interested in keeping on the page or removing … It's really easy to change colors, images, text, all of that without having any kind of HTML or technical background. I mean, we can crank out a landing page in 30 minutes, where in the past it might have taken us a couple of days.
"Since we've implemented Leadpages, we've been able to really ramp up our content marketing strategies and our lead generation strategies. Over the last couple of months, we've been able to increase our lead generation goals by over 400%.
"I don't think we would've been able to do that without Leadpages."