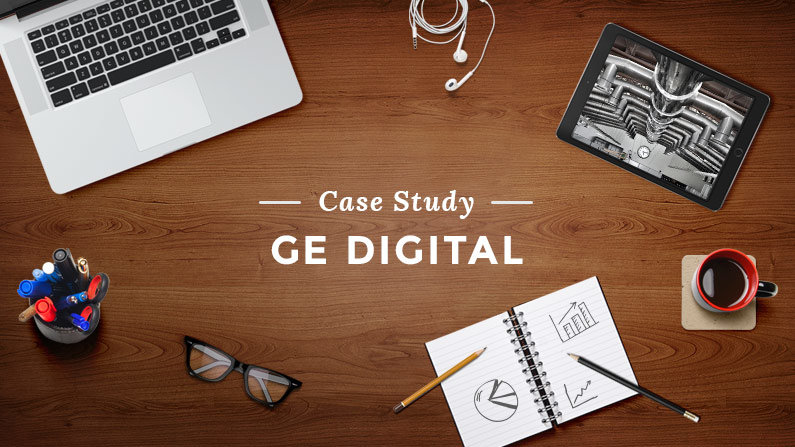 Could one of the largest companies in the world stand to gain from the kind of content marketing techniques that startups and entrepreneurs use to grow?
GE Digital—a division of GE formed just last year—has discovered that the answer is yes. And they're using Leadpages to do it.
The division deals with big things: big data, big machinery, and big systems that tie the two together. Its focus is the industrial internet—the all-business side of the Internet of Things. In its own words, the division helps modern industry "drive greater asset reliability, lower operating costs, reduce risk and accelerate operational performance," primarily through apps built on its cloud-based industrial data platform, Predix.
Given the scale at which the division operates, when Dan Camacho came on board as Digital Marketing Manager, his mind was naturally on growth. How he could scale up the division's marketing efforts and build campaigns as powerful as the products behind them?
The Challenge: A Small Team in a Large Organization Seeks Quick Marketing Wins
Look inside GE Digital's marketing department and you'll find the kind of bootstrap mentality more commonly encountered at a much younger company. When we interviewed Dan, he noted that his team in particular is small and scrappy: a couple of full-stack web developers, a few automation and analytics specialists, and an art director. A team of content creators works elsewhere within the organization, creating assets that the marketing team can use to target executives in technical buyer roles, software developers, and strategic partners.
With limited time and personnel, it's been especially important for the team to assess the ROI of every marketing effort. And that's what Dan began doing as soon he joined GE in mid-2014. The team was using Marketo as its primary digital marketing platform, which was great for running email marketing campaigns and maintaining information on leads they could then pass on to the sales department.
When it came to creating easy, high-converting landing pages, though, Marketo was only a partial solution. While it was possible to use Marketo to build landing pages, it was fairly time-consuming, and beyond that, it wasn't easy to tell how those pages would perform or how they could be optimized.
Fortunately, Dan had a solution in mind: Leadpages.
Leadpages: The Quickest Path to High-Converting Content Marketing Campaigns
When Dan started in his new position, he was well versed in using Leadpages at previous companies and for his own projects:
"I've had very good success with Leadpages in the past, specifically around very quickly getting up landing pages that convert, that are already optimized, and that you can test. I chose to bring it to GE Digital because of its simplicity, and the ease with which you can create landing pages that are already optimized." – Dan Camacho
That's especially important, Dan says, when you're "working with such a small team, with a number of deliverables and with minimal resources for development and design."
Since Dan brought Leadpages to his team, they've been able to free up some of those resources. He notes that "with the Marketo pages, often we've had to design and think through the best way to optimize those pages—whereas Leadpages works out of the box. You can sort templates by conversion rate, you can quickly deploy and test."
Let's take a closer look at the Leadpages tools the department is using today:
Landing Pages
These days, the department's landing page creation process is both simpler and more powerful. It's no trouble to spin up a landing page any time the department wants to launch a new paid search ad, a LinkedIn marketing campaign, or an ad in an industry-specific publication.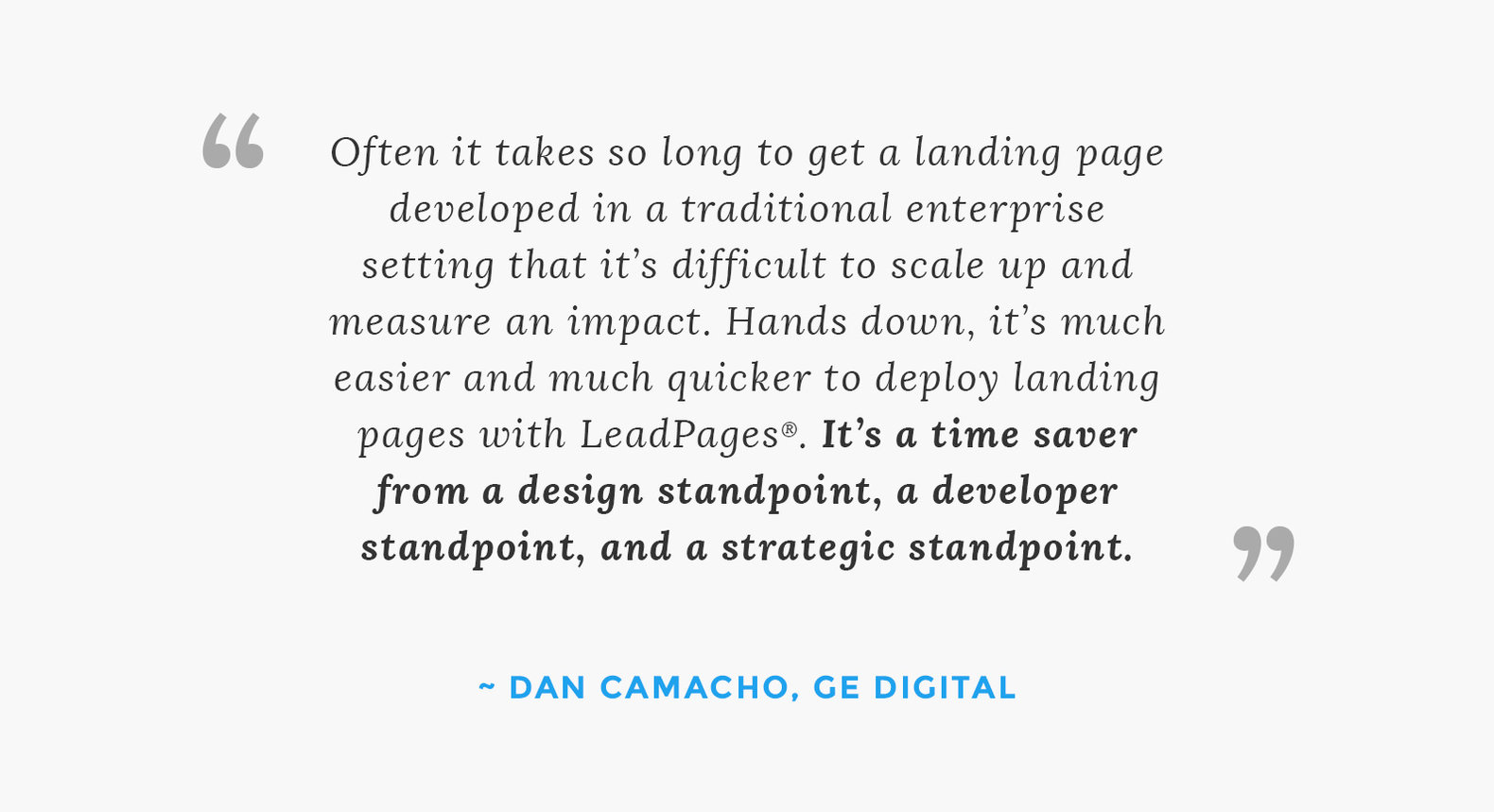 Starting with proven templates, their art director can act as more of a sounding board than a hands-on designer. She can easily suggest elements that will work with the existing template, rather than having to design pages from scratch.
Although Leadpages offers hundreds of templates to choose from, Dan has devised a smart strategy to avoid getting overwhelmed by options. First, he lets the page's content and Leadpages' Sort by Conversion Rate feature guide him toward a few templates that will support the message he wants to convey.
Then, he lets the data decide among the top candidates. How?
Split Testing
"All of the pages we have in Leadpages have an A/B/C test," Dan explains. "We take 3 different Leadpage templates and put the same offer on each of those templates. It's been very effective in showing us which pages are converting and which pages are not."
With a high-traffic site like GE Digital's, this approach can swiftly show results. In fact, Dan's discovered that unlocking the ideal landing page for any given asset can easily boost his conversion rate by 10 percentage points or more. It's no wonder that he's made split testing part of the team's everyday routine.
Thank You Pages
When building a simple opt-in page is an ordeal, building a thank-you page to go with that opt-in page is unlikely to be a high priority. Accordingly, many marketing teams miss this chance to further develop their relationship with leads at the moment when they're most engaged.
Not Dan's team. "That's another advantage to using LeadPages®," he says. "We can create thank you pages that look very nice very quickly. I mean, very quickly. Once we have one built, we can just clone it and build other thank you pages extremely easily."
The department uses thank you pages to guide leads to the next step in the content marketing funnel. Depending on the landing page, that could be an additional content resource or one of the division's primary web properties.
Leadboxes
How do you connect a landing page with a thank you page? With a Leadbox, of course. Dan's team uses Leadbox opt-in forms to capture leads not only on their landing pages, but also on sites across the department and the larger organization:
"Leadboxes have been helpful for us in a variety of ways. We can create a Leadbox and put it on any of our web properties extremely easily, and then drive leads directly into Marketo from that form—something that others within GE haven't been able to do very easily. That's huge for us." – Dan Camacho
That means that the team has easy access to the prime real estate that is GE.com, giving it much more visibility than divisions that don't use Leadpages.
With this multifaceted marketing strategy, Dan's team is seeing some remarkable conversion rates. For one of their most popular pieces of content, a white paper called "The Future of Work," opt-in rates have ranged from 25%–40%, depending on the landing page and campaign.
GE Digital and Leadpages: The Future
In adopting a platform that makes it easy to both create and optimize landing pages, Dan's team hasn't just been able to create more pages—they've also been able to start creating the number of content assets they need to take off. The formats of that content range from the traditional to the wildly ambitious (and inspiring), including:
Pivot, a semi-fictional podcast following a pair of developers who found an industrial internet startup after a major earthquake
Virtual reality app Subsea, which demonstrates the power of industrial apps by placing users at the controls of a Nautilus mini-submarine
And that's just what's happening now. "We're building new content out now weekly," Dan says. Webinars, gated video content, and even live events that generate leads via the Leaddigits text-messaging tool are all on the table for 2016.
As the team ramps up production, Dan has a plan for positioning all that content to produce the greatest possible number of leads. "Any time a new content asset is produced, we'd like to automatically create a Leadpage and a couple of variations to test, then run campaigns to those pages indefinitely (until we determine they're not doing well or there's a better way to raise the conversion rate)," he says. "Our conversion rates have been very high, and it's time to get them even higher by testing different Leadpages out."
Dan thinks that many other businesses could benefit from taking this scrappy, never-satisfied approach to marketing. "I would recommend Leadpages to many different people: from a small-business standpoint and even from an enterprise standpoint," he says. In the enterprise world, it can be hard to "put out enough content and enough pages and run enough tests. But with Leadpages, you can do it with literally one, maybe two people."
Leadpages has made GE Digital's marketing simpler, and Dan concluded our interview with an appropriately simple conclusion: "Leadpages is good for enterprise because it allows small teams to make decisions and see results very quickly. I think that's one of its biggest advantages."
Do you think any of these marketing tactics could work in your industry? Leave a comment below to weigh in.