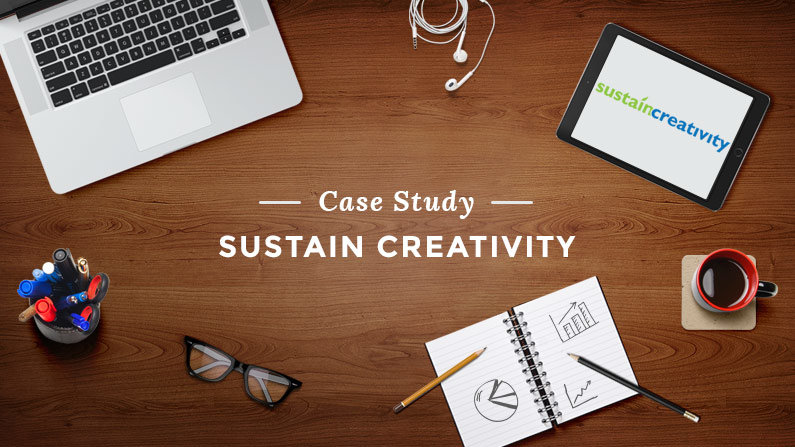 Sustain Creativity has its eye on sustained success.
Based in Maryland, the full-service digital marketing agency just celebrated its 6th anniversary. CEO Samad Saifudin and COO Tyler Sari lead a team of 14 marketing experts and creative pros in handling all aspects of web marketing for 50–60 recurring clients—mostly small-to-medium businesses—at any given time.
"We work with a very interesting crowd of different types of clients," says Samad. That includes everyone from lawyers to home contractors to subscription services that appeal to a millennial audience (think cold-pressed juices and organic meals).
One thing unites Sustain Creativity's approach to all these clients: personal attention. "It's a lot of account management and making sure that each client is getting what they're looking for," says Samad. "I definitely like to have a good, strong relationship with each of my clients—I don't mind going out with them whenever they need my attention, whether it's after hours, or just for dinner—it doesn't even have to be business-related. . . That is what sets us apart."
Samad and Tyler know that you can't use the same approach to market furniture as you do to market karate lessons: "We provide a lot of services, but we don't try to put somebody into a formula or in a box. . . It does make it challenging at times to try to figure out where [each client] is and make sure that the services are consistent across the board, but I think that makes us more unique than a typical firm who says, 'Okay, you're getting X amount of hours, and that's what we provide.'"
As their client base grew, the Sustain Creativity team knew they'd have to find some efficiencies if they were going to maintain that level of customization in their work while still having time to nurture the strong client relationships for which they're known.
"Creating amazing-looking email blasts, websites in general, and landing pages that go along with them that we can easily start focusing based on measurable data—that's what we're striving for," says Samad. None of that is exactly easy, and until recently, one piece of that puzzle was especially hard to manage: landing pages.
To get the exact tools Sustain Creativity used to solve their landing page problem, click below to check out our special membership offer:

Before Leadpages
Samad and Tyler are well aware that if you want prospects to take a certain action, it's usually more effective to direct traffic to targeted landing pages rather than to a homepage. Their clients, they say, are "trying to generate traffic and convert more people—and it does not just lead, but it's also changing the lead into being a qualified lead instead of having someone come and have no expectation of what they're signing up for and going, 'Oh, I didn't realize it was going to be that.' . . . It's about providing them the right information to say, 'Okay, yeah, I'm ready to convert.'"
To generate those high-quality leads initially "was sort of a manual process." Clients had different websites hosted in different places, and just gaining access to create pages with their existing framework was often complex. Plus, there was the sheer manpower required to create landing pages from scratch every time:
"We had to align account managers, and content writers, and design, and programming, and coordinate those efforts . . . and the next thing you know, you've invested 8, 10, 12 hours on a landing page. No one's going to pay retail rate for that."
– Sustain Creativity
So last winter, they did some research and discovered they could streamline that process considerably.
Enter Leadpages
"At the end of the year we made the transition [to Leadpages]. And we've added a number of clients since then—a wide variety," says Samad.
Why Leadpages? "With not only the template options, but it being cost-effective as well, it made sense." When you have dozens of clients, software costs can climb swiftly if you're not careful to pick the right subscription model.
Leadpages especially made sense for a marketing agency working with many clients because the subscription price doesn't depend on the amount of traffic your pages get—every member gets an unlimited number of landing pages and Leadbox opt-in forms, receiving an unlimited number of pageviews, published to an unlimited number of domains
Sustain Creativity opted for the Advanced Annual plan, which meant they also got features such as advanced integrations and the ability to create sub-accounts for their different clients.
By the way: if you're interested in getting every Leadpages feature, plus five free sub-accounts, there's no better time than now to become an Advanced member. Click below to get the details and join or upgrade so you can take advantage:

Now, say Samad and Tyler, "We're using [Leadpages] for two different purposes. We're using it for social media, connecting different paid promotions to a specific Leadpage . . . And then the reason we actually signed up with [Leadpages] was for AdWords. We're essentially trying to get search traffic funneled into a Leadpage."
They've especially found success using a template designed specifically to collect traffic from pay-per-click Google AdWords campaigns: the AdWords/PPC Ready Squeeze Page. Here's how it looks in action: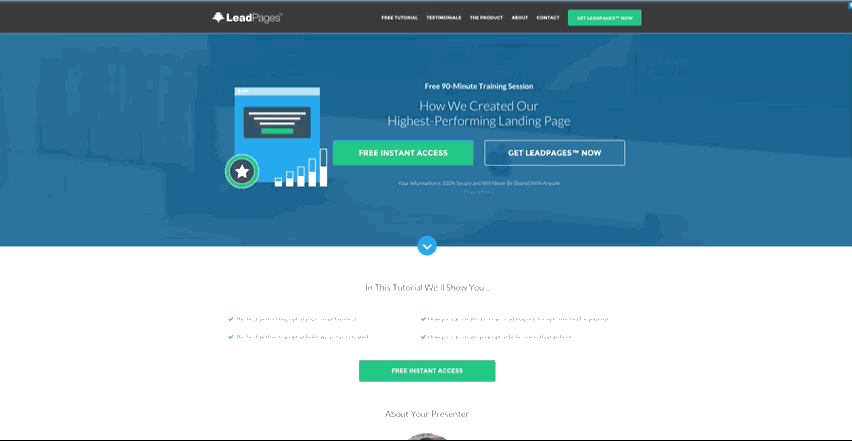 This page's navigation options, several call-to-action buttons throughout the page, and a scrolling testimonial section have proved flexible enough to work for many different kinds of clients.
Sustain creativity's success
Once they began creating landing pages with Leadpages—rather than the byzantine system of existing websites they'd been forced to work within before—Sustain Creativity found that they were able to drastically reduce the number of people who needed to handle each page:
"We've been able to really cut the programmer out, cut the account manager out for the most part, and it's just been content and design making sure everything's aligning properly with the templates that we use. It's been really helpful with the [Leadpages WordPress] plugin to be able to throw it over to the client website with a couple of clicks."
– Sustain Creativity
Using proven landing page templates that can easily be modified by copywriters and designers—and tested and replicated with ease—means that programmers can focus on the projects that require more complex skills, and account managers can focus on nurturing their relationships with clients. And everyone on the team is spread a little less thin.
Using Leadpages has also streamlined the process of reporting on metrics. Although Sustain Creativity is responsible for all the work within its clients' sub-accounts, clients can easily log in with their email and view their landing pages and metrics. "Typically our point of contact, our client liaison will have access to it so they can see the traction they're getting, see the measurables," says Tyler. "No one ever has the desire to build any Leadpages themselves, but they can poke around and see what they want."
Clients like what they see: "Feedback's been great. People love the design—it's always been clean and straight to the point. . . We've tried out different pages, different models. . . If people are filling out those forms, we're doing a good job. That's how we're measuring it in a nutshell."
For some of Sustain Creativity's clients, Leadpages and Leadboxes have replaced less effective forms of engagement offered on their old websites. For instance, a martial arts school owner was getting almost no response when his website asked people to call for more information. Once Sustain Creativity set up a landing page designed to collect leads by having visitors fill in their email address to get information on a summer-camp session, they were able to convert about 3% of traffic into leads—a small, measurable improvement and a good start for an old-school, in-person business.
The takeaway
What's next for Sustain Creativity? Adding to their roster of clients, expanding further into the very web-savvy lifestyle-brand market, and continuing to streamline and interconnect all the pieces of the marketing strategies they design:
"We're looking to put a connection between all the mentions on Facebook and Twitter and everywhere else to all the things that go along with it—the blog, keywords. Leadpages, on the landing page side, is definitely a part of that. That's where all of this needs to go. If inbound marketing is to work, it needs to have the right funnel. That's what we're focusing on: how we can have more of a comprehensive, interconnected marketing strategy for each one of our clients."
– Sustain Creativity
If you're trying to create simple, scalable marketing funnels for your own client-based business, there are several strategies you can borrow from Sustain Creativity's success:
Don't build a landing page, and another landing page, and another landing page—build a system. You and your team will be able to work much more efficiently if you can master one landing page creator and use it to publish to multiple sites and domains, rather than having to work within a web of a dozen existing systems. (Bonus points if your landing page software integrates with major email service providers, CRMs, and other key software you use, as Leadpages does.)
Choose tools that give clients instant insight (so you can spend less time running reports and more time working for them). Setting up sub-accounts allowed Sustain Creativity to give clients a transparent view of any pages, split tests, and metrics currently in the system, providing extra accessibility and peace of mind to clients who are inclined to check infrequently.
Design with your traffic source in mind. When you notice that a page does particularly well at converting leads from Facebook or AdWords, try customizing that page for similar campaigns. (Leadpages makes this easy with templates designed for certain traffic sources, and a Sort by Conversion Rate feature that sends the best-proven templates to the top.)
And, of course, you can borrow the tools to Sustain Creativity has used by becoming a Leadpages Advanced member. Click to check out the details:

Do you use landing pages with your clients? What challenges has it solved, and which ones are you still facing? Let us know in the comments!