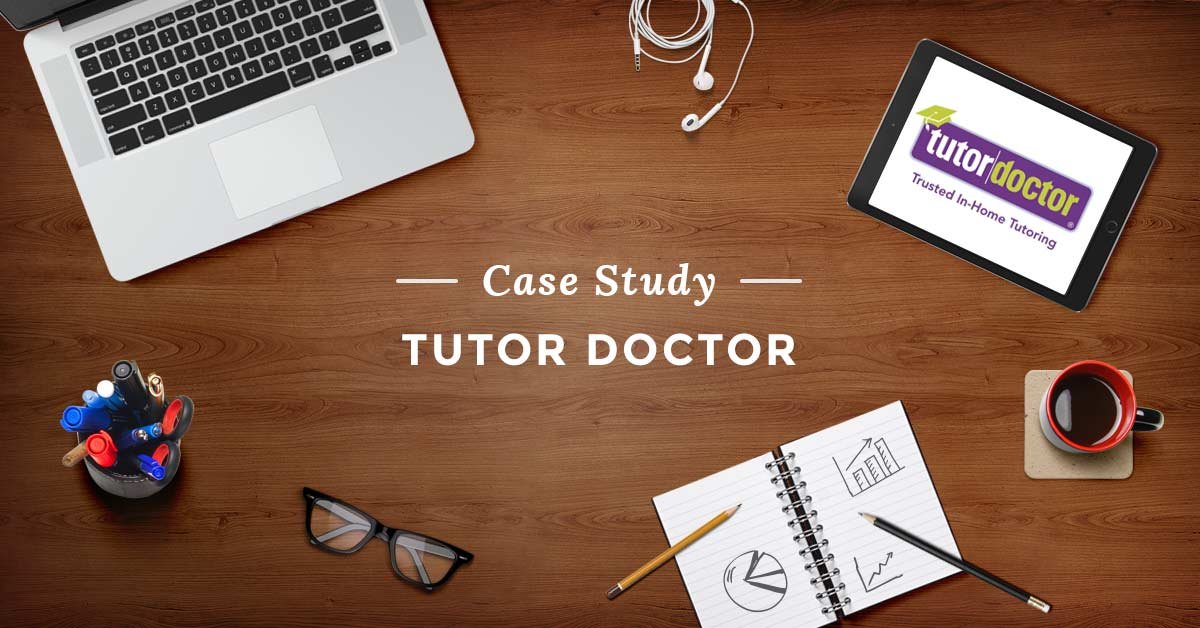 With more than 400 franchise units in more than 15 countries serving 220,000 students, Tutor Doctor is a force to be reckoned with. In fact, it's the world's leading in-home tutoring franchise according to Entrepreneur's Franchise 500 list.
The company was founded in 2000, when, as Tutor Doctor's website says, "it all began with a simple revelation—the classroom setting is often unable to sufficiently unlock the true learning potential of each student." The franchise model has been a major part of realizing its vision of hands-on, personalized learning. Franchising allows Tutor Doctor to create best-of-class programs at the national level that can then be modified by each franchise location to fit their local audience.
However, like all franchise networks, Tutor Doctor faces unique marketing challenges due to the franchisor and franchisee relationship. Recently, I spoke with Tutor Doctor's Director of Marketing, Stefania Sigurdson, to learn how they balance national branding with 400 franchises' local needs. Using Leadpages to expand & test online marketing programs
For a long while, Tutor Doctor didn't run a lot of digital marketing campaigns. Their development and design resources were tied up simply maintaining the web presence for such a large organization, so they didn't have a lot of bandwidth to spare for one-off campaigns.
When you're in that situation, it's hard to justify diverting resources to new marketing initiatives that may or may not work. But on the other hand, it's hard to make major gains by sticking to the strategies you already know.
Last year, Stefania resolved to find a way out of that catch-22. As the Director of Marketing and IT Development, Stefania is tasked primarily with consumer marketing, but she also supports the franchise development team. She manages a small marketing team with a small budget, which means any marketing solution she brings in has to provide outstanding results. She's also a self-professed analytics geek—so the ability to use data to optimize is crucial, too.
Those criteria led her to Leadpages. She reviewed Leadpages against several other landing page builders and chose Leadpages based on its easy analytics tracking and the ability to sort landing page templates by average conversion rate across tens of thousands of companies.
Roll out a national campaign in 3 hours? No problem
One of Tutor Doctor's first wins with Leadpages was revamping the Summer Reading Challenge, a program designed to get students to keep working with their tutors throughout the summer months.
The Summer Reading Challenge was previously a print-only program. Bringing it online would make it accessible to more tutors and more students, and potentially enable Tutor Doctor to collect more leads by marketing it to new audiences.
In less than 3 hours, Stefania was able to bring the Summer Reading Challenge online-enabled by Leadpages easy-to-customize landing page templates. The landing pages and opt-in forms she created were perfectly aligned with the branding of Tutor Doctor's main website: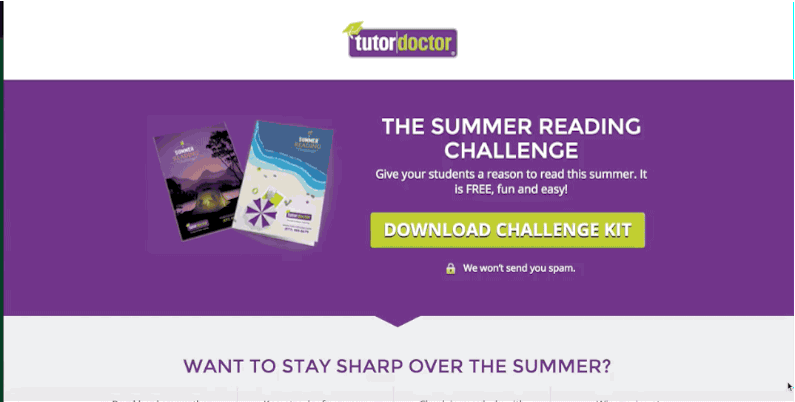 Once someone filled out the po-up form, the information was sent directly into Tutor Doctor's homegrown CRM, where they could segment the leads by zip code and send them to the appropriate franchise based on location. Then, franchises could use Infusionsoft or Constant Contact to follow up with the leads near them.
RIght out of the gate, the campaign was a success: Tutor Doctor was reliably able to convert 12%–33% of all visitors to the Summer Reading Program landing pages. That meant more students staying more engaged with their tutors during a traditionally slow period, and potentially more students returning for the following school year.
Not bad for 3 hours of work.
Tutor Doctor's Success & Innovation with Leadpages
"Leadpages allows us to create innovative and flexible marketing programs very quickly! We've been able to expand the reach of our current marketing programs as well as develop new ones using A/B testing to ensure we have the right messaging for each audience." –

Stefania Sigurdson, Tutor Doctor
At the time of writing, Tutor Doctor has been using Leadpages for almost a year now. Along with bringing proven offline programs online, the platform has been useful in several other initiatives. Let's take a more detailed look at two of them:
Making Existing Assets More Powerful
Tutor Doctor's marketing team makes especially good use of one seemingly minor Leadpages feature: the ability to set a custom thank you page for each opt-in page. In the example above, opting in takes visitors to the site's main summer tutoring page—which is possibly too information-dense to serve as a high-converting landing page, but just right once a visitor's interest has already been piqued by the landing page.
For another campaign, Tutor Doctor used Leadpages to collect a simple opt-in, then set an Infusionsoft survey page as the thank you page. This allowed them to access both the conversion power of the short opt-in form and the more detailed information they needed to match the new lead with the right services—which leads are likelier to give to a company that's just sent them a valuable resource. Here's the landing page: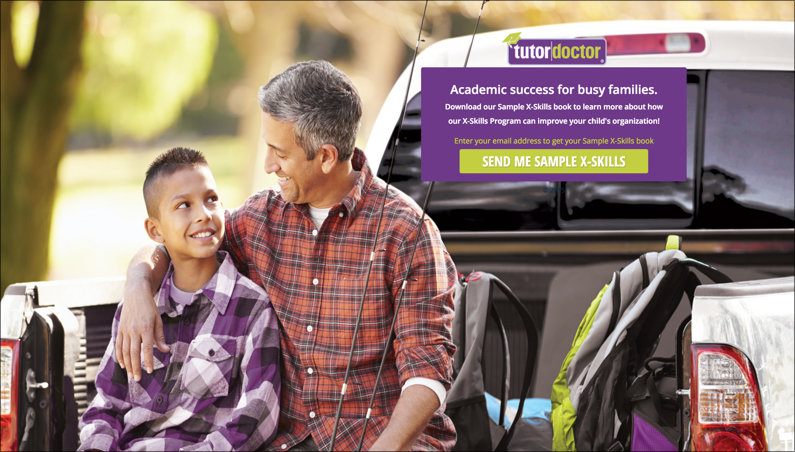 … and its accompanying thank you page: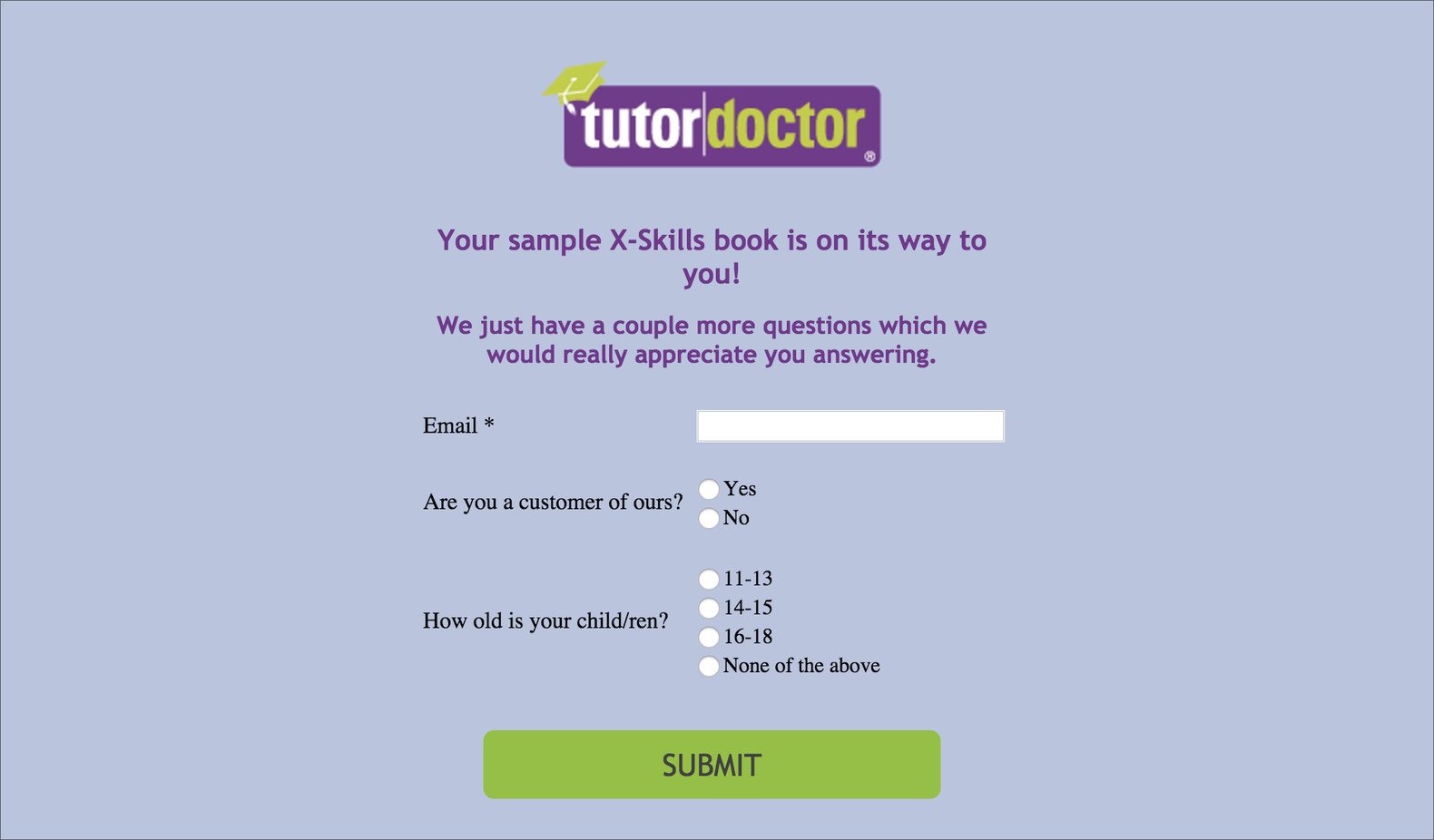 Since launching the X-Skills Program with Leadpages late last year, Tutor Doctor has maintained a 33% conversion rate for the campaign, with plans to optimize and expand the program even further.
Split Testing
One of those plans for optimization is already in the works. The X-Skills page above is actually just one variant visitors might see at that URL. That's because Tutor Doctor is using Leadpages built-in A/B split testing feature to figure out what kinds of imagery and messaging will work best for their audiences.
Those audiences don't just consist of students. Tutor recruitment is a huge part of the Tutor Doctor's business and is almost always the biggest challenge faced in the tutoring industry.
In the past, Tutor Doctor typically recruited tutors via advertising with a "tutors wanted" message. Stefania wondered whether different messaging could be more effective—and now that she's started using Leadpages, she's finally able to test some of her theories.
Currently, she's testing three different approaches to a recruitment landing page used with PPC ads:
Control: Simple "tutors wanted" messaging on a short page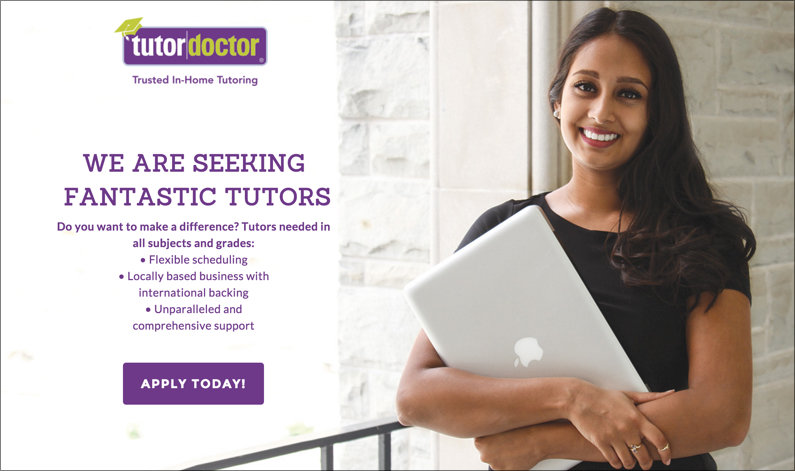 Variation 1: Longer-form page that draws visitors in with questions about their goals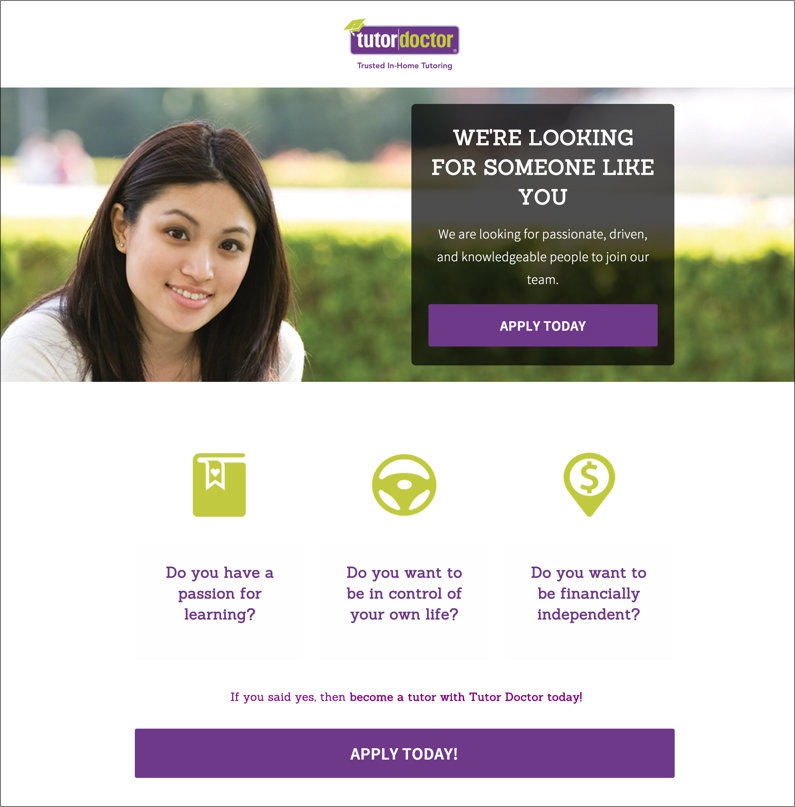 Variation 2: Mission-based messaging that focuses on the concept of making a difference though joining Tutor Doctor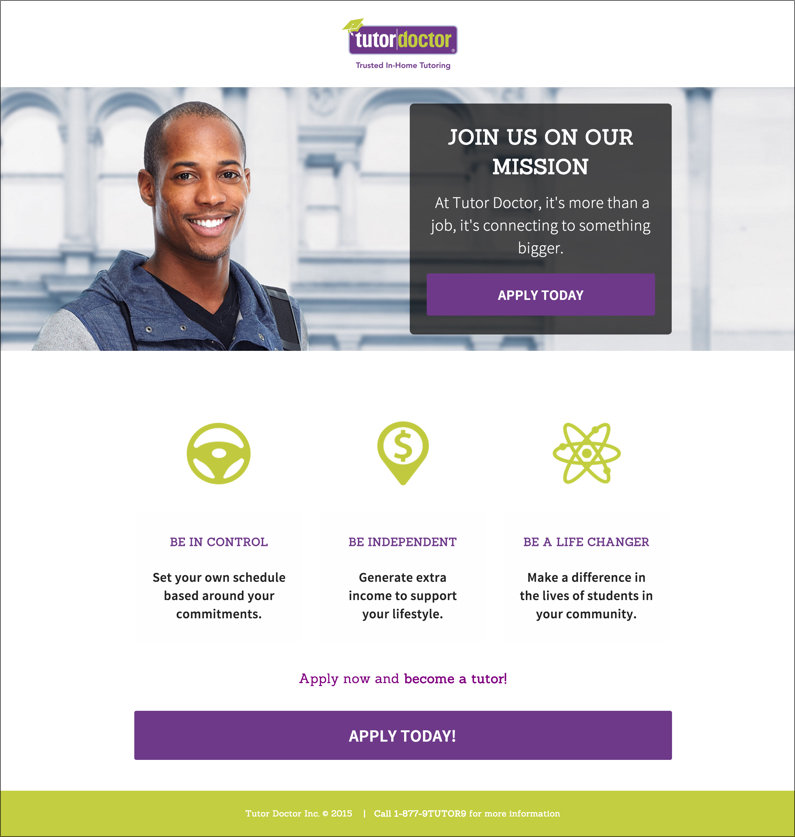 Before using Leadpages, Stefania's team would have had to decide on an approach based on sheer instinct. Now, they're eagerly waiting for the split test to achieve statistical significance and guide their direction.
The way ahead for Tutor Doctor
Tutor Doctor has big plans. They aim to be not just the #1 in-home tutoring franchise, but the #1 tutoring company in the world. To do this they know they have to grow their franchise network and expand their customer base at the same time.
Leadpages can help them get there, and Stefania is already envisioning how.
Most of the Tutor Doctor marketing campaigns currently operate at a national level, allowing them to generate leads that are then distributed out to the franchise network. This model allows them to maintain brand consistency, but it doesn't provide many opportunities to localize the national campaigns for each franchisee.
With Leadpages, Stefania sees a big opportunity to roll out local out-of-the-box social marketing programs to the franchise network using pre-built and fully customizable landing pages. This would ensure consistency across all marketing programs while also allowing the franchise network to customize each program to fit the needs of their local audience.
As Tutor Doctor continues to expand their franchise network, they could issue Leadpages sub-accounts to each franchisee, along with a marketing playbook that identifies the best ways to enhance their local marketing efforts. They could even expand the playbook strategies to include social media, email marketing, paid media, direct mail, print advertising, and more.
With Leadpages in their toolkit, Stefania and her team can have the best of both worlds: centralized brand control and empowered franchisees who have everything they need to execute their own local campaigns—and educate the world.
Have you ever been involved with a franchise-based company? What marketing difficulties or opportunities did you notice there? Tell us in the comments!