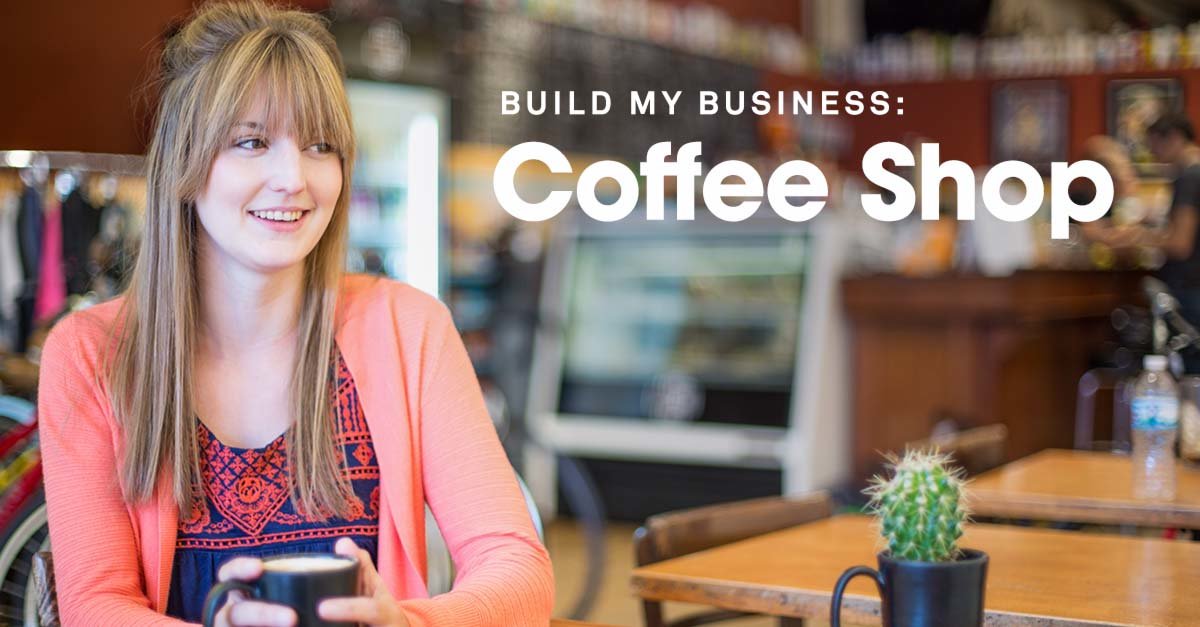 Editor's Note: This week, Rachel Wedlund lays out a campaign that could turn a daydream of running a successful cafe into a reality. (Our thanks to reader Tanya Handy, who suggested writing about a bookstore/cafe—we couldn't fit in the bookstore, but we appreciate the inspiration!)
Shhh… Don't tell my boss, but sometimes when I appear to be deep in thought at work, I'm really just fantasizing about opening a coffee shop.
I see people lining up outside Rachel's Cafe before the doors open each morning, eager to pick up a delectable handcrafted latte. "Remember when we used to like Starbucks," I hear one patron snootily remark to another, who replies: "I'm so glad we found Rachel's. It's just so much better."
I could go on and on, but while it is fun to daydream, I don't have any real plans to quit my day job and open Rachel's Cafe. What really fascinates me isn't so much the day-to-day operations of a coffee shop—it's the marketing opportunity.
Since I'm not going into business anytime soon, I'm happy to share my coffee shop marketing plans with you! I've developed a campaign designed to attract the kind of customers who'll make my business a part of their everyday routine—no punch cards needed.
Now, pour yourself a warm-up, settle in, and read on for a detailed breakdown of my coffee shop marketing plans.
Step 1: engage existing customers and build my email list
Key Tool: Opt-in text messages
The first step in the marketing plan is to engage your existing customers. Start the process by setting up a opt-in text. If you're not familiar with opt-in text, it's a simple but powerful tool that lets you collect email addresses via text messaging.
The process starts with selecting a keyword that people will text to your opt-in text number. For the fictional Rachel's Cafe, I would use "cappuccino."
Next, I would have to decide what to give away in exchange for someone's email addresses. For Rachel's Cafe, I would create a coupon for something that I could provide easily and inexpensively: a free size upgrade with any beverage purchase.
Here's how I'd set up my opt-in text: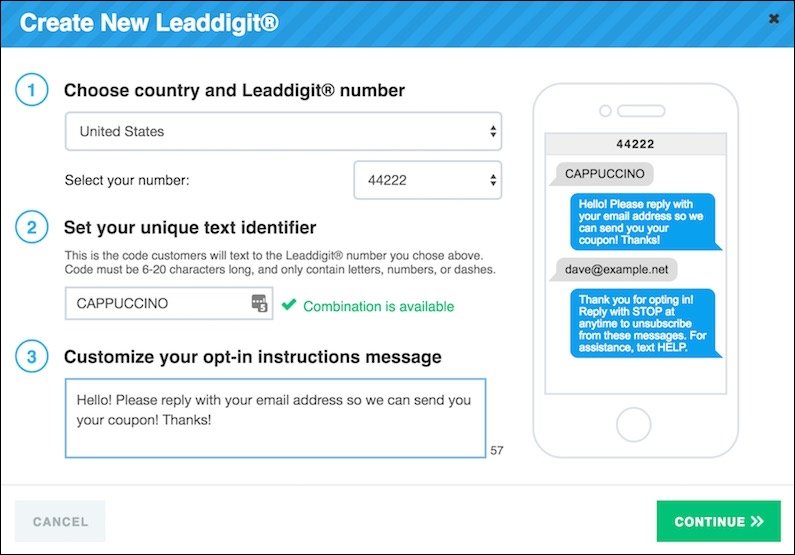 I would ask my baristas to publicize the opt-in text by asking customers if they would like a free size upgrade at the counter. I would also print it on my menu and even on my paper cups.
I'd use a message like this to promote my opt-in text: "Text Cappuccino to 77888 to get a free size upgrade on your next beverage purchase."
Once someone texts Cappuccino to 77888, I'd use Leadpages' automated Lead Magnet Delivery system to send the coupon to their email. That person would then be added to my email list.
Read on to see what I'll do with my growing email list.
Step 2: Keep customers interested with email marketing
Key Tool: Drip
I'm going to use Drip for my email service provider (ESP), because it is easy to use and it allows campaign-building for a reasonable cost. (If you have no marketing budget, try MailChimp—it offers a free service suitable for smaller scale campaigns.)
Whichever ESP you select, start by setting up a welcome email to introduce yourself to subscribers and let them know what they can expect.I would let my subscribers know that they'll hear from me occasionally regarding new menu items, promotions, and other updates just for VIPs.
I would also include another coupon in this email, because this lets the recipient know that my emails will provide value to them, so they should not unsubscribe or mark them as spam.
Finally, I will ask the recipient to "like" my business on Facebook if they want to hear about shop news and deals there, and ask for some quick feedback (more on that in the next step).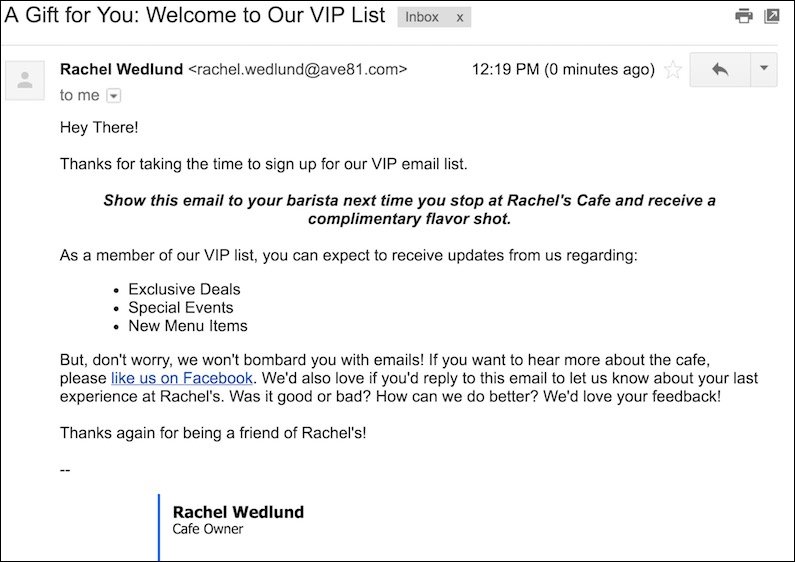 After this welcome email, I would set up an email to let my customers know about my loyalty program (see Step 4). I would also send out emails periodically to keep my customer base engaged with promotions, menu item news, and special events.
Here's an example of the kind of tone and content I'd use: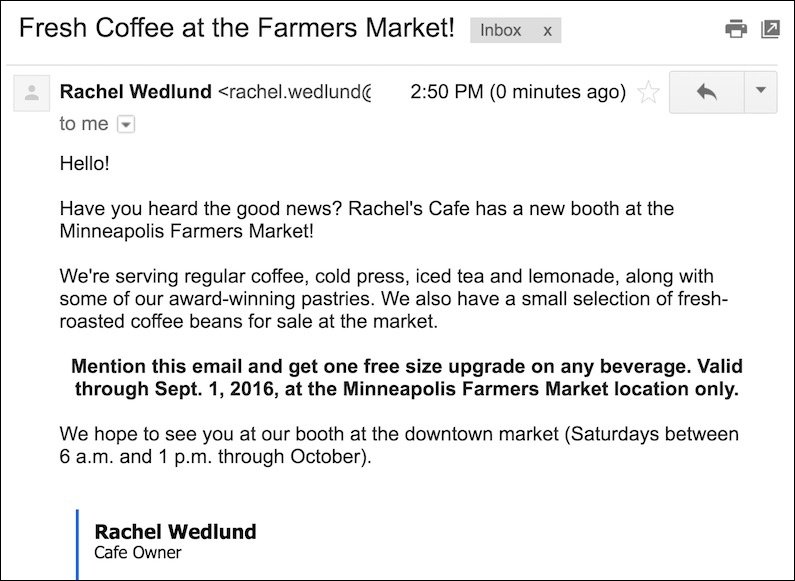 Step 3: Find new customers
Key Tools: Facebook Ads, Drip, Leadpages, and Librestock
Now that I'm beginning to build relationships with my current customers, it's time to branch out.
To find new customers, I am going to use Facebook ads and rely on Lookalike Audience targeting.
But before I get started creating an ad, I need to log into Drip and download my list of email subscribers into a CSV file. I can either download my entire list, or I can create a segment of my best customers first and download that.
Creating a segment of satisfied customers requires a little extra work, but it will allow me to advertise to a Lookalike Audience of people who are similar to my biggest fans, rather than to my broader customer base.
To segment my email list, I would need to:
1. Send an email with a survey: To determine which people on my list are satisfied customers, I'll use a feedback survey. I could do this either in my welcome email or in its own email: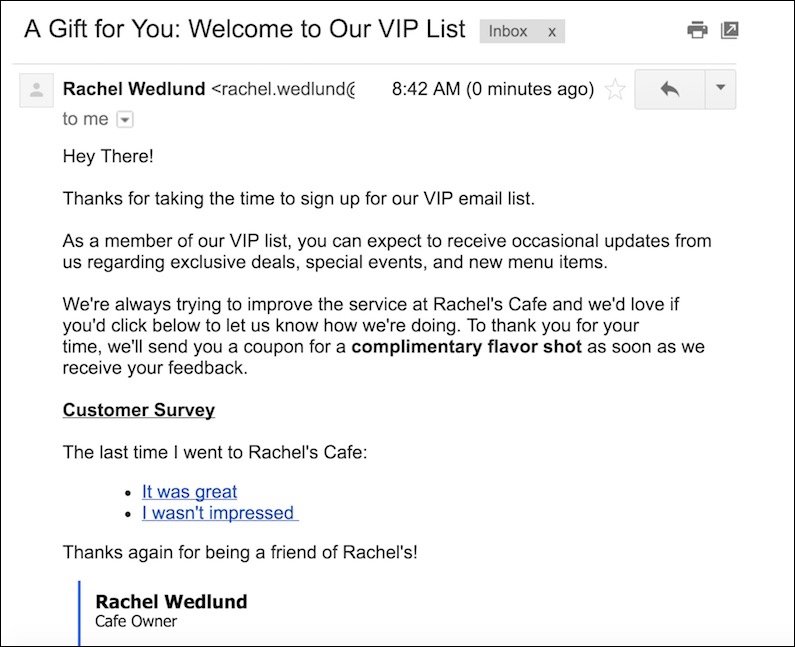 2. Create a positive-feedback landing page: Those who click "It was great" in the email would be taken to the following landing page, which I created in Leadpages' drag-and-drop builder: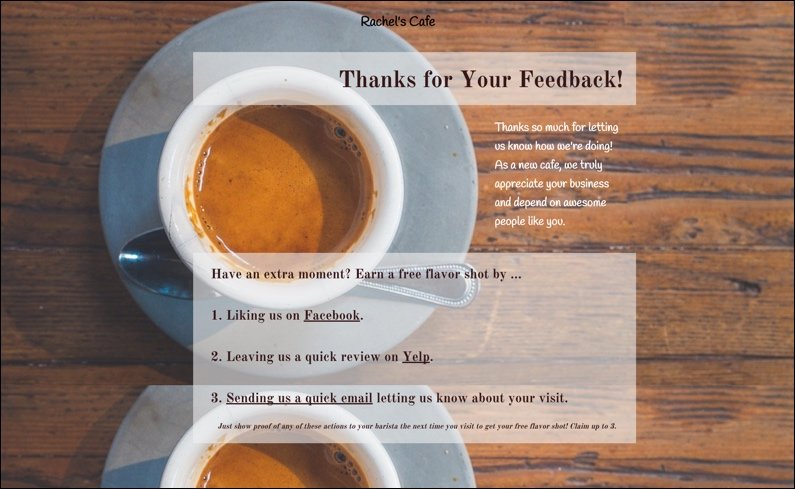 3. Create a negative-feedback landing page: Those who click "I wasn't impressed" would be taken to this page: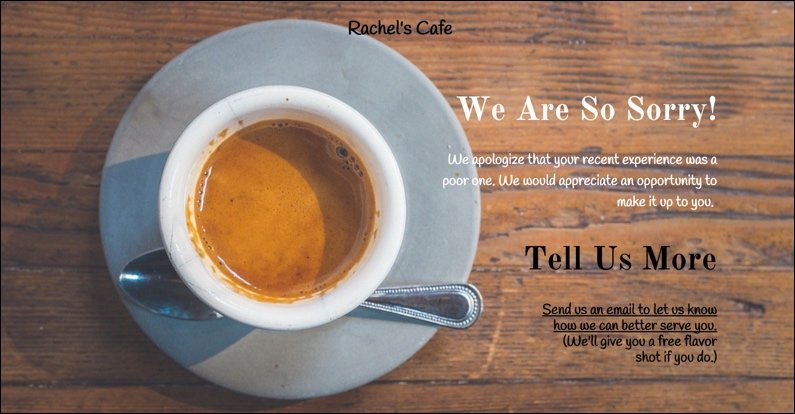 4. Have Drip tag viewers of each page distinctly: Using Drip's automation engine, I can apply tags to people when they perform particular actions—in this case, visiting either my positive feedback landing page or negative feedback landing page. This would allow me to pull a segment of just my satisfied customers to use in my advertising.
This survey sequence gets me four things:
It's valuable feedback. Are people likely to return to my business? Do they have any suggestions for improvement?
Getting people on my list to email me encourages their email service to greenlight my email address. Once someone replies to you, future correspondence will be likelier to end up in their inbox and not their spam folder.
It encourages happy customers to help build social proof for my business via Facebook or Yelp.
Finally, it'll help me discover new customers more effectively. Here's how …
Once I have my list downloaded from Drip, I will go to Facebook's Custom Audience Builder and choose "Customer List."
I will upload my list there and Facebook will look at the email addresses on it and see if they match any Facebook accounts. It will decipher demographic information from those accounts to create an audience of new people that are similar to the people on my list. Then, I can create a lookalike audience and target my ads to the segment of that lookalike audience that lives or works within a few miles of Rachel's Cafe.
For the ad itself, I would use a interesting picture and compelling copy to grab someone's attention while they're scrolling through their newsfeed. (Find more tips on Facebook advertising here.)
I downloaded my photos from Librestock, which is a great free resource.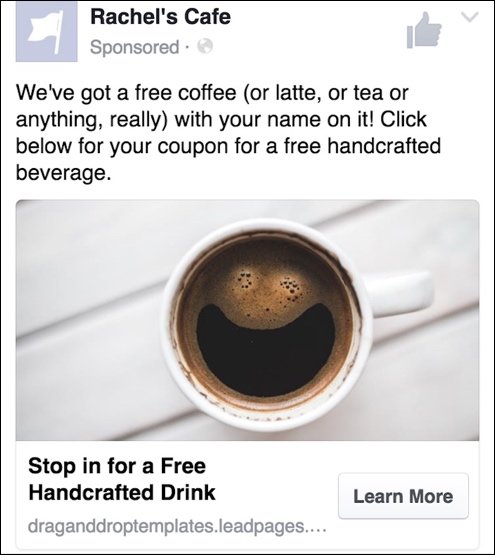 Those who click on the ad would be taken to a landing page where I'd give visitors a coupon for a free coffee in exchange for their email address.
You might note that this coupon is giving away something a little more expensive than the earlier coupons I've mentioned. I am willing to spend a bit more here because I'm looking to acquire new customers rather than engage with my base. However, feel free to adjust this offer to whatever is reasonable for your business model—a BOGO (buy one get one) or a free small add-on with purchase might be more practical for you.
Here's the landing page I'd link to my Facebook ad: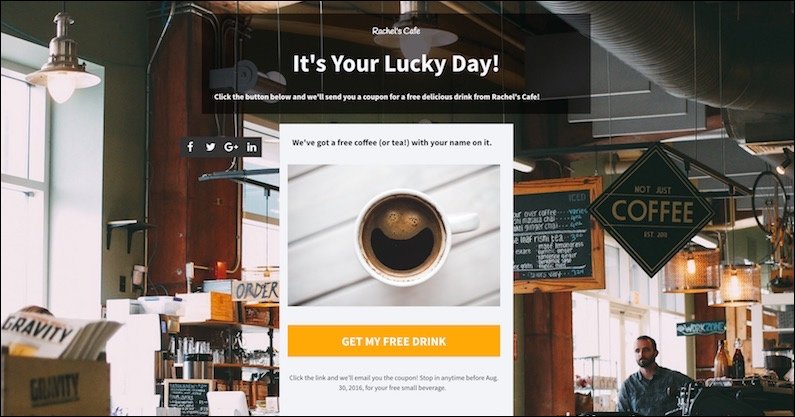 Step 4: Encourage repeat customers
Key Tool: Belly
So far, my marketing plan has been all about building an email list of both new and prospective customers in order to get them in the cafe doors. While a robust email list can be a business's most valuable marketing asset, the truth is Rachel's Cafe would still face intense competition.
With over 55,000 coffee shops and counting in the U.S., you're going to have to work for loyalty. While some people may swear by one particular coffee shop, most are willing to jump ship given the smallest motivator—be it a better price, selection, or just convenience.
The good news is: coffee shop owners have plenty of options when it comes to developing a loyalty program.
Sure, you could go the old-fashioned punch card route, which has merits (it's tangible, and people love working toward that free cup) and limitations (where did I put that dang punch card? What is this, 1995?).
I recommend taking a cue from the industry leader, Starbucks, which dropped the paper punch cards in favor of a digital customer loyalty program—which is working extremely well. Starbucks Rewards allows users to load funds onto a mobile loyalty card, which they then use to purchase products. Users receive a freebie once they hit a certain spend level through the app.
Small businesses can model their loyalty programs in a similar manner, without having to invest in a customized mobile app.
At Rachel's, I would install a system like Belly. This is a customer rewards app that you can keep loaded and ready-to-go on an iPad near your registers. Using Belly on the iPad, customers can sign up for your loyalty program and check in each time they visit to earn points redeemable for their favorite rewards.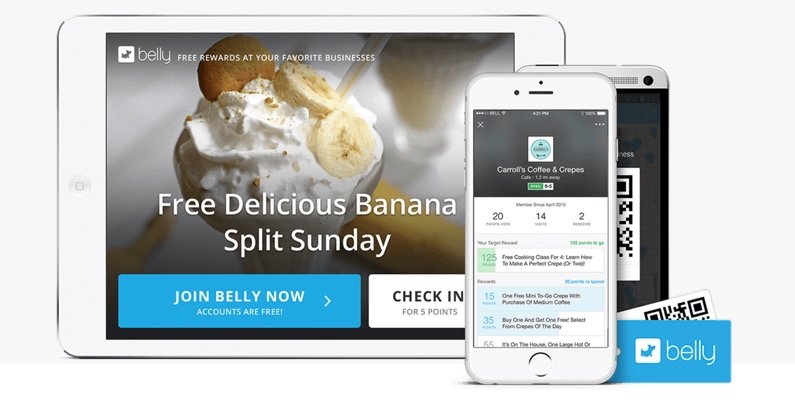 Belly is great for a business like Rachel's Cafe because it allows a shop owner to:
Create custom rewards: Customize your coffee shop's loyalty program by setting unique rewards at different thresholds.
Track customer activity: Collect data to learn more about your customer base and what rewards are working best to drive customers in again and again.
Spread word of mouth: Belly integrates with Facebook, Twitter, and Yelp, making it easy for your customers to share their experiences.
Belly also offers you a way to find new customers. You can offer free rewards to customers within the Belly Network who haven't visited your coffee shop yet to incentivize them to come in.
Well, now you've got a way to engage your current customers, get new customers, and turn people from both of these camps into the best kind of customer: a repeat customer.
Simple enough? While my coffee shop marketing plan might seem a little complex at first, if you engage with and continue to expand your customer base—as well as give customers a reason to come back again and again—you're in an excellent position to carve out a space for yourself in a crowded industry.
Did this campaign spark any other ideas about how you'd market your dream business?
Tell us in the comments!