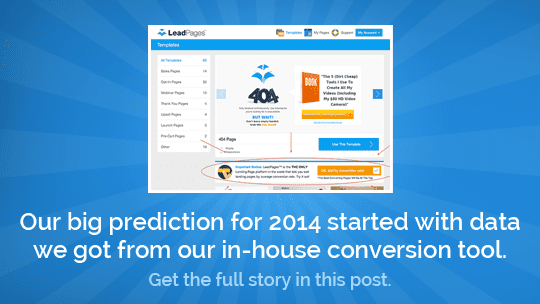 By Kat Von Rohr, Writer for LeadPages
I don't get to do this very often.
But today, I get to give you a glimpse at the major event happening behind closed doors at LeadPages.
What our talented development team here at LeadPages have been working on for weeks. What our amazing support staff keeps asking about on every call. What our CEO, Clay literally can't stop talking about during meetings.
The BIG prediction and announcement that will change LeadPages.
We're officially making this announcement tomorrow. If you're a customer, that means you can try out this new innovation in less than 24 hours.
But for now, I'll give you a hint: It's something that most of our customers will be using for lead generation in 2014. In fact, Clay predicts that by this time next year — this new landing page alternative will be just as popular as our landing pages.
(If you're wondering — YES, LeadPages only makes landing pages for the moment. So this new development is poised to surpass what we're already doing.)
Here's the story of how this all came about…
The Insider Intel that Sparked an Epiphany
As I mentioned, our development team has been working on this ground-breaking new technology for weeks now. But this all started with an idea we got from both customer feedback – and our own data. Let me explain…
As you probably know, LeadPages gives you the ability to sort through all our templates by conversion. That means that you can see what our best, highest-converting landing pages are in LeadPages at any given moment.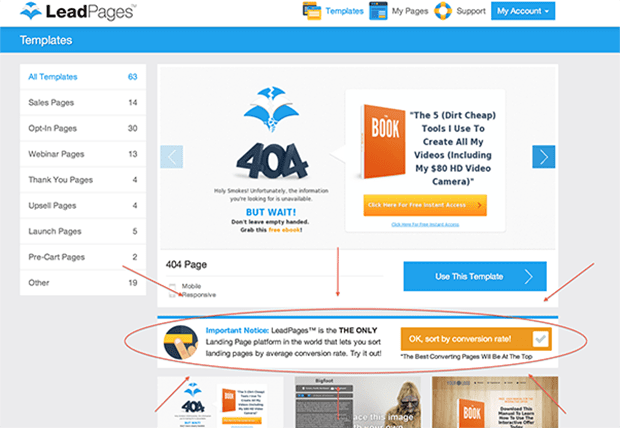 What you may not know is right now if you sorted through all our templates inside LeadPages, you would discover that most of the top-performing, highest-converting landing pages have one thing in common…
They all feature a two-step opt-in process.
On a two-step opt-in page, your prospects must click on a call to action button on your page before they even see the opt-in form that allows them to opt-in to your list.
That means that your prospects have to make a conscious choice to join your list, by both clicking a button and then filling out the opt-in form. It's a bit counterintuitive, but we have found that asking your prospects to take this extra step actually increases conversions — across multiple industries.
(Quick tip for your own landing pages: If you haven't tried it yet, I recommend doing a split test with a two-step opt-in page vs. a one-step opt-in page. That way you can see if your audience also responds to this type of page.)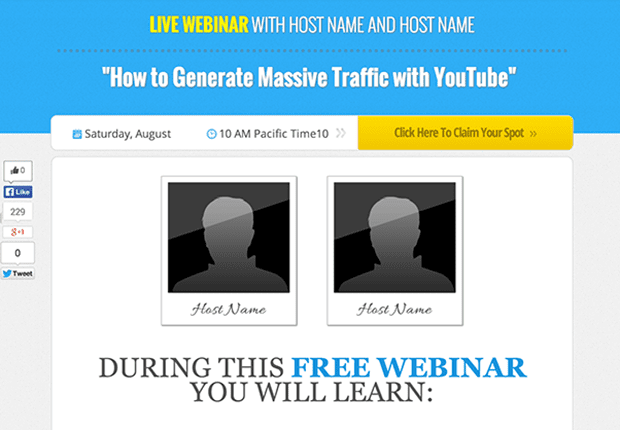 Right now, eight of the top 10 highest-performing landing pages inside LeadPages all feature a two-step opt-in process like this.
This isn't just a LeadPages phenomenon. Many of our contacts in the industry have seen stellar results with two-step opt-in processes recently.
Knowing that, this insider data sparked an epiphany. It inspired our development team to build this major tool that will change LeadPages.
In fact, it has the potential to change how you do lead generation in the future.
Now, after months of work, we're ready to release this new development to the world. We're officially making the announcement tomorrow. Stop by tomorrow for a full video tutorial with all the details.
In the meantime — do you have any guesses about what this major announcement and development might be? If so, I'd love to hear your thoughts in the comments.