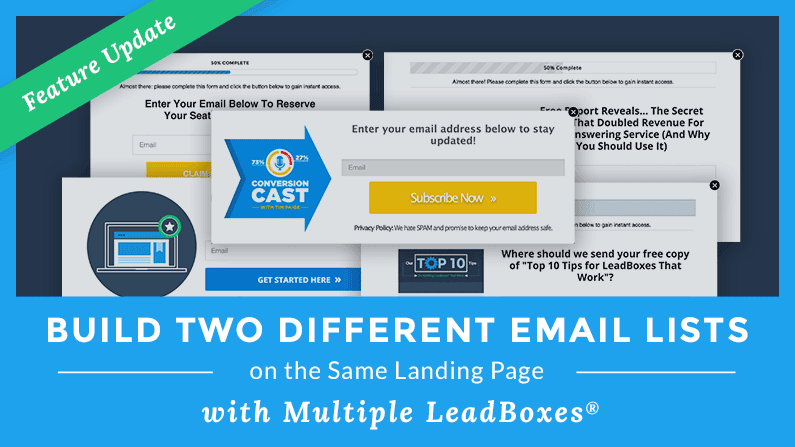 Transcript: You asked for this. Now it's here. We're thrilled to announce the latest update of one of our most popular LeadPages® features of all time: LeadBoxes®.
I'll show you exactly what this much-requested LeadBoxes® update is in just a second. First, let me show you what LeadBoxes can do for you and your business.

Not many people realize this, but every one of our 40,000 LeadPages members—no matter what level membership they have—gets UNLIMITED LeadBoxes® that they can post on an unlimited number of domains.
As a LeadPages® member, you can use these unlimited LeadBoxes® to grow your email list from any button, image, or link on your website. That means you can generate leads from practically anywhere, including your blog, podcast download, homepage, sidebar banners and everywhere else you can post a link.
So why do LeadBoxes like the ones we just looked at work so well? There are a few reasons.
First, by having the opt-in form right on the page when a visitor arrives, you immediately put visitors on the defensive, like they have to protect their email address from being taken. When they don't immediately see the form, they are more open to looking at the content on the page, seeing its value, then choosing to opt in for more.
Next, by making visitors take several actions to opt in, you're creating behavioral inertia.
Salespeople have been using this technique for years. They get their prospects to agree to several little things throughout their sales pitch, so when they ask them to buy it's not a stretch to go just a little further and say yes.
So for this LeadBox®, you've read the content and liked it. You've clicked on the button, and now it's only a little bit further to complete the process. Every step moves the person forward.
Finally, a LeadBox® can force visitors to make a decision about whether or not they want to opt in. When the form is right on the page, no decision has to be made. The visitor can just scroll right by.
But when it pops up here, it forces the question: do you want to opt in or not? When you can get people to make a decision, even if it's not to opt in, your results will always be better than when no decision has to be made.
Now that you know why LeadBoxes® work so well, we want to up the ante even more. We are super excited to announce the launch of multiple LeadBoxes®.
This brand new feature allows you to put several LeadBoxes® on a single landing page. That means you can let visitors register for different events, join different email lists, or opt in for different lead magnets, all on the same page.
For example, at the top of your page you could have a LeadBox® that integrates with a MailChimp list, and gives away a PDF as the lead magnet. AND further down the page, you could have a LeadBox® that integrates with an AWeber list, and gives away an MP3 as the lead magnet.
On one page here you could have visitors register for two different webinars, or on another page, each opt-in form could add visitors to a different email list based on their specific interests.
Setting up multiple LeadBoxes® on a page is incredibly simple. For your first LeadBox™, just click on the opt-in button to choose which email service provider to integrate the LeadBox™ with and which list to add people to.
Then, to set up another LeadBox™ on this same page, just click the gear icon, select "link options," and click "advanced settings." Here you can create another opt-in form and edit it however you like.
Once customized, the form is available to use anywhere on the page. You can name all your different forms to stay organized and use them elsewhere on the page as well.
Again, unlimited LeadBoxes® come with every LeadPages® plan. You can click below to get started with LeadPages. If you're unsure of what plan to go with, we recommend the Pro Annual membership as it comes with the majority of features inside LeadPages®, including unlimited LeadBoxes®, unlimited landing pages, unlimited split testing, and even split testing of LeadBoxes®. Click below to get started now:

Where will you use multiple LeadBoxes®? Tell us in the comments!