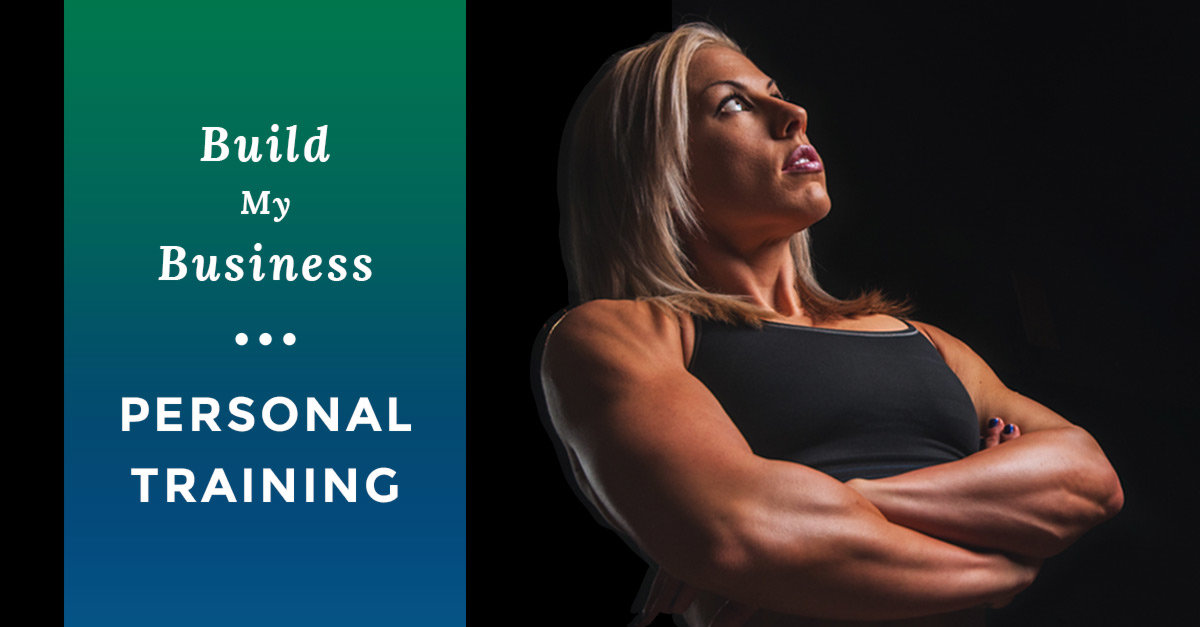 Warning: If you're a personal trainer, you may find what I'm about to show you kind of brutal.
This is the current state of online advertising for personal trainers: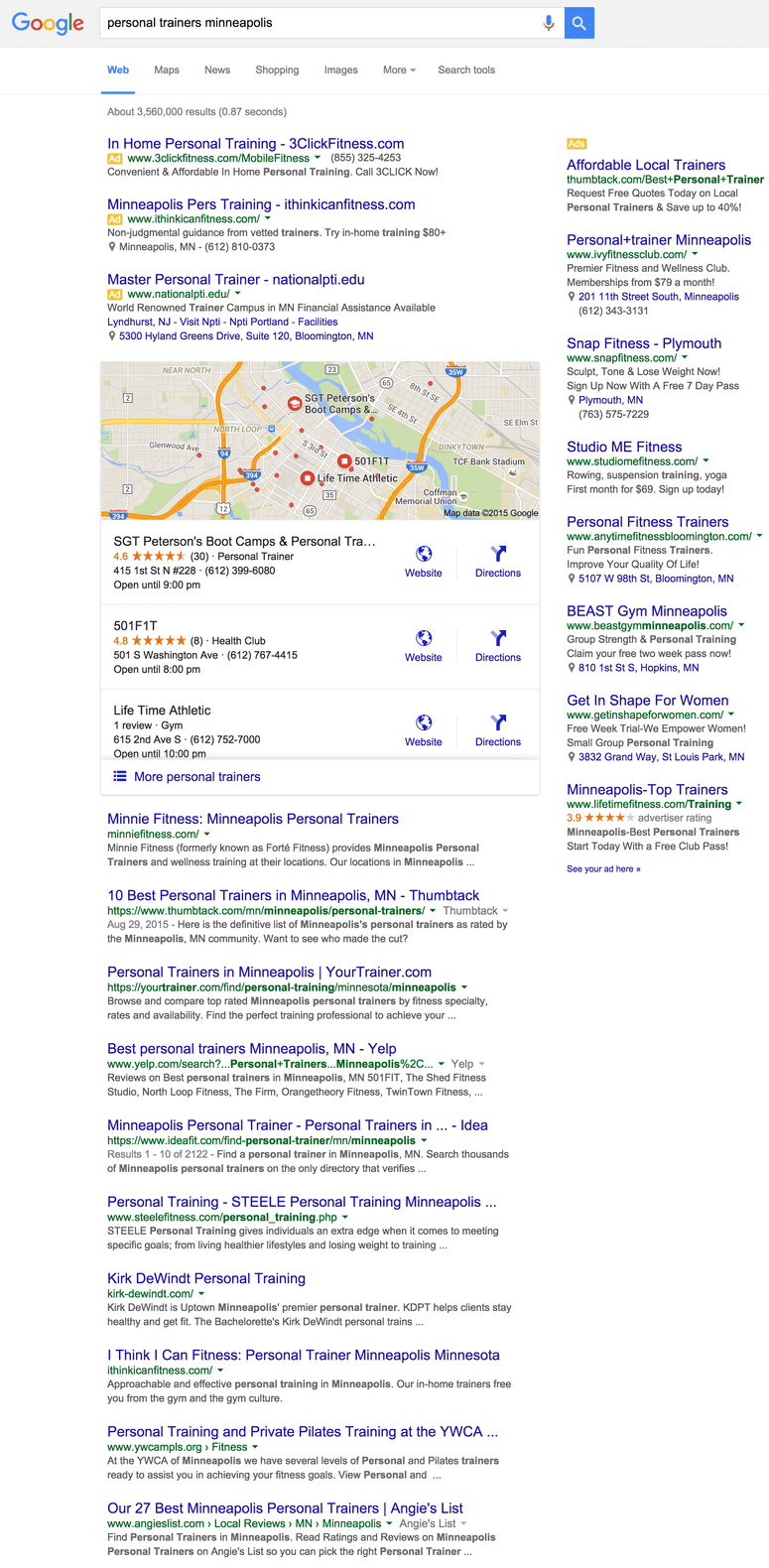 The entire first fold is taken up by paid media, and the organic search results (when you finally see them) are lists upon lists of trainers and their websites. Chances are, if you're not paying, then you're not getting on the first page.
Oh, and by the way: if you want to dip your toes in the paid media waters, check out how much you'd spend per click: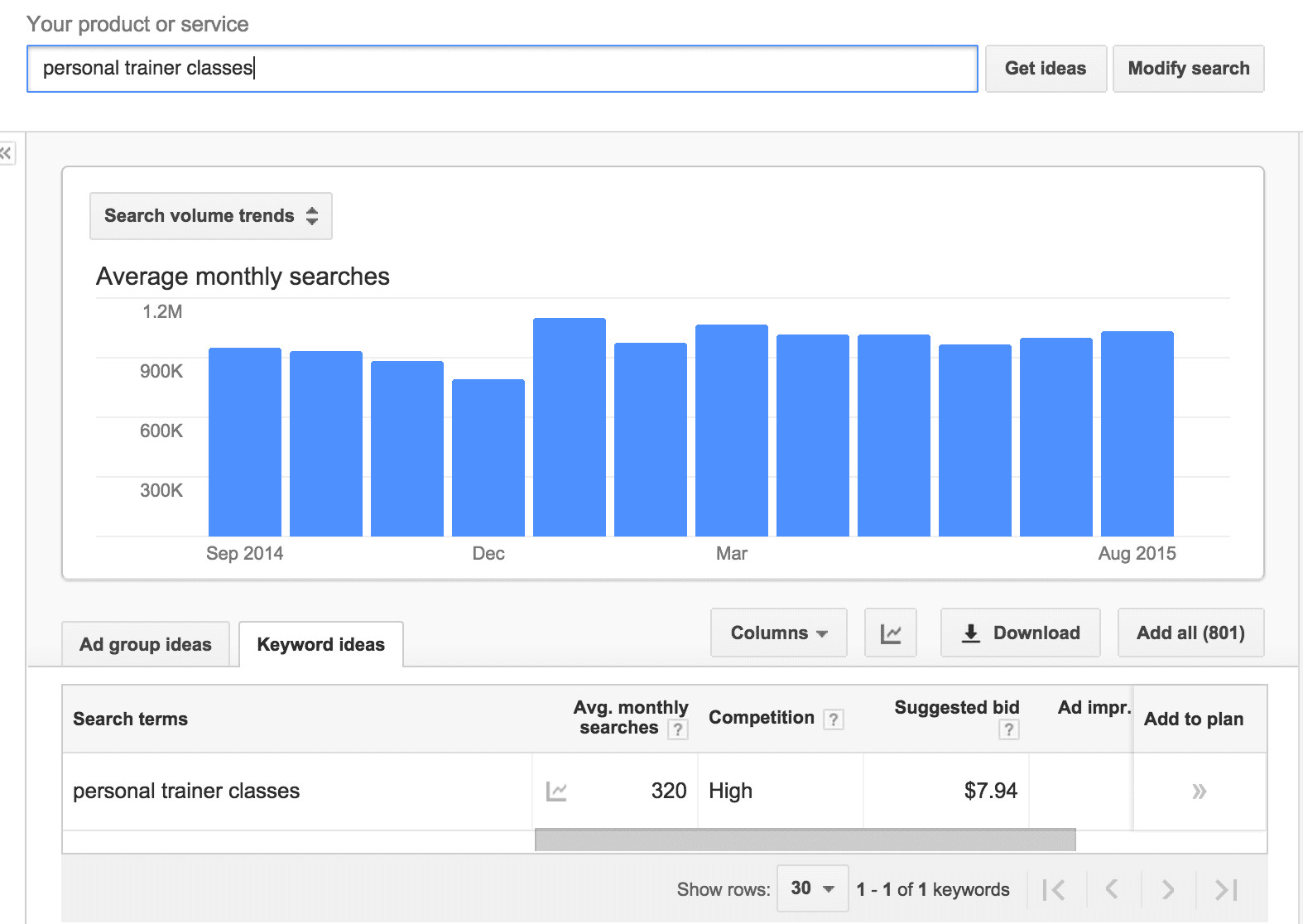 That's a lot of cash per click.
I only bring this up because my cousin, a personal trainer, asked me what he could do to get more clients. Almost reflexively, I said, "No problem—just build a website, throw some paid media at it and you'll be light years ahead of other trainers."
But I stopped short because, as you've seen, that's just not the case anymore.
Don't get me wrong—you do need a website if you want to keep up (and if you don't have one yet, I suggest this gorgeous template). It's just that personal trainers are building websites, and they are using paid media. That avenue is so saturated that it's tough to break through and consistently get leads.
So where can you win? Content.
In this Build My Business post, I'm going to show you how I'd create a killer personal trainer campaign that relies on free content and smart follow-up tactics to bring in leads who are enthusiastic about your services before you even sell them.
In the words of Arnold Schwarzenegger, I'm going to pump you up!
The Campaign
Here's a macro-level look at the personal trainer campaign I'll cover in this post: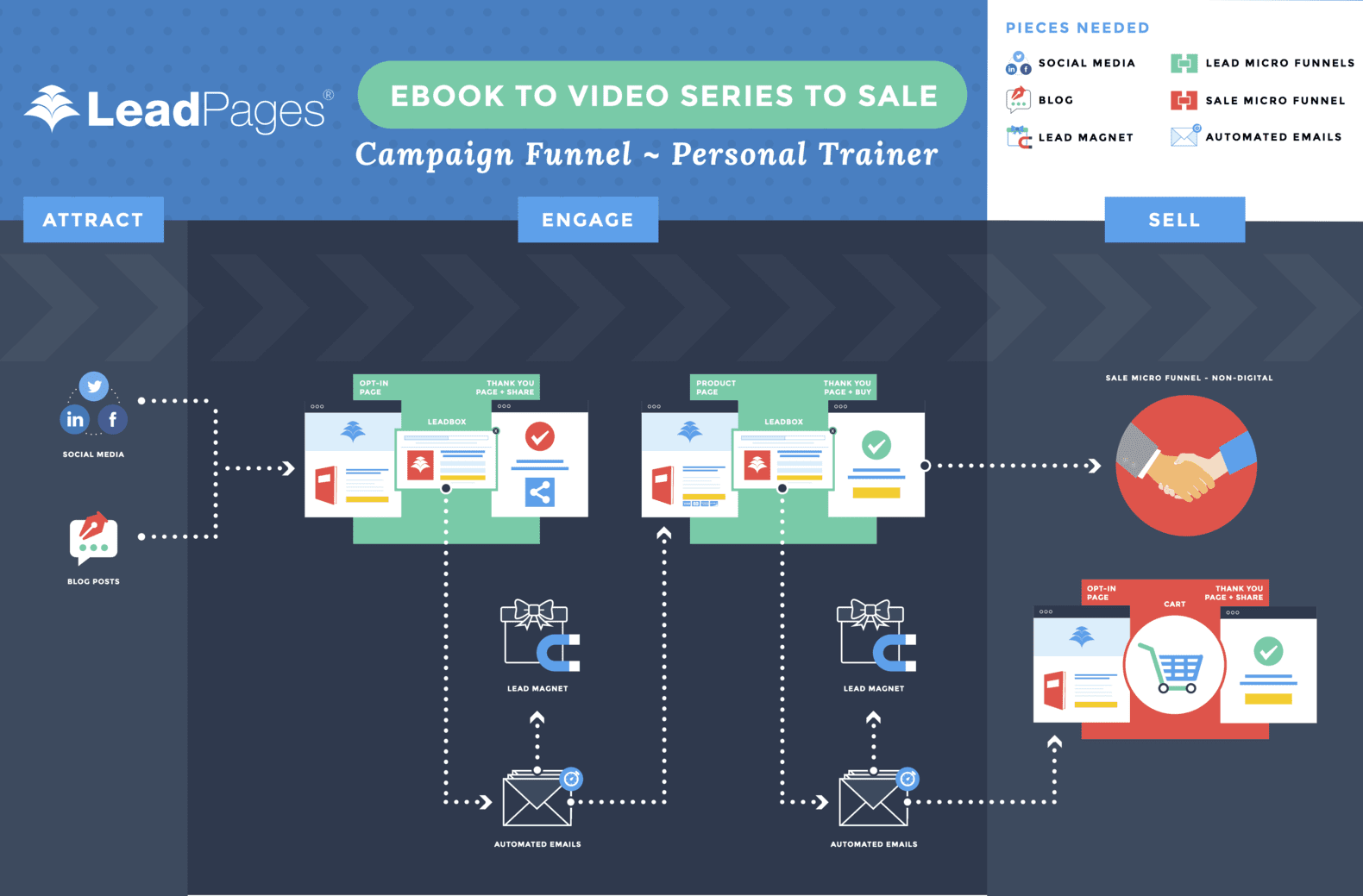 If you want to get an in-depth understanding behind the parts in this campaign, you can read all about our approach to building campaign funnels here. I'll also break down each part in the sections below.
But before we go any further: I've created a worksheet that you really should download while you're reading this. It walks you through how to construct all the key pieces of the funnel as you go through the post. It's tremendously helpful, so click the button below to get it before you continue reading:

Here's what I'm going to do in this campaign:
Attract: I'll use Facebook posts, tweets, and a blog post to attract people into my funnel.
Engage: I'll create an e-book and a short video series to create engagement and prove my credibility as a trainer.
Sell: I'll seal the deal with a two-pronged effort: a coupon to give people an easy entry point into my services, and a non-digital solution we'll talk about later.
The entire campaign I've built forms one overarching campaign funnel, but each of these steps forms what we call a Micro Funnel. Let's dive into each of those stages,
Attract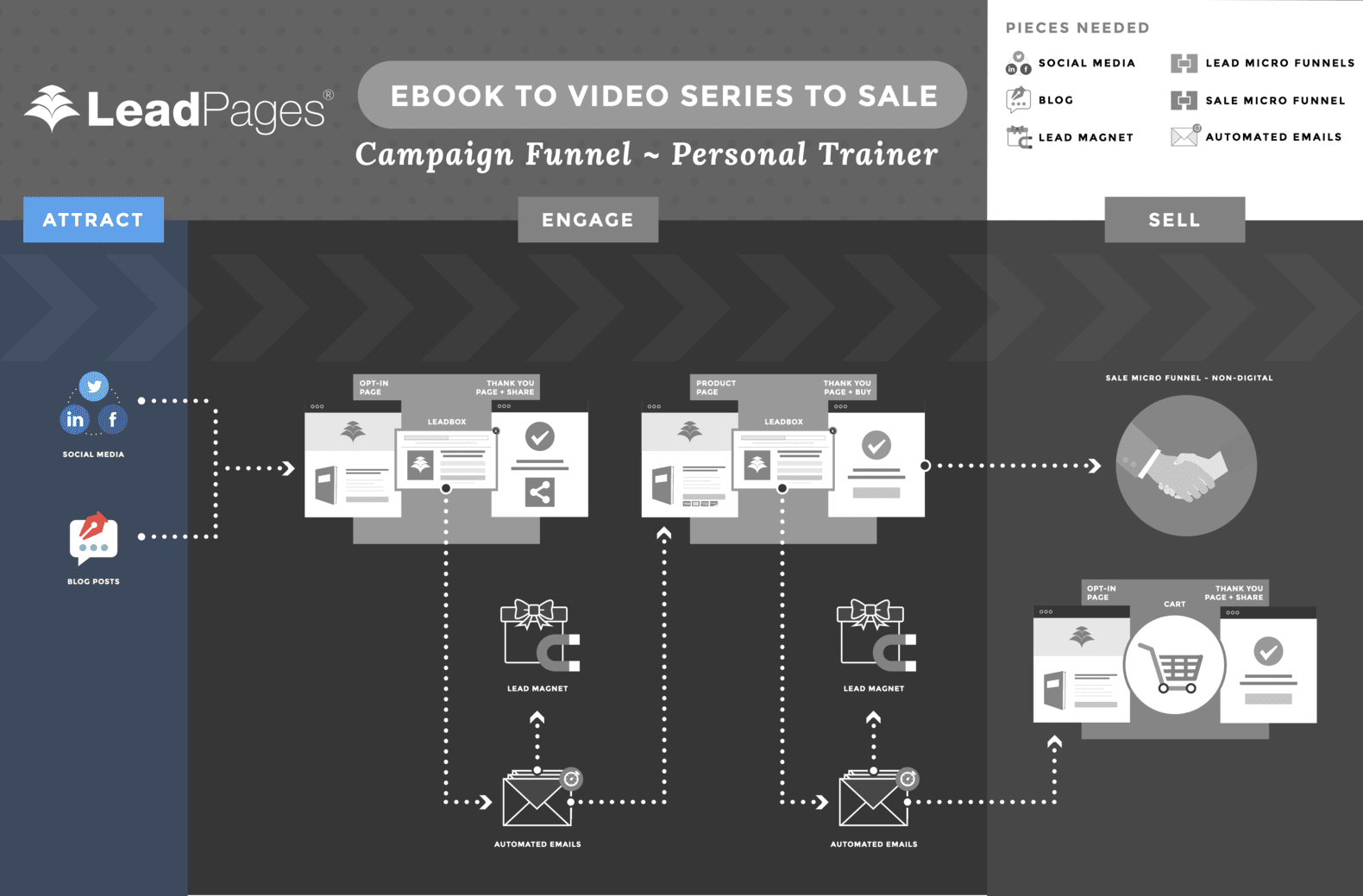 Everything in this section centers around bringing in prospective customers into my first Micro Funnel through downloading an e-book.
In any content-marketing campaign, you need to create something that adds value to your target audience's life (our worksheet shows you how to do this). So to kick off my funnel, I created an e-book called Winning Before The Workout: The Complete Science Behind Pre-Workout Preparation. It focuses on everything you need to do before you start your workout, and how the preparation you do can help maximize your gains.
My first priority in my campaign is driving traffic to this resource. I'll attract visitors to this e-book through three traffic sources: Facebook posts, tweets, and blog posts.
Facebook Posts
This is rather straightforward. I'd use my personal Facebook page and my business page to promote my e-book.
The key to getting mileage from a Facebook post to your existing audience is: you need to make it highly shareable. That's why my go-to post for this e-book would look like this: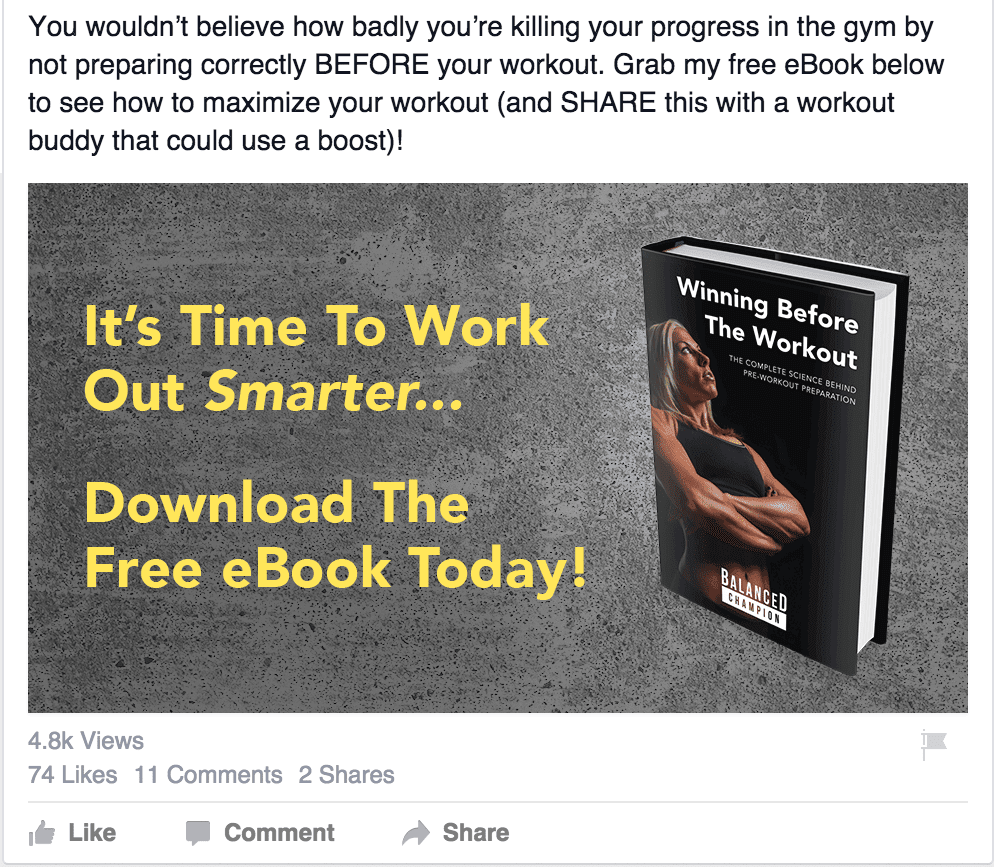 In this post, I demonstrate the value of the e-book while also prompting my audience to share it with their friends. In all of my posts, this formula will help get maximum free exposure.
Twitter Posts
My Facebook strategy carries over into Twitter. The main thing I'd focus on here is using the search function to target people in my area (using the "Near Me" filter) who've been tweeting about pre-workout routines. Once I found those people, I'd message each one with a link to my e-book: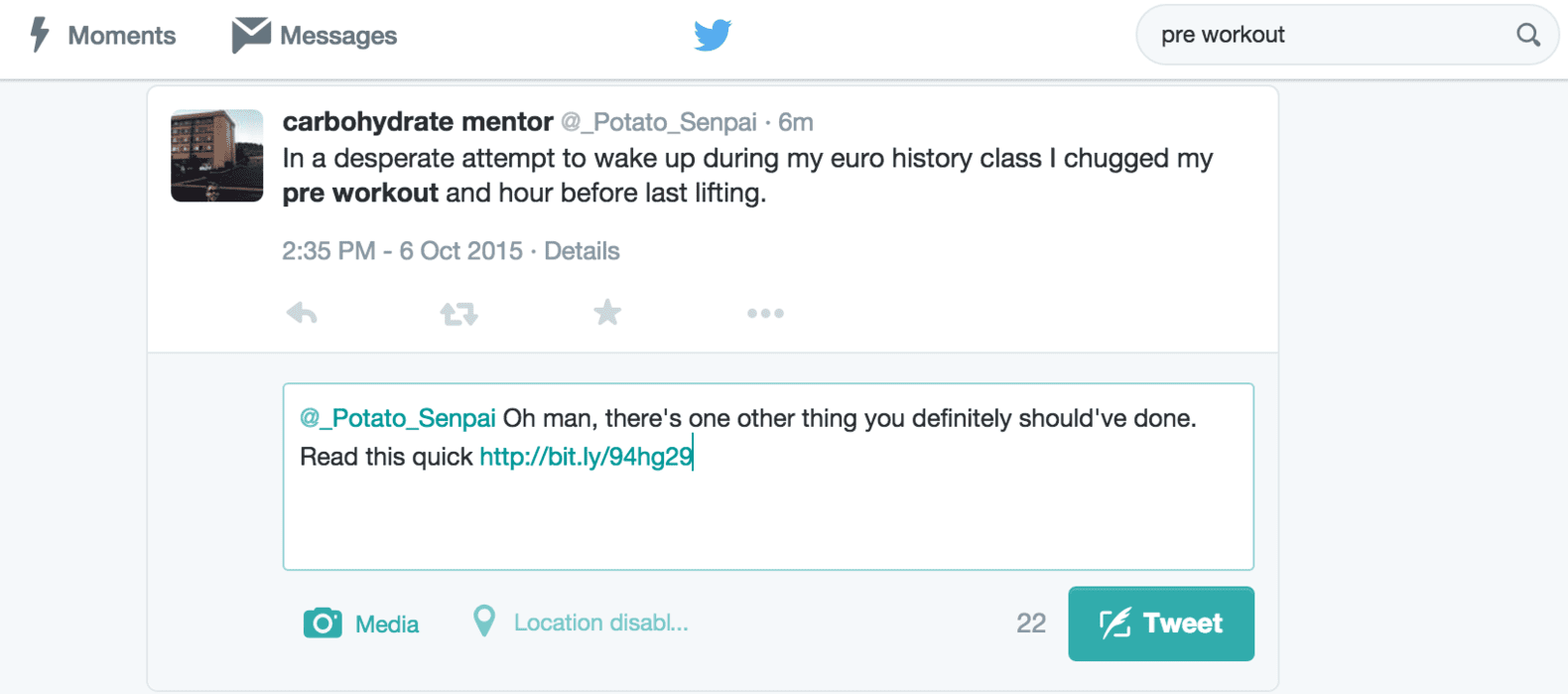 Now I'm reaching people outside my audience actively, rather than waiting for someone in my network to share my e-book for me.
Blog Posts
This is another way to expand my audience. To get new leads, I'd create a guest post for a health blog, rather than posting on my own site. The post would consist of most of one chapter of the e-book, and I'd tease that there's more if readers opt in for the entire free download. I'd include a link within the blog post that brings readers to the e-book landing page.
Engage
This is the meat of any successful marketing campaign. I've piqued the interest of a wide audience, so now I've got to transform them from slightly interested visitors to completely enthusiastic fans.
How? With content.
E-Book Landing Page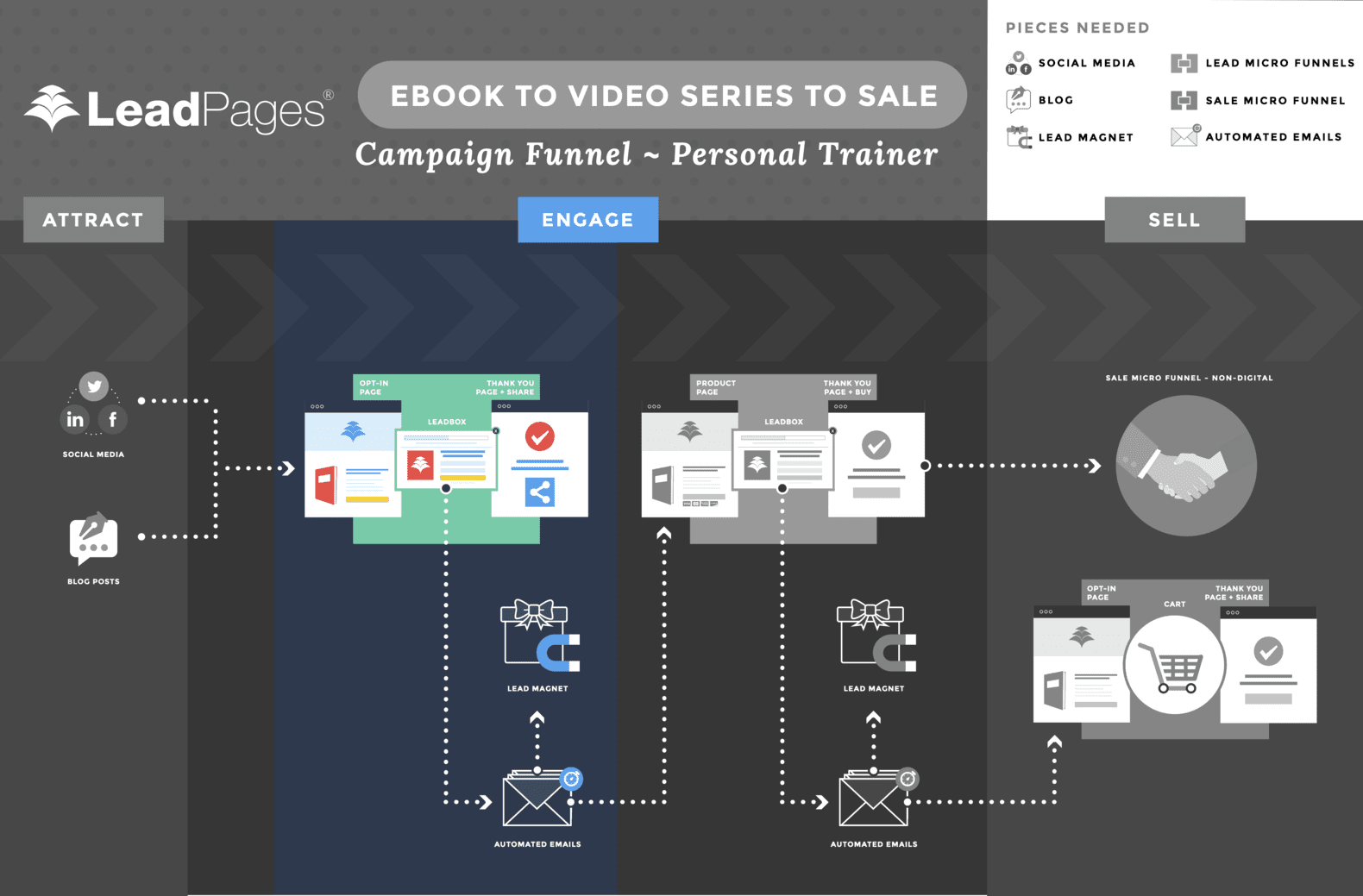 This is the most crucial part of my entire campaign, because all the traffic I've garnered winds up at this landing page. The good news: if people are on this landing page, it means they most likely want the e-book. All I have to do is affirm the promises I made in my traffic sources.
Here's the landing page where people can download the e-book: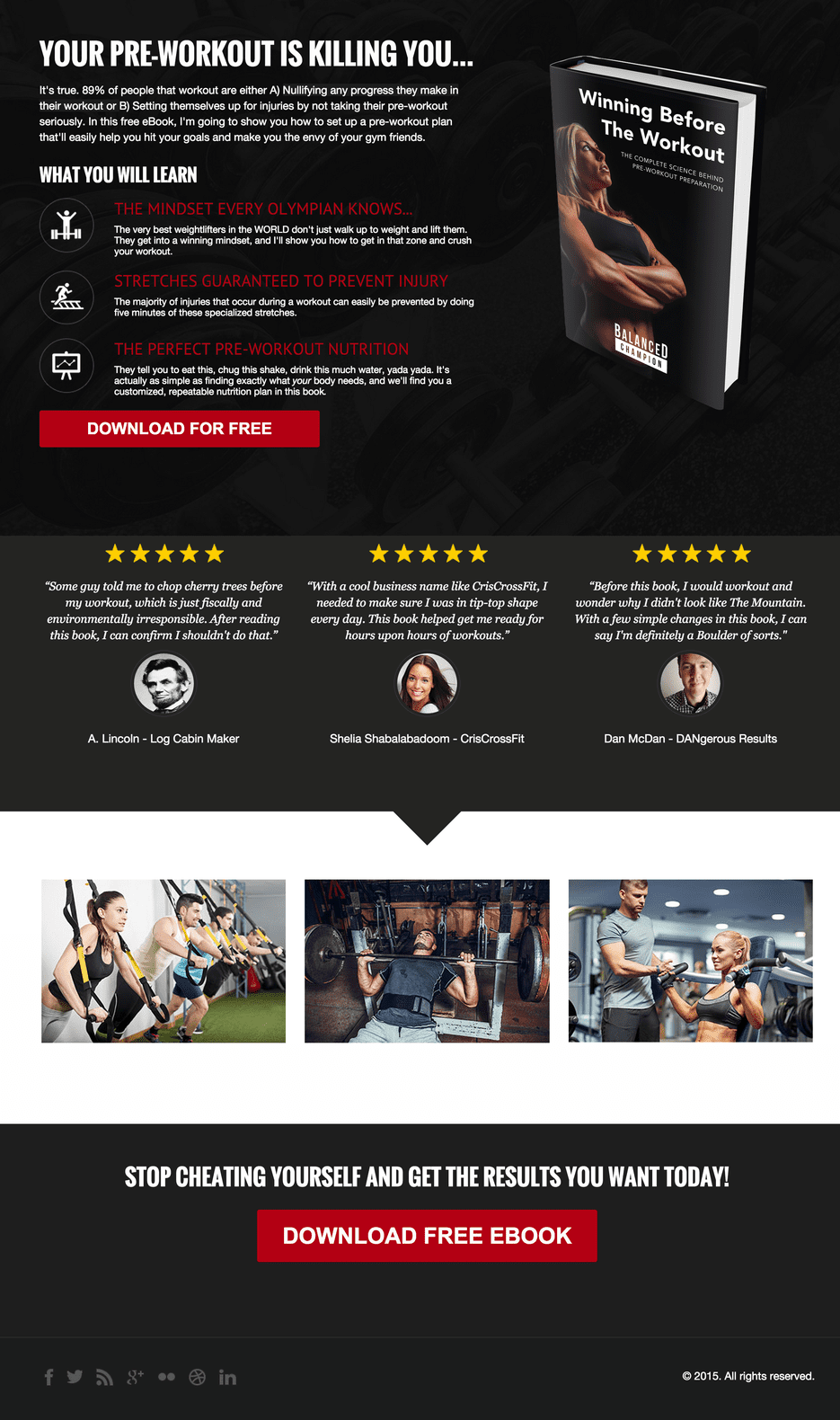 It's worth noting that this template, along with the rest I'll mention in the post, is part of an 11-template series created by Travis Moore and available in the LeadPages Marketplace. You see everything you want in the first fold: an image of the e-book, a catchy introductory blurb, three beautiful bullet points and a standout call-to-action button.
I included a few testimonials below this first fold (as well as a bit more about my business) to build more credibility and provide some social proof. Once the visitor clicks the "Download" button and fills out the LeadBox™, two things happen. They get an email that delivers the e-book, and they're taken to another crucial page in this Micro Funnel.
E-Book Thank You and Share Page
This campaign is predicated on reaching audiences that I wasn't previously connected with. The thank you page people see after they've downloaded the e-book is a powerful way to reach new audiences because of one simple thing…
It asks them to share: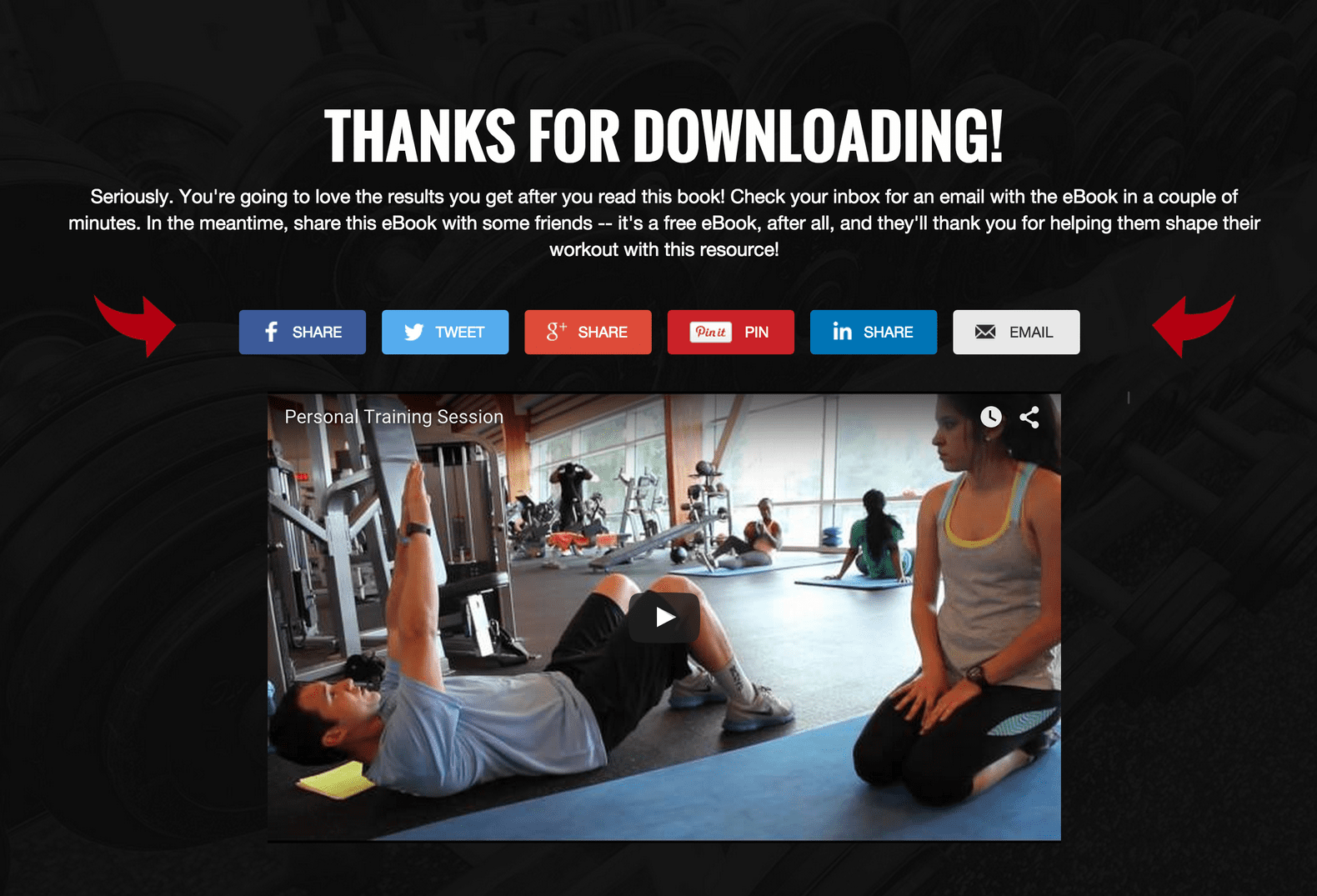 The design directs people straight to the share buttons embedded in the template. If I can get people to share the e-book with their friends, then I'm extending my reach tenfold.
The video below the share buttons isn't strictly necessary, but I included it as a second way to thank people and ask them to share the page—reinforcing the messaging above the video and increasing the likelihood of a share.
Video Series and Follow Up Email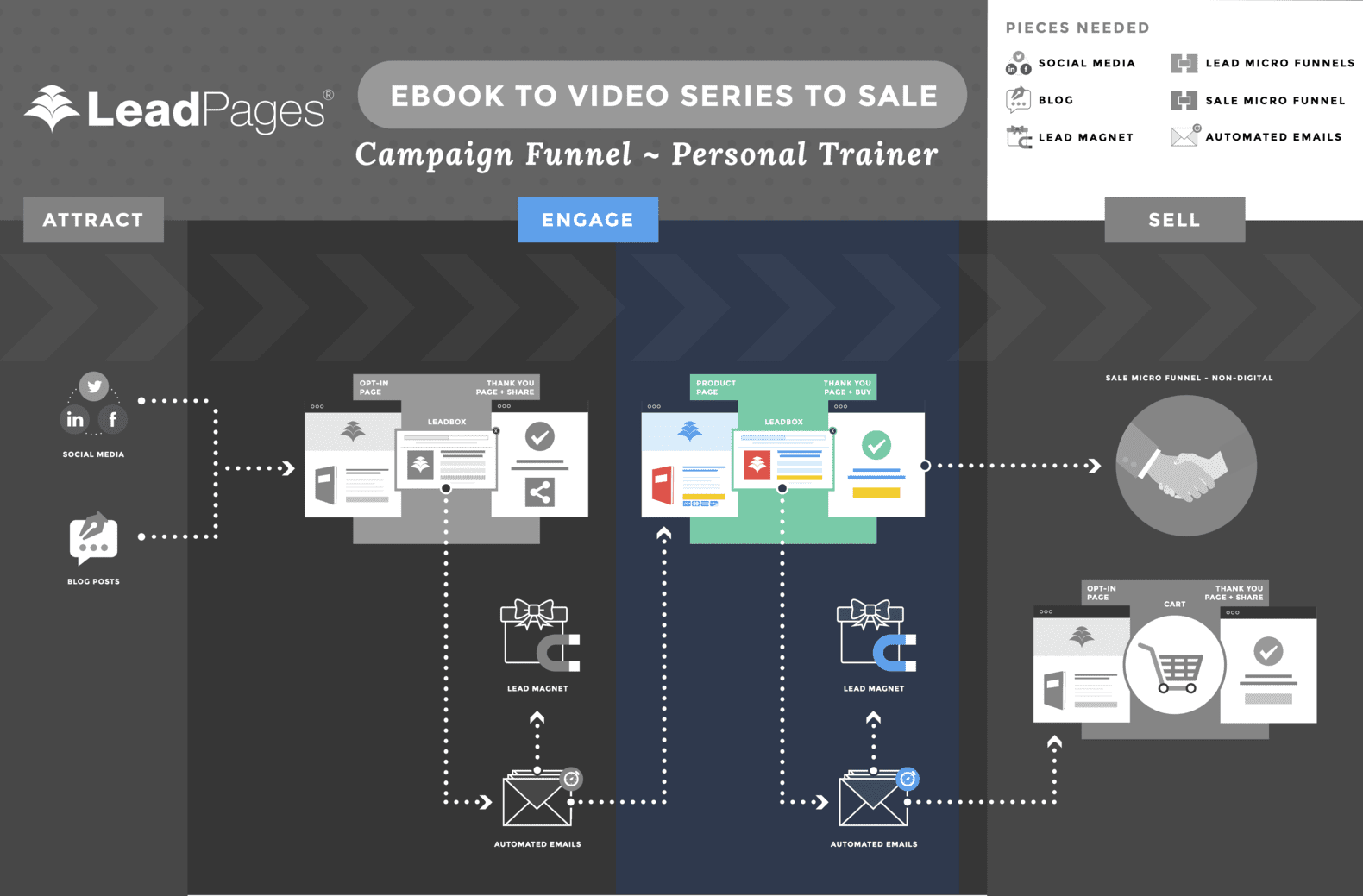 I've given away an e-book, and people love it. I'm sitting on a bunch of new contacts in my email list.
Some of those contacts might be ready to pay for my services right now, but many probably won't be. (Personally, I wouldn't be, either.) One e-book does not an empire make. So, to reinforce the relationship with my new leads, I'd create another piece of valuable content and give it away for free.
This next piece of content would be a five-part video series that builds on the concepts from the e-book. In each one-minute video, I'd show people how to properly execute five stretches I mention in one chapter of the e-book (NOTE: If you need help coming up with a video series idea, I give some ideas in this worksheet).
I'd offer this video series to all my new contacts via email: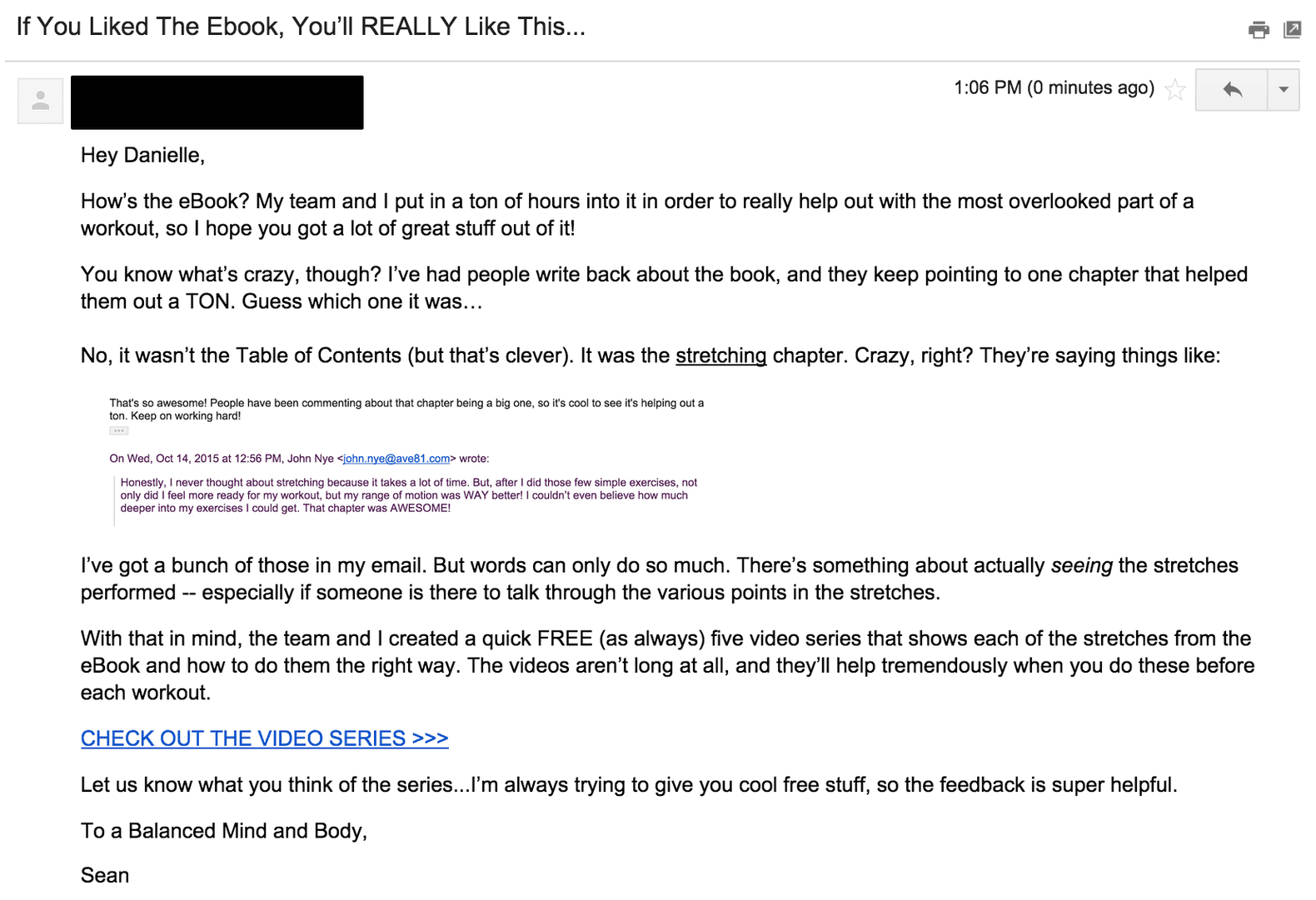 The email alludes to the value of the e-book they already have to build trust, then tells them about yet another free, relevant resource they can use. Once they click through for the resource, they're brought into my next Micro Funnel (and deeper into the overall campaign).
Video Series Landing Page
This is the landing page I'd use to give away the video series: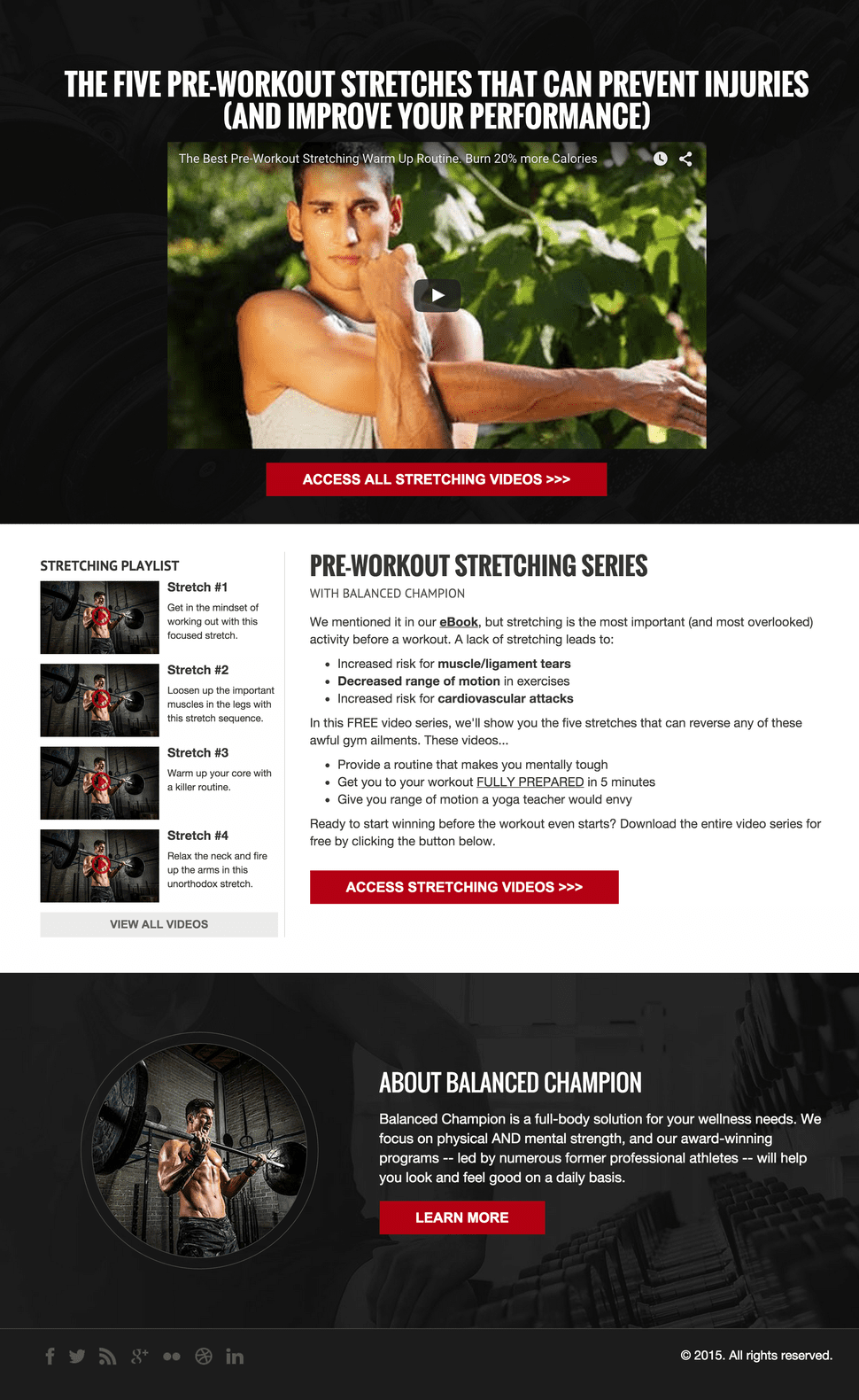 It's a beautiful page, and the video takes center stage. I'd make the first video available for people to see right away and give details about the rest of the video series below. If visitors want the other four videos (which would be greyed out on the left side), they'd need to click one of the call-to-action buttons and opt-in via a LeadBox™.
Once they've done this, two more things would happen: they'd get an email with a link to a version of this same landing page that has all the videos activated, and they'd be taken to a thank you page with an intriguing offer.
Thank You and Buy (Kind Of) Page
This is one of the most interesting pages in the campaign, and it's where I start to move closer to a hard sell. On this page, I'd offer a spot in my biweekly FREE meetup where I demonstrate how to do everything in my e-book. This thank you page would offer a free opportunity to join: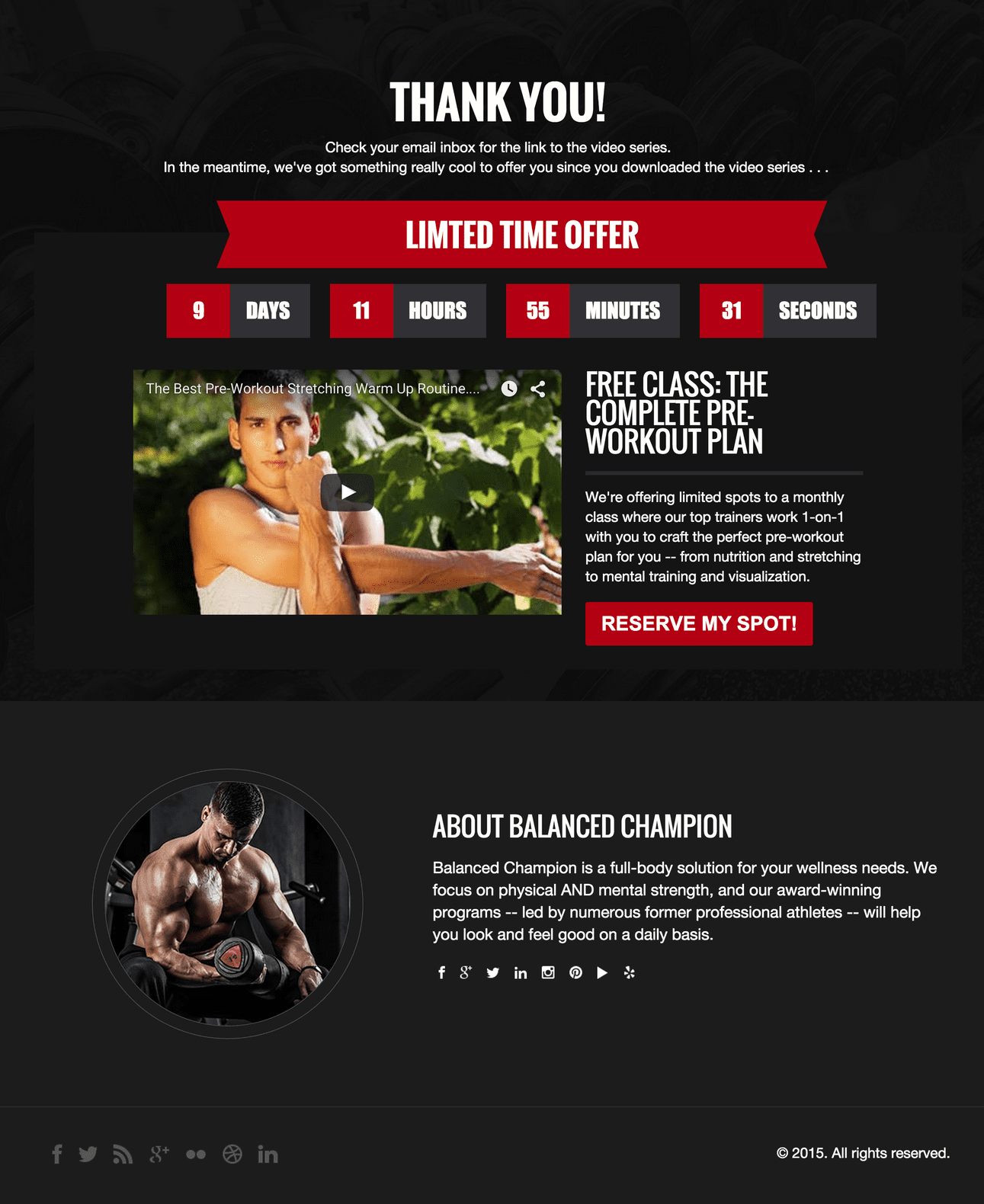 Urgency runs high on this page thanks to a countdown timer and the big "Limited Time Offer" banner. If people want to join my class, they simply reserve their spot via a LeadBox™ (which triggers an email confirming their reservation and telling them what to bring). If they don't opt in, they still get the original video series—no harm done.
Sell
Here's the beauty of this campaign: whether or not people opt in for the free class, I can still get them to buy. I'll just make the sale one of two ways:
Sales Method #1: Non-Digital Sale Via Free Class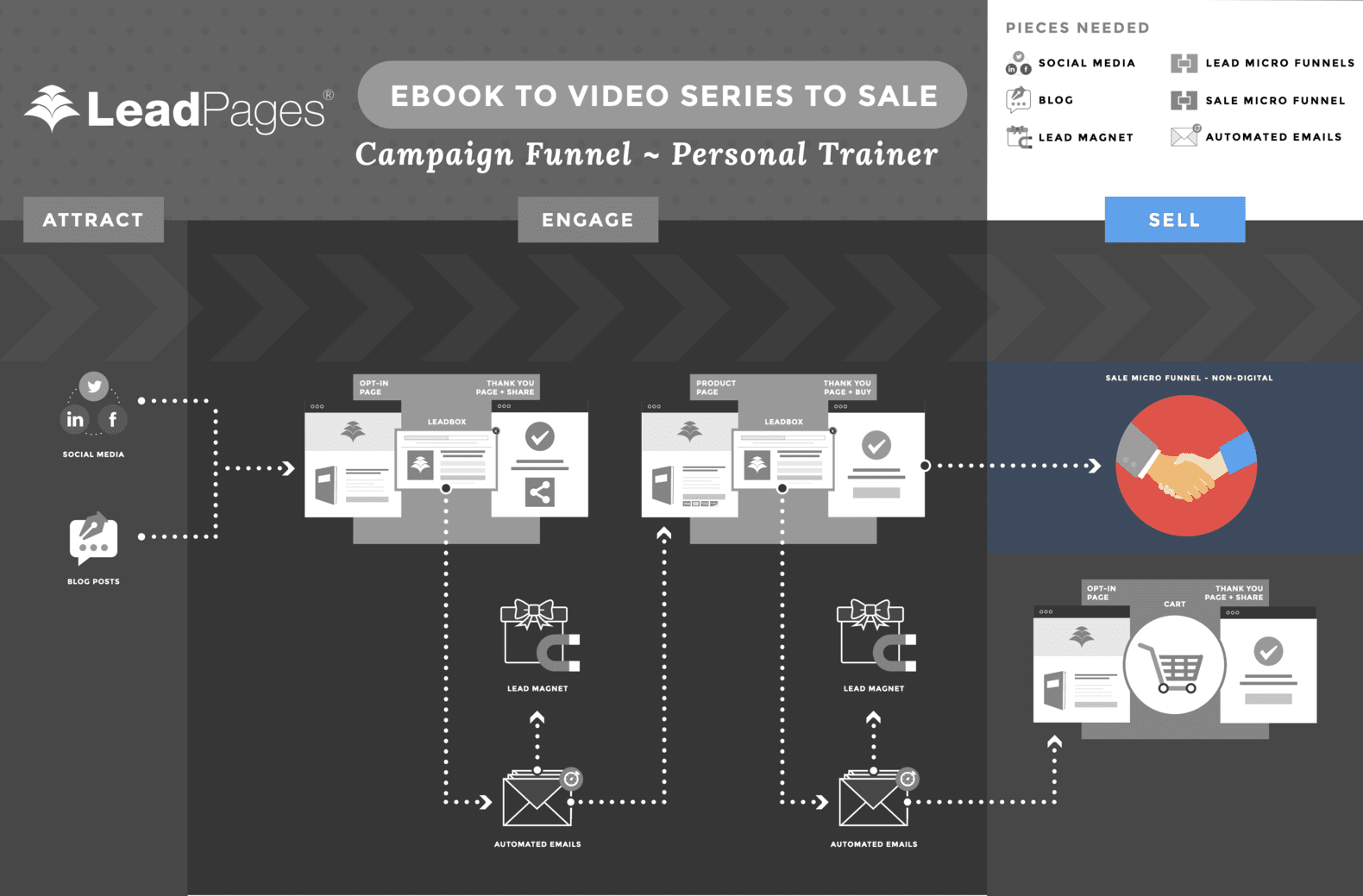 This should be the easiest of the two ways to generate a sale. If people are attending this free class, they've downloaded and read my e-book, downloaded and viewed my video series, AND they want to see what this free class offers.
They're as hot as a lead can get, so at the end of the class I'd pitch my services and ask them to sign up on the spot.
Sales Method #2: Coupon For Services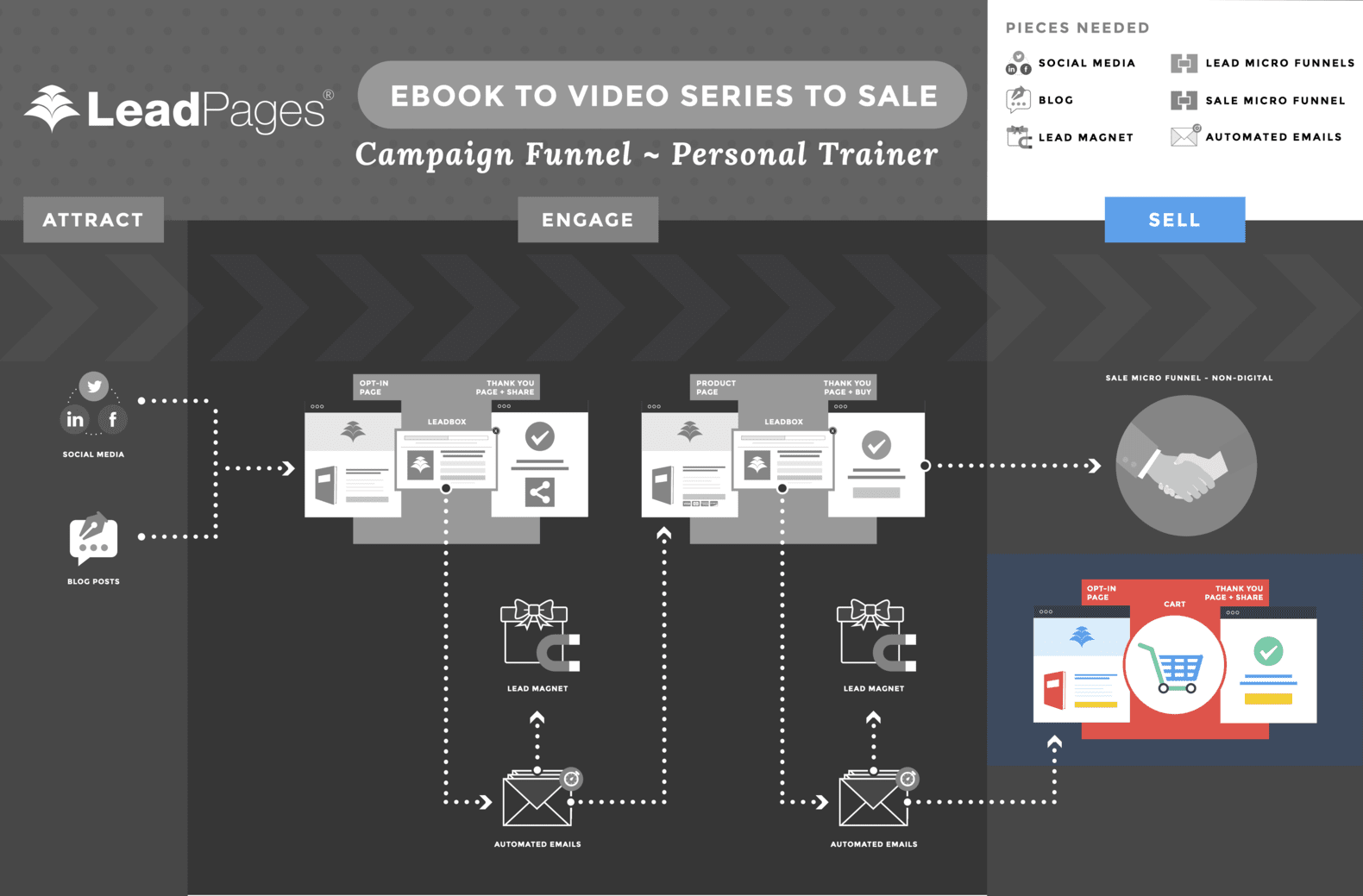 This is for the people that didn't sign up for the free class. They've seen the video series and they haven't yet received a pitch of any sort for my paid training services. Instead of pitching them a full-price plan, I'm going to offer them a nice discount for an introductory plan.
The first thing I'll do is send this group an email to notify them that they can get my fitness services for 25% off: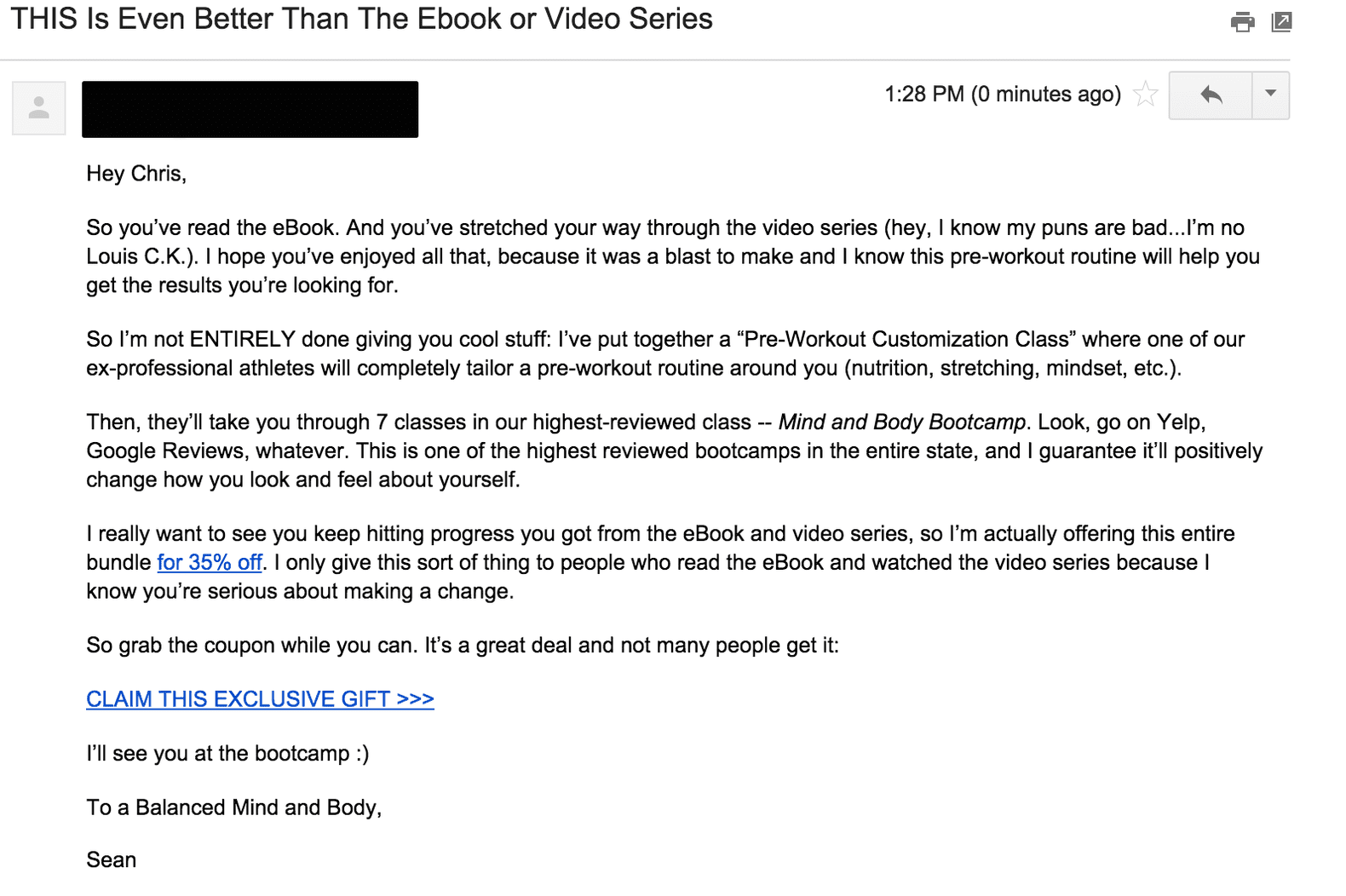 Like previous emails, I'm building on previous credibility through mentions of the e-book and video series. I frame this offer as building on the previous value I've already delivered.
Once people click through, they're brought to this landing page: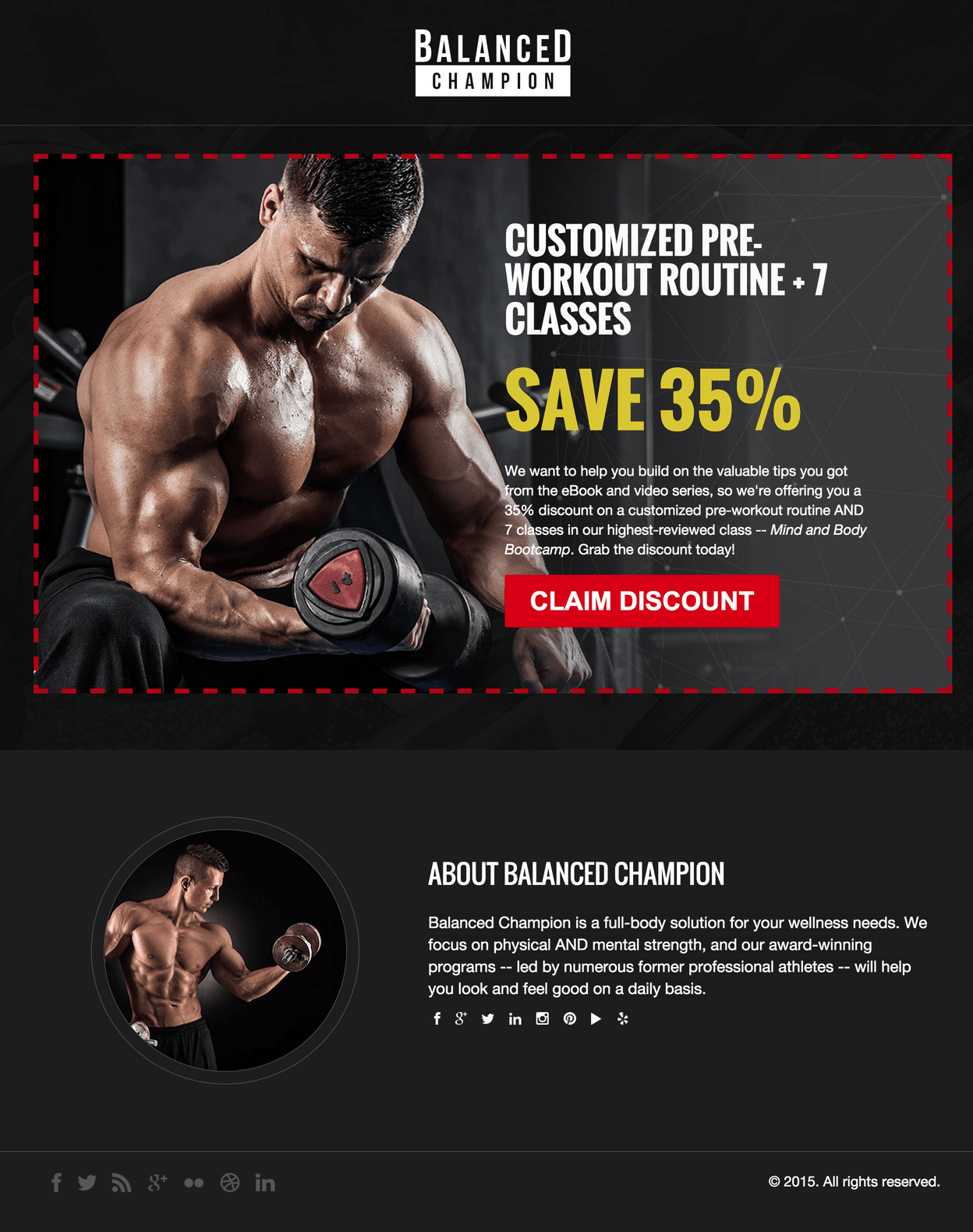 If they claim the coupon, they're brought to a checkout page with the coupon pre-applied. After they check out, they're taken to a thank you page similar to the one I used in the e-book Micro Funnel.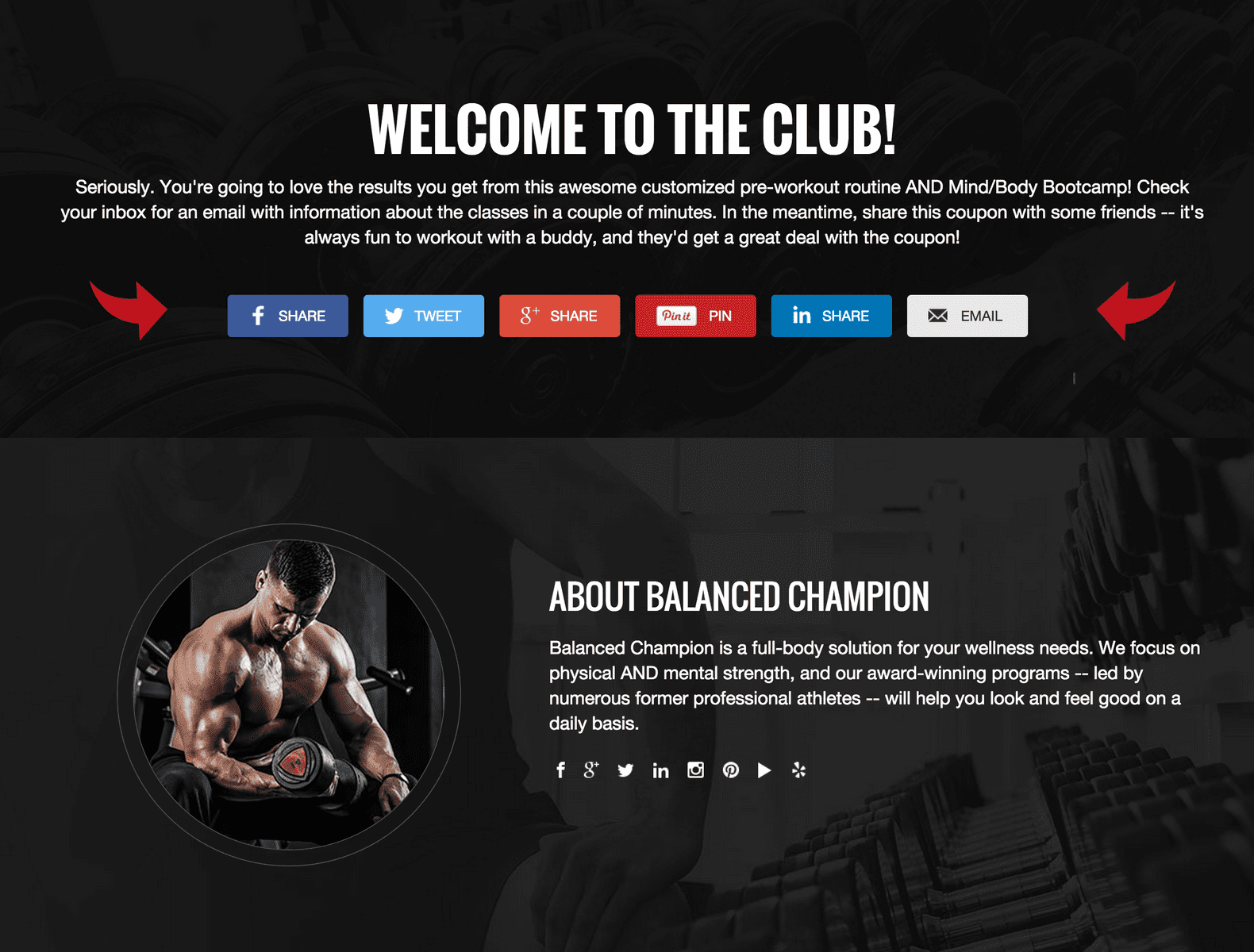 This page also prompts people to share the coupon with a friend so they can have a "fitness buddy" when they go through the classes. It's another mass-share mechanism, but this time my new prospects go directly to the Sell portion of the campaign.
Bring This Funnel To Life!
That's the entirety of my "E-Book to Video Series to Sale" campaign! With this campaign, you can continuously bring in new leads and grow your personal training business.
If some of the steps seem like they need extra explanation, don't worry—in the free worksheet, I explain all the steps behind creating the resources and landing pages in detail. You can get that worksheet by clicking the button below:

I can't wait to see how your campaign turns out! If you have any questions, leave a comment below and I'll help you out.