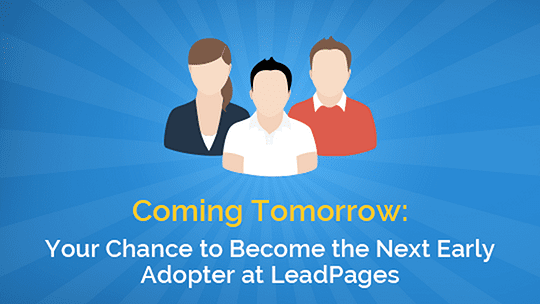 By Kat Von Rohr, Blog Editor for LeadPages
In December of 2012, we pre-sold 200 LeadPages memberships (at a massive discount) … as part of our early adopter program.
These early adopters locked in these massively discounted rates for as long as they remained subscribers. Forever.
We rewarded them because they believed in us from day one. Lucky them.
It's lucky for us too. Many of these early adopters have gone on to become our biggest fans and most productive joint venture partners. Many have even provided us templates, case studies, testimonials, and even guest posts for our blog.
We are thrilled knowing these first subscribers will be with us for years to come.
Since closing this initial early adopter program, we have received a steady stream of emails asking if we ever will offer something like this again.
So far, we have not had the opportunity to do so. That is, until now…
Introducing the Next Early Adopter Program
Something significant has been going on behind the scenes here at LeadPages.
For months now, our team has quietly been working on our next major release.
We're creating another first in our industry.
I'll give you a hint: This next first in our industry is not just another feature, template or price point for LeadPages. It's something much bigger.
This major release is scheduled to go live extremely soon. We want to ensure you get access to this next release (and get a massive discount on it) before it closes.
In short, we want you to be our next early adopters.
So tomorrow, we're officially launching our second early adopter program.
We'll show you how to get our next major release at a massively discounted rate — and lock in that discounted rate from now on (much like the first early adopters of LeadPages).
Again, this all happens tomorrow.
In the meantime, do you have any guesses about what this release may be? If so, I'd love to hear them in the comments below.