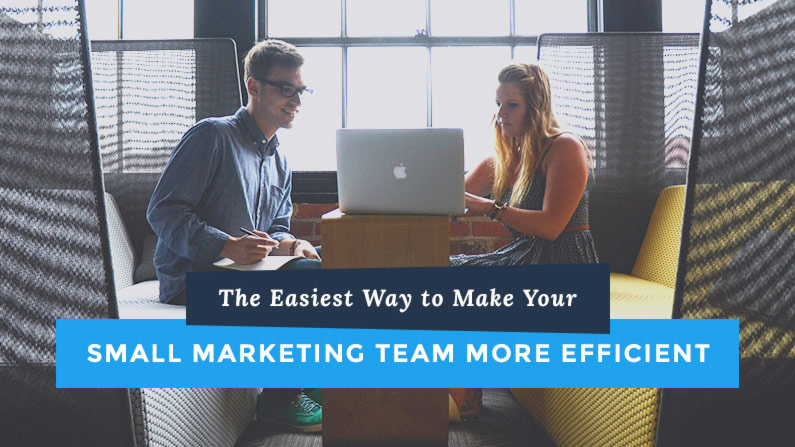 If you want to improve the ROI on your small marketing team's efforts, you'll find a lot of solutions out there: marketing automation, campaign management, tag management, conversion rate optimization, programmatic advertising …
When there are that many "solutions" out there, it creates a new problem. Sorting through them all can start to seem like a full-time job in itself. Here's what happened when ChiefMarTec.com tried to fit every marketing-technology product out there into one image: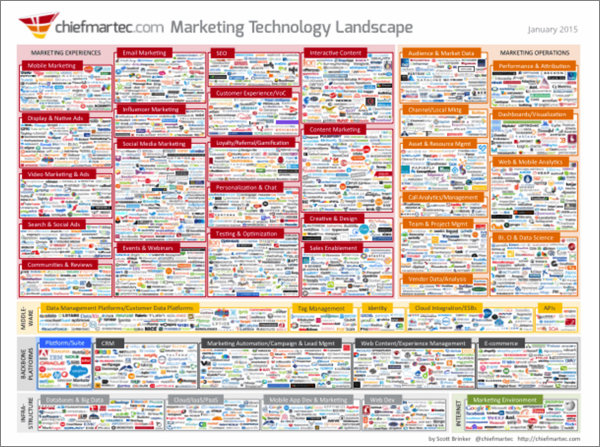 It's intimidating. And maybe that's why, despite all of these innovations, many small marketing teams are still facing the same challenges they were 10 years ago.
If your team is like most small marketing teams, you tend to operate on an extremely tight budget. Any new marketing technology has to be carefully vetted to ensure that it's the right fit for your organization's limited resources—which can take a long time.
Some teams get overwhelmed or frustrated by the process, and try to maximize ROI simply through struggling to become more productive and efficient with the tools they already have.
There's a limit to that approach, though. To push past it, I recommend you take a closer look at one solution that's a bit of an open secret …
It's affordable.
It works for any marketing team (even if the "team" is just one or two people).
It's improved conversion rates and increased ROI in every case I've heard of.
And it's been around for more than 15 years.
If you haven't guessed, that solution is landing pages.
Simply by adding landing pages to your existing marketing efforts, you can:
Reach more people through organic search and search-based advertising
Provide a better user experience for visitors
Improve marketing productivity and efficiency
Enhance the ROI on nearly any campaign
Better coordinate your campaigns across channels, including social, email, PPC, etc.
So if landing pages can do all that, why am I calling them an open secret?
To answer that, we need to answer one other question …
Why Are So Many Small Marketing Teams Not Using Landing Pages?
When I began pondering this question, I thought back to my own experience as a marketer.
I started at my career in marketing in 2001, when most of the marketing world was just starting to figure out how the internet could allow them to reach their audience in new and interesting ways.
I don't think many of us imagined at the time that there would soon be a slew of technologies to help us do just that. Even fewer of us would have imagined that those same technologies would end up causing the same types of problems they were created to solve.
Back then, we spent a lot of time and money creating and tracking campaigns that might or might not have worked, with an end goal of using those results to improve on the next campaign. The process was slow, and to do it well it seemed like you had to master half a dozen different marketing disciplines. To be truly successful with this strategy, you would have to grow your team or outsource some of your marketing operations.
Today the challenges are different, but oddly parallel. Now there is a lot of time and money wasted on reviewing, testing, and integrating new marketing technologies that may or may not work, with an end goal of finding the perfect mix of solutions for your specific needs.
This may be doable for a large enterprise business with a massive marketing team and money to burn, but for small marketing teams working within a limited budget it's essentially the same problem they were facing before these technologies even existed.
All that history might make you deeply aware of the boundaries of your team's skill set, and deeply reluctant to take on yet another tech solution that your team might not even be able to use well.
Fortunately, it's not too late to get started with landing pages and capture the benefits that larger companies have been realizing for years. In fact, you could say it's the perfect time.
Sure, you may not be an early adopter. But you will be getting started at a time when it's easier and more affordable than ever for small teams to create, launch, and optimize landing pages in-house. Tools like LeadPages® make that possible.
Why Are So Many Small Marketing Teams Not Using Landing Pages?
It's pretty obvious why I'm shilling for landing pages, right? Because I work for LeadPages?
Fair assumption. But actually, it's the other way around.
I've been using landing pages with success since 2001, way before LeadPages even existed. I moved my family from Kansas City to Minneapolis to work here precisely because I've seen firsthand how a good landing page strategy can improve the productivity and efficiency of a small marketing team.
I've used landing pages at previous companies to generate leads, sell products and capture data. In every instance landing pages provided a boost to conversions and improved campaign ROI while also having the added benefit of making me look like a hero.
Here are 3 recent case studies that help reinforce my point:
So why did simply a) using landing pages and b) creating those landing pages in-house with LeadPages® have such remarkable results for these 3 companies (and for me in my past jobs)?
I'd break it down into 3 main factors:
1. Increased productivity: With LeadPages® you can build, customize, launch and optimize landing pages in minutes. That means that it's no trouble at all to do things like …
Create a landing page for every promotion you run
Create a landing page for every content asset you create
Create a hyper-specific landing page for every segment of your audience you target with online advertising
You get the picture. When you have a landing page builder that's this intuitive at your disposal, you can create a page in not much more time than it takes to say, "Wouldn't it be nice if we had a page especially for …"
And because LeadPages® allows you create unlimited landing pages to collect unlimited leads at no extra charge, you pay nothing for this increased productivity. It's pure gain.
2. Improved efficiency: With LeadPages®, anyone on your team can create a landing page. Different people on your team can even collaborate on the same page—maybe you choose a template and then turn a content creator loose to fine-tune the copy. There's absolutely no design or development training needed (though if you do have designers and developers on hand, they'll appreciate the possibilities LeadPages® gives them).
That means no more contracting, no more outsourcing, and no more excruciatingly drawn out rounds of approvals. Everything moves faster.
Plus, once you've found a couple of landing page templates that work well for you, landing page creation gets even easier—you can duplicate pages and opt-in forms to build on your previous work.
3. Enhanced marketing ROI: I've observed this over and over again: when you send traffic—from any channel—to a dedicated landing page, you get much better results, whether you're looking for sales, subscriptions, or downloads.
Why? Good landing pages eliminate distractions. Everything on them is focused around your primary call to action, which means visitors have less room to hesitate or wander off.
And when you use LeadPages®, you're starting with landing page templates that have been engineered for one thing: high conversion rates. You can even use our unique "Sort by Conversion Rate" feature in our template library to pick from the cream of the crop.
All of that means that more of the traffic you pay for actually turns into leads and customers. And best of all, you keep more of that resulting revenue, since you don't need to build landing-page consultants or outside agencies into your budget.
Ready to Get Started with Landing Pages?
If you are currently spending time and money segmenting your audience, driving engagement through various channels and automating your marketing processes, then you should absolutely be using landing pages.
If you are not doing any of these things—well, then you should start doing them as soon as possible. And when you do, you should have a landing page builder fired up and ready to work for you.
Get the landing pages right and everything else will be that much easier.
If you're not sure how to get started, we would love to help.
You can start by joining the LeadPages Marketing Library, where you can browse and download dozens upon dozens of free marketing resources.
You can also join one of our free webinars, or watch our 4-step landing page tutorial, if you're an audiovisual learner.
And recently, we've added a more personal option as well. If you would like to talk with one of our marketing professionals about how landing pages can improve the performance of your marketing team, just call us at (855) 347-2447.
Does your small marketing team use landing pages? If not, why not? Tell us in the comments.